Lee Priest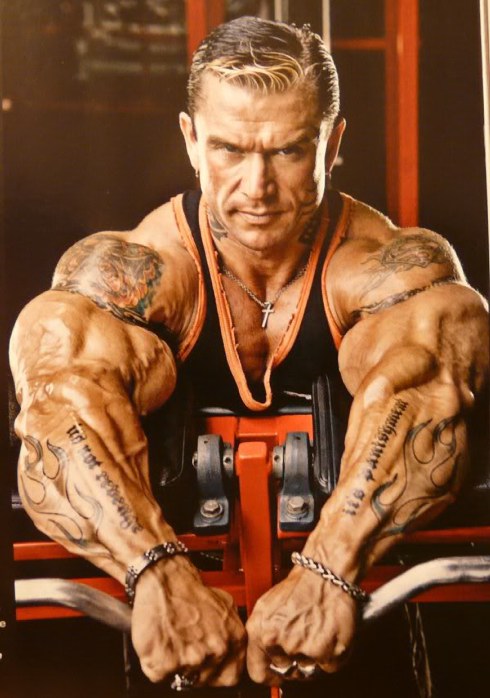 AW197 / Sun conjunction
From Wikipedia, the free encyclopedia
>>Lee Andrew Priest McCutcheon, also known as "The Blond Myth" (born July 6, 1972 in Newcastle, Australia) is a IFBB professional bodybuilder.
Biography
Priest was raised together with his two-year older sister by their mother, who also practises bodybuilding in Wallsend, Newcastle, NSW, Australia where he attended Platsburg Primary school.
Priest has gained popularity in the bodybuilding world due to his down-to-earth manner, laconic sense of humour and willingness to talk to and help young up-and-coming bodybuilders. At 162 centimetres, he is one of the shortest professional bodybuilders. When not competing, he weighs as much as 130 kilograms, but he cuts down to 90 kilograms in competition season.
On July 1, 2000 he married Cathy LeFrancois, a female bodybuilder, from whom he has since separated. Recently he was engaged to popular fitness pro Adela Garcia. It was later announced that they both had separated on good terms.
Unlike many pro bodybuilders, Priest has long had an interest in tattoos. In 2005 he got a facial tattoo, similar to the one worn by Mike Tyson.
In September 2006, Priest was suspended from the IFBB for competing in a non-sanctioned event, the PDI Night Of Champions in New York, which he ended up winning. This prevented him from competing in the Mr. Olympia at the end of that month.
Priest was reinstated back in the IFBB in June 2008 to allow him a chance to qualify for the 2008 Mr. Olympia. But he did not compete that year and instead planned to comeback at the Australian IFBB Pro Grand Prix in 2009. But while moving back home to Australia, he tore his biceps tendon off the bone while carrying a large TV. He had surgery a few weeks out of the Australian IFBB Pro Grand Prix and was unable to compete. He is now looking to return to IFBB competition in 2010.
Stats
Name: Lee Priest
Location: Austin, Texas, USA
Born: July 6, 1972
Height: 5'4"
Off Season Weight: 250-270 lbs.
Competition Weight: 200-220 lbs.
Training since age 13
Arms: 21 3/4" (in competition, pumped) to 22 3/4" (off-season, pumped), (forearms-17 3/4")<<
_________________________________________
Assuming noon, 2:00 UT
Using RIYAL 3.13
Astrological Setting (Tropical - Placidus)
RIYAL Thu July 6 1972 UT 2h00m00s Lat32s56 Lon151e46 RADIX
Hylonome = 0,34 Can (Midheav) = 14,40 Can
Quaoar = 1,54 Sco r Radamantu= 16,17 Leo
Jupiter = 2,02 Cap r Chiron = 17,17 Ari
Chariklo = 2,19 Ari Venus = 18,25 Gem r
Neptune = 2,52 Sag r CZ118 = 18,27 Leo
Sedna = 2,59 Tau Teharonhi= 18,53 Cap r
Varuna = 4,12 Gem TL66 = 19,58 Pis r
Mars = 4,42 Leo Deucalion= 20,31 Vir
Ixion = 4,55 Sco r Echeclus = 21,30 Lib
Pholus = 5,06 Pis r Orcus = 21,46 Can
Crantor = 5,16 Gem Nessus = 21,58 Gem
Typhon = 5,39 Tau Ceto = 22,01 Tau
Amycus = 6,11 Gem Cyllarus = 22,44 Sag r
Asbolus = 8,05 Leo Huya = 23,02 Leo
Pylenor = 8,43 Lib (Ascend) = 23,43 Lib
Apogee = 9,29 Sag r Chaos = 24,29 Ari
Mercury = 9,55 Leo Node = 26,04 Cap r
(Moon) = 9,57 Tau CY118 = 27,10 Can
Okyrhoe = 12,12 Pis r TD10 = 27,41 Sco r
Thereus = 12,12 Tau Elatus = 27,42 Vir
Eris = 13,18 Ari Logos = 28,10 Can
Sun = 14,06 Can Bienor = 28,41 Lib
Uranus = 14,17 Lib Pluto = 29,30 Vir
Saturn = 14,28 Gem Pelion = 29,50 Vir
___________________________________________
Focused Minor Planets
AW197 = 14 Ca 47
Sun = 14 Ca 06
Uranus = 14 Li 17 T Square
Eris = 13 Ar 18
Saturn = 14 Ge 28 Semisextile
Makemake = 15 Le 08
UR163 = 15 Pi 16 r Trine
____________________
Haumea = 9 Vi 56
UQ513 = 9 Pi 09 r
Mercury = 9 Le 55 Semisextile
RN43 = 8 Cp 35 r Trine
CR105 = 8 Ca 38 Sextile
____________________
OO67 = 19 Sa 33 r
Venus = 18 Ge 25 r
TL66 = 19 Pi 58 r Grand Cross
SA278 = 19 Pi 21 r
RR43 = 20 Pi 15 r
UX25 = 20 Pi 42 r
UK126 = 18 Ar 15 Trine
Deucalion= 20 Vi 31
Teharonhi= 18 Cp 53 r Semisextile
OR10 = 18 Aq 05 r Sextile
RD215 = 18 Aq 34 r
____________________
Ixion = 4 Sc 55 r
Typhon = 5 Ta 39
Mars = 4 Le 42 T Square
Varuna = 4 Ge 12 Quincunx
Crantor = 5 Ge 16
TC302 = 5 Ar 29 r
GV9 = 5 Vi 27 Sextile
Pholus = 5 Pi 06 r Trine
____________________
Quaoar = 1 Sc 54 r
Sedna = 2 Ta 59
Jupiter = 2 Cp 02 r Sextile
Neptune = 2 Sa 52 r Semisextile
Chariklo = 2 Ar 19 Quincunx
VS2 = 2 Ar 40 r
____________________
OP32 = 29 Sa 12 r
Pluto = 29 Vi 30 Square
Pelion = 29 Vi 50
Logos = 28 Ca 10 Quincunx
Bienor = 28 Li 41 Sextile
________________________________________________
Posted to Centaurs (YahooGroups) on June 27, 2010
_______________________________________________________________
_______________________________________________________________