Jesse Ventura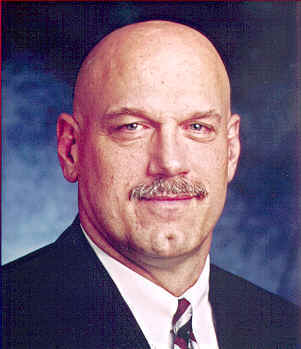 Makemake / Sun conjunction
From Wikipedia, the free encyclopedia
>>
Jesse Ventura (born July 15, 1951 as James George Janos), also known as "The Body", "The Star", and "The Governing Body", is an American politician of Slovak descent, retired professional wrestler, Navy UDT veteran, actor, and former radio and television talk show host. He is also a former co-holder of the AWA World tag team title with Adrian Adonis and is a 2-time AWA Southern Heavyweight Champion.
In the Minnesota gubernatorial election of 1998, running as an Independent and member of the Reform Party, he was elected the 38th Governor of Minnesota and served from January 4, 1999 to January 6, 2003 without seeking a second term.
Early life, education and family
Ventura was born James George Janos in Minneapolis, Minnesota, the son of Bernice Martha (née Lenz) and George William Janos. His father's parents were from what is today Slovakia, and his mother had German ancestry. Ventura has described himself as Slovak. Ventura (then known by his legal name of Janos) attended the now-closed Cooper Elementary School, and graduated from Minneapolis's Roosevelt High School in 1969.
From September 11 1969 to September 10, 1975 he served in the United States Navy as a member of a Navy UDT and was on active duty January 5, 1970 through December 10, 1973 during the Vietnam era. Ventura served with Underwater Demolition Team 12 during his time on active duty. According to the United States Naval Special Warfare Command policy, Ventura is entitled to use the title "SEAL", due to both his service in the UDT and SEAL teams, and his successful graduation from UDT-R (now BUD/S) training. He was awarded the National Defense Ribbon and the Vietnam Service Ribbon but was not in combat to qualify for the Combat Action Ribbon. In his autobiography, Ventura described SEAL training as the toughest experience of his life. "It's worse than anything you can imagine," he wrote, "You have to want it bad, very bad." Ventura always mentioned how much he respected his SEAL instructor Master Chief Petty Officer Terry "Mother" Moy. He asked Moy to stand by his side when he was sworn in as governor. He ended his inaugural address with the SEAL war cry "HOOYAH!" The Website NavySEALS.com contains his bio, and he is considered one of the SEALs' most famous Alumni.
He returned to Minnesota and attended North Hennepin Community College in the mid-1970s at the same time he began weightlifting and wrestling. It was around this time that he briefly served as a bodyguard for The Rolling Stones. In 1975, Ventura married his wife Terry. The couple have two grown children: a son, Tyrel (b. 1980), and a daughter, Jade (b. 1984).
Wrestling career
He created the stage name Jesse "The Body" Ventura to go with the persona of a bully-ish beach body builder, picking the name "Ventura" from a map as part of his "bleach blond from California" gimmick. As a wrestler, Ventura performed as a villain and often used the motto "Win if you can, lose if you must, but always cheat!" Much of his flamboyant persona was copied from "Superstar" Billy Graham, a charismatic and popular performer during the 1970s and '80s. Years later, as a broadcaster, Ventura made a running joke out of claiming that Graham stole all of his ring attire ideas from him.
In 1975, Ventura made his debut in the Central States territory, before moving to the Pacific Northwest, where he wrestled for promoter Don Owen. During his stay in Portland, Oregon, he had notable feuds with Dutch Savage and Jimmy Snuka and won the Pacific Northwest Wrestling title twice (once from each wrestler), and the tag team title six times (twice each with Bull Ramos and "Playboy" Buddy Rose, and once each with Steve Strong and Jerry Oates). He later moved to his hometown promotion, the American Wrestling Association in Minnesota, teaming with Adrian Adonis as the "East-West Connection" in 1979. The duo won the AWA World Tag Team Championship on July 20, 1980 on a forfeit when Verne Gagne, one-half of the tag team champions along with Mad Dog Vachon, failed to show up for a title defense in Denver, Colorado. The duo held the belts for nearly a year, losing to "The High Flyers" (Greg Gagne and Jim Brunzell).
Shortly after losing the belts, the duo moved on to the World Wrestling Federation, where they were managed by "Classy" Freddie Blassie. Although the duo was unable to capture the WWF Tag Team Championship, both Adonis and Ventura became title contenders, each earning several title shots at champion Bob Backlund.
"The Body" continued to wrestle until September 1984 when blood clots in his lungs ended his in-ring career; it forced him to miss a title match against WWF Champion Hulk Hogan. Ventura claimed the blood clots were a result of his exposure to Agent Orange during his time in Vietnam. After a failed comeback bid, he began to do color commentary on television for "All-Star Wrestling" (replacing Angelo Mosca) and later "Superstars of Wrestling" (initially alongside Vince McMahon and Bruno Sammartino, and with McMahon after Sammartino's departure from the WWF in 1988), hosted his own talk segment on the WWF's "Superstars of Wrestling" called "The Body Shop", and did color commentary on radio for a few National Football League teams (among them, the Minnesota Vikings and Tampa Bay Buccaneers). Ventura most notably co-hosted Saturday Night's Main Event with Vince McMahon and the first six WrestleManias (1985-1990) and most of the WWF's pay-per-views at the time with Gorilla Monsoon (the lone exception for Ventura being the first SummerSlam, in which Ventura served as the guest referee during the main event). Following a dispute with WWF Chairman Vince McMahon over him using his image for the video game company Sega, McMahon—who had a contract with rival company Nintendo at the time—released Ventura from the company in August 1990.
He also did commentary for World Championship Wrestling from 1992–94. His professional wrestling commentary style was an extension of his wrestling persona, as he was partial to the villains, which was something new and different at the time, but would still occasionally give credit where it was due, praising the athleticism of Dynamite Kid and Randy Savage (who was championed by Ventura for years, even when he was a face). The lone exception to this rule was the WrestleMania VI match between Hulk Hogan and the Ultimate Warrior. Since they were both crowd favorites, Ventura took a neutral position in his commentary; even praising Hogan's display of sportsmanship at the end of the match when he handed over the WWF Championship to the Warrior after he lost the title. The praise of Hogan's action was unusual for Ventura because he regularly rooted against Hogan during his matches. Hogan and Ventura were, at one point, close friends. Ventura, however, abruptly ended the friendship after he discovered, during his lawsuit against Vince McMahon, that Hogan was the one who had told Vince about Ventura's attempt to form a labor union in 1984.
Litigation
In 1987, while negotiating his contract as a WWF commentator, Ventura waived his rights to royalties on videotape sales when he was falsely told that only feature performers received such royalties. In 1991, having discovered that other non-feature performers received royalties, Ventura brought an action for fraud, misappropriation of publicity rights, and unjust enrichment in Minnesota state court against Titan Sports. The case was removed to federal court, and Ventura won an $801,333.06 jury verdict on the last claim. The judgment was affirmed on appeal, and the case, 65 F.3d 725 (8th Cir.1995), is an important result in the law of restitution.
Now because of Ventura's victorious lawsuit, whenever the WWF/WWE wants to use his commentary for a mass marketed VHS/DVD, Ventura gets a percentage of the sales.
Acting career
Ventura acted in the 1987 movie Predator, whose cast included future California Governor Arnold Schwarzenegger and future Kentucky Gubernatorial candidate Sonny Landham. He had a starring role in the 1991 sci-fi movie Abraxas, Guardian of the Universe, and supporting roles in The Running Man, Demolition Man, Repossessed, Ricochet, The Master of Disguise (in which he steals the Liberty Bell) and Batman & Robin - the first and last of these also starring Schwarzenegger. Ventura also made an appearance in Major League 2, being "White Lightning" in the movie that the character Willie Mayes Hayes starred in. He also appeared as a self help guru (voice only) in The Ringer trying to turn Johnny Knoxville into a more confident worker. Ventura also had a cameo in The X-Files episode "Jose Chung's From Outer Space" as a Man in Black alongside fellow 'MiB' Alex Trebek.
Radio career
Between 1995 and his run for governor in 1998, Ventura had radio call-in shows on (KFAN 1130) and (KSTP-AM 1500) in Minneapolis-St. Paul.
Political career
Mayor of Brooklyn Park
Following his departure from the WWF, Ventura took advice from a former high school teacher and ran for mayor of Brooklyn Park, Minnesota in 1990 on the Independent Party ticket. Ventura successfully beat the city's 18-year incumbent mayor and served from 1991 to 1995.
Governor of Minnesota
See also: Minnesota gubernatorial election, 1998

Ventura ran for Governor of Minnesota in 1998 as the nominee for the Reform Party of Minnesota (he later joined the Independence Party of Minnesota when it broke from its association with the Reform Party of the United States of America). His campaign consisted of a combination of aggressive grassroots events and original television spots, designed by quirky adman Bill Hillsman, using the phrase "Don't vote for politics as usual." He spent considerably less than his opponents (about $300,000), and is widely regarded as one of the first candidates to effectively use the Internet as a medium of reaching out to voters in a political campaign.
He won the election in November 1998, narrowly (and unexpectedly) defeating the major-party candidates: St. Paul mayor Norm Coleman (Republican) and Minnesota Attorney General Hubert H. "Skip" Humphrey III (Democratic-Farmer-Labor).
After his victory, bumper stickers and T-shirts bearing the slogan "My governor can beat up your governor" appeared in Minnesota. Ventura circulated material stating his wish to be known in office as "Jesse 'The Mind'". The nickname stuck, but as a sarcastic and facetious way for opponents to highlight his frequent controversial remarks. Far more frequently, people continued to use "Jesse 'The Body'" or adapt his former stage name as "Jesse 'The Governing Body'."
Citing undue media scrutiny into the lives of his family he chose not to run for reelection in 2002.
Political positions
Ventura's main campaign promise was a tax refund to Minnesota residents. The state was running a budget surplus at the time, and Ventura believed that the money should be given back to the public. In political debates, he often admitted that he had not formed an opinion on certain policy questions. Sharing many views with libertarians, Ventura frequently described himself as "fiscally conservative and socially liberal." He selected teacher Mae Schunk as his running mate. His participation in the 1998 Minnesota Governor debates boosted his popularity as a candidate.
Later as governor, he came to support a unicameral (one-house) legislature, light rail public transport, property tax reform, gay rights, and abortion rights. While funding public school education generously, he opposed the teachers' union, and did not have a high regard for the public funding of higher-education institutions. Additionally, Ventura supported the use of medicinal marijuana, advocated a higher role for third parties in national politics, and favored the concept of instant-runoff voting.
Lacking a party base in the Minnesota House and Senate, Governor Ventura's vetoes were often overridden.
Ventura was elected on a Reform party ticket, but he never received support from Ross Perot's Texas faction. When the Reform party was taken over by Pat Buchanan supporters before the presidential elections of 2000, Ventura left the party in February 2000, referring to it as 'hopelessly dysfunctional'. However, he maintained close ties to the Independence Party of Minnesota, which also broke from the Reform party around the same time.
Light rail transit
During the first part of his administration, Ventura strongly advocated for land-use reform and substantial mass transit improvements, such as light rail. In his March 1999 State address, he proclaimed, "I want to ride a train by 2002," referring to a light rail line running between downtown Minneapolis and the Mall of America. He made the light rail project a priority, obtaining additional funding from the Minnesota state legislature to keep the project moving. The Hiawatha Line was completed in 2004.
Controversies as Governor
During his tenure as Governor, Ventura experienced several controversies that drew a considerable amount of fire from the press in the Twin Cities, which has long prided itself on independence from and criticism of the state government.
Garrison Keillor
Shortly after Ventura's election as governor of Minnesota, author and humorist Garrison Keillor wrote a satirical book about the event, spoofing Ventura as "Jimmy (Big Boy) Valente," a self-aggrandizing former "Navy W.A.L.R.U.S. (Water Air Land Rising Up Suddenly)" turned professional wrestler turned politician. Initially, Ventura responded angrily to the satire. He became conciliatory afterwards, however, and said that Keillor "makes Minnesota proud".
Shutdown of the Governor's Mansion
Ventura attracted the ire of critics when he chose not to stay at the governor's mansion during his tenure, choosing instead to shut it down and stay at his home in Maple Grove after the legislature refused to increase spending for security. Critics argued that it meant the loss of jobs for several working-class people at the mansion and re-opening the mansion after Ventura's departure would cost more than if Ventura had kept the mansion open.
"Drunken Irishmen" remark
During his term, Ventura made an appearance on The Late Show with David Letterman, in which he responded controversially to the question posed by Letterman, "So which is the better city of the Twin Cities, Minneapolis or St. Paul?". Ventura responded, "Minneapolis. Those streets in St. Paul must have been designed by drunken Irishmen". He later apologized for the remark, adding that it was not intended to be taken seriously.
Pledge of Allegiance
Ventura vetoed a bill to require recitation of the Pledge of Allegiance in public schools, saying:
"I believe patriotism comes from the heart. Patriotism is voluntary. It is a feeling of loyalty and allegiance that is the result of knowledge and belief. A patriot shows their patriotism through their actions, by their choice. No law will make a citizen a patriot".

China
After a trade mission to China in 2002, he announced that he would not run for a second term as governor of Minnesota. During another trade mission to Cuba in the summer of 2002, he denounced the economic sanctions of the US against that country.
Wellstone memorial
Ventura greatly disapproved of some of the actions that took place at the 2002 memorial for Senator Paul Wellstone, his family, and others who died in a plane crash on October 25, 2002. Ventura said, "I feel used. I feel violated and duped over the fact that [the memorial ceremony] turned into a political rally". He left halfway through the controversial speech made by Wellstone's best friend, Rick Kahn. Because of the rally and other issues revolving around the exclusion of third-party candidates from the resulting election, he appointed Dean Barkley to represent Minnesota in the Senate until Wellstone's term expired in January 2003.
The media
Ventura had a difficult relationship with the local media. He referred to them as "media jackals," a term that even appeared on the required press passes to enter the governor's press area. He accused the media of hounding him and his family for personal behaviors and beliefs while neglecting coverage of important policy issues. Later, Ventura told a reporter for The Boston Globe that he would have run for a second term if he had been single, referencing the media's effect on his family life.
Statements on prostitution
Ventura has publicly stated that prostitution should be legal, since it will exist in any case, and legal controls protecting the health of clients and workers are needed. He said "I voted in hopes to make prostitution legal once, and I'd do it again in a second".
Early resignation
Governor Ventura sparked media criticism when, nearing the end of his term, he suggested that he might resign from office early to allow his lieutenant governor, Mae Schunk, an opportunity to serve as governor. He further stated that he wanted her to be the state's first female governor, and have her portrait painted and hung in the Capitol along with the other governors. Ventura quickly retreated from the comments, saying he was just floating an idea.
Health
In 2002, Ventura suffered a severe blood clot in his lungs that left him hospitalized.
During his wrestling days, Ventura was a user of anabolic steroids, used to increase his recovery. He admitted to this after retiring from competition, and went on to make public service announcements and appear in printed ads and on posters warning young people about the potential dangers and potential health risks of abusing steroids.
Religion
In a Playboy interview, he said:
"Organized religion is a sham and a crutch for weak-minded people who need strength in numbers. It tells people to go out and stick their noses in other people's business."

In his 1999 best-selling memoir I Ain't Got Time to Bleed, Ventura responded to the controversy sparked by these remarks by elaborating on his views concerning religion: "I'd like to clarify [my comments published in Playboy] about religious people being weak-minded. I didn't mean all religious people. I don't have any problem with the vast majority of religious folks. I count myself among them, more or less. But I believe because it makes sense to me, not because I think it can be proven. There are lots of people out there who think they know the truth about God and religion, but does anybody really know for sure? That's why the founding fathers built freedom of religious belief into the structure of this nation, so that everybody could make up their minds for themselves. But I do have a problem with the people who think they have some right to try to impose their beliefs on others. I hate what the fundamentalist fanatics are doing to our country. It seems as though, if everybody doesn't accept their version of reality, that somehow invalidates it for them. Everybody must believe the same things they do. That's what I find weak and destructive."
Ventura endorsed equal rights for religious minorities, as well as people who don't believe in God, by declaring July 4, 2002, "Indivisible Day" through this proclamation:
"WHEREAS: The unique feature of this nation at its founding was its establishment of a secular Constitution that separated government from religion - something never done before; and WHEREAS: Our secular Constitution has enabled people of all worldviews to coexist in harmony, undivided by sectarian strife; and WHEREAS: President James Madison made clear the importance of maintaining this harmony when he said, "The purpose of separation of church and state is to keep forever from these shores the endless strife that has soaked the soil of Europe in blood for centuries"; and WHEREAS: The diversity of our people requires mutual respect and equal protection for all our citizens, including minority groups, if we are to remain "One nation, indivisible"; and WHEREAS: It is the unfettered diversity of ideas and worldviews that have made our nation the strongest and most productive in the world; and WHEREAS: Eternal vigilance must be maintained to guard against those who seek to stifle ideas, establish a narrow orthodoxy, and divide our nation along arbitrary lines of race, ethnicity, and religious belief or non-belief. NOW, THEREFORE, I, JESSE VENTURA, Governor of Minnesota, do hereby proclaim that Thursday, July 4, 2002 shall be observed as: INDIVISIBLE DAY In the State Of Minnesota."

Governor Ventura's office accidentally proclaimed October 13–19, 2002 as "Christian Heritage Week" in Minnesota.
Outside career
Ventura has been criticized for privately profiting from his heightened popularity. He was hired as a television analyst for the failed XFL football enterprise, served as a referee at a World Wrestling Federation match, and published several books during his tenure as governor. On his weekly radio show, he often criticized the media for focusing on these deals rather than on his policy proposals.
Post-gubernatorial life
Ventura was succeeded in his office by Republican Tim Pawlenty. He began a cable television show in October, 2003, on MSNBC called Jesse Ventura's America. The show was broadcast once a week, on Saturdays, unlike many MSNBC shows which are on five nights a week (this show was originally planned for five nights a week as well, but MSNBC executives changed their minds). At the time of its airing, Jesse Ventura's America was the only national television show filmed in Minnesota. Among his guests were Charles Barkley, Gray Davis, Arianna Huffington, Rob Kampia, and Kathy McKee. However, the show was soon canceled.
In 2004, fellow Navy veteran and Harvard graduate student Christopher Mora promoted the idea that the academic establishment had failed to reach out to citizens experienced in public service, but who did not fit the traditional idea of a politician. He successfully lobbied for the selection of Ventura, who started teaching a study group at Harvard University for the Spring 2004 semester as a visiting fellow at the Kennedy School of Government's Institute of Politics (IOP). His 90-minute study group focused on third party politics, campaign finance, the war on drugs, and other relevant political issues. Ventura scheduled multiple famous friends to appear for his seminars including Dean Barkley and Richard Marcinko. These presentations were among the highest attended in the history of the IOP.
On March 14, 2004, Ventura appeared as an honored guest at World Wrestling Entertainment's (WWE) WrestleMania XX as part of the "WWE Hall of Fame Class of 2004." Later in the evening he approached the ring to interview Donald Trump, who had a front row seat at the event. Trump affirmed that Ventura would receive his moral and financial support were he to ever reenter the world of politics. Alluding to the 2008 election, Ventura boldly announced that "In 2008, maybe we oughta put a wrestler in the White House".
On October 22, 2004, with Ventura by his side, former Maine Governor Angus King endorsed John Kerry for President at the Minnesota state capitol building. Ventura did not speak at the press conference. When prodded for a statement, Governor King responded, "He plans to vote for John Kerry, but he doesn't want to make a statement and subject himself to the tender mercies of the Minnesota press".
In November 2004, an advertisement began airing in California featuring Ventura. In it, Ventura voices his opposition to Governor Arnold Schwarzenegger's policies regarding Native American casinos. Like Hogan, Schwarzenegger at one point was also a close friend of Ventura as well, but since Schwarzenegger's victory in California, Ventura has not reportedly given him any praise; Schwarzenegger didn't even mention Ventura's name in an interview with Fox News in 2005, where reporter Chris Wallace asked him if he was "the next Jesse Ventura". Ventura is serving as an advisory board member for a new group called Operation Truth, a non-profit organization set up "to give voice to troops who served in Iraq." "The current use of the National Guard is wrong....These are men who did not sign up to go occupy foreign nations".
In August 2005, Ventura became the spokesperson for BetUS, an online Sportsbook.
In 2005, Ventura repeatedly discussed leaving the United States. In September 2005, Ventura announced on The Mike Malloy Show that he was leaving the U.S. and planned to "have an adventure". In late October 2005, he went on the The Big Idea with Donny Deutsch and reiterated that he was leaving the U.S. due to, among other things, censorship. He has since moved to Baja California, Mexico.
In September 2006, Ventura endorsed and campaigned with independent Texas gubernatorial candidate Kinky Friedman, and Independence Party of Minnesota 's gubernatorial candidate Peter Hutchinson and Team Minnesota. He revealed he now spends much of his time surfing near his home in Mexico.
Ventura participated on the June 11, 2007 WWE Raw Draft Special on the USA Network, where he was seen giving "Appreciation" towards Mr. McMahon.
In April 2008, a book authored by Ventura, titled Don't Start the Revolution Without Me was released. In it, Ventura describes a hypothetical campaign in which he is a candidate for President of the United States in 2008, running as an independent. In an interview with the Associated Press at the time of the book's release, however, Ventura denied any plans for a presidential bid, stating that the scenario is only imaginary and not indicative of a "secret plan to run".
In the MinnPost.com, Ventura's agent, Steve Schwartz, describes the book thus: "[Ventura is revealing] why he left politics and discussing the disastrous war in Iraq, why he sees our two-party system as corrupt, and what Fidel Castro told him about who was really behind the assassination of President Kennedy."
However, in an interview on CNN's The Situation Room on April 7, Ventura hinted that he was considering entering the race for the United States Senate seat now held by Norm Coleman, his Republican opponent in the 1998 Gubernatorial race. A poll commissioned by Twin Cities station Fox 9 put him at 24 percent, behind Al Franken at 32 percent and Norm Coleman at 39 percent in a hypothetical three-way race. However, Ventura announced on Larry King Live on July 14, 2008 that he would not run.
He spoke at former Republican presidential candidate Ron Paul's "Rally for the Republic", organized by the Campaign for Liberty, on September 2nd, 2008. At the event, Ventura implied a possible future run at the U.S. Presidency. Ventura stated before a live audience that "If America proves itself worthy, in 2012 we'll give them a race they'll never forget!".
TV Week is reporting that Ventura is in negotiations with Twentieth Television to host a half-hour court show that would debut in the fall of 2009.
Questions regarding 9/11
In April and May 2008, Jesse Ventura, in several radio interviews for his new book, Don't Start the Revolution Without Me, expressed concerns about what he described as some of the unanswered questions of the September 11, 2001 attacks. His remarks about the possibility that the World Trade Center was demolished with explosives were also repeated in newspaper and television stories following some of the interviews.
Ventura was interviewed on the Alex Jones radio show on April 2, 2008, on the Opie and Anthony on April 8, 2008, and on the The Howard Stern Show on May 21, 2008, discussing his views on 9/11 with the shows' hosts. He said that he felt that many unanswered questions remain, such as how World Trade Center Building 7, which was not struck by a plane, collapsed on the afternoon of 9/11 in a manner which resembled a well executed controlled demolition Ventura stated:
"Two planes struck two buildings... but how is it that a third building fell 5 hours later? How could this building just implode into its own footprint 5 hours later - that's my first question - the 9/11 Commission didn't even devote one page to that in their big volume of investigation... In my opinion, there is no doubt that that building was brought down with demolition."

He also expressed bewilderment at how the Twin Towers appeared pulverized to dust and how they fell at virtually free-fall speed, when no other massive steel-framed buildings had ever collapsed in this manner due to fire before.
>>
__________________________________________________
Jesse VENTURA,
born July 15, 1951 at 3:00 AM in Minneapolis, MN (USA), 93w15 - 44n58
Rodden's AstroDatabank rating: AA
Using RIYAL 3.13
Astrological Setting (Tropical - Placidus)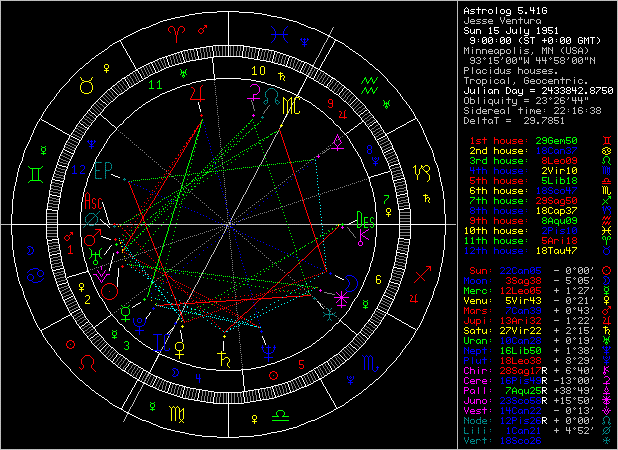 RIYAL Sun July 15 1951 UT 9h00m00s Lat44n58 Lon93w15 SORT ALL
Planet Longit. Latit. Declin. Const.
Pholus = 0Aq21 r 0s38 20s42 Cap
Amycus = 0Ta25 12n46 23n32 Psc
MS4 = 1Sc01 r 1s00 12s46 Vir
SQ73 = 1Le07 16n07 35n35 Lyn
RP120 = 1Sc12 r 11s09 22s18 Vir
Bienor = 1Ge19 19n40 39n36 Per
OO67 = 1Sa40 r 19n56 0s57 Ser
CF119 = 1Ge42 17n20 37n26 Per
SB60 = 1Cp51 r 3s12 26s38 Sgr
QB1 = 2Aq09 r 1s52 21s30 Cap
Midheav = 2Pi10 0n00 10s42 Aqr
Cyllarus = 2Sc15 r 3n50 8s40 Vir
CY118 = 2Ca35 23s51 0s26 Ori
GV9 = 2Le58 17s31 2n25 CMi
GB32 = 3Le11 11s15 8n29 Cnc
Moon = 3Sa38 5s05 25s52 Sco
CO1 = 4Ar15 r 19s22 16s03 Cet
WL7 = 4Sc26 r 6s10 18s48 Vir
TO66 = 4Aq49 r 22s13 40s30 Mic
CZ118 = 4Le50 18n15 36n41 Lyn
CR105 = 4Ge57 20s18 1n08 Tau
Radamantu= 5Ca09 12n21 35n41 Aur
Varuna = 5Ta11 15s18 1s12 Cet
RZ214 = 5Cp35 r 18n43 4s37 Sct
Venus = 5Vi43 0s21 9n05 Leo
HB57 = 5Le53 14s28 4n45 Hya
Echeclus = 6Ca08 3s53 19n25 Gem
SA278 = 6Pi14 r 4n05 5s25 Aqr
Quaoar = 6Li50 0s01 2s44 Vir
Asbolus = 7Ca21 17n00 40n12 Aur
GQ21 = 7Le31 11s58 6n49 Cnc
Mars = 7Ca39 0n43 23n57 Gem
RN43 = 7Sa47 r 17n32 4s18 Oph
Eris = 8Ar01 r 24s23 19s10 Cet
Hylonome = 10Ta22 2s42 12n23 Ari
Uranus = 10Ca28 0n19 23n21 Gem
UR163 = 10Aq40 r 0n07 17s27 Cap
Crantor = 10Ar48 r 12s15 6s59 Cet
KF77 = 11Ca01 4n13 27n11 Gem
Node = 11Pi02 r 0n00 7s26 Aqr
XR190 = 11Ta10 28n50 42n13 And
Typhon = 11Ar11 r 0n47 5n09 Psc
Okyrhoe = 11Ar26 3s35 1n14 Cet
TD10 = 11Sc40 r 3n43 11s48 Lib
TY364 = 11Aq49 r 4n00 13s24 Aqr
RR43 = 11Aq59 r 21s57 38s07 Gru
Mercury = 12Le05 1n27 18n34 Cnc
CC22 = 12Aq10 r 0n35 16s35 Cap
RD215 = 12Cp26 r 25n27 2n29 Ser
FP185 = 12Ca26 29s37 6s38 Mon
KX14 = 13Vi21 0s20 6n14 Leo
96PW = 13Vi23 10n59 16n39 Leo
MW12 = 13Li31 4n22 1s19 Vir
Jupiter = 13Ar32 1s22 4n05 Psc
FZ53 = 13Pi37 r 24n25 16n05 Peg
RM43 = 13Aq44 r 22s59 38s32 Gru
DH5 = 14Aq22 r 9n23 7s32 Aqr
VR130 = 14Sc48 r 2n32 13s52 Lib
FZ173 = 14Ca58 12n11 34n42 Gem
Ixion = 15Li02 16n05 8n55 Vir
RZ215 = 15Sc14 r 23s37 38s47 Cen
BL41 = 15Sc16 r 11s12 27s06 Hya
CO104 = 15Pi19 r 0s30 6s15 Aqr
PA44 = 15Cp22 r 4n30 18s05 Sgr
VQ94 = 15Ar34 r 43s57 34s02 For
Nessus = 15Ta41 3n41 20n04 Ari
OM67 = 15Sa48 r 22s26 44s58 Sco
Neptune = 16Li50 1n38 5s06 Vir
GM137 = 17Ca06 3n48 26n08 Gem
LE31 = 17Aq14 r 13s29 28s28 PsA
Apogee = 17Ca23 r 4n08 26n25 Gem
Chariklo = 18Sa13 r 16s16 39s07 Sco
Vertex = 18Sc26
Pluto = 18Le38 8n29 23n17 Leo
YQ179 = 18Ta40 18s22 0s19 Tau
Ceto = 18Ar42 10s15 2s10 Cet
XZ255 = 20Vi00 2n31 6n17 Leo
XX143 = 20Vi33 6n13 9n27 Vir
RG33 = 20Ca39 33n10 54n27 Lyn
Pelion = 20Ca52 2s28 19n23 Gem
TC302 = 20Pi55 r 21s09 22s56 Cet
TL66 = 21Aq08 r 23n48 8n09 Equ
EL61 = 21Le45 10n43 24n23 Leo
OP32 = 22Sc02 r 22n03 3n05 Ser
Teharonhi= 22Sa03 r 1s44 24s56 Oph
Sun = 22Ca05 0n00 21n38 Gem
BU48 = 22Aq34 r 2s27 16s19 Cap
PN34 = 22Le36 6s59 7n22 Leo
Thereus = 22Le41 16s35 1s46 Hya
FY9 = 22Ca46 16n51 38n07 Lyn
Sedna = 24Ar29 10s23 0s11 Cet
Pylenor = 24Ca30 2s02 19n14 Gem
AZ84 = 24Ta45 4n08 22n59 Ari
TX300 = 24Cp57 r 13s35 34s29 Sgr
Huya = 25Ca09 12s15 9n03 CMi
CE10 = 25Li41 r 31s54 39s08 Cen
RL43 = 26Li18 9n02 1s44 Vir
Elatus = 26Aq41 r 5s08 17s27 Aqr
AW197 = 26Ge44 12n45 36n09 Aur
GZ32 = 26Ta48 11s39 8n06 Tau
Deucalion= 26Le50 0n21 12n54 Leo
QD112 = 27Ge07 14n02 37n27 Aur
Logos = 27Ge09 2s01 21n24 Ori
Saturn = 27Vi22 2n15 3n07 Vir
Orcus = 27Ge24 0n24 23n49 Tau
PJ30 = 27Vi34 5s02 3s39 Vir
WN188 = 27Sa41 r 17n43 5s43 Oph
OX3 = 27Sc51 r 1s30 21s09 Lib
UX25 = 28Aq02 r 16n43 3n33 Peg
Chiron = 28Sa17 r 6n40 16s46 Sgr
DA62 = 29Ar05 9s47 1n59 Cet
PB112 = 29Sa17 r 15s39 39s05 CrA
QB243 = 29Ca20 3n19 23n33 Cnc
VS2 = 29Aq21 r 6n50 5s17 Aqr
VU2 = 29Li25 8s10 18s54 Vir
UJ438 = 29Sc40 r 1s21 21s25 Sco
QF6 = 29Vi45 16n00 14n45 Com
Ascend = 29Ge51 0n00 23n27 Gem
XA255 = 29Ar52 12s21 0s09 Cet
Chaos = 29Pi56 r 9s26 8s40 Cet
__________________________________
Focused Minor Planets
Makemake = 22 Ca 46
Sun = 22 Ca 05
Pylenor = 24 Ca 30
OP32 = 22 Sc 02 r Trine
Sedna = 24 Ar 29 Square
Thereus = 22 Le 41 Semisextile
Teharonhi= 22 Sa 03 r Quincunx
BU48 = 22 Aq 34 r
___________________
Haumea = 21 Le 45
Thereus = 22 Le 41
TL66 = 21 Aq 08 r
BU48 = 22 Aq 34 r
Sun = 22 Ca 05 Semisextile
Mars = 7 Ca 39 Semisquare
Asbolus = 7 Ca 21
Echeclus = 6 Ca 08
Quaoar = 6 Li 50
Teharonhi= 22 Sa 03 r Trine
OP32 = 22 Sc 02 r Square
___________________
CR105 = 4 Ge 57
Moon = 3 Sa 38
GV9 = 2 Le 58 Sextile
CZ118 = 4 Le 50
CO1 = 4 Ar 15 r
TO66 = 4 Aq 49 r Trine
WL7 = 4 Sc 26 r Quincunx
___________________
OO67 = 1 Sa 40 r
Moon = 3 Sa 38
CF119 = 1 Ge 42
Bienor = 1 Ge 19
Neptune = 16 Li 50 Semisquare
GV9 = 2 Le 58 Trine
SQ73 = 1 Le 07
SB60 = 1 Cp 51 r Semisextile
Cyllarus = 2 Sc 15 r
QB1 = 2 Aq 09 r Sextile
Midheav = 2 Pi 10 Square
CY118 = 2 Ca 35 Quincunx
___________________
Typhon = 11 Ar 11 r
Okyrhoe = 11 Ar 26
Crantor = 10 Ar 48 r
Mercury = 12 Le 05 Trine
Uranus = 10 Ca 28 Square
RR43 = 11 Aq 59 r Sextile
TY364 = 11 Aq 49 r
UR163 = 10 Aq 40 r
TD10 = 11 Sc 40 r Quincunx
Node = 11 Pi 02 r Semisextile
XR190 = 11 Ta 10
Hylonome = 10 Ta 22
___________________
SA278 = 6 Pi 14 r
Venus = 5 Vi 43
Mars = 7 Ca 39 Trine
Asbolus = 7 Ca 21
Echeclus = 6 Ca 08
Radamantu= 5 Ca 09
Quaoar = 6 Li 50 Quincunx
GQ21 = 7 Le 31
HB57 = 5 Le 53
Varuna = 5 Ta 11 Sextile
RZ214 = 5 Cp 35 r
RN43 = 7 Sa 47 r Square
__________________
Eris = 8 Ar 01 r
Quaoar = 6 Li 50
Mars = 7 Ca 39 Square
Asbolus = 7 Ca 21
Echeclus = 6 Ca 08
RN43 = 7 Sa 47 r Trine
GQ21 = 7 Le 31
__________________
Ixion = 15 Li 02
Neptune = 16 Li 50
MW12 = 13 Li 31
Jupiter = 13 Ar 32
OO67 = 1 Sa 40 r Semisquare
RM43 = 13 Aq 44 r Trine
OM67 = 15 Sa 48 r Sextile
Nessus = 15 Ta 41 Quincunx
RZ215 = 15 Sc 14 r Semisextile
VR130 = 14 Sc 48 r
__________________
AW197 = 26 Ge 44
Orcus = 27 Ge 24
Logos = 27 Ge 09
Chiron = 28 Sa 17 r
Saturn = 27 Vi 22 Square
Mercury = 12 Le 05 Semisquare
UX25 = 28 Aq 02 r Trine
Deucalion = 26 Le 50 Sextile
OX3 = 27 Sc 51 r Quincunx
__________________
Ceto = 18 Ar 42
Pluto = 18 Le 38 Trine
Chariklo = 18 Sa 13 r
YQ179 = 18 Ta 40 Semisextile
Vertex = 18 Sc 26 Quincunx
GM137 = 17 Ca 06 Square
Apogee = 17 Ca 23 r
___________________________________
___________________________________
Astrological Setting (Sidereal - Fagan/Bradley)
RIYAL Sun July 15 1951 UT 9h00m00s Lat44n58 Lon93w15 SORT ALL
Planet Longit.
Sedna = 0Ar25
Pylenor = 0Ca26
AZ84 = 0Ta41
TX300 = 0Cp53 r
Huya = 1Ca05
CE10 = 1Li37 r
RL43 = 2Li15
Elatus = 2Aq37 r
AW197 = 2Ge40
GZ32 = 2Ta44
Deucalion= 2Le46
QD112 = 3Ge03
Logos = 3Ge05
Saturn = 3Vi18
Orcus = 3Ge20
PJ30 = 3Vi30
WN188 = 3Sa37 r
OX3 = 3Sc47 r
UX25 = 3Aq58 r
Chiron = 4Sa13 r
DA62 = 5Ar01
PB112 = 5Sa13 r
QB243 = 5Ca16
VS2 = 5Aq17 r
VU2 = 5Li21
UJ438 = 5Sc36 r
QF6 = 5Vi42
Ascend = 5Ge47
XA255 = 5Ar48
Chaos = 5Pi52 r
Pholus = 6Cp17 r
Amycus = 6Ar21
MS4 = 6Li57 r
SQ73 = 7Ca04
RP120 = 7Li08 r
Bienor = 7Ta15
OO67 = 7Sc36 r
CF119 = 7Ta38
SB60 = 7Sa47 r
QB1 = 8Cp06 r
Midheav = 8Aq06
Cyllarus = 8Li11 r
CY118 = 8Ge31
GV9 = 8Ca55
GB32 = 9Ca07
Moon = 9Sc34
CO1 = 10Pi11 r
WL7 = 10Li22 r
TO66 = 10Cp45 r
CZ118 = 10Ca46
CR105 = 10Ta53
Radamantu= 11Ge05
Varuna = 11Ar07
RZ214 = 11Sa31 r
Venus = 11Le39
HB57 = 11Ca49
Echeclus = 12Ge04
SA278 = 12Aq10 r
Quaoar = 12Vi46
Asbolus = 13Ge17
GQ21 = 13Ca27
Mars = 13Ge35
RN43 = 13Sc43 r
Eris = 13Pi57 r
Hylonome = 16Ar18
Uranus = 16Ge24
UR163 = 16Cp36 r
Crantor = 16Pi45 r
KF77 = 16Ge57
Node = 16Aq58 r
XR190 = 17Ar06
Typhon = 17Pi07 r
Okyrhoe = 17Pi22
TD10 = 17Li37 r
TY364 = 17Cp46 r
RR43 = 17Cp55 r
Mercury = 18Ca01
CC22 = 18Cp06 r
RD215 = 18Sa22 r
FP185 = 18Ge22
KX14 = 19Le17
96PW = 19Le19
MW12 = 19Vi27
Jupiter = 19Pi28
FZ53 = 19Aq33 r
RM43 = 19Cp41 r
DH5 = 20Cp18 r
VR130 = 20Li44 r
FZ173 = 20Ge54
Ixion = 20Vi58
RZ215 = 21Li10 r
BL41 = 21Li12 r
CO104 = 21Aq15 r
PA44 = 21Sa18 r
VQ94 = 21Pi30 r
Nessus = 21Ar37
OM67 = 21Sc44 r
Neptune = 22Vi46
GM137 = 23Ge02
LE31 = 23Cp11 r
Apogee = 23Ge19 r
Chariklo = 24Sc10 r
Vertex = 24Li22
Pluto = 24Ca34
YQ179 = 24Ar36
Ceto = 24Pi38
XZ255 = 25Le56
XX143 = 26Le29
RG33 = 26Ge35
Pelion = 26Ge48
TC302 = 26Aq51 r
TL66 = 27Cp04 r
EL61 = 27Ca41
OP32 = 27Li58 r
Teharonhi= 27Sc59 r
Sun = 28Ge01
BU48 = 28Cp30 r
PN34 = 28Ca32
Thereus = 28Ca37
FY9 = 28Ge42
_____________________
Focused Minor Planets
Makemake = 28 Ge 42
Sun = 28 Ge 01
Pylenor = 0 Ca 26
OP32 = 27 Li 58 r Trine
Sedna = 0 Ar 25 Square
Thereus = 28 Ca 37 Semisextile
Teharonhi = 27 Sc 59 r Quincunx
BU48 = 28 Cp 30 r
___________________
Haumea = 27 Ca 41
Thereus = 28 Ca 37
TL66 = 27 Cp 04 r
BU48 = 28 Cp 30 r
Sun = 28 Ge 01 Semisextile
Mars = 13 Ge 35 Semisquare
Asbolus = 13 Ge 17
Echeclus = 12 Ge 04
Quaoar = 12 Vi 46
Teharonhi= 27 Ca 41 Trine
OP32 = 27 Li 58 r Square
____________________
CR105 = 10 Ta 53
Moon = 9 Sc 34
GV9 = 8 Ca 55 Sextile
CZ118 = 10 Ca 46
CO1 = 10 Pi 11 r
TO66 = 10 Cp 45 r Trine
WL7 = 10 Li 22 r Quincunx
___________________
OO67 = 7 Sc 36 r
Moon = 9 Sc 34
CF119 = 7 Ta 38
Bienor = 7 Ta 15
Neptune = 22 Vi 46 Semisquare
GV9 = 8 Ca 55 Trine
SQ73 = 7 Ca 04
SB60 = 7 Sa 47 r Semisextile
Cyllarus = 8 Li 11 r
QB1 = 8 Cp 06 r Sextile
Midheav = 8 Aq 06 Square
CY118 = 8 Ge 31 Quincunx
___________________
Typhon = 17 Pi 07 r
Okyrhoe = 17 Pi 22
Crantor = 16 Pi 45 r
Mercury = 18 Ca 01 Trine
Uranus = 16 Ge 24 Square
RR43 = 17 Cp 55 r Sextile
TY364 = 17 Cp 46 r
UR163 = 16 Cp 36 r
TD10 = 17 Li 37 r Quincunx
Node = 16 Aq 58 r Semisextile
XR190 = 17 Ar 06
Hylonome = 16 Ar 18
___________________
SA278 = 12 Aq 10 r
Venus = 11 Le 39
Mars = 13 Ge 35 Trine
Asbolus = 13 Ge 17
Echeclus = 12 Ge 04
Radamantu= 11 Ge 05
Quaoar = 12 Vi 46 Quincunx
GQ21 = 13 Ca 27
HB57 = 11 Ca 49
Varuna = 11 Ar 07 Sextile
RZ214 = 11 Sa 31 r
RN43 = 13 Sc 43 r Square
___________________
Eris = 13 Pi 57 r
Quaoar = 12 Vi 46
Mars = 13 Ge 35 Square
Asbolus = 13 Ge 17
Echeclus = 12 Ge 04
RN43 = 13 Sc 43 r Trine
GQ21 = 13 Ca 27
___________________
Ixion = 20 Vi 58
Neptune = 22 Vi 46
MW12 = 19 Vi 27
Jupiter = 19 Pi 28
OO67 = 7 Sc 36 r Semisquare
RM43 = 19 Cp 41 r Trine
OM67 = 21 Sc 44 r Sextile
Nessus = 21 Ar 37 Quincunx
RZ215 = 21 Li 10 r Semisextile
VR130 = 20 Li 44 r
___________________
AW197 = 2 Ge 40
Orcus = 3 Ge 20
Logos = 3 Ge 05
Chiron = 4 Sa 13 r
Saturn = 3 Vi 18 Square
Mercury = 18 Ca 01 Semisquare
UX25 = 3 Aq 58 r Trine
Deucalion = 2 Le 46 Sextile
OX3 = 3 Sc 47 r Quincunx
___________________
Ceto = 24 Pi 38
Pluto = 24 Ca 34 Trine
Chariklo = 24 Sc 10 r
YQ179 = 24 Ar 36 Semisextile
Vertex = 24 Li 22 Quincunx
GM137 = 23 Ge 02 Square
Apogee = 23 Ge 19 r
____________________________________
____________________________________
At:
There are many potential keywords/keyphrases for Makemake, not only about Ventura's case:
Primary Pattern: Dauntless (Venturesome)
Independent, refusing to be fettered or coerced; exhibit a strong need for autonomy and self-determination
Unconventional; seek to do things their own way and are willing to take the consequences of doing so
Act as they see fit regardless of how others judge them
Inclined at times to elaborate on or shade the truth
Not highly conscientious; willing to ride close to the edge of the law
Do not assume customary responsibilities; may assert that too many rules stand in the way of freedom and inventiveness
Prefer to think and act in an independent and creative manner
Dislike following routine; may tend to act impulsively and irresponsibly
Do what they want or believe to be best without much concern for the effects of their actions on others
May be somewhat distrusting, skeptical about the motives of others and refusing to be fettered or coerced, they exhibit a strong need for autonomy and self-determination
Secondary Pattern 1: Outgoing (Gregarious)
Gregarious; go out of their way to be popular with others
Confident in their social abilities
Feel they can readily influence and charm others
Possess a personal style that makes people like them
Enjoy social activities
Like meeting new people and learning about their lives
Talkative, lively, socially clever
Enjoy social events; thrive on being the center of attention
May become easily bored, especially when faced with repetitive and mundane tasks
Often experience intense and shifting moods
Enthusiastic; often effective in energizing and motivating others
Enterprising; may be highly skilled at manipulating others to meet their needs
Secondary Pattern 2: Dominant (Asserting)
Enjoy the power to direct others, and to evoke obedience and respect from them
Tend to be tough and unsentimental
May sublimate power-oriented tendencies in publicly approved roles and vocations, but these inclinations become evident in occasional intransigence, stubbornness, and coercive behaviors
Despite these periodic negative expressions, controlling types typically make effective leaders, being talented in supervising and persuading others to work for the achievement of common goals
_________________________________________________________________
Posted to Centaurs (YahooGroups) on April 04, 2009
__________________________________________________________________
__________________________________________________________________