Robert Thirsk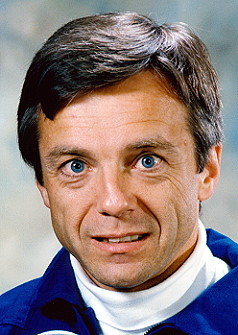 EL61/Sun conjunction
From Wikipedia, the free encyclopedia
>>Robert (Bob) Brent Thirsk, M.D. (born August 17, 1953) is a Canadian engineer and a CSA astronaut.
Thirsk is from New Westminster, British Columbia and is married to Brenda Biasutti of Montreal, Quebec. They have three children. He enjoys spending time with his family as well as flying, hockey, squash, and playing the piano.
He attended primary and secondary schools in British Columbia, Alberta and Manitoba and received a bachelor of science degree in mechanical engineering from the University of Calgary in 1976, a master of science degree in mechanical engineering from MIT in 1978, an M.D. from McGill University in 1982, and his M.B.A. from the MIT Sloan School of Management in 1998 as a Sloan Fellow.
He is a member of the Professional Engineers of Ontario, the Canadian College of Family Physicians, the Canadian Aeronautics and Space Institute, the Aerospace Medical Association, and the Colleges of Physicians and Surgeons of Ontario and of British Columbia. He is also a director of the Canadian Foundation for the International Space University.
He won the Association of Professional Engineers, Geologists and Geophysicists of Alberta Gold Medal in 1976 and was the first recipient of the University of Calgary Distinguished Alumni Award (1985). In 1997, he was awarded the Gold Medal of the Professional Engineers of Ontario and was awarded honorary membership in the College of Physicians and Surgeons of British Columbia.
NASA career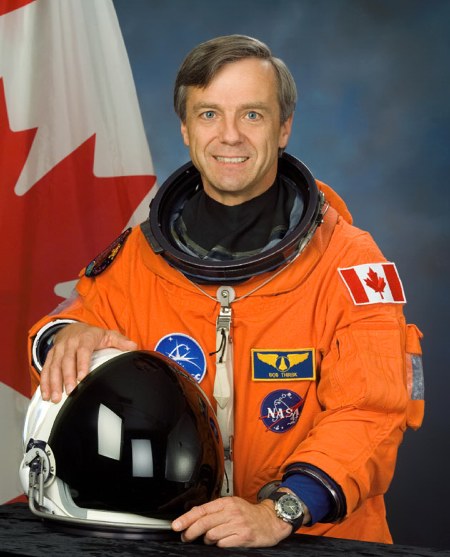 Thirsk was in the family medicine residency program at the Queen Elizabeth Hospital in Montreal when he was selected in December 1983 by the National Research Council of Canada to join the Canadian astronaut program. He began astronaut training in February 1984 and served as backup payload specialist to Marc Garneau for space shuttle mission STS-41-G, which flew October 5 to 13, 1984. He has participated in several parabolic flight experiment campaigns on board NASA's KC-135 aircraft and has been involved in various projects relating to space medicine, the International Space Station, mission planning, and education with the Canadian Space Agency. He led an international research team investigating the effect of weightlessness on the heart and blood vessels. His team designed and tested an experimental "anti-gravity suit" that may help astronauts withstand the effects of extended spaceflight on the cardiovascular system.
He served as Chief Astronaut of the Canadian Space Agency in 1993 and 1994. In February 1994, he was crew commander for the CAPSULS mission, a simulated 7-day space mission that involved the participation of several international investigators and three other Canadian astronauts. In 1994-95, Thirsk completed a sabbatical year in Victoria, British Columbia. During this year, he upgraded his skills in clinical practice, space medicine research and Russian language training.
On June 20, 1996, Thirsk flew aboard space shuttle mission STS-78 (the life and microgravity Spacelab mission) as a payload specialist.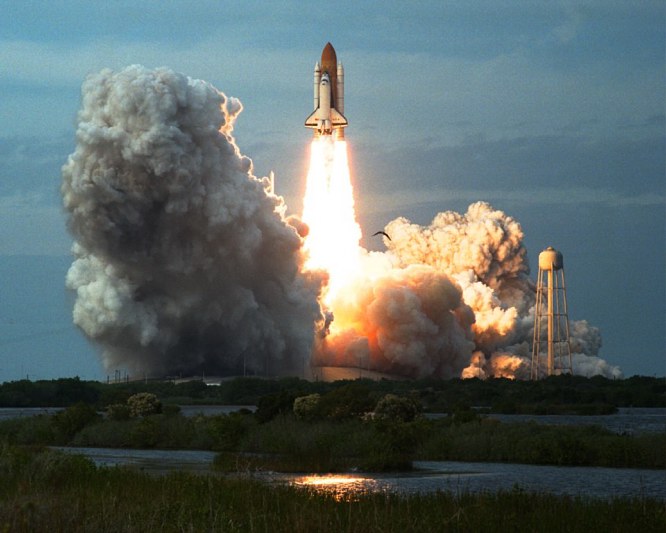 STS-87 Columbia Launch
During this 17-day flight aboard the Space Shuttle Columbia, he and his six crew mates performed 43 experiments devoted to the study of life and materials science. Most of these experiments were conducted within the pressurized Spacelab laboratory module situated in the orbiter's payload bay. The life science experiments investigated changes in plants, animals and humans under spaceflight conditions. The materials science experiments examined protein crystallization, fluid dynamics and high-temperature solidification of multi-phase materials in microgravity.
While on STS-78, Thirsk wrote two columns for the Calgary Sun newspaper. This was the first occasion in which an astronaut wrote and filed a story to a newspaper—and had it published—while the astronaut was still in orbit.
In 1998, Thirsk was assigned by the Canadian Space Agency to NASA's Johnson Space Center in Houston to pursue mission specialist training. This training program involves advanced instruction on both shuttle and space station systems, EVA (spacewalking), robotic operations, and Russian language. Within the NASA Astronaut Office, Dr. Thirsk served as a CapCom (capsule communicator) for the International Space Station (ISS) program. CapComs participate in actual and simulated space missions as a communication link between the ground team at Mission Control and the astronauts in orbit. CapComs speak directly with the space station crew, and assist with technical planning for the mission and last-minute troubleshooting.
In 2004, Thirsk trained at the Yuri Gagarin Cosmonaut Training Centre near Moscow and became certified as a Flight Engineer for the Soyuz spacecraft. He served as backup Flight Engineer to European Space Agency (ESA) astronaut Roberto Vittori for the Soyuz TMA-6 taxi mission to the ISS in April 2005. During the ten-day mission, Thirsk worked as Crew Interface Coordinator (European CapCom) at the Columbus Control Centre in Germany.
Currently, Thirsk is assigned to a long duration mission onboard the International Space Station. He will launch as a Mission Specialist on the Soyuz TMA-15 Soyuz mission scheduled for July 2009. He will be the first Canadian astronaut to fly on a Soyuz. He will serve as Flight Engineer 2 for Expedition 19. He is scheduled to return to Earth on STS-129.<<
________________________________
Assuming noon in New Westminster (British Columbia)
(Lat49n12 - Lon122w55), 19:00 UT
Using RIYAL 3.1
Astrological Setting (Tropical - Placidus)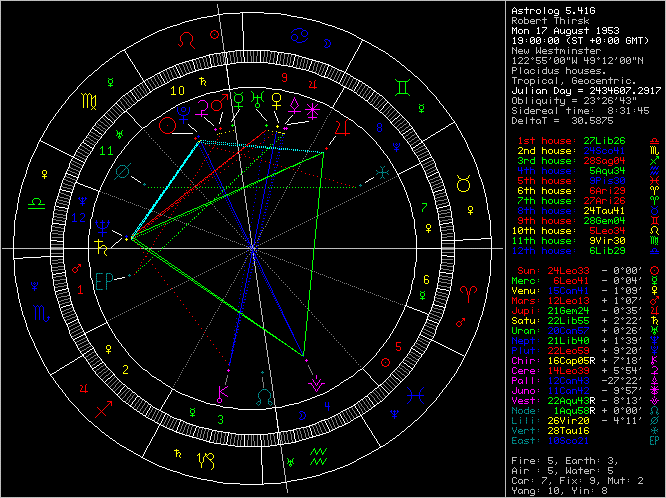 RIYAL Mon August 17 1953 UT 19h00m00s Lat49n12 Lon122w55 SORT ALL
Planet Longit. Latit. Declin. Const.
Chariklo = 0Cp07 r 11s25 34s52 Sgr
PB112 = 0Cp36 r 15s32 38s58 CrA
Orcus = 0Ca42 0s36 22n51 Gem
Logos = 0Ca52 1s56 21n31 Gem
QD112 = 1Ca01 14n13 37n39 Aur
RP120 = 1Sc04 11s24 22s30 Hya
XA255 = 1Ta12 r 12s26 0n13 Cet
VS2 = 1Pi44 r 7n36 3s46 Aqr
CC22 = 1Pi44 r 2s04 12s48 Aqr
Pylenor = 1Le52 1s30 18n17 Cnc
Chaos = 1Ar54 r 9s11 7s40 Cet
GZ32 = 1Ge55 11s03 9n43 Tau
XZ255 = 1Li58 2n23 1n24 Vir
Pholus = 1Aq59 r 1s51 21s32 Cap
Apogee = 2Li14 r 4s31 5s02 Vir
PJ30 = 2Li25 5s08 5s40 Vir
RL43 = 2Sc28 9n40 3s14 Vir
QB243 = 2Le35 3n04 22n35 Cnc
OO67 = 2Sa44 r 19n42 1s21 Ser
Node = 3Aq04 r 0n00 19s29 Cap
MS4 = 3Sc16 0s19 12s54 Vir
Okyrhoe = 3Ta25 r 9s19 3n53 Cet
Amycus = 3Ta27 r 13n09 24n58 Ari
CF119 = 3Ge53 17n11 37n46 Per
SB60 = 4Cp14 r 1s50 25s12 Sgr
QB1 = 4Aq16 r 1s48 20s57 Cap
GB32 = 5Le09 11s02 8n15 Cnc
CY118 = 5Ca15 23s41 0s19 Mon
(Midheav) = 5Le34 0n00 18n53 Cnc
UJ438 = 5Sa53 r 0s55 22s11 Sco
Cyllarus = 5Sc57 2n59 10s41 Vir
CZ118 = 6Le32 17n48 35n48 Lyn
Mercury = 6Le41 0s04 18n33 Cnc
GV9 = 6Le54 18s10 0n56 Hya
SA278 = 6Pi57 r 3n48 5s26 Aqr
TO66 = 7Aq05 r 21s17 38s58 Mic
CO1 = 7Ar14 r 19s19 14s51 Cet
Elatus = 7Ar54 r 6s12 2s34 Cet
HB57 = 8Le10 14s19 4n22 Hya
Varuna = 8Ta12 r 15s05 0s03 Cet
RZ214 = 8Cp21 r 19n07 4s06 Sct
Eris = 8Ar23 r 24s08 18s48 Cet
DA62 = 8Ta29 r 2n12 16n25 Ari
CR105 = 8Ge44 19s55 2n05 Tau
Quaoar = 9Li39 0n19 3s32 Vir
SQ73 = 10Le02 15n26 32n32 Cnc
WL7 = 10Sc14 6s56 21s28 Lib
Radamantu= 10Ca18 12n28 35n29 Aur
RN43 = 10Sa19 r 17n45 4s25 Oph
GQ21 = 10Le50 11s42 6n15 Hya
Thereus = 10Vi53 13s00 4s33 Sex
Asbolus = 11Ca50 17n06 39n56 Aur
QF6 = 12Li08 18n37 12n20 Vir
Mars = 12Le13 1n07 18n13 Cnc
XR190 = 12Ta35 r 28n08 42n04 And
TD10 = 12Sc45 3n46 12s04 Lib
Typhon = 12Ar50 r 0n52 5n52 Psc
UR163 = 13Aq31 r 0n10 16s36 Cap
TY364 = 13Aq36 r 2n50 14s02 Aqr
96PW = 14Vi09 11n07 16n28 Leo
RR43 = 14Aq31 r 23s03 38s20 Gru
RD215 = 14Cp40 r 25n40 2n53 Ser
Hylonome = 14Ta47 r 2s58 13n26 Ari
FP185 = 15Ca02 29s29 6s43 Mon
RM43 = 15Aq12 r 23s39 38s40 Gru
KF77 = 15Ca28 4n15 26n46 Gem
MW12 = 15Li31 4n59 1s31 Vir
Venus = 15Ca41 1s09 21n23 Gem
VQ94 = 15Ar44 r 43s45 33s49 For
FZ53 = 15Pi51 r 23n14 15n49 Peg
Crantor = 15Ar51 r 12s48 5s35 Cet
Chiron = 16Cp05 r 7n18 15s14 Sgr
KX14 = 16Vi50 0s21 4n53 Leo
DH5 = 16Aq54 r 8n02 8s07 Aqr
Bienor = 17Ge10 20n07 42n50 Aur
Ixion = 17Li15 15n33 7n36 Vir
FZ173 = 17Ca18 12n07 34n20 Gem
RZ215 = 17Sc25 23s45 39s37 Cen
VR130 = 17Sc51 2n38 14s38 Lib
OM67 = 18Sa10 r 21s52 44s41 Sco
Nessus = 18Ta35 4n28 21n39 Ari
VU2 = 18Sc46 3s52 21s08 Lib
CO104 = 19Pi39 r 0s13 4s18 Aqr
YQ179 = 20Ta27 18s15 0n14 Tau
Ceto = 20Ar32 r 11s04 2s15 Cet
CE10 = 20Li40 29s17 34s50 Cen
GM137 = 20Le46 10n38 24n37 Leo
Uranus = 20Ca57 0n26 22n14 Gem
Jupiter = 21Ge24 0s35 22n35 Tau
Neptune = 21Li40 1n39 6s54 Vir
TC302 = 21Pi55 r 20s34 22s00 Cet
TL66 = 22Aq53 r 23n38 8n30 Equ
Saturn = 22Li55 2n22 6s43 Vir
Pluto = 22Le59 9n20 22n39 Leo
Echeclus = 23Ca01 3s35 17n57 Gem
(Moon) = 24Sc01 4s54 23s32 Lib
Teharonhi= 24Sa11 r 1s38 24s57 Oph
EL61 = 24Le13 11n33 24n19 Leo
Sun = 24Le33 0n00 13n20 Leo
Sedna = 25Ar13 r 10s31 0s03 Cet
PN34 = 25Le14 7s27 6n05 Sex
OP32 = 25Sc15 22n41 3n00 Ser
FY9 = 25Ca44 17n50 38n28 Lyn
WN188 = 26Cp13 r 2n17 18s40 Sgr
BU48 = 26Aq29 r 3s43 16s11 Aqr
XX143 = 26Vi59 6n19 6n59 Vir
AZ84 = 27Ta14 3n40 23n07 Tau
TX300 = 27Cp25 r 12s12 32s37 Sgr
(Ascend) = 27Li26 0n00 10s34 Vir
Vertex = 28Ta17
Huya = 28Ca25 11s52 8n51 CMi
Pelion = 28Ca29 1s29 19n01 Cnc
RG33 = 28Ca52 33n22 52n43 UMa
AW197 = 29Ge02 12n10 35n36 Aur
BL41 = 29Sc13 8s38 28s24 Lib
PA44 = 29Ar22 r 0n40 11n52 Ari
OX3 = 29Sc30 1s23 21s24 Sco
UX25 = 29Aq37 r 16n22 3n45 Peg
LE31 = 29Li43 r 24n22 11n28 Boo
Deucalion= 29Le49 0n21 11n52 Leo
______________________________
Focused Minor Planets
EL61 = 24 Le 13 (Needing physical/psychological restraints, in order to
disclose powerful energy)
Sun = 24 Le 33
Pluto = 22 Le 59
PN34 = 25 Le 14
TL66 = 22 Aq 53 r
Saturn = 22 Li 55 Sextile
Sedna = 25 Ar 13 r Trine
Teharonhi= 24 Sa 11 r
Quaoar = 9 Li 39 Semisquare
OP32 = 25 Sc 15 Square
_____________________
GV9 = 6 Le 54
Mercury = 6 Le 41
CZ118 = 6 Le 32
GB32 = 5 Le 09
HB57 = 8 Le 10
TO66 = 7 Aq 05 r
Jupiter = 21 Ge 24 Semisquare
Varuna = 8 Ta 12 r Square
Cyllarus = 5 Sc 57
SA278 = 6 Pi 57 r Quincunx
Eris = 8 Ar 23 r Trine
_____________________
FP185 = 15 Ca 02
Venus = 15 Ca 41
Chiron = 16 Cp 05 r
MW12 = 15 Li 31 Grand Cross
Crantor = 15 Ar 51 r
VQ94 = 15 Ar 44 r
RM43 = 15 Aq 12 r Quincunx
Hylonome = 14 Ta 47 r Sextile
Deucalion = 29 Le 49 Semisquare
____________________
Ixion = 17 Li 15
MW12 = 15 Li 31
Crantor = 15 Ar 51 r
VQ94 = 15 Ar 44 r
Venus = 15 Ca 41 Grand Cross
FZ173 = 17 Ca 18
Chiron = 16 Cp 05 r
OO67 = 2 Sa 44 r Semisquare
Nessus = 18 Ta 35 Quincunx
Bienor = 17 Ge 10 Trine
RZ215 = 17 Sc 25 Semisextile
KX14 = 16 Vi 50
OM67 = 18 Sa 10 r Sextile
____________________
TY364 = 13 Aq 36 r
UR163 = 13 Aq 31 r
RR43 = 14 Aq 31 r
Mars = 12 Le 13
TD10 = 12 Sc 45 Grand Cross
XR190 = 12 Ta 35 r
Hylonome = 14 Ta 47 r
Typhon = 12 Ar 50 r Sextile
____________________
TL66 = 22 Aq 53 r
Jupiter = 21 Ge 24 Grand Trine
Neptune = 21 Li 40
Saturn = 22 Li 55
Eris = 8 Ar 23 r Semisquare
TC302 = 21 Pi 55 r Semisextile
____________________
TC302 = 21 Pi 55 r
Uranus = 20 Ca 57 Trine
TO66 = 7 Aq 05 r Semisquare
__________________________________
__________________________________
Astrological Setting (Sidereal - Fagan/Bradley)
RIYAL Mon August 17 1953 UT 19h00m00s Lat49n12 Lon122w55 SORT ALL
Planet Longit.
Teharonhi= 0Sa06 r
EL61 = 0Le07
Sun = 0Le27
Sedna = 1Ar07 r
PN34 = 1Le08
OP32 = 1Sc09
FY9 = 1Ca38
WN188 = 2Cp07 r
BU48 = 2Aq23 r
XX143 = 2Vi53
AZ84 = 3Ta08
TX300 = 3Cp19 r
(Ascend) = 3Li20
Vertex = 4Ta11
Huya = 4Ca19
Pelion = 4Ca23
RG33 = 4Ca46
AW197 = 4Ge56
BL41 = 5Sc07
PA44 = 5Ar16 r
OX3 = 5Sc24
UX25 = 5Aq31 r
LE31 = 5Li37 r
Deucalion= 5Le43
Chariklo = 6Sa01 r
PB112 = 6Sa30 r
Orcus = 6Ge36
Logos = 6Ge47
QD112 = 6Ge55
RP120 = 6Li58
XA255 = 7Ar07 r
VS2 = 7Aq38 r
CC22 = 7Aq38 r
Pylenor = 7Ca46
Chaos = 7Pi49 r
GZ32 = 7Ta50
XZ255 = 7Vi52
Pholus = 7Cp54 r
Apogee = 8Vi09 r
PJ30 = 8Vi19
RL43 = 8Li23
QB243 = 8Ca29
OO67 = 8Sc38 r
Node = 8Cp58 r
MS4 = 9Li11
Okyrhoe = 9Ar19 r
Amycus = 9Ar21 r
CF119 = 9Ta47
SB60 = 10Sa08 r
QB1 = 10Cp10 r
GB32 = 11Ca04
CY118 = 11Ge09
(Midheav) = 11Ca29
UJ438 = 11Sc47 r
Cyllarus = 11Li51
CZ118 = 12Ca26
Mercury = 12Ca35
GV9 = 12Ca48
SA278 = 12Aq51 r
TO66 = 12Cp59 r
CO1 = 13Pi08 r
Elatus = 13Pi48 r
HB57 = 14Ca05
Varuna = 14Ar07 r
RZ214 = 14Sa15 r
Eris = 14Pi17 r
DA62 = 14Ar23 r
CR105 = 14Ta38
Quaoar = 15Vi33
SQ73 = 15Ca57
WL7 = 16Li08
Radamantu= 16Ge12
RN43 = 16Sc13 r
GQ21 = 16Ca44
Thereus = 16Le47
Asbolus = 17Ge45
QF6 = 18Vi02
Mars = 18Ca07
XR190 = 18Ar30 r
TD10 = 18Li39
Typhon = 18Pi44 r
UR163 = 19Cp26 r
TY364 = 19Cp31 r
96PW = 20Le04
RR43 = 20Cp25 r
RD215 = 20Sa34 r
Hylonome = 20Ar41 r
FP185 = 20Ge57
RM43 = 21Cp07 r
KF77 = 21Ge22
MW12 = 21Vi26
Venus = 21Ge35
VQ94 = 21Pi39 r
FZ53 = 21Aq45 r
Crantor = 21Pi46 r
Chiron = 21Sa59 r
KX14 = 22Le44
DH5 = 22Cp48 r
Bienor = 23Ta04
Ixion = 23Vi09
FZ173 = 23Ge13
RZ215 = 23Li20
VR130 = 23Li45
OM67 = 24Sc04 r
Nessus = 24Ar29
VU2 = 24Li40
CO104 = 25Aq33 r
YQ179 = 26Ar21
Ceto = 26Pi26 r
CE10 = 26Vi34
GM137 = 26Ca40
Uranus = 26Ge51
Jupiter = 27Ta18
Neptune = 27Vi34
TC302 = 27Aq49 r
TL66 = 28Cp47 r
Saturn = 28Vi50
Pluto = 28Ca53
Echeclus = 28Ge55
(Moon) = 29Li55
___________________
Focused Minor Planets
EL61 = 0 Le 07 (Needing physical/psychological restraints, in order to
disclose powerful energy)
Sun = 0 Le 27
Pluto = 28 Ca 53
PN34 = 1 Le 08
TL66 = 28 Cp 47 r
Saturn = 28 Vi 50 Sextile
Sedna = 1 Ar 07 r Trine
Teharonhi= 0 Sa 06 r
Quaoar = 15 Vi 33 Semisquare
OP32 = 1 Sc 09 Square
____________________
GV9 = 12 Ca 48
Mercury = 12 Ca 35
CZ118 = 12 Ca 26
GB32 = 11 Ca 04
HB57 = 14 Ca 05
TO66 = 12 Cp 59 r
Jupiter = 27 Ta 18 Semisquare
Varuna = 14 Ar 07 r Square
Cyllarus = 11 Li 51
SA278 = 12 Aq 51 r Quincunx
Eris = 14 Pi 17 r Trine
___________________
FP185 = 20 Ge 57
Venus = 21 Ge 35
Chiron = 21 Sa 59 r
MW12 = 21 Vi 26 Grand Cross
Crantor = 21 Pi 46 r
VQ94 = 21 Pi 39 r
RM43 = 21 Cp 07 r Quincunx
Hylonome = 20 Ar 41 r Sextile
Deucalion = 5 Le 43 Semisquare
___________________
Ixion = 23 Vi 09
MW12 = 21 Vi 26
Crantor = 21 Pi 46 r
VQ94 = 21 Pi 39 r
Venus = 21 Ge 35 Grand Cross
FZ173 = 23 Ge 13
Chiron = 21 Sa 59 r
OO67 = 8 Sc 38 r Semisquare
Nessus = 24 Ar 29 Quincunx
Bienor = 23 Ta 04 Trine
RZ215 = 23 Li 20 Semisextile
KX14 = 22 Le 44
OM67 = 24 Sc 04 r Sextile
___________________
TY364 = 19 Cp 31 r
UR163 = 19 Cp 26 r
RR43 = 20 Cp 25 r
Mars = 18 Ca 07
TD10 = 18 Li 39 Grand Cross
XR190 = 18 Ar 30 r
Hylonome = 20 Ar 41 r
Typhon = 18 Pi 44 r Sextile
___________________
TL66 = 28 Cp 47 r
Jupiter = 27 Ta 18 Grand Trine
Neptune = 27 Vi 34
Saturn = 28 Vi 50
Eris = 14 Pi 17 r Semisquare
TC302 = 27 Aq 49 r Semisextile
____________________
TC302 = 27 Aq 49 r
Uranus = 26 Ge 51 Trine
TO66 = 12 Cp 59 r Semisquare
__________________________________________
Posted to Centaurs (YahooGroups) on August 02, 2008
___________________________________
___________________________________