Amy Winehouse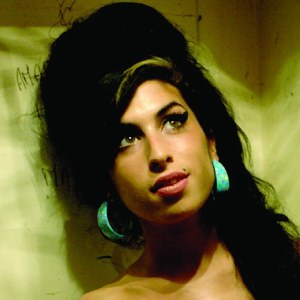 EL61/Sun conjunction
From Wikipedia, the free encyclopedia
>>Amy Jade Winehouse (born 14 September 1983) is an English singer-songwriter, known for her eclectic mix of various musical genres including soul, jazz, rock & roll and R&B.
Winehouse's 2003 debut album Frank did well, both commercially and critically, in her native Britain. It was nominated for the Mercury Prize. Her 2006 follow-up album Back to Black led to six Grammy Award nominations and five wins, tying the record for the most wins by a female artist in a single night, and made Winehouse the first British singer to win five Grammys, including three of the "Big Four": Best New Artist, Record of the Year and Song of the Year. On February 14, 2007, she won a BRIT Award for Best British Female Artist; she had also been nominated for Best British Album. She has won the Ivor Novello Award three times, one in 2004 for Best Contemporary Song (musically and lyrically) for Stronger Than Me, one in 2007 for Best Contemporary Song for Rehab, and one in 2008 for Best Song Musically and Lyrically for Love Is A Losing Game, among other prestigious distinctions.
Winehouse has received media attention apart from her singing. Her distinctive style, most notably her signature beehive hairstyle, has spawned imitators and been the muse for fashion designers, most notably Karl Lagerfeld.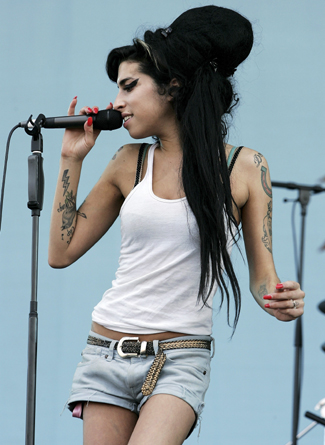 The singer's problems with drug and alcohol addiction, as well as self-destructive behaviour, have become regular tabloid news since 2007. She and her husband have been plagued by legal troubles that have led to the cancellation of several tour dates.
In June 2008 it was confirmed that Winehouse has developed early signs of emphysema. Winehouse's father reported in addition she has an irregular heartbeat and said these conditions were brought on by smoking cigarettes and crack cocaine.
Early life
Amy Winehouse was born in the Southgate area of Enfield, London to a Jewish family who shared her love of jazz music. She was raised in a family of four: her father Mitchell (a taxi driver), her mother Janis (a pharmacist), and her older brother Alex. Mitchell would constantly sing around the house, often singing Frank Sinatra to young Amy, who also took to a constant habit of singing to the point that teachers found it difficult keeping her quiet in class.
She was trained initially at The Susi Earnshaw Theatre School from the age of eight years old. At age ten, Winehouse founded a short-lived rap group called Sweet 'n' Sour with childhood friend Juliette Ashby. She stayed at the Earnshaw school for four years before seeking full time training at Sylvia Young Theatre School, but was allegedly expelled at fourteen for "not applying herself" and for piercing her nose. With other children from the Sylvia Young School, she appeared in an episode of The Fast Show in 1997. She later attended the BRIT School in Selhurst, Croydon.
Career
Early career
After toying with her brother's guitar, Winehouse received her first guitar when she was thirteen, and began writing music a year later. She began working soon after, including as a "showbiz journalist" for the World Entertainment News Network in addition to singing with a jazz band. Her sometimes boyfriend at the time, soul singer Tyler James, sent her demo tape to an A&R person. The tape led to her signing with record label Island/Universal under Simon Fuller's company 19 Management, and to a publishing deal with EMI. Winehouse hired New York singer Sharon Jones's longtime band, the Dap-Kings to back her up in the studio and on tour, giving the group its first real taste of the limelight.
Major label success
Amy Winehouse's debut album, Frank, was released on 20 October 2003. Produced mainly by Salaam Remi, many songs had jazz-influences and, apart from two covers, every song was co-written by Winehouse. The album received positive reviews with compliments over the "cool, critical gaze" in its lyrics[1] and brought comparisons of her voice to Sarah Vaughan, Macy Gray and others.
The album entered the upper levels of the UK album chart in 2004 when it was nominated for BRIT Awards in the categories of "British Female Solo Artist" and "British Urban Act". It went on to achieve platinum sales. Later in 2004, she won the Ivor Novello songwriting Award for Best Contemporary Song, alongside Salaam Remi, with her contribution to the first single, "Stronger Than Me".The album also made the short list for the 2004 Mercury Music Prize. In the same year, she performed at the Glastonbury festival, on the Jazzworld stage, and at the V Festival.
After the release of the album, Winehouse commented that she was "only 80 percent behind [the] album" because of the inclusion by her record label of certain songs and mixes she disliked. Upon the release of her second album, she stated "I canít even listen to Frank any more ó in fact, Iíve never been able to. I like playing the tracks live because thatís different, but listening to them is another story." She later clarified this, saying: "I listen to it differently now. I am still really proud of it, I still think it's a great album. But, with hindsight, there are some things I would have done differently... Just because I would do things a bit differently now doesn't mean I don't like what's on that album."
International success
In contrast to her jazz-influenced former album, Winehouse's focus shifted to the girl groups of the 1950s and 1960s. In an interview, Winehouse explained, "After Frank I didnít write for 18 months but when I met Mark [Ronson] I pretty much wrote the album in six months ó he was so inspiring." In early 2006, Winehouse's demonstration tracks such as "Wake Up Alone" and "Rehab" appeared on Mark Ronson's New York radio show on East Village Radio. These were some of the first new songs played on the radio after the release of "Pumps" and both were slated to appear on her second album. The 11-track album was produced entirely by Salaam Remi and Ronson, with the production credits being split between them. Promotion of Back to Black soon began, and in early October 2006, Winehouse's official website was re-launched with a new layout and clips of previously unreleased songs.
Back to Black was released in the UK on 30 October 2006. It went to number one on the UK Albums Chart numerous times, and entered at number seven on the Billboard 200 in the United States. By October 25, the album was approaching 5x platinum in the UK, making it the best-selling album of 2007 and the top iTunes album in the UK in 2007.
The album spawned a number of singles. The first single released from the album on 23 October 2006 was the Ronson-produced "Rehab". The song was a number-seven single in the UK, and the Ivor Novello award for best contemporary song. "Rehab" peaked at number nine on the Billboard Hot 100 the week of June 21, shortly after a performance of it on the 2007 MTV Movie Awards. Time magazine named "Rehab" one of the 10 Best Songs of 2007, ranking it at number one. Writer Josh Tyrangiel praised Winehouse for her confidence, opining, "What she is is mouthy, funny, sultry, and quite possibly crazy" and, "It's impossible not to be seduced by her originality. Combine it with production by Mark Ronson that references four decades worth of soul music without once ripping it off, and you've got the best song of 2007."
The album's second single, "You Know I'm No Good" was released on 8 January 2007 with a remix featuring rap vocals by Ghostface Killah. It ultimately reached number 18 on the UK singles chart. Back to Black was released in the United States in March 2007, with "You Know I'm No Good" as its lead single. The title track, "Back to Black", was released in the UK on 30 April 2007 and peaked at number 25. A deluxe edition of Back to Black was also released on 5 November 2007 in the UK. The bonus disc features B-sides, rare, and live tracks, as well as "Valerie". Winehouse's debut DVD I Told You I Was Trouble: Live in London was released the same day in the U.K. and November 13 in the U.S. It includes a live set recorded at London's Shepherds Bush Empire and a 50-minute documentary charting the singer's career over the previous four years. On December 10, 2007, the final single from Back to Black, "Love Is a Losing Game", was released in the United Kingdom and U.S.
Frank was released in the United States on 20 November 2007 to positive reviews. The album debuted at number 61 on the Billboard 200 chart.
In addition to her own album, she has collaborated with other artists on singles. Winehouse was a vocalist on the song "Valerie" on Ronson's solo album Version. The song peaked at number two in the UK, upon its October single release. The song was nominated for a 2008 Brit Award for "Best British Single". Her work with ex-Sugababe Mutya Buena, "B Boy Baby," was released on 17 December 2007. It served as the fourth single from Buena's solo debut album Real Girl.
By year's end, Winehouse had garnered numerous accolades and awards. The singer won 2008 Grammy Awards in the categories of 'Record of the Year', 'Song of the Year', and 'Best Female Pop Vocal Performance' for the single "Rehab", while her album Back to Black was nominated for 'Album of the Year' and won the 'Record of the Year' award. Producer Mark Ronson's work with her won the award in the Producer of the Year Non-Classical category. The singer also earned a Grammy in the 'Best New Artist' category. She performed "You Know Iím No Good" and "Rehab" at the awards ceremony on 10 February 2008 via satellite, as her visa approval came through too late for her to travel to the U.S. She said "This is for London because Camden town is burning down," in reference to the Camden Market fire. The nominations, announced in early December, led to a 48 percent increase in the sales of Back to Black in the United States. Post Grammy Awards, album sales increased by 368 percent over the prior week, to the number 2 position in the United States.
On 13 January 2008, Back to Black held the number one position on the Billboard Pan European charts for the third straight week. By the end of January 2008, Universal Music International reported that total sales had reached 3.4 million copies and that it believed there was a correlation between that figure and the extensive media coverage the singer has received.
On 20 February 2008, Winehouse performed at the 2008 BRIT Awards, performing "Valerie" with Mark Ronson, followed by "Love Is a Losing Game". She urged the crowd to "make some noise for my Blake."
A special deluxe edition of "Back to Black" topped the UK album charts on 2 March 2008. The original edition of the album resided at the number 30 position, in its 68th week on the charts, while "Frank" charted at number 35.By 12 March, the album had sold a total of 2,467,575 copies, 318,350 of those in the previous 10 weeks, putting the album on the UK's top 10 best-selling albums of the 21st century for the first time. On 7 April, "Back to Black" was residing at the top position on the pan-European charts for the sixth consecutive and thirteenth aggregate week..
"Back to Black" was the bestselling album in the worldwide during the first half of 2008 selling 3.67 million copies for an overall total of nearly 10 million copies.
At the 2008 Ivor Novello Awards, Winehouse became the first artist to receive two nominations for the top award, best song, musically and lyrically. She won the award for "Love Is a Losing Game" and was nominated for "You Know I'm No Good". "Rehab", a Novello winner for best contemporary song in 2006, also received a 2008 nomination for bestselling British song.
Amy Winehouse - The Girl Done Good: A Documentary Review a 78 minute DVD was released on 14 April 2008. The documentary features interviews with those who knew her at a young age, helped her gain success, jazz music experts, as well as music and pop culture specialists.
A wax sculpture of Winehouse went on display at the London Madame Tussauds on 23 July 2008 as part of a new music area at the museum. The detailed sculpture is nearly six feet tall. The singer did not attend the unveiling, although her parents did. The museum manager noted that Winehouse is "a real icon in modern music" and the display had been widely requested by guests.
Future recordings
After a surprise duet with Prince at the end of a London appearance, he proposed that she fly to his Minnesota home to work on a musical collaboration. Meanwhile, George Michael wrote a song with which he wants to duet with Winehouse. Michael said "Amy is the best female vocalist I have ever heard in my entire career, as well as one of the best writers."
The singer expressed interest in working with Damian Marley, son of reggae legend Bob Marley, in Jamaica.
Winehouse has begun work on songs for a forthcoming album, in collaboration with Mark Ronson.
Pete Doherty said that Babyshambles had begun collaborating with the singer on a song entitled "You Hurt the Ones You Love". In May 2008, Doherty announced that he will duet with Winehouse on a track for the forthcoming Babyshambles album. Winehouse is writing the song with Babyshambles guitarist Mick Whitnall. In addition Doherty said that Winehouse was "recording loads of new stuff" and that he is taking a "back seat" in the collaboration process.
Winehouse said she has written "loads of songs" for the upcoming James Bond movie Quantum of Solace and "itís up to them if they want it or not.Ē.
According to a newspaper report Winehouse plans to start her own record label when she has fulfilled her contractual obligations to her current label Island Records.
Club Night
On 10 July 2008 Winehouse launched her own club night Snakehips at the Monarch in the Camden Monarch venue in London. Although billed as a DJ battle between her and another DJ, she stayed behind the decks swaying as another person actually spun 1960ís music.
Touring
Winehouse toured in conjunction with the album's release. She performed headlining gigs in September and November 2006, including one of the Little Noise Sessions charity concerts at the Union Chapel, Islington. On 31 December 2006, Winehouse appeared on Jools Holland's Annual Hootenanny and performed a cover of Marvin Gaye's "I Heard It Through the Grapevine" along with Paul Weller and Holland's Rhythm and Blues Orchestra. She also performed Toots and the Maytals' "Monkey Man". She began a run of another fourteen gigs beginning in February 2007. During the summer of 2007, Winehouse performed at various festivals, including UK's Glastonbury Festival, Chicago's Lollapalooza festival, Rock Werchter and Baltimore's Virgin Music Festival. However, Winehouse cancelled her appearance at Provinssirock in Seinäjoki, Finland on 17 June 2007, citing a sore throat. Amid controversy surrounding her health, drug use, and her husband, in October 2007, she cancelled her tour dates for the remainder of the year.
On 30 May, 2008, Winehouse performed at the Rock in Rio Lisboa festival in Lisboa, Portugal. Although the set was plagued by a late arrival and problems with her voice, the crowd warmed to her. In addition to her own material she performed two Specials covers.
Winehouse performed at Nelson Mandela's 90th Birthday Party concert at London's Hyde Park on the 27 June and the next day at the Glastonbury Festival.. On 4 July she performed at the Rock in Rio festival in Madrid where she gave what was describes as a "strong vocal performance" but was unsteady on her feet. On the 12 July at the Oxegen Festival she performed a well received 50 minute set which was followed the next day by a 14 song set a T in the Park. Other performances scheduled include the Rock en Seine, V Festival, and Bestival, events as well a duet with Pete Doherty at the Albert Hall during the summer of 2008..
This singers father announced on 12 July that Winehouse will perform at the five remaining live shows she is contracted to do until 5 September. After that she will not perform ďfor the foreseeable futureĒ because of the health problems with her lungs detailed below.
Personal life
On 18 May 2007, Winehouse married on-off boyfriend Blake Fielder-Civil in Miami, Florida. Winehouse has admitted she is violent towards Fielder-Civil when she has been drinking. In a June 2007 interview with World Entertainment News Network she said: "I'll beat up Blake when I'm drunk. I don't think I have ever bruised him, but I do have my way. If he says one thing I don't like then I'll chin him." In a July 2008 interview Winehouse said her marriage is not an open one and she would like to have at least five children.
Substance abuse and mental health issues
Winehouse's battles with substance abuse have been the subject of much media attention. In various interviews, she has admitted to having problems with self-harm, depression and eating disorders. Her husband's attorney testified in court that for over half his life Blake Fielder-Civil has had a "intimate relationship with drug addiction" including heroin and cocaine as well as a history of self-harm and suicide attempts. In August 2007, Winehouse cancelled a number of shows in the UK and Europe, citing exhaustion and ill health. She was hospitalized during this period for what was reported as an overdose of heroin, ecstasy, cocaine, ketamine and alcohol.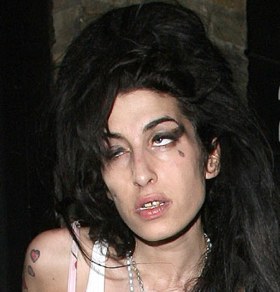 Soon after, Winehouse and her husband were photographed, bloodied and bruised, in the streets of London after an alleged fight, although she contended her injuries were self-inflicted. Winehouse's parents and in-laws publicly reported their numerous concerns, citing fears that the two might commit suicide, with Fielder-Civil's father encouraging fans to boycott her music. Winehouse's father commented that when he had made public statements regarding her problems, he was using the media because it seemed the only way to get through to her.
On 2 December 2007, images of the singer outside her home in the early morning hours, barefoot and wearing only a bra and jeans, appeared on the internet and in tabloid newspapers. In a statement, her spokesperson blamed paparazzi harassment for the incident. The spokesperson reported that the singer was in a physician-supervised program and was channeling her difficulties by writing a lot of music.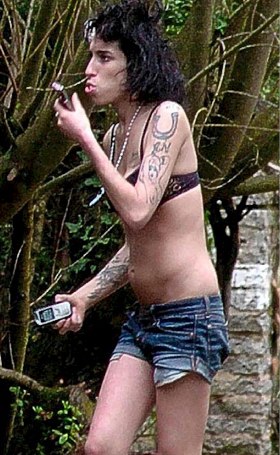 The British tabloid The Sun posted a video of a woman, alleged to be Winehouse, apparently smoking crack cocaine and speaking of having taken ecstasy and valium. Winehouse's father moved in with her, and Island Records, her record label, announced the abandonment of plans for an American promotion campaign on her behalf. In late January 2008, Winehouse entered a rehabilitation facility for a two week treatment program.
On 23 January 2008, the video was passed on to Scotland Yard, Metropolitan Police, who questioned her on February 5.To date no charges have been brought.
On 26 March 2008, Winehouse's spokesperson said she was "doing well" and denied a published report in a British tabloid that consideration was being given to having her return to rehab. Her record company reportedly believed that her recovery remained fragile.
By late April 2008, her erratic behaviour, including an allegation of assault, caused fear that her drug rehabilitation efforts have been unsuccessful,leading to efforts by Winehouse's father and manager to seek assistance in having her sectioned.
Health issues
On 23 June 2008 a spokesperson for Winehouse confirmed that she has been diagnosed with early signs of what could lead to emphysema. Mitch Winehouse reported that his daughter's lungs are operating at 70 percent capacity. In addition he said she has an irregular heartbeat. Mr. Winehouse said these problems were caused by her chain cigarette smoking and crack cocaine use. The singerís father also reported that doctors have warned Winehouse that continued smoking of crack cocaine will result in her having to wear an oxygen mask and will be fatal. In a radio interview Mitch Winehouse said the singer is responding "fabulously " to treatment which includes being covered with nicotine patches. British Lung Foundation spokesperson Dr. Keith Prowse noted this type of condition can be managed with treatment. Prowse also said the condition is not normal for a person her age but "heavy smoking and inhaling other substances like drugs can age the lungs prematurely". Dr. Norman H. Edelman, Chief Medical Officer for the American Lung Association explained that if she stopped smoking her lung functions would decline at the rate of a normal person but continued smoking would lead to a more rapid decline in lung function. Photographs of the singer with a cigarette in her mouth, taken 23 June 2008, were widely published. Winehouse was released from The London Clinic 24 hours after returning from a temporary leave in order to perform at the Mandela 90th birthday and Glastonbury concerts, and is now being treated as an outpatient. On 23 July Winehouse described her diagnosis as "some areas of emphysema" and said she is getting herself together by "eating loads of healthy food, sleeping loads, playing my guitar, making music and writing letters to my husband every day".
Legal problems
On 8 September 2007, Winehouse settled a claim for copyright infringement over the song "He Can Only Hold Her", brought against her by songwriter and producer P*Nut. His lawyer stated that the songwriter would receive a share of the royalties from the song and payment of costs. Previously he had received a "thank you" for his contribution but no songwriter credit on the album.
In October 2007, Winehouse and her husband were arrested in Norway for possession of cannabis. The couple were later released and fined 3850 kroner (around £350).[106] Winehouse claimed she was "duped" into confessing, but police denied the allegation, noting that fluent English speakers handled Winehouse when she signed the confession. A 29 February 2008 court appearance was postponed because of a legal conflict concerning an appearance Fielder-Civil was required to attend.
On 9 November 2007, Winehouse's husband and four other men were arrested on a charge of trying to pervert the course of justice in relation to an assault on a pub landlord in June 2007; On 6 June 2008, Fielder-Civil and his 3 co-defendants pled guilty to both the pervert the course of justice charge, as well as a charge of grievous bodily harm with intent. Winehouse was rebuked for her behaviour several times by court officials during the legal proceedings in the matter. In testimony before the court the prosecution revealed that the landlord, who suffered a broken cheek in the attack, accepted £200,000 as part of a deal to "effectively throw the [court] case and not turn upĒ. The prosecution testified that the money used to pay off the landlord belonged to Winehouse and that the plot began to unravel when a middleman involved in the plot recognising Fielder-Civil's notoriety tried to sell security camera footage of the attack to The Daily Mirror. The court was told that Winehouse pulled out of a October 2007 meeting with the men involved in the plot. The meeting never occurred because Winehouse had to attend an awards ceremony. The pub landlord in an interview said he has metal plates and bolts in his head as a result of the attack and that Fielder-Civil since pleading guilty has written him a letter of apology from prison. On 21 July 2008 Fielder-Civil was sentenced to twenty seven months in prison. Taking into account the nine and half months served prior to sentencing and his behaviour Fielder-Civil could be released by December if not sooner. The singer did not attend the sentencing.
Winehouse was initially denied a U.S. visa because of "use and abuse of narcotics", but was later issued one. The decision came too late for her to appear live at the 2008 Grammy Awards show, and she performed via satellite. Meanwhile, on 17 February 2008, Fielder-Civil reportedly was hospitalised after collapsing in prison from what was reported to be contaminated heroin.
On 26 April 2008, Winehouse was cautioned after she admitted to police she slapped the face of a man with her hand, a "common assault" offense. The incident, for which she has apologised, will stay on her record and could be used against her if she is charged with a similar offence at a future time. She voluntarily turned herself in and was held overnight. When she arrived a doctor ruled she was "unfit for interview".
Winehouse was arrested on 7 May 2008 on suspicion of possessing drugs after a video of her apparently smoking crack cocaine was passed to Scotland Yard in January, but was released on bail a few hours later. The Crown Prosecution Service considered charging her with possessing a controlled drug and allowing her premises to be used for the supply by others of a controlled drug, but was cleared when the service could not establish that the substance in the video was a controlled drug. In reaction to the decision, former Scotland Yard commander John OíConnor said it is an "absolute scandal that nothing could be done" about Winehouse "cooking a snook at the law". Some Members of Parliament also reacted negatively. Two London residents were subsequently charged with conspiracy to supply cocaine and ecstasy to Winehouse. On 1 July the pair appeared in court and were bailed to return in October.
Other issues
Winehouse was ranked number two on Richard Blackwell's 48th annual "Ten Worst Dressed Women" list, behind Victoria Beckham. In Paris, she performed what was described as a "well-executed 40 minute" set at the opening of a Fendi boutique.
Winehouse joined a campaign to stop a block of flats being built beside the George Tavern, a famous London East End music venue. Campaign supporters feared the residential development would end the spot's lucrative sideline as a film and photo location, on which it relies to survive.
As part of a breast cancer awareness campaign Winehouse appeared in a revealing photograph for the April 2008 issue of Easy Living magazine.
Winehouse has an estimated £10m fortune, tying her for tenth place in the Sunday Times listing of the wealth of musicians under age thirty. It was reported she earned about £1m singing at two private parties during Paris Fashion Week. as well as another £1m to perform at a Moscow Art Gallery for Russian oligarch Roman Abramovich.
Controversy
Winehouse's dichotomous public image of critical and commercial success versus personal turmoil has proven to be controversial. In November 2007, the opening night of a 17-date tour was marred by booing and walkouts at the National Indoor Arena in Birmingham. A music critic for the Birmingham Mail newspaper said it was "one of the saddest nights of my life...I saw a supremely talented artist reduced to tears, stumbling around the stage and, unforgivably, swearing at the audience." Other concerts ended similarly, until she announced on November 27, 2007, that her performances and public appearances were cancelled for the remainder of 2007, citing doctor advice to take a complete rest. A statement issued by concert promoter Live Nation blamed "the rigours involved in touring and the intense emotional strain that Amy has been under in recent weeks" for the decision.
The New Statesman magazine called Winehouse "a filthy-mouthed, down-to-earth diva," while Newsweek magazine called her "a perfect storm of sex kitten, raw talent and poor impulse control." Karen Heller with The Philadelphia Inquirer summarized the maelstrom this way:
She's only 24 with six Grammy nods, crashing headfirst into success and despair, with a codependent husband in jail, exhibitionist parents with questionable judgment, and the paparazzi documenting her emotional and physical distress. Meanwhile, a haute designer (Karl Lagerfeld) appropriates her disheveled style and eating issues to market to the elite while proclaiming her the new Bardot.
By 2008, her continued drug problems threatened her career. Even as Nick Gatfield, the president of Island Records, toyed with the idea of releasing Winehouse "to deal with her problems", he remarked on her talent, saying, "Itís a reflection of her status [in the U.S.] that when you flick through the TV coverage [of the Grammys] itís her image they use."
In the days before her entry into rehabilitation, The Times, in a break with its normal custom of not devoting space to the "saga of pop singers," editorialized that the state should force the singer into rehabilitation. The editorial, in part, read, "The State's actions could save a great talent. She desperately needs to be brought into rehabilitation and, this time, to stay put there for weeks if not months."
The 2008 NME Awards reflected mixed feelings toward Winehouse. The singer was nominated for awards in the categories of "Villain of the Year", "Best Solo Artist", and "Best Music DVD" and won in the category of "Worst Dressed Performer". In its third annual list, Glamour Magazine named Winehouse the third worst dressed British Woman.
Post-Grammys, some questioned whether Winehouse should have been honored with the awards given her recent personal and drug problems. Natalie Cole (who battled her own substance-abuse problems while winning a Grammy for Best New Artist in 1975) remarked, "I think the girl is talented, gifted, but it's not right for her to be able to have her cake and eat it too. She needs to get herself together."
In an opinion newspaper commentary, Antonio Maria Costa, executive director of the United Nations Office on Drugs and Crime, said that the alleged drug habits of Winehouse and other celebrities sends a bad message "to others who are vulnerable to addiction" and undermines the efforts of other celebrities trying to raise awareness of problems in Africa, now that more cocaine used in Europe passes through Africa. Winehouse's spokesperson called Costa a "ludicrous man" and noted that "Amy has never given a quote about drugs or flaunted it in any way. She's had some problems and is trying to get better. The U.N. should get its own house in order." Graeme Pearson, the former head of Scotland's drug enforcement agency, criticised Winehouse and Kate Moss for making going to rehab a badge of honour, thus giving the false impression that quitting drugs is easy, because many can not afford to go to clinics.
In an April 2008 poll conducted by Sky News, Winehouse was named the second greatest "ultimate heroine" by the UK population at large, topping the voting for that category of those polled under 25 years old. Psychologist Donna Dawson commented that the results demonstrate women like Winehouse who have "a certain sense of vulnerability or have had to fight against some adversity in their livesĒ receive recognition. Winehouse was voted the second most hated personality in the United Kingdom in a poll conducted one month later by Marketing Magazine.
London's Mall Galleries opened an exhibit in May 2008 which includes a sculpture of Winehouse, entitled Excess. The piece has the singer sitting on top of a smashed champagne bottle, a pool of liquid beneath her feet. The body is covered with what appeared to be tiny pills, while one outstretched hand holds a wine glass.
June 2008 brought a report that Winehouse, singing a disparaging chant about blacks, the disabled, and homosexuals, and containing racial epithets about Asians, was taped by husband Fielder-Civil, despite assurances to her that he was not filming. Winehouse denied allegations that she was a racist, saying "I don't want to play anything down, but I'm the least racist person going." Winehouse added that the images were taken during "really, really happy times."
Speaking at a discussion entitled Winehouse or White House?: Do we go too big on showbiz news? Jeff Zycinski head of BBC Radio Scotland said the BBC and media in general were complicit in the destruction of celebrities like Winehouse. He said that public interest in the singer's lifestyle does not make her lifestyle newsworthy. Rod McKenzie editor of the BBC Radio One program Newsbeat replied that "If you play [Amy Winehouse's] music to a certain demographic, those same people want to know what's happening in her private life. If you don't cover it, you're insulting young licence fee payers."
Scottish singer Amy MacDonald, who would like to see Winehouse take a year off, accused music industry executives of intentionally exploiting Winehouse for profit motive by having her play festivals despite the state she is in. She noted that "more she is in the papers, the more albums she sells..." and that people enjoy the singer "going off her head."
American Rock singer,songwriter and musician Alice Cooper who was known for hellraising in his 1970's hayday said Winehouse's activities has surprised him because "I wasn't playing around with things as destructive" as she is. He said she has to make choice if she wants to live or die and believes she will have a long career if she wants it.<<
________________________________
Amy WINEHOUSE,
born September 14, 1983 at 12:00 PM (unknown) in London (United Kingdom), 11:00 UT
Using RIYAL 3.1
Astrological Setting (Tropical - Placidus)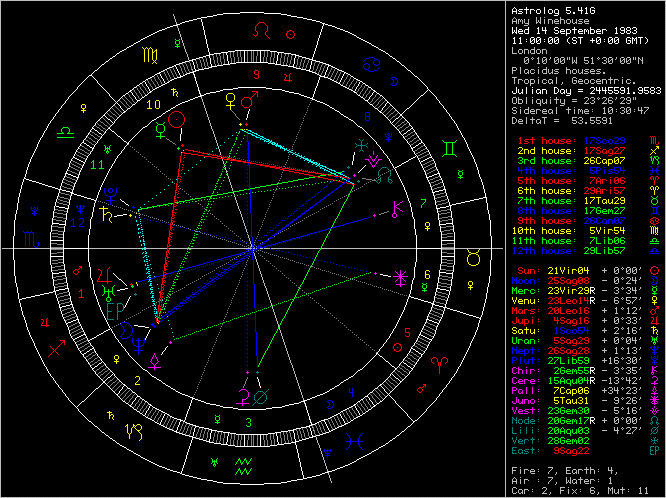 RIYAL Wed September 14 1983 UT 11h00m00s Lat51n30 Lon0w10 SORT ALL
Planet Longit. Latit. Declin. Const.
RM43 = 0Ar31 r 29s21 26s31 Scl
XR190 = 0Ge34 r 12n59 32n57 Per
Okyrhoe = 0Vi52 6s02 5n31 Sex
DH5 = 1Ta08 r 18s53 5s53 Cet
CO1 = 1Ge16 r 6s51 13n42 Tau
Teharonhi= 1Aq26 r 0s06 19s56 Cap
Saturn = 1Sc54 2n16 10s01 Vir
UX25 = 1Ar59 r 7n55 8n03 Psc
RG33 = 2Le11 33n46 52n10 UMa
OX3 = 2Cp25 r 0n26 23s00 Sgr
Chiron = 2Ge55 r 3s35 17n14 Tau
MS4 = 3Sa37 8n43 12s18 Sco
Jupiter = 4Sa16 0n33 20s28 Sco
XX143 = 4Ge16 r 4s43 16n21 Tau
Deucalion= 4Li42 0n16 1s38 Vir
FZ53 = 4Ge43 r 23s58 2s31 Eri
Orcus = 4Le55 12s09 7n13 Cnc
OO67 = 5Cp28 r 14n35 8s46 Sct
GB32 = 5Vi29 5s14 4n38 Sex
Uranus = 5Sa29 0n04 21s09 Sco
PB112 = 5Aq44 r 12s07 30s33 Mic
(Midheav) = 5Vi54 0n00 9n21 Leo
Amycus = 6Ca10 8n51 32n09 Aur
RL43 = 6Aq12 r 7n13 11s44 Cap
OM67 = 6Aq19 r 8s21 26s46 Cap
GM137 = 6Cp42 4s15 27s31 Sgr
Pylenor = 6Cp42 3n16 20s01 Sgr
GZ32 = 6Le55 4n41 23n04 Cnc
UJ438 = 7Aq44 r 2n50 15s36 Cap
Echeclus = 7Ge46 4s10 17n30 Tau
Radamantu= 7Vi51 6n43 14n51 Leo
Chaos = 7Ta55 r 2s45 11n33 Ari
Sedna = 8Ta00 r 11s32 3n15 Cet
TL66 = 8Ar04 r 12n50 14n58 Peg
RZ215 = 9Cp12 r 22s45 45s48 Tel
CF119 = 9Ca16 8n37 31n43 Gem
RZ214 = 9Pi20 r 17n24 8n04 Peg
Thereus = 9Le25 18s56 0s24 Hya
Nessus = 9Le44 14n52 32n05 Cnc
Ceto = 9Ca45 21s18 1n50 Mon
RD215 = 10Pi08 r 20n51 11n33 Peg
RR43 = 10Ar47 r 28s25 21s47 Cet
PN34 = 11Li13 15s22 18s31 Crv
SQ73 = 11Sa26 14s56 36s55 Sco
Elatus = 11Sc30 3n42 1 1s45 Lib
DA62 = 11Sc32 21s25 35s30 Cen
VU2 = 11Le36 9s08 8n31 Cnc
Hylonome = 12Le03 2s57 14n20 Cnc
MW12 = 12Sc17 13n52 2s18 Lib
TX300 = 12Pi26 r 8n53 1n19 Aqr
CC22 = 12Le39 0s58 16n06 Cnc
Crantor = 12Ca44 3s46 19n05 Gem
HB57 = 12Vi57 8s49 1s27 Sex
Apogee = 13Aq03 r 4s01 20s44 Cap
TC302 = 13Ar07 r 7s42 1s55 Cet
Cyllarus = 13Aq11 r 13s10 29s26 Mic
KF77 = 13Vi12 2n12 8n38 Leo
Huya = 13Vi14 1s38 5n05 Leo
TO66 = 14Pi40 r 5s21 10s58 Aqr
TD10 = 15Sa10 5n40 16s59 Oph
QB243 = 15Li22 4s43 10s24 Vir
Eris = 15Ar36 r 18s46 11s11 Cet
Quaoar = 15Sc43 4n53 11s52 Lib
SB60 = 15Aq45 r 15n10 1s36 Aqr
CY118 = 15Le45 12s25 4n14 Hya
Ixion = 15Sc55 8n07 8s50 Lib
Logos = 16Le16 0n09 16n07 Cnc
VR130 = 16Cp20 r 3n26 19s02 Sgr
QB1 = 16Pi42 r 0s29 5s41 Aqr
(Ascend) = 17Sc29 0n00 17s03 Lib
OP32 = 17Cp37 r 26n31 4n02 Aql
WN188 = 18Pi27 r 20s38 23s26 Aqr
Pholus = 18Ar57 r 25s44 16s23 Cet
LE31 = 19Ca28 3s22 18n42 Gem
Varuna = 19Ge28 5s45 17n18 Tau
Mars = 20Le16 1n12 15n52 Leo
Pelion = 20Sc19 8n45 9s23 Lib
Node = 20Ge35 r 0n00 23n06 Tau
VS2 = 20Ar46 r 14n48 21n46 And
TY364 = 20Pi47 r 13s34 16s05 Aqr
EL61 = 21Vi02 21n43 23n24 Com
Sun = 21Vi04 0n00 3n33 Leo
YQ179 = 21Ge10 10s41 12n29 Ori
CO104 = 22Ge45 3n04 26n18 Tau
Venus = 23Le14 sr 6s57 7n12 Leo
Mercury = 23Vi29 r 3s34 0s41 Leo
RN43 = 23Cp45 r 18n37 3s00 Aql
VQ94 = 23Ar53 r 30s45 19s18 Cet
FZ173 = 24Le09 7n51 20n52 Leo
CE10 = 24Li10 29s16 36s12 Cen
Chariklo = 24Ta27 r 22n36 40n39 Per
XZ255 = 24Pi56 r 2s46 4s33 Aqr
QF6 = 25Ca00 15s39 5n43 CMi
(Moon) = 25Sa08 0s24 23s45 Oph
BU48 = 25Ge15 11s00 12n22 Ori
GV9 = 25Vi18 20s46 17s09 Crt
BL41 = 25Sc37 8s59 27s53 Lib
QD112 = 25Le42 8n16 20n43 Leo
RP120 = 25Li49 20s04 28s32 Hya
PA44 = 25Ca52 3s10 17n52 Gem
AW197 = 25Ca57 1n01 21n57 Gem
FP185 = 26Le00 17s56 4s04 Hya
CR105 = 26Ca04 5s20 15n42 Gem
96PW = 26Vi19 16n19 16n24 Com
Neptune = 26Sa28 1n13 22s11 Sgr
Typhon = 26Ta56 r 2n12 21n37 Tau
Bienor = 27Sa11 19s21 42s45 Sco
PJ30 = 27Sa23 2s18 25s43 Sgr
SA278 = 27Pi31 r 2s10 2s58 Psc
Pluto = 27Li59 16n30 4n41 Vir
Vertex = 28Ge02
KX14 = 28Li07 0s23 11s10 Vir
AZ84 = 28Ge21 3s38 19n48 Ori
FY9 = 28Le25 26n50 36n52 LMi
CZ118 = 28Le49 8n23 19n43 Leo
GQ21 = 28Vi58 3s23 2s41 Vir
XA255 = 29Ta05 r 9s46 10n25 Tau
WL7 = 29Cp15 r 10s16 30s20 Sgr
UR163 = 29Pi35 r 0n39 0n26 Psc
Asbolus = 29Le43 10n25 21n18 Leo
___________________________
Focused Minor Planets
EL61 = 21 Vi 02
Sun = 21 Vi 04
TY364 = 20 Pi 47 r
Mars = 20 Le 16 Semisextile
Node = 20 Ge 35 r Square
Varuna = 19 Ge 28
YQ179 = 21 Ge 10
Orcus = 4 Le 55 Semisquare
Pelion = 20 Sc 19 Sextile
VS2 = 20 Ar 46 r Quincunx
___________________
RN43 = 23 Cp 45 r
Mercury = 23 Vi 29 r Trine
Chariklo = 24 Ta 27 r
Venus = 23 Le 14 sr Quincunx
FZ173 = 24 Le 09
VQ94 = 23 Ar 53 r Square
___________________
Orcus = 4 Le 55
PB112 = 5 Aq 44 r
Jupiter = 4 Sa 16 Trine
Uranus = 5 Sa 29
MS4 = 3 Sa 37
EL61 = 21 Vi 02 Semisquare
Sun = 21 Vi 04
Node = 20 Ge 35 r
Varuna = 19 Ge 28
OO67 = 5 Cp 28 r Quincunx
Deucalion = 4 Li 42 Sextile
XX143 = 4 Ge 16 r
GB32 = 5 Vi 29 Semisextile
___________________
UX25 = 1 Ar 59 r
RM43 = 0 Ar 31 r
Saturn = 1 Sc 54 Quincunx
Okyrhoe = 0 Vi 52
Chiron = 2 Ge 55 r Sextile
XR190 = 0 Ge 34 r
Teharonhi = 1 Aq 26 r
OX3 = 2 Cp 25 r Square
___________________
CR105 = 26 Ca 04
AW197 = 25 Ca 57
Neptune = 26 Sa 28 Quincunx
Bienor = 27 Sa 11
Pluto = 27 Li 59 Square
GV9 = 25 Vi 18 Sextile
Typhon = 26 Ta 56 r
SA278 = 27 Pi 31 r Trine
FP185 = 26 Le 00 Semisextile
___________________
Makemake (FY9) = 28 Le 25
Asbolus = 29 Le 43
CZ118 = 28 Le 49
Neptune = 26 Sa 28 Trine
Bienor = 27 Sa 11
Pluto = 27 Li 59 Sextile
KX14 = 28 Li 07
GQ21 = 28 Vi 58 Semisextile
SA278 = 27 Pi 31 r Quincunx
Typhon = 26 Ta 56 r Square
XA255 = 29 Ta 05 r
_____________________________
_____________________________
Astrological Setting (Sidereal - Fagan/Bradley)
RIYAL Wed September 14 1983 UT 11h00m00s Lat51n30 Lon0w10 SORT ALL
Planet Longit.
XZ255 = 0Pi26 r
QF6 = 0Ca30
(Moon) = 0Sa38
BU48 = 0Ge44
GV9 = 0Vi47
BL41 = 1Sc07
QD112 = 1Le12
RP120 = 1Li18
PA44 = 1Ca21
AW197 = 1Ca26
FP185 = 1Le29
CR105 = 1Ca33
96PW = 1Vi48
Neptune = 1Sa58
Typhon = 2Ta25 r
Bienor = 2Sa40
PJ30 = 2Sa53
SA278 = 3Pi01 r
Pluto = 3Li28
Vertex = 3Ge31
KX14 = 3Li37
AZ84 = 3Ge50
FY9 = 3Le55
CZ118 = 4Le19
GQ21 = 4Vi28
XA255 = 4Ta35 r
WL7 = 4Cp45 r
UR163 = 5Pi05 r
Asbolus = 5Le13
RM43 = 6Pi01 r
XR190 = 6Ta03 r
Okyrhoe = 6Le22
DH5 = 6Ar37 r
CO1 = 6Ta45 r
Teharonhi= 6Cp55 r
Saturn = 7Li24
UX25 = 7Pi28 r
RG33 = 7Ca40
OX3 = 7Sa55 r
Chiron = 8Ta24 r
MS4 = 9Sc07
Jupiter = 9Sc45
XX143 = 9Ta46 r
Deucalion= 10Vi12
FZ53 = 10Ta13 r
Orcus = 10Ca25
OO67 = 10Sa57 r
GB32 = 10Le58
Uranus = 10Sc59
PB112 = 11Cp13 r
Midheav = 11Le24
Amycus = 11Ge40
RL43 = 11Cp42 r
OM67 = 11Cp48 r
GM137 = 12Sa11
Pylenor = 12Sa12
GZ32 = 12Ca24
UJ438 = 13Cp13 r
Echeclus = 13Ta16
Radamantu= 13Le21
Chaos = 13Ar25 r
Sedna = 13Ar30 r
TL66 = 13Pi33 r
RZ215 = 14Sa42 r
CF119 = 14Ge45
RZ214 = 14Aq49 r
Thereus = 14Ca55
Nessus = 15Ca14
Ceto = 15Ge15
RD215 = 15Aq38 r
RR43 = 16Pi17 r
PN34 = 16Vi42
SQ73 = 16Sc55
Elatus = 16Li59
DA62 = 17Li02
VU2 = 17Ca05
Hylonome = 17Ca33
MW12 = 17Li47
TX300 = 17Aq55 r
CC22 = 18Ca08
Crantor = 18Ge14
HB57 = 18Le26
Apogee = 18Cp33 r
TC302 = 18Pi36 r
Cyllarus = 18Cp40 r
KF77 = 18Le41
Huya = 18Le43
TO66 = 20Aq10 r
TD10 = 20Sc39
QB243 = 20Vi52
Eris = 21Pi06 r
Quaoar = 21Li12
SB60 = 21Cp14 r
CY118 = 21Ca14
Ixion = 21Li25
Logos = 21Ca45
VR130 = 21Sa49 r
QB1 = 22Aq12 r
Ascend = 22Li58
OP32 = 23Sa07 r
WN188 = 23Aq57 r
Pholus = 24Pi27 r
LE31 = 24Ge57
Varuna = 24Ta57
Mars = 25Ca46
Pelion = 25Li49
Node = 26Ta04 r
VS2 = 26Pi15 r
TY364 = 26Aq17 r
EL61 = 26Le31
Sun = 26Le33
YQ179 = 26Ta40
CO104 = 28Ta14
Venus = 28Ca43 sr
Mercury = 28Le58 r
RN43 = 29Sa14 r
VQ94 = 29Pi23 r
FZ173 = 29Ca38
CE10 = 29Vi40
Chariklo = 29Ar57 r
___________________
Focused Minor Planets
EL61 = 26 Le 31
Sun = 26 Le 33
TY364 = 26 Aq 17 r
Mars = 25 Ca 46 Semisextile
Node = 26 Ta 04 r Square
Varuna = 24 Ta 57
YQ179 = 26 Ta 40
Orcus = 10 Ca 25 Semisquare
Pelion = 25 Li 49 Sextile
VS2 = 26 Pi 15 r Quincunx
____________________
RN43 = 29 Sa 14 r
Mercury = 28 Le 58 r Trine
Chariklo = 29 Ar 57 r
Venus = 28 Ca 43 sr Quincunx
FZ173 = 29 Ca 38
VQ94 = 29 Pi 23 r Square
____________________
Orcus = 10 Ca 25
PB112 = 11 Cp 13 r
Jupiter = 9 Sc 45 Trine
Uranus = 10 Sc 59
MS4 = 9 Sc 07
EL61 = 26 Le 31 Semisquare
Sun = 26 Le 33
Node = 26 Ta 04 r
Varuna = 24 Ta 57
OO67 = 10 Sa 57 r Quincunx
Deucalion =10 Vi 12 Sextile
XX143 = 9 Ta 46 r
GB32 = 10 Le 58 Semisextile
___________________
UX25 = 7 Pi 28 r
RM43 = 6 Pi 01 r
Saturn = 7 Li 24 Quincunx
Okyrhoe = 6 Le 22
Chiron = 8 Ta 24 r Sextile
XR190 = 6 Ta 03 r
Teharonhi = 6 Cp 55 r
OX3 = 7 Sa 55 r Square
___________________
CR105 = 1 Ca 33
AW197 = 1 Ca 26
Neptune = 1 Sa 58 Quincunx
Bienor = 2 Sa 40
Pluto = 3 Li 28 Square
GV9 = 0 Vi 47 Sextile
Typhon = 2 Ta 25 r
SA278 = 3 Pi 01 r Trine
FP185 = 1 Le 29 Semisextile
___________________
Makemake (FY9) = 3 Le 55
Asbolus = 5 Le 13
CZ118 = 4 Le 19
Neptune = 1 Sa 58 Trine
Bienor = 2 Sa 40
Pluto = 3 Li 28 Sextile
KX14 = 3 Li 37
GQ21 = 4 Vi 28 Semisextile
SA278 = 3 Pi 01 r Quincunx
Typhon = 2 Ta 25 r Square
XA255 = 4 Ta 35 r
___________________________________
Tentatively, additional keywords for 2003 EL61:
- Strong Hazard
- Hazardous Life
- To Put Life in Jeopardy
- Rehabilitation
______________________________________________
Posted to Centaurs (YahooGroups) on July 27, 2008
___________________________________________
___________________________________________