Jean Moulin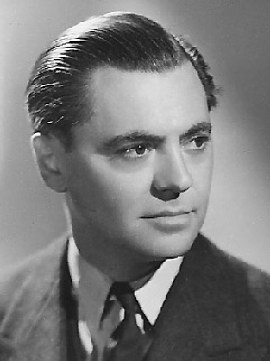 EL61/Sun conjunction
From Wikipedia, the free encyclopedia
>>Jean Moulin (June 20, 1899 – July 8, 1943) was a high-profile member of the French Resistance during World War II. He is remembered today as an emblem of the Resistance primarily due to his courage and death at the hands of the Germans
Before the war
Moulin was born in Béziers, France, and enlisted in the French Army in 1918. After the war, he resumed his studies and obtained a degree in law in 1924. He then entered the prefectural administration as chef de cabinet to the deputy of Savoie in 1922, then as sous préfet of Albertville, from 1925 to 1930. He was France's youngest sous préfet at the time, and was also the youngest préfet in 1930.
He married Marguerite Cerruti in September 1926, but the couple divorced in 1928.
In 1930, he was the sous préfet of Châteaulin. During that time, he also drew political cartoons in the newspaper Le Rire, under the pseudonym Romanin. He also became an illustrator for the poet Tristan Corbière's books, among others he made an etching for La Pastorale de Conlie, a book about the camp of Conlie where many Breton soldiers died in 1870. He also made friends with the Breton poets Saint-Pol-Roux in Camaret and Max Jacob in Quimper.
He became France's youngest préfet in the Aveyron département, in the commune of Rodez, in January 1937.
During the Spanish Civil War, some believe he supplied arms from the Soviet Union to Spain. A more commonly accepted version of events is that he supplied French planes to the anti-fascist forces from his place within the Aviation Ministry.
The Resistance
In 1939 Moulin was appointed préfet of the Eure-et-Loir département. The Germans arrested him in June 1940 because he refused to sign a German document that falsely blamed Senegalese French Army troops for civilian massacres. In prison, he attempted suicide by cutting his throat with a piece of broken glass. This left him with a scar that he would often hide with a scarf — the image of Jean Moulin remembered nowadays.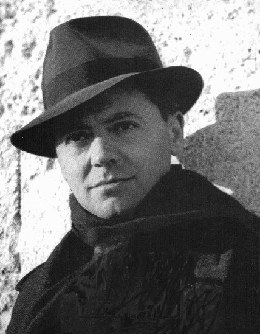 In November 1940, the Vichy government ordered all préfets to dismiss left-wing elected mayors of towns and villages. When Moulin refused, he was himself removed from office. He then lived in Saint-Andiol (Bouches-du-Rhône), and joined the resistance. Moulin reached London in September 1941 under the name Joseph Jean Mercier, and met General Charles de Gaulle, who asked him to unify the various resistance groups. On January 1, 1942, he parachuted into the Alpilles. Under the codenames Rex and Max, he met with the leaders of the resistance groups:

Henri Frenay (
Combat
)

Emmanuel d'Astier (
Libération
)

Jean-Pierre Lévy (
Franc-Tireur
)

Pierre Villon (
Front National
, not to be confused with the present-day far-right French political party Front National)

Pierre Brossolette (
Comité d'Action Socialiste
)
In his work in the resistance, he was assisted by his private administrative assistant Laure Diebold.
In February 1943, Moulin went back to London, accompanied by Charles Delestraint, head of the new armée secrète group. He left on March 21, 1943 with orders to form the Conseil National de la Résistance (CNR), a difficult task since each resistance movement wanted to keep its independence. The first meeting of the CNR took place in Paris on May 27, 1943.
Jean Moulin was arrested June 21, 1943 in Caluire-et-Cuire (Rhône), in the home of Doctor Frédéric Dugoujon, where a meeting with most of the resistance leaders was taking place. Interrogated in Lyon by Klaus Barbie, head of the Gestapo there, and later in Paris, he never revealed anything to his captors. He eventually died near Metz, in the Paris-Berlin train which was taking him to a concentration camp. His death was likely due to injuries suffered either during the torture itself or in a suicide attempt, as Barbie alleged. Moulin's biographer Patrick Marnham supports the latter explanation, though it is widely believed that Barbie personally beat Moulin to death.
Controversy
Who betrayed Moulin?
René Hardy was caught and released by the Gestapo. They followed him when he came to the meeting at the doctor's house in Caluire, thus leading the Germans to Jean Moulin. Some believe that this was a deliberate act of treason; others think René Hardy was simply reckless.
Two trials were unable to determine that René Hardy was a traitor, and both concluded that he was innocent.
A recent TV film about the life and death of Jean Moulin depicted René Hardy collaborating with the Gestapo, thus reviving the controversy. The Hardy family attempted to bring a lawsuit against the producers of the movie.
There have been many allegations of Communism in the post war years, because some of Moulin's friends were Communists. While these allegations continue, no hard evidence has ever backed up this claim. As préfet, Moulin even ordered the repression of Communist 'agitators' and went so far as to have police keep some under surveillance (Marnham's "The Death of Jean Moulin, Biography of a Ghost," pg 104).
Marnham looked into the allegations that Moulin was likely to have been a Communist but at each turn finds no evidence to support the accusation (though members of the party could easily have seen him as a 'fellow traveler' due to his Communist friends and support for the anti-fascist forces in Spain).
It has also been suggested, principally in Marnham's biography, that Moulin was betrayed by Communists. Marnham specifically points the finger at Raymond Aubrac and possibly at his wife, Lucie Aubrac. He makes the case that Communists did at times betray non-Communists to the Gestapo and that Aubrac has been linked to harsh actions during the purge of collaborators after the war. However, Marnham does not provide evidence to support his theory, a fact which does little to distinguish it from many other theories on this subject.
To counteract the number of baseless (if not downright fictional) accusations leveled at Moulin, his personal secretary during the war, Daniel Cordier, has written an ambitious biography of his former patron. In what has been termed 'The Cordier Revolution,' he has insisted on basing his research on paperwork and other verifiable evidence rather than allow Resistance history to become, as Napoleon might have termed, 'a set of lies agreed upon.' This decision has also been controversial in that it's sometimes seen as denying the living Resistants the right to be the main witnesses to their own history, instead allowing that history to speak for itself.
The legend
Moulin was initially buried in Le Père Lachaise Cemetery in Paris. His ashes were later transferred to The Panthéon on December 19, 1964. The speech that André Malraux, writer and minister of the Republic, gave upon the transfer of his ashes is one of the most famous speeches in French history.
Today, Jean Moulin is used in French education to illustrate civic virtues, moral rectitude and patriotism. He is a symbol of the Resistance. Many schools and a university (Lyon III), as well as innumerable streets and squares, have been named after him, and the Musée Jean Moulin commemorates his life and the Resistance.
<<
_______________________________
MOULIN, Jean
DoB: 20/6/1899 Time: 12:00 (+0:09 ParisT) GMT Time: 11:51
Location: 3E15 43N21 BÈziers -34- (F)
Category: Politician
Source: The Gauquelin's data collection: Michel Gauquelin, New Birth Data Series, Volume 3
Rodden's AstroDatabank Rating: AA
Using RIYAL 3.1
Astrological Setting (Tropical - Placidus)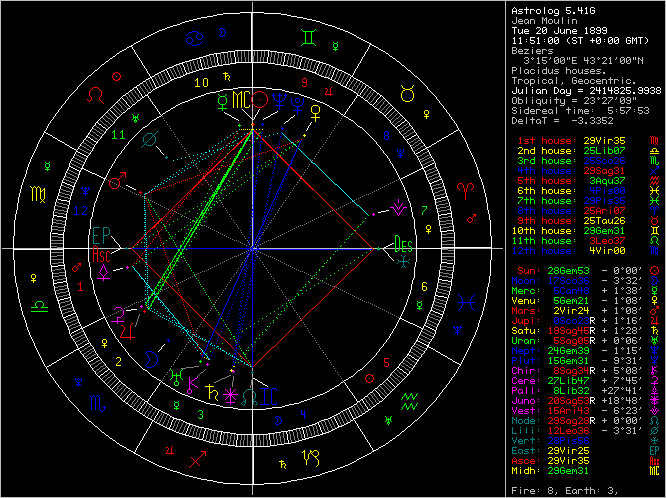 RIYAL Tue June 20 1899 UT 11h51m00s Lat43n21 Lon3e15 SORT ALL
Planet Longit. Latit. Declin. Const.
Jupiter = 0Sc23 r 1n16 10s25 Vir
RN43 = 0Li26 1s20 1s24 Vir
Echeclus = 0Li34 0n50 0n32 Vir
PA44 = 0Ar42 2n19 2n24 Psc
VU2 = 0Sa59 r 2s16 22s35 Sco
TX300 = 1Sc00 r 24s39 34s40 Cen
GZ32 = 1Sc46 r 14n44 1n46 Vir
CE10 = 1Li51 r 23s59 22s37 Crt
DH5 = 2Vi05 0n00 10n44 Leo
Mars = 2Vi25 1n08 11n41 Leo
UX25 = 2Cp25 r 18n38 4s48 Ser
Amycus = 2Aq29 r 3s09 22s41 Cap
Huya = 2Ge40 14s40 6n18 Tau
GM137 = 2Ta59 13s21 0s03 Cet
CR105 = 3Ar48 19s10 16s02 Cet
PJ30 = 4Le00 1s09 18n09 Cnc
RP120 = 4Sc18 r 5s07 17s47 Vir
RL43 = 4Ge27 11s43 9n31 Tau
WN188 = 4Aq29 r 0n36 18s34 Cap
TO66 = 4Sc38 r 19s29 31s16 Cen
Chaos = 4Aq39 r 11s50 30s34 Mic
SB60 = 4Li51 23s59 23s49 Crt
Uranus = 5Sa05 r 0n06 21s03 Sco
Venus = 5Ge21 1s08 20n06 Tau
Quaoar = 5Le26 6s54 12n13 Cnc
Typhon = 5Pi27 r 0s40 10s08 Aqr
DA62 = 5Sa46 r 47s46 67s24 Cir
Mercury = 5Ca48 1n38 24n57 Gem
Apogee = 5Le59 r 3s10 15n43 Cnc
RR43 = 6Sa44 r 9n21 12s13 Oph
HB57 = 6Ca45 15s08 8n10 Mon
96PW = 7Vi53 8n25 16n25 Leo
Elatus = 8Sa06 r 1n50 19s51 Oph
Sedna = 8Ar15 8s28 4s30 Cet
VQ94 = 8Ar16 51s11 42s46 Phe
Chiron = 8Sa34 r 5n08 16s40 Oph
GB32 = 8Ca45 13s42 9n29 Mon
RG33 = 9Le29 32n37 48n52 UMa
AW197 = 9Ta39 23n34 36n50 And
UR163 = 9Sc57 r 0s45 15s31 Lib
BU48 = 10Sa10 r 12n47 9s20 Oph
OX3 = 10Li20 r 3s08 6s58 Vir
FP185 = 10Ge24 29s18 7s01 Eri
Asbolus = 11Le03 13n48 30n41 Cnc
RM43 = 11Cp23 r 9s44 32s39 Sgr
TL66 = 11Cp24 r 22n13 0s49 Aql
OP32 = 11Vi27 9s21 1s23 Sex
CZ118 = 11Ca43 24n39 47n27 Lyn
RZ215 = 12Li02 r 14s24 17s58 Crv
Crantor = 12Ca37 2s44 20n08 Gem
BL41 = 12Aq43 r 6n22 10s53 Aqr
OO67 = 12Sc48 r 20n01 3n26 Vir
KF77 = 12Pi55 r 2s24 8s56 Aqr
Nessus = 12Pi59 r 12s02 17s46 Aqr
RZ214 = 13Sc30 r 4n08 11s57 Lib
FZ53 = 13Sa51 r 30n19 7n39 Oph
Teharonhi= 14Li11 r 2s28 7s52 Vir
FZ173 = 14Ge34 12n03 34n31 Aur
PN34 = 14Ca45 3n41 26n18 Gem
Okyrhoe = 15Pi01 3n39 2s33 Psc
AZ84 = 15Pi04 r 13n39 6n42 Peg
Pylenor = 15Vi06 2n48 8n27 Leo
Pluto = 15Ge31 9s31 13n12 Ori
SA278 = 15Aq41 r 9n17 7s16 Aqr
Chariklo = 15Aq48 r 6n19 10s04 Aqr
Pelion = 15Sa52 r 7n34 15s11 Oph
Logos = 16Ar14 2s35 4n00 Psc
TC302 = 17Aq23 r 32s54 46s26 Gru
QD112 = 17Le23 9n08 24n19 Leo
Moon = 17Sc36 3s32 20s29 Lib
Cyllarus = 17Le46 12n22 27n15 Leo
Orcus = 17Pi51 20n20 13n54 Peg
Varuna = 17Aq59 r 11s39 26s29 PsA
VS2 = 18Sa18 r 10s24 33s17 Sco
YQ179 = 18Ar23 20s48 12s02 Cet
Bienor = 18Vi28 5s54 0s52 Leo
VR130 = 18Ca36 3s10 19n01 Gem
QB243 = 18Ge49 6n16 29n13 Aur
FY9 = 19Ta04 15s11 2n51 Tau
SQ73 = 19Li12 r 2s12 9s34 Vir
UJ438 = 19Cp27 r 1n41 20s23 Sgr
Saturn = 19Sa45 r 1n28 21s35 Oph
XZ255 = 21Sc03 r 1n06 16s58 Lib
QF6 = 21Li29 r 22n39 12n39 Boo
Ixion = 21Le44 18n36 31n45 LMi
XX143 = 21Pi48 6s11 8s56 Aqr
WL7 = 22Aq13 r 7s57 21s37 Cap
Ceto = 22Pi40 r 0s34 3s26 Psc
Eris = 22Pi51 r 33s08 32s53 Scl
GQ21 = 23Ge31 12s28 10n51 Ori
Neptune = 24Ge39 1s15 22n06 Tau
LE31 = 24Ta54 22s07 2s31 Eri
TD10 = 25Li17 r 2n16 7s41 Vir
MS4 = 25Le43 16s14 2s22 Hya
Hylonome = 25Cp59 r 3n48 17s14 Sgr
QB1 = 25Sc59 r 1s53 21s06 Lib
Thereus = 26Ar16 1n07 11n11 Psc
CY118 = 26Ta38 24s31 4s30 Eri
GV9 = 27Ta00 5n03 24n24 Tau
XA255 = 27Pi05 11s59 12s08 Cet
CF119 = 27Ar13 19n30 28n33 Psc
Pholus = 27Ge24 11s57 11n29 Ori
CO1 = 27Ge52 3n34 27n00 Tau
XR190 = 28Pi02 45n34 40n12 Lac
EL61 = 28Ge06 15s41 7n45 Ori
CO104 = 28Li18 r 1s57 12s42 Vir
CC22 = 28Ar23 5s11 6n03 Psc
MW12 = 28Le27 12s05 0n40 Sex
TY364 = 28Sc50 r 25n01 4n34 Her
Sun = 28Ge53 0n00 23n27 Gem
Vertex = 28Pi56
OM67 = 28Li57 r 21s21 30s53 Cen
Node = 29Sa29 r 0n00 23s27 Sgr
Midheav = 29Ge31 0n00 23n27 Gem
Ascend = 29Vi36 0n00 0n10 Vir
Radamantu= 29Pi39 2s21 2s18 Psc
Deucalion= 29Ge45 0n13 23n40 Gem
KX14 = 29Ge47 0n06 23n33 Gem
PB112 = 29Sc48 r 14s09 33s54 Lup
RD215 = 29Sc57 r 14n24 6s03 Oph
_______________________________
Focused Minor Planets
EL61 = 28 Ge 06 (Resistance, Overcoming a Fear, The Terror behind)
Sun = 28 Ge 53
Midheav = 29 Ge 31
Pholus = 27 Ge 24
Deucalion = 29 Ge 45
KX14 = 29 Ge 47
Node = 29 Sa 29 r
Ascend = 29 Vi 36 Square
XR190 = 28 Pi 02
Radamantu= 29 Pi 39
XA255 = 27 Pi 05
TY364 = 28 Sc 50 r Quincunx
MW12 = 28 Le 27 Sextile
CF119 = 27 Ar 13
OM67 = 28 Li 57 r Trine
____________________
Varuna = 17 Aq 59 r
TC302 = 17 Aq 23 r
Cyllarus = 17 Le 46
Moon = 17 Sc 36 Square
Orcus = 17 Pi 51 Semisextile
UX25 = 2 Cp 25 r Semisquare
CR105 = 3 Ar 48
VS2 = 18 Sa 18 r Sextile
____________________
Chaos = 4 Aq 39 r
Quaoar = 5 Le 26
Venus = 5 Ge 21 Trine
SB60 = 4 Li 51
Mercury = 5 Ca 48 Quincunx
Uranus = 5 Sa 05 r Sextile
Typhon = 5 Pi 27 r Semisextile
______________________
RR43 = 6 Sa 44 r
Uranus = 5 Sa 05 r
Venus = 5 Ge 21
Mercury = 5 Ca 48 Quincunx
Typhon = 5 Pi 27 r Square
Quaoar = 5 Le 26 Trine
SB60 = 4 Li 51 Sextile
_____________________
CR105 = 3 Ar 48
Mars = 2 Vi 25 Quincunx
UX25 = 2 Cp 25 r Square
Varuna = 17 Aq 59 r Semisquare
Makemake = 19 Ta 04
Amycus = 2 Aq 29 r Sextile
Chaos = 4 Aq 39 r
Huya = 2 Ge 40
____________________
TX300 = 1 Sc 00 r
Jupiter = 0 Sc 23 r
RN43 = 0 Li 26 Semisextile
Echeclus = 0 Li 34
____________________
Makemake = 19 Ta 04
Saturn = 19 Sa 45 r Quincunx
Varuna = 17 Aq 59 r Square
Bienor = 18 Vi 28 Trine
CR105 = 3 Ar 48 Semisquare
___________________
Eris = 22 Pi 51 r
Ceto = 22 Pi 40 r
Neptune = 24 Ge 39 Square
GQ21 = 23 Ge 31
Ixion = 21 Le 44 Quincunx
AW197 = 9 Ta 39 Semisquare
____________________
FZ173 = 14 Ge 34
Pluto = 15 Ge 31
Pelion = 15 Sa 52 r
SA278 = 15 Aq 41r Trine
Chariklo = 15 Aq 48 r
Pylenor = 15 Vi 06 T Square
Okyrhoe = 15 Pi 01
_______________________________
_______________________________
Astrological Setting (Sidereal - Fagan/Bradley)
RIYAL Tue June 20 1899 UT 11h51m00s Lat43n21 Lon3e15 SORT ALL
Planet Longit.
GQ21 = 0Ge11
Neptune = 1Ge19
LE31 = 1Ta34
TD10 = 1Li56 r
MS4 = 2Le23
Hylonome = 2Cp38 r
QB1 = 2Sc38 r
Thereus = 2Ar55
CY118 = 3Ta17
GV9 = 3Ta40
XA255 = 3Pi45
CF119 = 3Ar53
Pholus = 4Ge04
CO1 = 4Ge31
XR190 = 4Pi41
EL61 = 4Ge46
CO104 = 4Li58 r
CC22 = 5Ar03
MW12 = 5Le07
TY364 = 5Sc29 r
Sun = 5Ge33
Vertex = 5Pi36
OM67 = 5Li37 r
Node = 6Sa08 r
Midheav = 6Ge11
Ascend = 6Vi15
Radamantu= 6Pi19
Deucalion= 6Ge24
KX14 = 6Ge27
PB112 = 6Sc27 r
RD215 = 6Sc36 r
Jupiter = 7Li03 r
RN43 = 7Vi06
Echeclus = 7Vi13
PA44 = 7Pi22
VU2 = 7Sc39 r
TX300 = 7Li39 r
GZ32 = 8Li26 r
CE10 = 8Vi31 r
DH5 = 8Le45
Mars = 9Le04
UX25 = 9Sa04 r
Amycus = 9Cp09 r
Huya = 9Ta20
GM137 = 9Ar39
CR105 = 10Pi27
PJ30 = 10Ca39
RP120 = 10Li58 r
RL43 = 11Ta07
WN188 = 11Cp09 r
TO66 = 11Li18 r
Chaos = 11Cp19 r
SB60 = 11Vi31
Uranus = 11Sc44 r
Venus = 12Ta00
Quaoar = 12Ca05
Typhon = 12Aq07 r
DA62 = 12Sc26 r
Mercury = 12Ge28
Apogee = 12Ca38 r
RR43 = 13Sc23 r
HB57 = 13Ge24
96PW = 14Le32
Elatus = 14Sc46 r
Sedna = 14Pi55
VQ94 = 14Pi56
Chiron = 15Sc13 r
GB32 = 15Ge25
RG33 = 16Ca08
AW197 = 16Ar18
UR163 = 16Li37 r
BU48 = 16Sc50 r
OX3 = 16Vi59 r
FP185 = 17Ta04
Asbolus = 17Ca43
RM43 = 18Sa03 r
TL66 = 18Sa03 r
OP32 = 18Le07
CZ118 = 18Ge23
RZ215 = 18Vi42 r
Crantor = 19Ge16
BL41 = 19Cp23 r
OO67 = 19Li28 r
KF77 = 19Aq34 r
Nessus = 19Aq38 r
RZ214 = 20Li09 r
FZ53 = 20Sc30 r
Teharonhi= 20Vi50 r
FZ173 = 21Ta14
PN34 = 21Ge24
Okyrhoe = 21Aq40
AZ84 = 21Aq44 r
Pylenor = 21Le46
Pluto = 22Ta11
SA278 = 22Cp20 r
Chariklo = 22Cp28 r
Pelion = 22Sc32 r
Logos = 22Pi53
TC302 = 24Cp03 r
QD112 = 24Ca03
Moon = 24Li15
Cyllarus = 24Ca25
Orcus = 24Aq31
Varuna = 24Cp39 r
VS2 = 24Sc58 r
YQ179 = 25Pi03
Bienor = 25Le07
VR130 = 25Ge16
QB243 = 25Ta29
FY9 = 25Ar44
SQ73 = 25Vi52 r
UJ438 = 26Sa07 r
Saturn = 26Sc24 r
XZ255 = 27Li43 r
QF6 = 28Vi09 r
Ixion = 28Ca23
XX143 = 28Aq28
WL7 = 28Cp52 r
Ceto = 29Aq20 r
Eris = 29Aq30 r
___________________
Focused Minor Planets
EL61 = 4 Ge 46
Sun = 5 Ge 33
Midheav = 6 Ge 11
Pholus = 4 Ge 04
Deucalion = 6 Ge 24
KX14 = 6 Ge 27
Node = 6 Sa 08 r
Ascend = 6 Vi 15 Square
XR190 = 4 Pi 41
Radamantu= 6 Pi 19
XA255 = 3 Pi 45
TY364 = 5 Sc 29 r Quincunx
MW12 = 5 Le 07 Sextile
CF119 = 3 Ar 53
OM67 = 5 Li 37 r Trine
____________________
Varuna = 24 Cp 39 r
TC302 = 24 Cp 03 r
Cyllarus = 24 Ca 25
Moon = 24 Li 15 Grand Cross
Makemake = 25 Ar 44
Orcus = 24 Aq 31 Semisextile
UX25 = 9 Sa 04 r Semisquare
CR105 = 10 Pi 27
VS2 = 24 Sc 58 r Sextile
____________________
Chaos = 11 Cp 19 r
Quaoar = 12 Ca 05
Venus = 12 Ta 00 Trine
SB60 = 11 Vi 31
Mercury = 12 Ge 28 Quincunx
Uranus = 11 Sc 44 r Sextile
Typhon = 12 Aq 07 r Semisextile
_____________________
RR43 = 13 Sc 23 r
Uranus = 11 Sc 44 r
Venus = 12 Ta 00
Mercury = 12 Ge 28 Quincunx
Typhon = 12 Aq 07 r Square
Quaoar = 12 Ca 05 Trine
SB60 = 11 Vi 31 Sextile
___________________
CR105 = 10 Pi 27
Mars = 9 Le 04 Quincunx
UX25 = 9 Sa 04 r Square
Varuna = 24 Cp 39 r Semisquare
Makemake = 25 Ar 44
Amycus = 9 Cp 09 r Sextile
Chaos = 11 Cp 19 r
Huya = 9 Ta 20
____________________
TX300 = 7 Li 39 r
Jupiter = 7 Li 03 r
RN43 = 7 Vi 06 Semisextile
Echeclus = 7 Vi 13
____________________
Makemake = 25 Ar 44
Saturn = 26 Sc 24 r Quincunx
Varuna = 24 Cp 39 r Square
Bienor = 25 Le 07 Trine
CR105 = 10 Pi 27 Semisquare
___________________
Eris = 29 Aq 30 r
Ceto = 29 Aq 20 r
Neptune = 1 Ge 19 Square
GQ21 = 0 Ge 11
Ixion = 28 Ca 23 Quincunx
AW197 = 16 Ar 18 Semisquare
____________________
FZ173 = 21 Ta 14
Pluto = 22 Ta 11
Pelion = 22 Sc 32 r
SA278 = 22 Cp 20 r Trine
Chariklo = 22 Cp 28 r
Pylenor = 21 Le 46 T Square
Okyrhoe = 21 Aq 40
_______________________________________
Posted to Centaurs (YahooGroups) on July 28, 2008
_______________________________________
_______________________________________