Nelly Sachs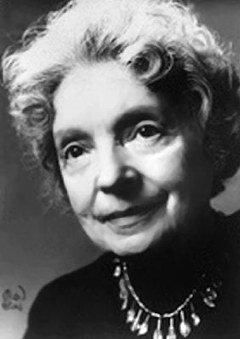 EL61/Sun opposition
From Wikipedia, the free encyclopedia
>>Nelly Sachs, (10 December 1891–12 May 1970) was a German poet and dramatist whose Nazi experience transformed her into a poignant spokesperson for the grief and yearnings of her fellow Jews. Her best-known play is Eli: Ein Mysterienspiel vom Leiden Israels (1950); other works include the poems Zeichen im Sand (1962), Verzauberung (1970), and the collections of poetry In den Wohnungen des Todes (1947), Flucht und Verwandlung (1959), Fahrt ins Staublose (1961), and Suche nach Lebenden (1971).
Biography
Born as Leonie Sachs in Schöneberg, Berlin in 1891, she was educated at home due to her frail health. She showed early signs of talent as a dancer, but her protective parents did not encourage her to pursue a profession. She grew up as a very sheltered, introverted young woman and never married. She pursued an extensive correspondence, and was a friend of Selma Lagerlöf and Hilde Domin. As the Nazis took power, she became increasingly terrified, at one point losing the power of speech, as she would remember in verse: "When the great terror came/I fell dumb." Sachs fled with her aged mother to Sweden in 1940. Her friendship with Lagerlöf had saved her life and that of her mother when shortly before her own death Lagerlöf intervened with the Swedish royal family to secure their release from Germany. Sachs and her mother finally escaped on the last airplane flight to leave Nazi Germany for Sweden, a week before Sachs was scheduled to report to a concentration camp.
Living in a tiny two-room apartment in Stockholm, Sachs cared alone for her mother for many years, and supported their existence by translations between Swedish and German. After her mother's death, Sachs suffered several nervous breakdowns characterized by hallucinations, paranoia, and delusions of persecution by Nazis, and she spent a number of years in a mental institution. She continued to write even while hospitalized. She eventually recovered well enough to live on her own again, though her stability would always be fragile. Her worst breakdown was ostensibly precipitated by hearing German speech during a trip to Switzerland to accept a literary prize. However, she maintained a forgiving attitude toward a younger generation of Germans, and corresponded with many German-speaking writers of the postwar period, including Hans Magnus Enzensberger and Ingeborg Bachmann.
In the context of the Shoah, her deep friendship with "brother" poet Paul Celan is often noted today. Their bond was described in one of Celan's most famous poems, "Zurich, zum Storchen." Sachs and Celan shared their concern with the Holocaust and the fate of the Jews throughout history, their interest in Jewish and Christian mysticism, and their literary models; their imagery was often remarkably similar though developed independently. Their friendship had the unfortunate side effect of intensifying each other's paranoia. Celan also suffered from fears of persecution (he blamed Yvan Goll's accusations of plagiarism on anti-Semitism) and frustration over the reception of his work. When Sachs met Celan she was embroiled in a long dispute with Finnish-Jewish composer Moses Pergament's musical adaptation of her stage play Eli: Ein Mysterienspiel vom Leiden Israels. Her relationship to Pergament became entangled with her paranoia, with Sachs repeatedly accusing Pergament of not believing her delusions of persecution. In Celan, she found someone who appeared to believe her. Sachs was first institutionalized shortly after her only visit to Celan.
Sachs' poetry is intensely lyrical and shows some influence by German Romanticism, especially her early work. The poetry she wrote as a young woman in Berlin is more inspired by Christianity than Judaism and makes use of traditional Romantic imagery and themes. Much of it concerns an unhappy love affair Sachs suffered in her teens, with a non-Jewish man who would eventually be killed in a concentration camp. After Sachs learned of her only love interest's death, she bound up his fate with that of her people to write many love lyrics ending not only in the beloved's death, but in the catastrophe of the Holocaust. Sachs herself mourns no longer as a jilted lover but as a personification of the Jewish people in their vexed relationship to history and God. Sachs' fusion of grief with subtly romantic elements is in keeping with the imagery of the kabbalah, where the Shekhinah represents God's presence on earth and mourns for the separation of God from His people in their suffering. Thus Sachs' Romanticism allowed her to develop self-consciously from a German to a Jewish writer, with a corresponding change in her language: still flowery and conventional in some of her first poetry on the Holocaust, it becomes ever more compressed and surreal, returning to a series of the same images and tropes (dust, stars, breath, stones and jewels, blood, dancers, fish suffering out of water, madness, and the ever-frustrated love) in ways that are sometimes comprehensible only to her readers, but always moving and disturbing. Though Sachs does not resemble many authors, she appears to have been influenced by Gertrud Kolmar and Else Lasker-Schuler in addition to Paul Celan.
In 1961 she became the inaugural winner of the Nelly Sachs Prize, a literary prize awarded biennially by the city of Dortmund, and named in her honour. When, with Shmuel Yosef Agnon, she was awarded the 1966 Nobel Prize for Literature, she observed that Agnon represented Israel whereas "I represent the tragedy of the Jewish people."<<
_________________________________
Assuming noon in Berlin, 11:06:36 UT according to Astrodienst
Using RIYAL 3.1
Astrological Setting (Tropical - Placidus)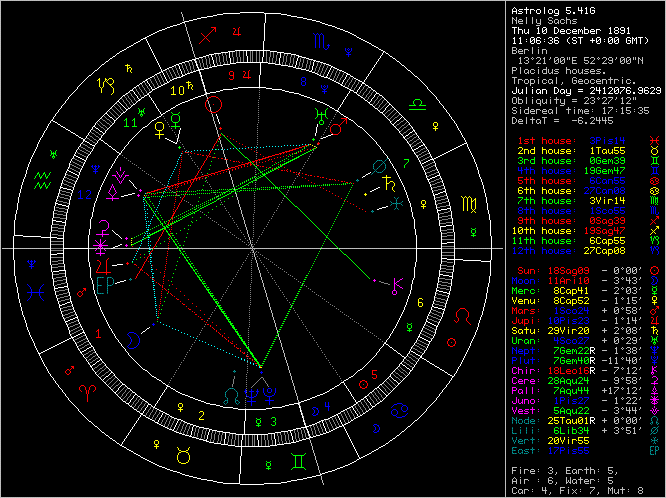 RIYAL Thu December 10 1891 UT 11h06m36s Lat52n29 Lon13e21 SORT ALL
Planet Longit. Latit. Declin. Const.
PA44 = 0Vi08 r 3s04 8n34 Leo
Apogee = 0Sc25 r 2n17 9s29 Vir
AW197 = 0Ta33 r 24n35 34n27 And
PJ30 = 1Le12 r 0s49 19n07 Cnc
Mars = 1Sc24 0n58 11s04 Vir
UR163 = 1Sc38 0s44 12s44 Vir
Asbolus = 2Le05 r 16n23 35n37 Lyn
Echeclus = 2Vi19 r 1s53 8n54 Leo
Hylonome = 2Cp43 3n58 19s28 Sgr
VR130 = 2Ge53 r 3s22 17n26 Tau
CO1 = 3Ge03 r 4s58 15n54 Tau
(Ascend) = 3Pi13 0n00 10s20 Aqr
BU48 = 3Sa37 13n00 8s07 Sco
QD112 = 3Le40 r 12n36 31n33 Cnc
GZ32 = 4Li09 14n25 11n34 Vir
HB57 = 4Ca14 r 15s19 8n04 Mon
UJ438 = 4Cp20 0n44 22s39 Sgr
Uranus = 4Sc27 0n29 12s33 Vir
Pholus = 4Ar31 r 23s52 20s02 Cet
OX3 = 4Li31 3s12 4s44 Vir
Amycus = 4Cp46 8s00 31s22 Sgr
Logos = 4Ar50 r 2s24 0s17 Cet
OP32 = 5Vi06 r 13s29 2s56 Sex
FY9 = 5Ta15 r 20s36 6s11 Cet
RP120 = 5Sc28 4s26 17s32 Vir
Sedna = 5Ar32 r 8s14 5s21 Cet
Varuna = 5Aq34 8s50 27s27 Cap
BL41 = 5Sa37 7s44 28s51 Sco
Chariklo = 5Cp48 8s44 32s03 Sgr
VQ94 = 5Ar56 r 52s01 44s15 Phe
CO104 = 6Li34 0s39 3s12 Vir
GB32 = 6Ca42 r 14s05 9n13 Mon
Teharonhi= 6Li49 2s16 4s47 Vir
Elatus = 6Sc58 4n16 9s49 Lib
FP185 = 7Ge15 r 29s28 7s35 Eri
TL66 = 7Cp17 21n05 2s12 Ser
Neptune = 7Ge22 r 1s38 19n56 Tau
Cyllarus = 7Le29 r 12n30 30n27 Cnc
Pluto = 7Ge40 r 11s40 10n05 Tau
KF77 = 7Aq52 3s46 21s57 Cap
RM43 = 8Cp05 8s05 31s17 Sgr
96PW = 8Vi19 r 8n13 16n04 Leo
Mercury = 8Cp41 2s03 25s12 Sgr
RL43 = 8Ta50 r 10s55 4n06 Cet
Venus = 8Cp52 1s15 24s24 Sgr
VS2 = 9Sa06 11s32 33s12 Sco
CZ118 = 9Ca34 r 25n35 48n37 Lyn
XX143 = 9Sa43 3n29 18s29 Oph
DH5 = 9Ca50 r 20s28 2n40 Mon
PN34 = 9Ca55 r 5n27 28n31 Gem
RZ214 = 10Sc15 2n30 12s32 Lib
DA62 = 10Ta16 r 17n39 31n33 Tri
Jupiter = 10Pi23 1s14 8s50 Aqr
RZ215 = 10Li32 13s15 16s19 Crv
Pelion = 10Sc45 8n58 6s32 Lib
TC302 = 11Aq06 33s11 48s52 Gru
(Moon) = 11Ar10 3s43 1n00 Cet
FZ173 = 11Ge20 r 12n08 34n10 Aur
OO67 = 11Sc52 19n41 3n22 Vir
LE31 = 12Ca27 r 4s47 18n06 Gem
SA278 = 12Aq31 9n39 7s47 Aqr
QB243 = 13Ge53 r 6n40 29n06 Aur
YQ179 = 13Ar56 r 20s56 13s47 Cet
GM137 = 14Cp18 3s49 26s29 Sgr
Ixion = 14Le56 r 18n01 33n29 LMi
Radamantu= 15Pi40 4s43 10s00 Aqr
Thereus = 15Cp47 18n18 4s20 Aql
XZ255 = 16Li00 2n17 4s11 Vir
MS4 = 16Le17 r 17s40 0s56 Hya
Crantor = 16Ge49 r 8s32 14n19 Ori
QF6 = 16Vi54 6n51 11n29 Leo
GV9 = 16Ta59 r 8n33 25n06 Ari
EL61 = 17Ge16 r 20s40 2n16 Ori
XR190 = 17Pi36 46n22 37n14 Cyg
TY364 = 18Sc06 24n19 6n12 Ser
VU2 = 18Le07 13s06 2n55 Hya
Sun = 18Sa09 0n00 22s56 Oph
Chiron = 18Le16 r 7s12 8n31 Cnc
KX14 = 18Ge21 r 0n10 23n07 Tau
XA255 = 18Pi33 11s30 15s06 Aqr
QB1 = 18Sc34 1s38 18s56 Lib
Eris = 18Pi44 34s19 35s33 Scl
Ceto = 19Pi18 0n13 4s02 Aqr
GQ21 = 19Ge23 r 12s28 10n36 Ori
(Midheav) = 19Sa47 0n00 23s04 Oph
RG33 = 20Ca44 r 37n17 58n25 Lyn
Vertex = 20Vi55
Deucalion= 21Ge25 r 0n11 23n21 Tau
CC22 = 21Cp28 8n31 13s19 Sgr
CY118 = 22Ta27 r 24s39 5s29 Eri
CF119 = 22Ar28 r 19n37 26n49 Psc
Pylenor = 22Le48 r 0n21 14n15 Leo
TX300 = 23Li03 22s14 29s26 Hya
MW12 = 23Le16 r 14s27 0n05 Hya
Nessus = 23Aq35 13s56 26s45 PsA
RN43 = 23Vi50 4s29 1s40 Leo
UX25 = 24Sa03 16n50 6s30 Oph
WN188 = 24Ar13 r 28s32 17s09 Cet
FZ53 = 24Sc22 19n35 0n09 Ser
WL7 = 24Cp23 9s59 31s04 Sgr
TD10 = 24Li46 2n06 7s38 Vir
Huya = 24Ta54 r 14s37 4n47 Tau
SB60 = 25Vi16 23s09 19s18 Crt
Orcus = 25Aq17 17n48 3n42 Peg
TO66 = 25Li22 14s30 23s16 Hya
SQ73 = 25Vi33 6n50 8n02 Vir
Chaos = 25Cp48 11s00 31s48 Sgr
Node = 26Ta04 0n00 19n17 Tau
OM67 = 26Li06 20s19 28s52 Hya
CE10 = 26Li46 29s21 37s17 Cen
CR105 = 27Pi01 r 18s06 17s45 Cet
RD215 = 27Sc07 12n45 7s06 Lib
PB112 = 27Sc30 13s33 32s46 Lup
Quaoar = 27Ca50 r 7s41 13n05 Cnc
Bienor = 28Ca03 r 14n50 35n04 Lyn
Okyrhoe = 28Sa17 13n59 9s27 Oph
AZ84 = 28Aq38 13n14 0n29 Aqr
Typhon = 29Aq19 0s50 12s30 Aqr
Saturn = 29Vi20 2n08 2n14 Vir
RR43 = 29Sc49 12n39 7s45 Oph
________________________________
Focused Minor Planets
EL61 = 17 Ge 16 r (Overcoming a Fear)
KX14 = 18 Ge 21 r
GQ21 = 19 Ge 23 r
Sun = 18 Sa 09
Eris = 18 Pi 44 Square
XR190 = 17 Pi 36
XA255 = 18 Pi 33
AW197 = 0 Ta 33 r Semisquare
Asbolus = 2 Le 05 r
TY364 = 18 Sc 06 Quincunx
QB1 = 18 Sc 34
Chiron = 18 Le 16 r Sextile
GV9 = 16 Ta 59 r Semisextile
____________________
TL66 = 7 Cp 17 (The Terror of the Holocaust)
Mercury = 8 Cp 41
Venus = 8 Cp 52
RM43 = 8 Cp 05
Neptune = 7 Ge 22 r Quincunx
Pluto = 7 Ge 40 r
FP185 = 7 Ge 15 r
Cyllarus = 7 Le 29 r
Elatus = 6 Sc 58 Sextile
____________________
AW197 = 0 Ta 33 r
Mars = 1 Sc 24
UR163 = 1 Sc 38
Saturn = 29 Vi 20 Quincunx
RR43 = 29 Sc 49
EL61 = 17 Ge 16 r Semisquare
Typhon = 29 Aq 19 Sextile
____________________
OO67 = 11 Sc 52
Pelion = 10 Sc 45
RZ214 = 10 Sc 15
Jupiter = 10 Pi 23 Trine
SA278 = 12 Aq 31 Square
TC302 = 11 Aq 06
FZ173 = 11 Ge 20 r Quincunx
_____________________
RR43 = 29 Sc 49
Saturn = 29 Vi 20 Sextile
Typhon = 29 Aq 19 Square
Quaoar = 27 Ca 50 r Trine
Bienor = 28 Ca 03 r
_____________________
Orcus = 25 Aq 17
Mercury = 8 Cp 41 Semisquare
Venus = 8 Cp 52
Chaos = 25 Cp 48 Semisextile
Node = 26 Ta 04 Square
Huya = 24 Ta 54 r
SB60 = 25 Vi 16 Quincunx
RN43 = 23 Vi 50
TD10 = 24 Li 46 Trine
TO66 = 25 Li 22
UX25 = 24 Sa 03 Sextile
______________________
Makemake = 5 Ta 15 r
Uranus = 4 Sc 27
OP32 = 5 Vi 06 r Trine
Chariklo = 5 Cp 48
Varuna = 5 Aq 34 Square
Eris = 18 Pi 44 Semisquare
GQ21 = 19 Ge 23 r
Sedna = 5 Ar 32 r Semisextile
Pholus = 4 Ar 31 r
Logos = 4 Ar 50 r
_______________________________
_______________________________
Astrological Setting (Sidereal - Fagan/Bradley)
RIYAL Thu December 10 1891 UT 11h06m36s Lat52n29 Lon13e21 SORT ALL
Planet Longit.
MW12 = 0Le03 r
Nessus = 0Aq21
RN43 = 0Vi37
UX25 = 0Sa49
WN188 = 0Ar59 r
FZ53 = 1Sc09
WL7 = 1Cp10
TD10 = 1Li32
Huya = 1Ta40 r
SB60 = 2Vi02
Orcus = 2Aq03
TO66 = 2Li08
SQ73 = 2Vi20
Chaos = 2Cp34
Node = 2Ta51
OM67 = 2Li52
CE10 = 3Li32
CR105 = 3Pi47 r
RD215 = 3Sc53
PB112 = 4Sc16
Quaoar = 4Ca36 r
Bienor = 4Ca49 r
Okyrhoe = 5Sa03
AZ84 = 5Aq24
Typhon = 6Aq05
Saturn = 6Vi06
RR43 = 6Sc36
PA44 = 6Le54 r
Apogee = 7Li11 r
AW197 = 7Ar20 r
PJ30 = 7Ca58 r
Mars = 8Li10
UR163 = 8Li25
Asbolus = 8Ca51 r
Echeclus = 9Le06 r
Hylonome = 9Sa29
VR130 = 9Ta40 r
CO1 = 9Ta50 r
(Ascend) = 10Aq00
BU48 = 10Sc24
QD112 = 10Ca26 r
GZ32 = 10Vi55
HB57 = 11Ge01 r
UJ438 = 11Sa07
Uranus = 11Li13
Pholus = 11Pi17 r
OX3 = 11Vi17
Amycus = 11Sa32
Logos = 11Pi36 r
OP32 = 11Le53 r
FY9 = 12Ar02 r
RP120 = 12Li14
Sedna = 12Pi18 r
Varuna = 12Cp20
BL41 = 12Sc23
Chariklo = 12Sa34
VQ94 = 12Pi42 r
CO104 = 13Vi20
GB32 = 13Ge29 r
Teharonhi= 13Vi35
Elatus = 13Li45
FP185 = 14Ta01 r
TL66 = 14Sa04
Neptune = 14Ta08 r
Cyllarus = 14Ca15 r
Pluto = 14Ta27 r
KF77 = 14Cp39
RM43 = 14Sa52
96PW = 15Le06 r
Mercury = 15Sa28
RL43 = 15Ar37 r
Venus = 15Sa39
VS2 = 15Sc52
CZ118 = 16Ge21 r
XX143 = 16Sc29
DH5 = 16Ge36 r
PN34 = 16Ge41 r
RZ214 = 17Li01
DA62 = 17Ar02 r
Jupiter = 17Aq09
RZ215 = 17Vi19
Pelion = 17Li32
TC302 = 17Cp53
(Moon) = 17Pi57
FZ173 = 18Ta06 r
OO67 = 18Li38
LE31 = 19Ge13 r
SA278 = 19Cp18
QB243 = 20Ta39 r
YQ179 = 20Pi42 r
GM137 = 21Sa04
Ixion = 21Ca42 r
Radamantu= 22Aq26
Thereus = 22Sa33
XZ255 = 22Vi46
MS4 = 23Ca04 r
Crantor = 23Ta35 r
QF6 = 23Le41
GV9 = 23Ar45 r
EL61 = 24Ta02 r
XR190 = 24Aq23
TY364 = 24Li52
VU2 = 24Ca54
Sun = 24Sc55
Chiron = 25Ca02 r
KX14 = 25Ta07 r
XA255 = 25Aq20
QB1 = 25Li21
Eris = 25Aq30
Ceto = 26Aq05
GQ21 = 26Ta09 r
(Midheav) = 26Sc34
RG33 = 27Ge31 r
Vertex = 27Le42
Deucalion= 28Ta11 r
CC22 = 28Sa14
CY118 = 29Ar14 r
CF119 = 29Pi15 r
Pylenor = 29Ca34 r
TX300 = 29Vi49
______________________
Focused Minor Planets
EL61 = 24 Ta 02 r
KX14 = 25 Ta 07 r
GQ21 = 26 Ta 09 r
Sun = 24 Sc 55
Eris = 25 Aq 30 Square
XR190 = 24 Aq 23
XA255 = 25 Aq 20
AW197 = 7 Ar 20 r Semisquare
Asbolus = 8 Ca 51 r
TY364 = 24 Li 52 Quincunx
QB1 = 25 Li 21
Chiron = 25 Ca 02 r Sextile
GV9 = 23 Ar 45 r Semisextile
_____________________
TL66 = 14 Sa 04
Mercury = 15 Sa 28
Venus = 15 Sa 39
RM43 = 14 Sa 52
Neptune = 14 Ta 08 r Quincunx
Pluto = 14 Ta 27 r
FP185 = 14 Ta 01 r
Cyllarus = 14 Ca 15 r
Elatus = 13 Li 45 Sextile
_____________________
AW197 = 7 Ar 20 r
Mars = 8 Li 10
UR163 = 8 Li 25
Saturn = 6 Vi 06 Quincunx
RR43 = 6 Sc 36
EL61 = 24 Ta 02 r Semisquare
Typhon = 6 Aq 05 Sextile
____________________
OO67 = 18 Li 38
Pelion = 17 Li 32
RZ214 = 17 Li 01
Jupiter = 17 Aq 09 Trine
SA278 = 19 Cp 18 Square
TC302 = 17 Cp 53
FZ173 = 18 Ta 06 r Quincunx
___________________
RR43 = 6 Sc 36
Saturn = 6 Vi 06 Sextile
Typhon = 6 Aq 05 Square
Quaoar = 4 Ca 36 r Trine
Bienor = 4 Ca 49 r
_____________________
Orcus = 2 Aq 03
Mercury = 15 Sa 28 Semisquare
Venus = 15 Sa 39
Chaos = 2 Cp 34 Semisextile
Node = 2 Ta 51 Square
Huya = 1 Ta 40 r
SB60 = 2 Vi 02 Quincunx
RN43 = 0 Vi 37
TD10 = 1 Li 32 Trine
TO66 = 2 Li 08
UX25 = 0 Sa 49 Sextile
____________________
Makemake = 12 Ar 02 r
Uranus = 11 Li 13
OP32 = 11 Le 53 r Trine
Chariklo = 12 Sa 34
Varuna = 12 Cp 20 Square
Eris = 25 Aq 30 Semisquare
GQ21 = 26 Ta 09 r
Sedna = 12 Pi 18 r Semisextile
Pholus = 11 Pi 17 r
Logos = 11 Pi 36 r
_____________________________________________
Posted to Centaurs (YahooGroups) on July 22, 2008
__________________________________________
__________________________________________