Martin John Evans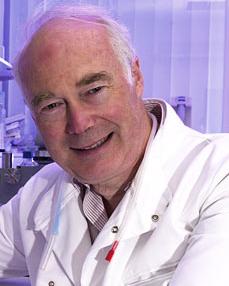 FY9/Sun opposition
From Wikipedia, the free encyclopedia
>>Sir Martin John Evans FRS (born 1 January 1941) is a British scientist, credited with discovering how to culture embryonic stem cells in 1981, and for his work in the development of the knockout mouse and the related technology of gene targeting. In 2007, he was a co-winner of the Nobel Prize in Physiology or Medicine in recognition of his gene targeting work.
Early life
Evans was born in Stroud, Gloucestershire, England on 1 January 1941. His mother was a teacher. His father maintained a mechanical workshop and taught Evans to use the tools and machines there, including a lathe. Evans was close to his grandfather who was a choir master at a Baptist Church for over 40 years, and whose main interests were music, poetry and the Baptist Church. His mother's brother was a professor of astronomy at the University of Cambridge. As a boy Evans was quiet, shy and inquisitive. He liked science and his parents encouraged his education. He was brought up in Orpington and he went to St Dunstan's College, an independent school for boys in South East London, where he worked hard studying for the University of Cambridge entrance exams. At school he was one of the best pupils, although not at the top of the class.
Career
Evans was a student at Christ's College, University of Cambridge, at a time when there were many advances in genetics. He went to seminars by Sydney Brenner and attended lectures given by Jacques Monod. He graduated from Christ's College, University of Cambridge in 1963, although he did not take his final examinations because he was ill with glandular fever at that time. He moved to University College London where he was awarded a PhD in 1969. He became a lecturer in the Anatomy and Embryology department at University College London, where did research work, and taught PhD students and undergraduate students. In 1978 he moved to the Department of Genetics, at the University of Cambridge, where his work in association with Matthew Kaufman began in 1980. In October 1985 he visited the Whitehead Institute, Cambridge, Massachusetts for one month of bench work to learn new techniques. In 1990s, he was a fellow at St Edmund's College, University of Cambridge. In 1999 he became Professor of Mammalian Genetics and Director of the School of Biosciences at Cardiff University, where he worked until he retired at the end of 2007.
Stem cell research
In 1981, Evans and Kaufman published results for experiments in which they isolated embryonic stem cells from mouse blastocysts and grew them in cell culture. This was also achieved by Gail R. Martin, independently, in the same year. The availability of these cultured stem cells eventually made possible the introduction of specific gene alterations into the germ line of mice and the creation of transgenic mice.
Evans and his collaborators showed that they could introduce a new gene into cultured embryonic stem cells and then use such genetically transformed cells to make chimeric embryos. In some chimeric embryos, the genetically altered stem cells produced gametes, thus allowing transmission of the artificially induced mutation into future generations of mice. Transgenic mice with induced mutations in the enzyme Hypoxanthine-guanine phosphoribosyltransferase (HPRT) were created. The HPRT mutations were produced by retroviral insertion, but it was proposed that by taking advantage of genetic recombination between the normal HPRT gene and an artificial gene sequenced added to the cultured embryonic stem cells, "it may also eventually be possible to produce specific alterations in endogenous genes through homologous recombination with cloned copies modified in vitro". The production of transgenic mice using this proposed approach was accomplished in the laboratories of Oliver Smithies, and also of Mario Capecchi.
Awards and recognition

11 March 1993 - Fellow of the Royal Society.

1998 - Founder Fellow of the Academy of Medical Sciences.

3 May 1999 - The USA charity March of Dimes awarded their annual prize in Developmental Biology for research into embryonic growth jointly to Professor Richard Gardner of Oxford University and Evans.

21 September 2001 - Albert Lasker Award for Basic Medical Research, jointly with Mario Capecchi and Oliver Smithies.

2002 - Honorary doctorate from Mount Sinai School of Medicine, New York, USA.

1 January 2004 - Knighthood (Queen's New Years Honours) for his services to medical science.

19 July 2005 - Honorary doctorate from the University of Bath, England.

8 October 2007 - Nobel Prize in Physiology or Medicine, jointly with Mario Capecchi and Oliver Smithies.
Personal life
When Evans was a student in Cambridge he met his wife, Judith, at a lunch held by his aunt, wife of an astronomy professor. Later, after they were engaged, their relationship was not going well and Judith went to Canada; however, a year later she returned to England and they got married. In 1978 they moved from London to Cambridge with young children, and they lived in Cambridge for more than 20 years before moving the Cardiff. They have one daughter and two sons. Their older son was a student at the University of Cambridge and their younger son was a boarding pupil at the Christ Church Cathedral School in Oxford and sung in the Christ Church Cathedral choir.<<
_____________________________
Assuming noon in Stroud (Lat51n45 - Lon2w12), 11:00 UT
Using RIYAL 3.1
Astrological Setting (Tropical - Placidus)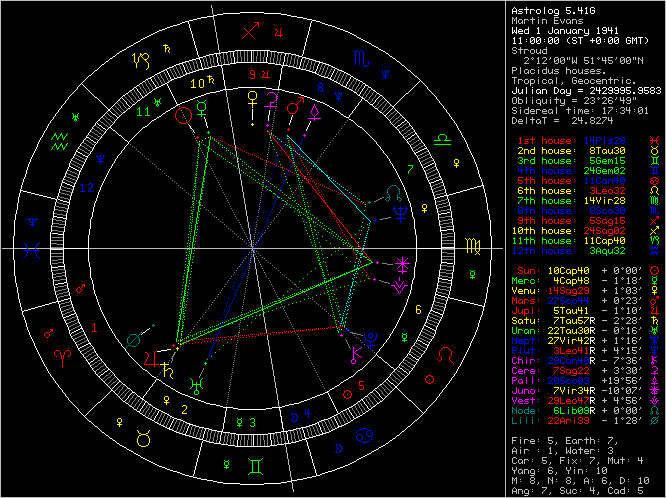 RIYAL Wed January 1 1941 UT 11h00m00s Lat51n45 Lon2w12 SORT ALL
Planet Longit. Latit. Declin. Const.
Typhon = 0Ar04 0n25 0n25 Psc
RD215 = 0Cp16 22n34 0s53 Ser
Thereus = 0Ge18 r 13s59 6n32 Tau
Nessus = 0Ta18 r 0n20 11n54 Ari
BU48 = 0Aq34 2n40 17s26 Cap
XX143 = 0Vi45 r 5n01 15n53 Leo
KX14 = 0Vi55 r 0s17 10n53 Leo
RL43 = 1Li34 3n47 2n51 Vir
CC22 = 1Ta37 r 6s00 6n25 Cet
XR190 = 1Ta48 r 33n42 43n07 And
Apogee = 2Ta05 r 2s15 10n05 Psc
VR130 = 2Sc10 1n43 10s37 Vir
WN188 = 2Ar30 24s14 21s09 Cet
UJ438 = 2Li41 3s50 4s35 Vir
FP185 = 3Ca01 r 31s10 7s45 Mon
RG33 = 3Ta02 r 14n46 26n20 Psc
Okyrhoe = 3Cp29 13n53 9s31 Ser
RP120 = 3Sc39 9s27 21s36 Vir
Pluto = 3Le41 r 4n15 23n28 Cnc
RM43 = 3Aq45 19s16 37s57 Mic
Eris = 3Ar56 26s07 22s18 Cet
OM67 = 4Sa23 22s51 43s23 Nor
Mercury = 4Cp48 1s18 24s39 Sgr
VU2 = 5Cp05 5n18 18s03 Sgr
Crantor = 5Pi34 8s16 17s08 Aqr
Jupiter = 5Ta41 1s10 12n19 Ari
Node = 5Li42 r 0n00 2s16 Vir
Echeclus = 6Sa00 3n43 17s39 Sco
WL7 = 6Li24 0n03 2s30 Vir
FZ173 = 6Ca35 r 12n52 36n08 Aur
MW12 = 6Li49 0n58 1s49 Vir
RZ215 = 7Sc19 21s18 33s55 Cen
Ixion = 7Li26 17n48 13n23 Vir
QD112 = 7Ge47 r 14n00 35n24 Per
Saturn = 7Ta57 r 2s28 11n50 Ari
TX300 = 8Cp12 18s38 41s47 CrA
OP32 = 8Sc17 16n08 1n02 Vir
Ceto = 8Ar21 7s18 3s24 Cet
TD10 = 8Sc30 3n16 11s15 Lib
TL66 = 9Aq15 23n37 4n53 Del
YQ179 = 9Ta17 r 19s44 4s09 Eri
CE10 = 9Le33 r 19n37 36n39 Lyn
Teharonhi= 10Sa02 2s03 23s59 Oph
Logos = 10Ge09 r 2s36 19n24 Tau
CO1 = 10Pi30 19s19 25s24 Scl
Sun = 10Cp40 0n00 23s01 Sgr
AZ84 = 10Ta40 r 6n50 21n30 Ari
FY9 = 10Ca59 r 12n10 35n07 Gem
Orcus = 11Ge14 r 5n57 28n02 Tau
VQ94 = 11Ar40 46s02 37s12 For
Radamantu= 11Ge44 r 11n44 33n49 Per
Amycus = 12Ar01 11n29 15n18 Psc
PJ30 = 12Vi05 r 4s11 3n10 Sex
TC302 = 12Pi16 24s03 28s59 Scl
Asbolus = 12Ge35 r 17n10 39n18 Per
VS2 = 12Aq36 2n56 14s12 Aqr
Huya = 13Ca02 r 14s27 8n25 Mon
96PW = 13Vi06 r 10n22 16n12 Leo
EL61 = 13Le30 r 6n20 22n50 Cnc
(Ascend) = 14Pi28 0n00 6s07 Aqr
Venus = 14Sa29 1n03 21s30 Oph
PA44 = 14Le43 r 3s22 13n12 Cnc
PN34 = 15Le10 r 4s49 11n41 Cnc
UX25 = 15Aq34 17n47 0n51 Aqr
Chaos = 16Pi00 10s35 15s15 Aqr
CR105 = 16Ta25 r 22s43 5s05 Eri
Hylonome = 16Ar26 1s29 5n05 Psc
Deucalion= 16Le27 r 0n22 16n16 Cnc
AW197 = 16Ge31 r 16n25 39n05 Aur
Varuna = 16Ar41 16s53 9s03 Cet
Pelion = 16Ge43 r 7s22 15n27 Ori
Pholus = 16Cp56 5n04 17s20 Sgr
SB60 = 17Sa17 9s27 32s14 Sco
CO104 = 17Aq27 1s40 17s11 Cap
BL41 = 17Le28 r 7s37 8n20 Cnc
QB1 = 17Cp45 2s01 24s16 Sgr
TO66 = 17Cp53 24s49 46s47 Tel
GV9 = 18Ca12 r 14s22 7n58 CMi
SQ73 = 18Ge36 r 16n37 39n30 Aur
QB243 = 18Ca52 r 4n32 26n36 Gem
Cyllarus = 19Li09 7n03 0s58 Vir
Sedna = 19Ar41 r 10s01 1s35 Cet
OX3 = 20Sc32 1s54 19s43 Lib
XA255 = 20Ar46 r 12s40 3s38 Cet
UR163 = 20Cp59 0s07 21s56 Sgr
CF119 = 21Ta15 r 18n52 36n10 Per
RZ214 = 21Sa16 15n02 8s09 Oph
LE31 = 21Ge16 r 14s39 8n32 Ori
Pylenor = 21Ge19 r 4s41 18n29 Tau
KF77 = 21Ge34 r 4n10 27n20 Tau
PB112 = 21Sa57 15s10 38s20 Sco
CY118 = 22Ge09 r 25s37 2s22 Ori
MS4 = 22Li10 4s30 12s48 Vir
Uranus = 22Ta30 r 0s16 18n09 Ari
GM137 = 22Aq33 12s10 25s27 PsA
(Midheav) = 24Sa02 0n00 23s19 Oph
Vertex = 24Vi44
(Moon) = 24Aq58 3n17 10s06 Cap
DA62 = 24Sc58 15s08 33s39 Lup
Elatus = 25Sc00 3n04 16s02 Lib
DH5 = 25Cp08 14n36 6s44 Aql
RR43 = 25Cp22 15s08 35s55 Sgr
RN43 = 25Sc24 14n23 5s07 Lib
GQ21 = 25Ca57 r 13s18 7n53 CMi
FZ53 = 25Aq57 28n57 14n25 Peg
GZ32 = 26Ar24 r 14s52 3s42 Cet
Quaoar = 26Vi52 r 1s44 0s21 Vir
GB32 = 26Ca56 r 12s28 8n32 CMi
XZ255 = 27Ca09 r 1n45 22n27 Cnc
OO67 = 27Sc21 19n47 0s16 Ser
Neptune = 27Vi42 r 1n16 2n04 Vir
Mars = 27Sc44 0n23 19s17 Lib
TY364 = 28Cp02 9n19 11s26 Aql
Bienor = 28Pi07 8n41 7n13 Psc
HB57 = 28Ca25 r 15s26 5n20 CMi
QF6 = 29Sc08 22n45 2n17 Ser
CZ118 = 29Ca33 r 20n40 40n22 Lyn
Chiron = 29Ca40 r 7s36 12n47 Cnc
SA278 = 29Aq59 5n23 6s26 Aqr
Chariklo = 29Vi59 20s01 18s18 Crt
______________________
Focused Minor Planets
FY9 = 10 Ca 59 r
(Genius)
Sun = 10 Cp 40
TC302 = 12 Pi 16 Trine
Amycus = 12 Ar 01 Square
Logos = 10 Ge 09 r Semisextile
Orcus = 11 Ge 14 r
(Endeavors Aimed Towards the Boundary of the Achievable)
Rhadamanthus = 11 Ge 44 r
Trying Midpoints:
Mercury/Pholus = 10Cp52
Mercury/Chaos = 10Aq24
Venus/Ixion = 10Sc58
Venus/Node = 10Sc06
Pluto/Hylonome = 10Ge03
Pluto/Varuna = 10Ge11
___________________
Eris = 3 Ar 56
(To obstacle the Alien - Rejection)
Node = 5 Li 42 r
Mercury = 4 Cp 48 T Square
FP185 = 3 Ca 01 r
Pluto = 3 Le 41 r Grand Trine
OM67 = 4 Sa 23
RM43 = 3 Aq 45 Sextile
Midpoints:
Chiron/Ixion = 3Vi33
Chaos/Ixion = 3Li43
___________________
EL61 = 13 Le 30 r
VS2 = 12 Aq 36
Venus = 14 Sa 29 Grand Trine
Amycus = 12 Ar 01
Neptune = 27 Vi 42 r Semisquare
Asbolus = 12 Ge 35 r Sextile
Huya = 13 Ca 02 r Semisextile
Midpoints:
Mercury/Uranus = 13Vi39
Sun/Chaos = 13Aq20
Venus/Asbolus = 13Vi32
Venus/Rad = 13Vi07
Ixion/Sedna = 13Ca33
___________________
UX25 = 15 Aq 34
(To Confound all the Laws of Man and Nature At Once)
Deucalion = 16 Le 27 r
Venus = 14 Sa 29 Sextile
Varuna = 16 Ar 41
Hylonome = 16 Ar 26
CR105 = 16 Ta 25 r Square
(Adventure)
AW197 = 16 Ge 31 r Trine
(Complex Assemblages/Structures)
Chaos = 16 Pi 00 Semisextile
Midpoints:
Saturn/Uranus = 15Ta14
Mercury/Quaoar = 15Sc50
Venus/Hylonome = 15Le28
Venus/Varuna = 15Le35
___________________
OO67 = 27 Sc 21
(Milestones)
Mars = 27 Sc 44
RN43 = 25 Sc 24
Neptune = 27 Vi 42 r Sextile
Quaoar = 26 Vi 52 r
(Towards revolutionary changes)
TY364 = 28 Cp 02
(Attempting the Impossible - Champion of a Difficult Cause)
RR43 = 25 Cp 22
GB32 = 26 Ca 56 r Trine
GQ21 = 25 Ca 57 r
Midpoints:
Sun/Venus = 27Sa25
Venus/Saturn = 26Le13
Mars/Neptune = 27Li43
Mercury/Sedna = 27Le14
Jupiter/Sedna = 27Ar41
Saturn/Hylonome = 27Ar12
Saturn/Varuna = 27Ar19
Neptune/Quaoar = 27Vi17
___________________
OM67 = 4 Sa 23
Echeclus = 6 Sa 00
Pluto = 3 Le 41 r Trine
Jupiter = 5 Ta 41 Quincunx
Node = 5 Li 42 r Sextile
Mercury = 4 Cp 48 Semisextile
Midpoints:
Mars/Orcus = 4Vi29
Uranus/Hylonome = 4Ta28
Uranus/Varuna = 4Ta36
Neptune/Orcus = 4Le28
Pluto/Node = 4Vi41
Quaoar/Orcus = 4Le03
Eris/Node = 4Ca49
___________________
Ixion = 7 Li 26
(With firm goals)
Saturn = 7 Ta 57 r Quincunx
TX300 = 8 Cp 12 Square
OP32 = 8 Sc 17 Semisextile
(Striking a blow for progress)
TL66 = 9 Aq 15 Trine
Midpoints:
Sun/Mercury = 7Cp44
Mars/Hylonome = 7Le05
Mars/Varuna = 7Le13
Neptune/Hylonome = 7Ca04
Neptune/Varuna = 7Ca11
Pluto/Orcus = 7Ca27
___________________
CF119 = 21 Ta 15 r
Uranus = 22 Ta 30 r
PB112 = 21 Sa 57 Quincunx
Pylenor = 21 Ge 19 r Semisextile
Midpoints:
Mercury/Ixion = 21Sc07
Mars/Chaos = 21Cp52
Jupiter/Ixion = 21Ca33
Saturn/Node = 21Ca50
Neptune/Chaos = 21Sa51
Chaos/Quaoar = 21Sa26
____________________________
____________________________
Astrological Setting (Sidereal - Fagan/Bradley)
RIYAL Wed January 1 1941 UT 11h00m00s Lat51n45 Lon2w12 SORT ALL
Planet Longit.
(Midheav) = 0Sa07
Vertex = 0Vi49
(Moon) = 1Aq03
DA62 = 1Sc03
Elatus = 1Sc05
DH5 = 1Cp13
RR43 = 1Cp27
RN43 = 1Sc29
GQ21 = 2Ca02 r
FZ53 = 2Aq02
GZ32 = 2Ar29 r
Quaoar = 2Vi57 r
GB32 = 3Ca01 r
XZ255 = 3Ca14 r
OO67 = 3Sc26
Neptune = 3Vi47 r
Mars = 3Sc49
TY364 = 4Cp07
Bienor = 4Pi12
HB57 = 4Ca30 r
QF6 = 5Sc13
CZ118 = 5Ca38 r
Chiron = 5Ca45 r
SA278 = 6Aq04
Chariklo = 6Vi04
Typhon = 6Pi09
RD215 = 6Sa20
Thereus = 6Ta23 r
Nessus = 6Ar23 r
BU48 = 6Cp39
XX143 = 6Le50 r
KX14 = 7Le00 r
RL43 = 7Vi39
CC22 = 7Ar42 r
XR190 = 7Ar53 r
Apogee = 8Ar10 r
VR130 = 8Li15
WN188 = 8Pi35
UJ438 = 8Vi46
FP185 = 9Ge06 r
RG33 = 9Ar07 r
Okyrhoe = 9Sa34
RP120 = 9Li44
Pluto = 9Ca46 r
RM43 = 9Cp50
Eris = 10Pi01
OM67 = 10Sc28
Mercury = 10Sa53
VU2 = 11Sa10
Crantor = 11Aq39
Jupiter = 11Ar46
Node = 11Vi47 r
Echeclus = 12Sc05
WL7 = 12Vi29
FZ173 = 12Ge40 r
MW12 = 12Vi54
RZ215 = 13Li24
Ixion = 13Vi31
QD112 = 13Ta52 r
Saturn = 14Ar02 r
TX300 = 14Sa17
OP32 = 14Li22
Ceto = 14Pi26
TD10 = 14Li35
TL66 = 15Cp20
YQ179 = 15Ar22 r
CE10 = 15Ca38 r
Teharonhi= 16Sc07
Logos = 16Ta14 r
CO1 = 16Aq35
Sun = 16Sa45
AZ84 = 16Ar45 r
FY9 = 17Ge04 r
Orcus = 17Ta19 r
VQ94 = 17Pi45
Radamantu= 17Ta49 r
Amycus = 18Pi06
PJ30 = 18Le10 r
TC302 = 18Aq21
Asbolus = 18Ta40 r
VS2 = 18Cp41
Huya = 19Ge07 r
96PW = 19Le11 r
EL61 = 19Ca35 r
(Ascend) = 20Aq33
Venus = 20Sc34
PA44 = 20Ca48 r
PN34 = 21Ca15 r
UX25 = 21Cp39
Chaos = 22Aq05
CR105 = 22Ar30 r
Hylonome = 22Pi31
Deucalion= 22Ca32 r
AW197 = 22Ta36 r
Varuna = 22Pi46
Pelion = 22Ta48 r
Pholus = 23Sa01
SB60 = 23Sc22
CO104 = 23Cp32
BL41 = 23Ca33 r
QB1 = 23Sa50
TO66 = 23Sa58
GV9 = 24Ge17 r
SQ73 = 24Ta41 r
QB243 = 24Ge57 r
Cyllarus = 25Vi14
Sedna = 25Pi46 r
OX3 = 26Li37
XA255 = 26Pi51 r
UR163 = 27Sa04
CF119 = 27Ar20 r
RZ214 = 27Sc21
LE31 = 27Ta21 r
Pylenor = 27Ta24 r
KF77 = 27Ta39 r
PB112 = 28Sc02
CY118 = 28Ta14 r
MS4 = 28Vi15
Uranus = 28Ar35 r
GM137 = 28Cp38
____________________
Focused Minor Planets
FY9 = 17 Ge 04 r
Sun = 16 Sa 45
TC302 = 18 Aq 21 Trine
Amycus = 18 Pi 06 Square
Logos = 16 Ta 14 r Semisextile
Orcus = 17 Ta 19 r
Rhadamanthus = 17 Ta 49 r
__________________
Eris = 10 Pi 01
Node = 11 Vi 47 r
Mercury = 10 Sa 53 T Square
FP185 = 9 Ge 06 r
Pluto = 9 Ca 46 r Grand Trine
OM67 = 10 Sc 28
RM43 = 9 Cp 50 Sextile
__________________
EL61 = 19 Ca 35 r
VS2 = 18 Cp 41
Venus = 20 Sc 34 Grand Trine
Amycus = 18 Pi 06
Neptune = 3 Vi 47 r Semisquare
Asbolus = 18 Ta 40 r Sextile
Huya = 19 Ge 07 r Semisextile
__________________
UX25 = 21 Cp 39
Deucalion = 22 Ca 32 r
Venus = 20 Sc 34 Sextile
Varuna = 22 Pi 46
Hylonome = 22 Pi 31
AW197 = 22 Ta 36 r Trine
Chaos = 22 Aq 05 Semisextile
CR105 = 22 Ar 30 r Square
__________________
OO67 = 3 Sc 26
Mars = 3 Sc 49
RN43 = 1 Sc 29
Neptune = 3 Vi 47 r Sextile
Quaoar = 2 Vi 57 r
TY364 = 4 Cp 07
RR43 = 1 Cp 27
GB32 = 3 Ca 01 r Trine
GQ21 = 2 Ca 02 r
__________________
OM67 = 10 Sc 28
Echeclus = 12 Sc 05
Pluto = 9 Ca 46 r Trine
Jupiter = 11 Ar 46 Quincunx
Node = 11 Vi 47 r Sextile
Mercury = 10 Sa 53 Semisextile
__________________
Ixion = 13Vi 31
Saturn = 14 Ar 02 r Quincunx
TX300 = 14 Sa 17 Square
OP32 = 14 Li 22 Semisextile
TL66 = 15 Cp 20 Trine
__________________
CF119 = 27 Ar 20 r
Uranus = 28 Ar 35 r
PB112 = 28 Sc 02 Quincunx
Pylenor = 27 Ta 24 r Semisextile
___________________________
___________________________
Tentatively, additional keywords for 2003 EL61:
- Return to the beginning
- Ethical and Legal Dilemma
________________________________________
Posted to Centaurs (YahooGroups) on June 09, 2008
_________________________________________
_________________________________________