Leo Sternbach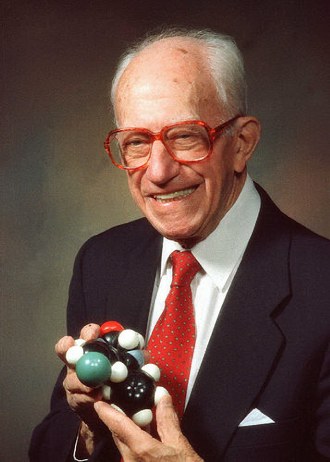 AW197/Sun conjunction/OO67 opposition
From Wikipedia, the free encyclopedia
Dr Leo Henryk Sternbach (May 7, 1908 – September 28, 2005) was a Polish-Jewish chemist who is credited with inventing the benzodiazepine, a class of tranquilizers.
He was born in Opatija, then in Austria-Hungary and now part of Croatia. He received his doctoral degree in organic chemistry from the Jagiellonian University in Krakow, Poland. He worked for Hoffmann-La Roche in Basel, Switzerland, which helped him to flee to the United States in 1941 to escape the Nazis. His work on drugs was done while working for Roche in Nutley, New Jersey.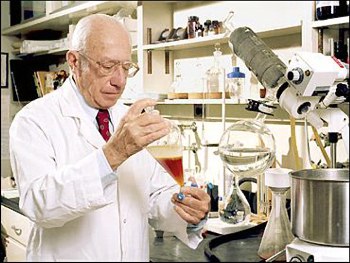 Sternbach is credited with the invention of
chlordiazepoxide
(Librium),
diazepam
(Valium), flurazepam (Dalmane), nitrazepam (Mogadon), clonazepam (Klonopin), and trimethaphan (Arfonad).
Librium, based on the R0 6-690 compound discovered by Sternbach in 1956, was approved for use in 1960.
Structure: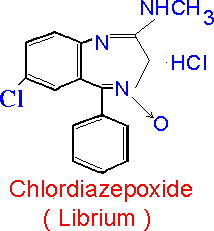 3D Structure: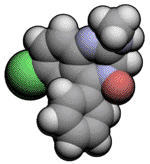 In 1963 its improved version, Valium, was released and became astonishingly popular: between 1969 and 1982 it was the most prescribed drug in America, with over 2.3 billion sold in peak year of 1978.
Structure: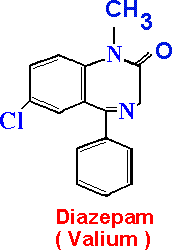 3D Structure: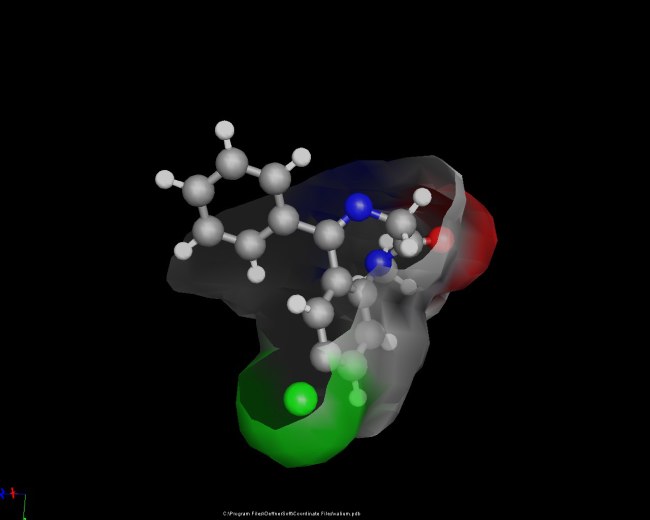 Sternbach held 241 patents, and his discoveries helped to turn Roche into a pharmaceutical industry giant. He didn't become wealthy from his discoveries but he was happy: he treated chemistry as a passion and said that "I always did just what I wanted to do". He went into the office until he was 95.
Sternbach was a longtime resident of Upper Montclair, New Jersey, from 1943 to 2003. He moved down south, and died at his new home in Chapel Hill, North Carolina.
A book "Good chemistry: The life and legacy of valium inventor Leo Sternbach" was published by McGraw-Hill in 2004.
The Rolling Stones paid tribute to Valium (the "little yellow pill") in their "Mother's Little Helper".
Legacy
He is present in the New Jersey Inventor's Hall of Fame; and was inducted into the National Inventors Hall of Fame in 2005.<<
--------------------------
Mode of Action of Benzodiazepines
>>Benzodiazepines produce a variety of effects including:
· Anxiolytic (reduce anxiety)
· Anitconvulsant (used against epileptic seizures)
· Antispasmodic (muscle relaxant)
· Sedative/Hypnotic ("sleeping tablet" effect)
These effects result from Benzodiazepine's modulation of gamma-aminobutyric acid (GABA), the main inhibitory neurotransmitter of the Central Nervous System (CNS), by influencing the GABAA receptor complex (Nutt & Malizia, 2001).
The GABAA receptor complex includes binding sites for benzodiazepines, barbiturates, and steroids. The chlorine ion channel is controlled by the GABA binding site. When the neurotransmitter GABA binds with the receptor it triggers a conformational change in the pore, allowing more Cl- to enter the cell (Nutt & Malizia, 2001). This results in a hyperpolarization of the cell membrane, consequently increasing the firing threshold and producing an inhibition of action potential firing. Upon binding, benzodiazepines lock the GABAA receptor into a conformation that increases the binding of GABA. Increased GABA binding increases the frequency of opening the associated Cl- channel, consequently amplifying the inhibitory effect (Cooper, Bloom, & Roth, 1996).
The GABAA receptor is composed of five protein subunits that ring a central chlorine ion channel. The majority of GABAA receptor subunits are alpha, ß, and gamma. Different isoforms of these main subunit types demonstrate different sensitivities to benzodiazepines. The most prevalent receptor is made up of alpha1, ß2, gamma2 subunits (Nutt & Malizia, 2001). GABA binds to the ß subunit and conventional benzodiazepines bind at the interface of the gamma2 subunit and any of the alpha1, alpha2, alpha3, or alpha5 subunits. Benzodiazepines with high affinity for the a1 subunit are associated with sedatives and those with affinity for alpha2 or alpha3 subunits demonstrate anti-anxiety activity. Receptors containing the alpha5 subunits may play a role in memory processes (Rowlett et al, 2006).
Action of Benzodiazepines at a synapse
GABA is the main inhibitory neurotransmitter and GABA receptors are found throughout the Central Nervous System. Depending on the brain region, as many as tent to fifty percent of all central synapses possess GABAA receptors (Nutt & Malizia, 2001). Even though different combinations of receptor subtypes produce different reactions to different benzodiazepines, in general the action of benzodiazepines at a synapse is the same.
(1,2) Nerve impulse causes release of GABA from storage sites on neuron 1
(3) GABA released into the synaptic cleft
(4) GABA reacts with receptors on neuron 2; the reaction allows Cl- to enter the neuron
(5) This effect inhibits further progress of the nerve impulse
(6,7) Benzodiazepines react with GABAA receptor complex
(8) This action enhances the inhibitory effects of GABA; the ongoing nerve impulse may be completely blocked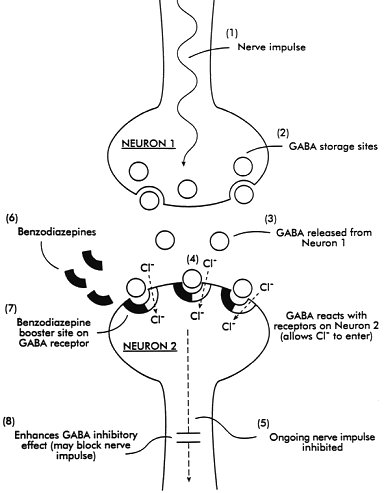 Benzodiazepines were discovered in 1954 by Dr. Leo Sternbach, an Austrian chemist working for the pharmaceutical company Hoffmann-La Roche. La Roch laboratories submitted the drug for pharmacalogical evaluation in which they discovered its superiority to other related drugs (Schatzberg 2001). In 1959 the first Benzodiazepine was patented, and in 1960 it was introduced to the world as Librium (chlordiazepoxide).<<
_______________________
Assuming noon, 11:00 UT, in Opatija, Lat45n21 - Lon14e19
Using RIYAL 3.1
Astrological Setting (Tropical - Placidus)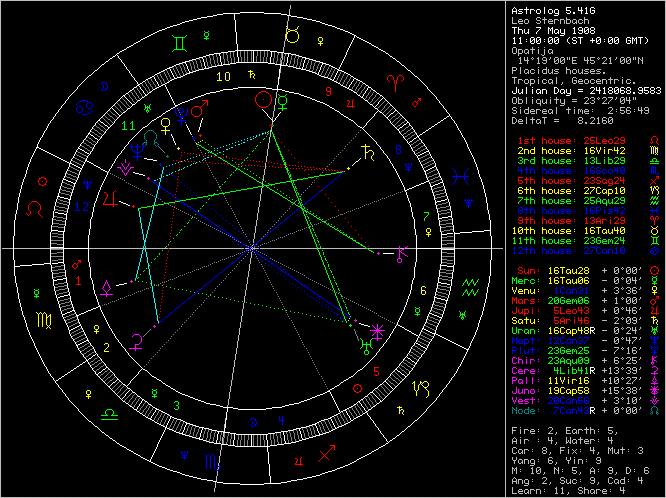 RIYAL Thu May 7 1908 UT 11h00m00s Lat45n21 Lon14e19 SORT ALL
| | | | | |
| --- | --- | --- | --- | --- |
| Planet | Longitude | Latitude | Declin. | Const. |
| CY118 | 0Ge26 | 24s51 | 4s06 | Eri |
| FY9 | 0Ge29 | 9s09 | 11n18 | Tau |
| Varuna | 0Pi53 | 13s52 | 24s04 | Aqr |
| VS2 | 0Cp57 r | 7s59 | 31s26 | Sgr |
| Cyllarus | 1Vi00 r | 12n27 | 22n43 | Leo |
| LE31 | 1Li07 r | 31n38 | 28n20 | Com |
| CF119 | 1Ta12 | 19n27 | 30n00 | Psc |
| Venus | 1Ca31 | 3n36 | 27n02 | Gem |
| Ixion | 1Vi36 r | 19n37 | 29n05 | LMi |
| RG33 | 2Li05 r | 11n13 | 9n27 | Vir |
| XA255 | 2Ar46 | 12s10 | 10s03 | Cet |
| XX143 | 3Ge13 | 4s00 | 16n53 | Tau |
| PB112 | 4Sa01 r | 14s33 | 35s13 | Lup |
| RP120 | 4Sc22 r | 5s56 | 18s34 | Vir |
| OM67 | 5Sc04 r | 22s19 | 34s03 | Cen |
| RD215 | 5Sa12 r | 16n08 | 5s17 | Oph |
| (Moon) | 5Le26 | 2n31 | 21n21 | Cnc |
| Jupiter | 5Le43 | 0n46 | 19n36 | Cnc |
| Saturn | 5Ar46 | 2s09 | 0n19 | Cet |
| GV9 | 6Ge10 | 1n03 | 22n23 | Tau |
| Pylenor | 6Sc12 r | 5n47 | 8s08 | Vir |
| FZ53 | 6Cp14 r | 34n25 | 11n04 | Oph |
| XR190 | 6Ar16 | 43n29 | 41n31 | And |
| Node | 6Ca20 | 0n00 | 23n18 | Gem |
| MW12 | 6Vi34 r | 9s35 | 0n11 | Sex |
| Pelion | 6Aq34 | 0n29 | 18s11 | Cap |
| UJ438 | 7Aq08 r | 2n32 | 16s02 | Cap |
| SQ73 | 7Sa19 r | 14s33 | 35s52 | Sco |
| QB1 | 7Sa35 r | 2s04 | 23s38 | Oph |
| EL61 | 8Ca16 | 10s53 | 12n20 | Gem |
| 96PW | 8Vi31 r | 8n46 | 16n30 | Leo |
| Deucalion | 8Ca38 | 0n16 | 23n26 | Gem |
| PJ30 | 8Le45 | 1s38 | 16n30 | Cnc |
| MS4 | 8Vi50 r | 14s44 | 5s24 | Sex |
| VQ94 | 8Ar56 | 50s04 | 41s36 | Phe |
| Orcus | 9Ar13 | 19n44 | 21n42 | Peg |
| Huya | 9Ge46 | 15s04 | 7n01 | Ori |
| HB57 | 9Ca52 | 15s19 | 7n48 | Mon |
| CR105 | 10Ar24 | 20s13 | 14s27 | Cet |
| Sedna | 10Ar26 | 8s44 | 3s55 | Cet |
| Typhon | 10Pi36 | 0s27 | 8s01 | Aqr |
| KF77 | 11Ar15 | 0s16 | 4n13 | Psc |
| GB32 | 11Ca21 | 13s35 | 9n26 | Mon |
| KX14 | 11Ca50 | 0n00 | 22n56 | Gem |
| RN43 | 11Li57 r | 2n29 | 2s26 | Vir |
| PA44 | 12Ge36 | 2s07 | 20n13 | Tau |
| Neptune | 12Ca37 | 0s47 | 22n04 | Gem |
| BL41 | 12Ca51 | 1s25 | 21n25 | Gem |
| Radamantus | 12Ar52 | 0n43 | 5n45 | Psc |
| UX25 | 12Cp54r | 19n18 | 3s36 | Aql |
| FP185 | 13Ge32 | 29s45 | 7s07 | Eri |
| Chaos | 14Aq03 | 11s59 | 28s03 | Mic |
| TY364 | 14Sa20r | 23n23 | 0n43 | Oph |
| CZ118 | 14Ca28 | 24n06 | 46n35 | Lyn |
| TX300 | 15Sc20r | 26s15 | 41s16 | Cen |
| OO67 | 15Sc24r | 20n10 | 2n53 | Ser |
| Quaoar | 15Le37 | 6s12 | 10n13 | Cnc |
| RM43 | 15Cp40r | 11s30 | 33s57 | Sgr |
| Apogee | 15Le40 r | 3n17 | 19n16 | Cnc |
| XZ255 | 16Cp04r | 1s11 | 23s40 | Sgr |
| RZ215 | 16Li06 r | 15s52 | 20s55 | Crv |
| Mercury | 16Ta06 | 0s04 | 16n36 | Ari |
| Sun | 16Ta28 | 0n00 | 16n46 | Ari |
| Midheav | 16Ta40 | 0n00 | 16n50 | Ari |
| TL66 | 16Cp44r | 22n47 | 0n13 | Aql |
| Uranus | 16Cp48r | 0s24 | 22s48 | Sgr |
| AW197 | 17Ta11 | 22n31 | 38n23 | And |
| RR43 | 17Sa13r | 4n26 | 18s25 | Oph |
| FZ173 | 17Ge49 | 12n16 | 35n06 | Aur |
| Hylonome | 18Aq14 | 2n43 | 12s47 | Aqr |
| SA278 | 18Aq39 | 8n34 | 7s05 | Aqr |
| CC22 | 18Li48 r | 6n45 | 1s07 | Vir |
| Vertex | 18Cp58 | | | |
| Bienor | 19Sc01r | 21s04 | 37s36 | Cen |
| RZ214 | 19Sc58r | 6n14 | 11s44 | Lib |
| Mars | 20Ge06 | 1n00 | 24n04 | Tau |
| OX3 | 20Li07 r | 3s00 | 10s39 | Vir |
| PN34 | 20Ca15 | 1n57 | 23n51 | Gem |
| BU48 | 20Sa17r | 11n33 | 11s34 | Ser |
| VU2 | 20Pi30 | 12n44 | 7n57 | Peg |
| GZ32 | 20Sa51r | 7n19 | 15s50 | Ser |
| TO66 | 20Sc52r | 24s05 | 41s00 | Cen |
| Pholus | 20Li54 r | 26n18 | 16n13 | Boo |
| CO1 | 21Le16 | 18n43 | 32n01 | LMi |
| SB60 | 21Li19 r | 23s55 | 30s17 | Cen |
| YQ179 | 21Ar59 | 20s37 | 10s35 | Cet |
| Elatus | 22Pi18 | 5s08 | 7s46 | Aqr |
| OP32 | 22Vi20 r | 4s17 | 0s54 | Leo |
| VR130 | 22Le21 | 2s05 | 12n06 | Leo |
| DA62 | 22Ar41 | 12s29 | 2s47 | Cet |
| Thereus | 23Ge00 | 16s46 | 6n31 | Ori |
| Crantor | 23Le00 | 6n37 | 20n05 | Leo |
| Chiron | 23Aq09 | 6n25 | 7s44 | Aqr |
| TC302 | 23Aq14 | 31s18 | 42s51 | Gru |
| Pluto | 23Ge25 | 7s16 | 16n02 | Tau |
| QB243 | 23Ge35 | 6n03 | 29n20 | Aur |
| QD112 | 23Vi37 r | 0n40 | 3n09 | Vir |
| Chariklo | 23Pi43 | 18n12 | 14n11 | Peg |
| Okyrhoe | 24Ge16 | 13s52 | 9n29 | Ori |
| Amycus | 24Aq22 | 1n54 | 11s37 | Cap |
| UR163 | 24Sc27r | 0s42 | 19s34 | Lib |
| DH5 | 25Li14 r | 18n42 | 7n40 | Vir |
| Ceto | 25Pi14 | 1s36 | 3s22 | Psc |
| (Ascend) | 25Le29 | 0n00 | 13n02 | Leo |
| Eris | 25Pi34 | 31s27 | 30s19 | Scl |
| CE10 | 25Le38 r | 4s50 | 8n26 | Leo |
| Nessus | 26Pi00 | 9s03 | 9s53 | Cet |
| Logos | 26Ar28 | 2s45 | 7n39 | Psc |
| Teharonhi | 26Li40 r | 2s37 | 12s44 | Vir |
| Asbolus | 27Le11 r | 10n35 | 22n22 | Leo |
| WN188 | 27Aq13 | 10s42 | 22s27 | Aqr |
| TD10 | 27Li35 r | 2n27 | 8s20 | Vir |
| Echeclus | 27Cp35 | 4n13 | 16s31 | Sgr |
| GQ21 | 28Ge11 | 12s50 | 10n36 | Ori |
| RL43 | 28Ge16 | 11s19 | 12n08 | Ori |
| CO104 | 28Sc20r | 2s54 | 22s38 | Lib |
| QF6 | 28Ca54 | 5s51 | 14n40 | Cnc |
| WL7 | 28Pi58 | 1s19 | 1s37 | Psc |
| AZ84 | 29Pi08 | 12n45 | 11n21 | Peg |
| GM137 | 29Le32 | 14n47 | 25n25 | Leo |

Focused Minor Planets
AW197 = 17 Ta 11
(complex assemblages - worldwide action- dynamic structures -
- social impact)
Sun = 16 Ta 28
Mercury = 16 Ta 06
OO67 = 15 Sc 24 r
(times/ages marker - milestones)
TX300 = 15 Sc 20 r
Venus = 1 Ca 31 Semisquare
Uranus = 16 Cp 48 r Trine
TL66 = 16 Cp 44 r
RM43 = 15 Cp 40 r
XZ255 = 16 Cp 04 r
Quaoar = 15 Le 37 T Square
SA278 = 18 Aq 39
Hylonome = 18 Aq 14
RZ215 = 16 Li 06 r Quincunx
RR43 = 17 Sa 13 r
FZ173 = 17 Ge 49 Semisextile
___________________
Ixion = 1 Vi 36 r
Cyllarus = 1 Vi 00 r
Varuna = 0 Pi 53
Venus = 1 Ca 31 Sextile
VS2 = 0 Cp 57 r Trine
CF119 = 1 Ta 12
FY9 = 0 Ge 29 Square
___________________
SA278 = 18 Aq 39
Hylonome = 18 Aq 14
Mars = 20 Ge 06 Trine
FZ173 = 17 Ge 49
RR43 = 17 Sa 13 r Sextile
BU48 = 20 Sa 17 r
TO66 = 20 Sc 52 r Square
AW197 = 17 Ta 11
___________________
GV9 = 6 Ge 10
SQ73 = 7 Sa 19 r
QB1 = 7 Sa 35 r
Jupiter = 5 Le 43 Sextile
Saturn = 5 Ar 46
XR190 = 6 Ar 16
Pylenor = 6 Sc 12 r Quincunx
Node = 6 Ca 20 Semisextile
MW12 = 6 Vi 34 r Square
Pelion = 6 Aq 34 Trine
___________________
UX25 = 12 Cp 54 r
Neptune = 12 Ca 37
KX14 = 11 Ca 50
GB32 = 11 Ca 21
RN43 = 11 Li 57 r Square
___________________
Chaos = 14 Aq 03
Quaoar = 15 Le 37
Neptune = 12 Ca 37 Quincunx
TY364 = 14 Sa 20 r Sextile
OO67 = 15 Sc 24 r Square
TX300 = 15 Sc 20 r
___________________
TC302 = 23 Aq 14
Chiron = 23 Aq 09
Amycus = 24 Aq 22
Crantor = 23 Le 00
Pluto = 23 Ge 25 Trine
Thereus = 23 Ge 00
QB243 = 23 Ge 35
Okyrhoe = 24 Ge 16
OP32 = 22 Vi 20 r Quincunx
Chariklo = 23 Pi 43 Semisextile
____________________________
____________________________
Astrological Setting (Sidereal - Fagan/Bradley)
RIYAL Thu May 7 1908 UT 11h00m00s Lat45n21 Lon14e19 SORT ALL
| | |
| --- | --- |
| Planet | Longitude |
| QB243 | 0Ge08 |
| QD112 | 0Vi09 r |
| Chariklo | 0Pi15 |
| Okyrhoe | 0Ge48 |
| Amycus | 0Aq55 |
| UR163 | 0Sc59 r |
| DH5 | 1Li47 r |
| Ceto | 1Pi47 |
| (Ascend) | 2Le02 |
| Eris | 2Pi07 |
| CE10 | 2Le11 r |
| Nessus | 2Pi33 |
| Logos | 3Ar01 |
| Teharonhi | 3Li13 r |
| Asbolus | 3Le44 r |
| WN188 | 3Aq46 |
| TD10 | 4Li08 r |
| Echeclus | 4Cp08 |
| GQ21 | 4Ge44 |
| RL43 | 4Ge48 |
| CO104 | 4Sc53 r |
| QF6 | 5Ca27 |
| WL7 | 5Pi31 |
| AZ84 | 5Pi41 |
| GM137 | 6Le05 |
| CY118 | 6Ta59 |
| FY9 | 7Ta02 |
| Varuna | 7Aq26 |
| VS2 | 7Sa29 r |
| Cyllarus | 7Le32 r |
| LE31 | 7Vi40 r |
| CF119 | 7Ar45 |
| Venus | 8Ge04 |
| Ixion | 8Le08 r |
| RG33 | 8Vi38 r |
| XA255 | 9Pi18 |
| XX143 | 9Ta45 |
| PB112 | 10Sc33r |
| RP120 | 10Li55 r |
| OM67 | 11Li37 r |
| RD215 | 11Sc45 r |
| (Moon) | 11Ca58 |
| Jupiter | 12Ca15 |
| Saturn | 12Pi19 |
| GV9 | 12Ta43 |
| Pylenor | 12Li44 r |
| FZ53 | 12Sa46r |
| XR190 | 12Pi49 |
| Node | 12Ge52 |
| MW12 | 13Le06 r |
| Pelion | 13Cp07 |
| UJ438 | 13Cp41r |
| SQ73 | 13Sc51r |
| QB1 | 14Sc08r |
| EL61 | 14Ge48 |
| 96PW | 15Le04 r |
| Deucalion | 15Ge11 |
| PJ30 | 15Ca18 |
| MS4 | 15Le22 r |
| VQ94 | 15Pi28 |
| Orcus | 15Pi46 |
| Huya | 16Ta19 |
| HB57 | 16Ge24 |
| CR105 | 16Pi57 |
| Sedna | 16Pi58 |
| Typhon | 17Aq09 |
| KF77 | 17Pi48 |
| GB32 | 17Ge54 |
| KX14 | 18Ge23 |
| RN43 | 18Vi29 r |
| PA44 | 19Ta09 |
| Neptune | 19Ge10 |
| BL41 | 19Ge24 |
| Radamantus | 19Pi24 |
| UX25 | 19Sa26r |
| FP185 | 20Ta04 |
| Chaos | 20Cp35 |
| TY364 | 20Sc53r |
| CZ118 | 21Ge01 |
| TX300 | 21Li52 r |
| OO67 | 21Li56 r |
| Quaoar | 22Ca10 |
| RM43 | 22Sa12r |
| Apogee | 22Ca13r |
| XZ255 | 22Sa37r |
| RZ215 | 22Vi39 r |
| Mercury | 22Ar39 |
| Sun | 23Ar01 |
| (Midheav) | 23Ar13 |
| TL66 | 23Sa17r |
| Uranus | 23Sa21r |
| AW197 | 23Ar44 |
| RR43 | 23Sc46r |
| FZ173 | 24Ta21 |
| Hylonome | 24Cp46 |
| SA278 | 25Cp12 |
| CC22 | 25Vi21 r |
| Vertex | 25Sa31 |
| Bienor | 25Li34 r |
| RZ214 | 26Li30 r |
| Mars | 26Ta39 |
| OX3 | 26Vi40 r |
| PN34 | 26Ge48 |
| BU48 | 26Sc49r |
| VU2 | 27Aq03 |
| GZ32 | 27Sc24r |
| TO66 | 27Li25 r |
| Pholus | 27Vi27 r |
| CO1 | 27Ca49 |
| SB60 | 27Vi52 r |
| YQ179 | 28Pi32 |
| Elatus | 28Aq51 |
| OP32 | 28Le52 r |
| VR130 | 28Ca53 |
| DA62 | 29Pi14 |
| Thereus | 29Ta32 |
| Crantor | 29Ca33 |
| Chiron | 29Cp42 |
| TC302 | 29Cp47 |
| Pluto | 29Ta58 |

Focused Minor Planets
AW197 = 23 Ar 44
Sun = 23 Ar 01
Mercury = 22 Ar 39
OO67 = 21 Li 56 r
TX300 = 21 Li 52 r
Venus = 8 Ge 04 Semisquare
Uranus = 23 Sa 21 r Trine
TL66 = 23 Sa 17 r
RM43 = 22 Sa 12 r
XZ255 = 22 Sa 37 r
Quaoar = 22 Ca 10 T Square
SA278 = 25 Cp 12
Hylonome = 24 Cp 46
RZ215 = 22 Vi 39 r Quincunx
RR43 = 23 Sc 46 r
FZ173 = 24 Ta 21 Semisextile
___________________
Ixion = 8 Le 08 r
Cyllarus = 7 Le 32 r
Varuna = 7 Aq 26
Venus = 8 Ge 04 Sextile
VS2 = 7 Sa 29 r Trine
CF119 = 7 Ar 45
FY9 = 7 Ta 02 Square
___________________
SA278 = 25 Cp 12
Hylonome = 24 Cp 46
Mars = 26 Ta 39 Trine
FZ173 = 24 Ta 21
RR43 = 23 Sc 46 r Sextile
BU48 = 26 Sc 49 r
TO66 = 27 Li 25 r Square
AW197 = 23 Ar 44
___________________
GV9 = 12 Ta 43
SQ73 = 13 Sc 51 r
QB1 = 14 Sc 08 r
Jupiter = 12 Ca 15 Sextile
Saturn = 12 Pi 19
XR190 = 12 Pi 49
Pylenor = 12 Li 44 r Quincunx
Node = 12 Ge 52 Semisextile
MW12 = 13 Le 06 r Square
Pelion = 13 Cp 07 Trine
___________________
UX25 = 19 Sa 26 r
Neptune = 19 Ge 10
KX14 = 18 Ge 23
GB32 = 17 Ge 54
RN43 = 18 Vi 29 r Square
___________________
Chaos = 20 Cp 35
Quaoar = 22 Ca 10
Neptune = 19 Ge 10 Quincunx
TY364 = 20 Sc 53 r Sextile
OO67 = 21 Li 56 r Square
TX300 = 21 Li 52 r
___________________
TC302 = 29 Cp 47
Chiron = 29 Cp 42
Amycus = 0 Aq 55
Crantor = 29 Ca 33
Pluto = 29 Ta 58 Trine
Thereus = 29 Ta 32
QB243 = 0 Ge 08
Okyrhoe = 0 Ge 48
OP32 = 28 Le 52 r Quincunx
Chariklo = 0 Pi 15 Semisextile
_______________________________
Tentatively, additional keywords:
for 2002 AW197:
- Building New Complex Structures
for 2000 OO67:
- Modernisation of Ancient Methods
for Ixion:
- The Age of Anxiety
___________________________________
Posted to Centaurs (YahooGroups) on May 26, 2008
________________________________
________________________________