Dan O'Bannon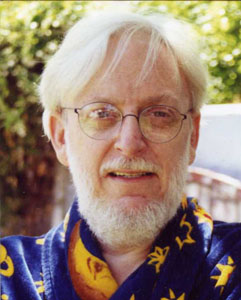 Eris/Typhon/Sun conjunction
From Wikipedia, the free encyclopedia
>>Dan O'Bannon (born Daniel Thomas O'Bannon on September 30, 1946 in St. Louis, Missouri, U.S.) is a motion picture screenwriter and director, usually in the science fiction genre.
USC
When Dan was in USC, he met John Carpenter and they collaborated on the 45-minute USC School of Cinema-Television short Dark Star (1970). Carpenter expanded the short into a feature which was released in 1974 with a final budget of only US$60,000. O'Bannon was along, serving in a number of capacities, including scripting, editing and even playing one of the leading roles (Pinback). In 1975 Dark Star won the Golden Scroll award (as the Saturn Awards were known in the early years) for Best Special Effects.
1970s
O'Bannon, growing up a sci-fi and horror enthusiast, had abandoned technical work (including a stint as a computer animator on George Lucas' classic Star Wars) for screenwriting. Following Star Wars he was attached to supervise special effects for a Alejandro Jodorowsky production of Frank Herbert's Dune but this fell apart in 1976 leaving O'Bannon homeless and with no money. Together with Ronald Shusset, he wrote the original story for Alien (1979), regathered the artistic talent from the defunct Dune project and is generally acknowledged (along with H. R. Giger and Ridley Scott) as being one of the main creative forces behind Alien's success.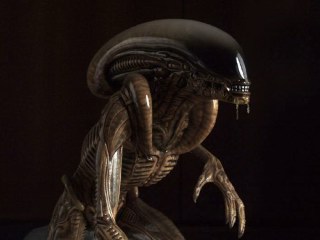 1980s
O'Bannon has voiced his displeasure with his next big-budget outing, John Badham's Blue Thunder (1983), an action yarn about a Los Angeles helicopter surveillance team. Originally written with Don Jakoby, Blue Thunder also underwent extensive rewriting, losing some of its political content. He and Jakoby also scripted Lifeforce (1985), a tale that veers from alien visitation to vampirism to an apocalyptic ending that was directed by Tobe Hooper. It was not well-received and was considered a flop. O'Bannon would again collaborate with Jakoby and Hooper for the remake Invaders from Mars. Purists considered it inferior to the 1950s original and it performed poorly at the box office.
Also in 1985 O'Bannon moved to the director's chair with Return of the Living Dead, a highly entertaining follow-up to George Romero's 1968 cult classic Night of the Living Dead. The film met with success and went on to spawn numerous sequels, not unlike the earlier Alien.
1990s
He and Shusett would reteam on Total Recall (1990), an adaptation of the classic Philip K. Dick short story "We Can Remember It For You Wholesale". This was a project the two had been working on since they had collaborated on Alien. The film went on to earn well over US$100 million. An earlier screenplay by the duo titled Hemoglobin was also produced as the low budget feature Bleeders (1997).
His second Directorial feature, The Resurrected (1992), was a low budget horror effort that was released directly on video and focused on a family's ancient rituals which awaken the dead. It was based on the writings of H. P. Lovecraft.
O'Bannon also received a co-writing credit on the film Screamers (1995), a science fiction film about post-apocalyptic robots programmed to kill. Adapted from the Philip K. Dick story "Second Variety," O'Bannon did his work on the screenplay in the early 1980s.
A selection of his work

1974
Dark Star
- writer, special effects, editor, production design, co-star

1977
Star Wars
- special computer effects

1979
Alien
- writer

1981
Dead & Buried
- writer

1981
Heavy Metal
- writer of two segments,
Soft Landing
and
B-17

1983
Blue Thunder
- writer

1985
Lifeforce
- writer

1985
The Return of the Living Dead
- writer, director, voice

1986
Invaders from Mars
- writer

1990
Total Recall
- writer

1992
The Resurrected
- director

1995
Screamers
- writer
Trivia
O'Bannon is the writer of the influential story "The Long Tomorrow", illustrated by Jean Giraud. This particular piece is the main graphical influence on Blade Runner. <<
____________________________
____________________________
Using RIYAL 3.1
Assuming noon in St. Louis, Missouri.
Astrological Setting (Tropical - Placidus)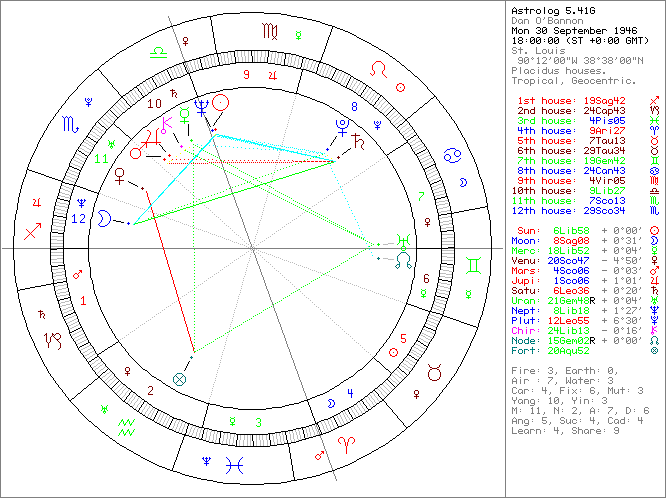 RIYAL Mon September 30 1946 UT 18h00m00s Lat38n38 Lon90w12 SORT ALL
| | | | | | | | | |
| --- | --- | --- | --- | --- | --- | --- | --- | --- |
| Planet | Longitude | Latitude | Declin. | Const. | H.D. | Period | Inclinat. | O. Range |
| Bienor | 0Ta05 r | 17n27 | 27n44 | Psc | 16.4 | 67 | 20.7 | 13.2->19.8 |
| Asbolus | 0Ca07 r | 17n34 | 41n00 | Aur | 24.7 | 77 | 17.6 | 6.8->29.2 |
| UR163 | 0Aq14 r | 0n01 | 20s06 | Cap | 37.3 | 371 | 0.7 | 36.9->66.4 |
| CO104 | 0Pi50 r | 1s06 | 12s13 | Aqr | 27.3 | 118 | 3.1 | 20.5->27.6 |
| GB32 | 0Le58 | 11s47 | 8n26 | Cnc | 68.6 | 3105 | 14.2 | 35.3->390. |
| RN43 | 1Sa02 | 15n56 | 4s45 | Oph | 41.9 | 270 | 19.2 | 40.9->42.5 |
| Jupiter | 1Sc06 | 1n01 | 10s55 | Vir | 5.4 | 12 | 1.3 | |
| RP120 | 2Sc07 | 10s12 | 21s45 | Vir | 66.8 | 415 | 118.5 | 2.4->108.8 |
| Quaoar | 2Li31 | 0s47 | 1s43 | Vir | 44.9 | 288 | 8.0 | 42.2->45.0 |
| RR43 | 2Aq38 r | 19s03 | 38s02 | Mic | 39.4 | 284 | 28.5 | 37.3->49.1 |
| Vertex | 2Le46 | | | | | | | |
| SA278 | 2Pi48 r | 4n46 | 6s02 | Aqr | 73.5 | 877 | 16.3 | 33.0->150. |
| CZ118 | 3Le05 | 19n19 | 38n11 | Lyn | 73.0 | 1254 | 27.7 | 37.6->195. |
| GQ21 | 3Le06 | 12s34 | 7n13 | Cnc | 49.9 | 915 | 13.3 | 38.2->150. |
| HB57 | 3Le09 | 14s53 | 4n57 | CMi | 63.8 | 2078 | 15.5 | 38.1->287. |
| DH5 | 3Aq47 r | 12n08 | 7s30 | Aql | 30.0 | 103 | 22.5 | 14.0->30.0 |
| WN188 | 3Ta56 r | 29s37 | 15s05 | Eri | 9.7 | 55 | 27.0 | 2.2->26.6 |
| Mars | 4Sc06 | 0s03 | 12s56 | Vir | 1.5 | 2 | 1.9 | |
| KF77 | 4Ca07 | 4n16 | 27n39 | Gem | 32.1 | 132 | 4.4 | 19.8->32.2 |
| FZ53 | 4Pi16 r | 27n25 | 15n36 | Peg | 33.8 | 116 | 34.9 | 12.3->35.1 |
| TY364 | 4Aq17 r | 6n34 | 12s48 | Cap | 41.3 | 242 | 24.9 | 36.3->41.4 |
| RD215 | 5Cp18 | 24n07 | 0n45 | Ser | 51.0 | 1355 | 25.9 | 37.7->207. |
| Typhon | 5Ar45 r | 0n37 | 2n51 | Psc | 47.7 | 231 | 2.4 | 17.4->57.9 |
| Eris | 6Ar07 r | 25s25 | 20s49 | Cet | 96.7 | 557 | 44.2 | 37.8->97.6 |
| Saturn | 6Le36 | 0n20 | 18n57 | Cnc | 9.1 | 30 | 2.5 | |
| Sun | 6Li58 | 0n00 | 2s46 | Vir | 1.0 | 1 | 0.0 | |
| XR190 | 7Ta27 r | 31n32 | 43n19 | And | 61.2 | 430 | 46.7 | 52.1->61.8 |
| RM43 | 7Aq56 r | 21s24 | 38s49 | Mic | 56.3 | 853 | 28.7 | 35.1->144. |
| RG33 | 8Ca07 | 33n28 | 56n34 | Lyn | 13.7 | 29 | 35.1 | 2.2->16.9 |
| (Moon) | 8Sa08 | 0n31 | 21s09 | Oph | 1.0 | 0 | 5.1 | |
| Neptune | 8Li18 | 1n27 | 1s58 | Vir | 30.3 | 166 | 1.8 | |
| VR130 | 8Sc19 | 2n07 | 12s16 | Lib | 33.1 | 118 | 3.5 | 14.9->33.1 |
| Pelion | 8Ca30 | 4s49 | 18n22 | Gem | 22.6 | 89 | 9.4 | 17.3->22.6 |
| KX14 | 8Vi31 | 0s19 | 8n05 | Leo | 40.4 | 243 | 0.4 | 37.4->40.5 |
| FP185 | 8Ca57 | 30s28 | 7s15 | Mon | 62.1 | 3254 | 30.8 | 34.2->405. |
| Nessus | 9Ta09 r | 2n12 | 16n38 | Ari | 35.6 | 122 | 15.7 | 11.7->37.4 |
| OM67 | 9Sa21 | 22s31 | 44s03 | Nor | 50.3 | 989 | 23.4 | 39.3->159. |
| (Midheav) | 9Li27 | 0n00 | 3s45 | Vir | | | | |
| PA44 | 9Vi40 | 2s29 | 5n39 | Sex | 11.2 | 54 | 3.3 | 3.4->25.0 |
| TD10 | 9Sc44 | 3n27 | 11s27 | Lib | 61.9 | 940 | 5.9 | 12.4->179. |
| BU48 | 9Aq57 r | 0n09 | 17s37 | Cap | 31.0 | 191 | 14.3 | 20.5->45.9 |
| UJ438 | 10Sc07 | 2s19 | 17s03 | Lib | 15.7 | 74 | 3.8 | 8.3->27.1 |
| MW12 | 10Li30 | 2n47 | 1s36 | Vir | 52.1 | 311 | 21.5 | 39.8->52.1 |
| RZ215 | 10Sc51 | 22s13 | 36s00 | Cen | 54.2 | 1045 | 25.5 | 31.1->174. |
| Ixion | 11Li37 | 16n36 | 10n40 | Vir | 49.1 | 250 | 19.6 | 30.2->49.1 |
| FZ173 | 11Ca55 | 12n32 | 35n24 | Gem | 59.0 | 795 | 12.7 | 32.4->139. |
| XX143 | 12Vi12 | 5n33 | 12n07 | Leo | 24.7 | 77 | 6.8 | 9.7->26.4 |
| Chariklo | 12Sc36 | 21s23 | 35s50 | Cen | 13.6 | 63 | 23.4 | 13.1->18.6 |
| Pluto | 12Le55 | 6n30 | 23n10 | Cnc | 37.2 | 250 | 17.1 | 29.7->49.7 |
| Pylenor | 13Ca00 | 3s17 | 19n33 | Gem | 21.6 | 68 | 5.4 | 11.7->21.8 |
| VU2 | 13Ge22 | 4n01 | 26n24 | Tau | 3.2 | 18 | 14.0 | 3.2->10.7 |
| Ceto | 13Ar33 r | 8s59 | 2s55 | Cet | 50.7 | 1001 | 22.4 | 17.7->182. |
| 96PW | 13Vi36 | 10n34 | 16n11 | Leo | 71.2 | 3785 | 29.7 | 2.6->483.2 |
| BL41 | 13Li38 | 12s19 | 16s42 | Crv | 11.7 | 31 | 13.4 | 7.2->12.7 |
| VQ94 | 13Ar44 r | 45s28 | 36s00 | For | 75.3 | 2594 | 70.8 | 6.8->370.8 |
| Node | 14Ge00r | 0n00 | 22n29 | Tau | | | | |
| TL66 | 14Aq28r | 24n02 | 6n33 | Del | 53.7 | 756 | 24.0 | 35.0->130. |
| YQ179 | 14Ta44 r | 19s18 | 2s14 | Eri | 63.4 | 828 | 20.9 | 37.0->139. |
| OP32 | 14Sc48 | 19n04 | 2n00 | Ser | 38.9 | 287 | 27.1 | 38.7->48.3 |
| RL43 | 14Li50 | 6n33 | 0n12 | Vir | 25.3 | 123 | 12.3 | 23.7->25.6 |
| GZ32 | 14Ta57 r | 13s52 | 3n02 | Cet | 26.5 | 110 | 15.0 | 17.9->28.1 |
| LE31 | 15Ta03 r | 28s22 | 10s50 | Eri | 9.9 | 23 | 152.3 | 4.3->11.9 |
| Teharonhi | 15Sa26 | 1s52 | 24s31 | Oph | 43.7 | 294 | 2.6 | 42.9->45.6 |
| TX300 | 15Cp47 | 16s09 | 38s32 | Sgr | 38.2 | 285 | 25.9 | 37.9->48.8 |
| SQ73 | 16Ca18 | 17n23 | 39n41 | Aur | 20.0 | 74 | 17.5 | 14.7->20.6 |
| TC302 | 16Pi32 r | 22s51 | 26s13 | Scl | 61.8 | 409 | 35.1 | 38.9->71.3 |
| CE10 | 17Sc08 | 32s26 | 47s35 | Cen | 11.1 | 31 | 145.4 | 2.0->17.6 |
| GM137 | 17Ta23 r | 12s56 | 4n35 | Cet | 9.0 | 23 | 15.8 | 7.1->9.1 |
| FY9 | 18Ca44 | 14n51 | 36n50 | Lyn | 45.1 | 307 | 29.0 | 38.3->52.7 |
| Mercury | 18Li52 | 0n04 | 7s20 | Vir | 0.5 | 0 | 7.0 | |
| Apogee | 18Sa54r | 0s26 | 23s25 | Oph | | | | |
| EL61 | 18Le57 | 8n43 | 23n25 | Leo | 48.6 | 284 | 28.2 | 35.0->51.5 |
| AZ84 | 19Ta14 r | 5n27 | 22n47 | Ari | 44.4 | 247 | 13.6 | 32.2->46.4 |
| (Ascend) | 19Sa42 | 0n00 | 23s03 | Oph | | | | |
| PN34 | 20Le05 | 5s55 | 9n10 | Leo | 43.9 | 173 | 16.6 | 13.4->48.7 |
| VS2 | 20Aq24r | 5n08 | 9s49 | Cap | 39.3 | 247 | 14.8 | 36.4->42.2 |
| PJ30 | 20Vi28 | 4s33 | 0s25 | Leo | 38.6 | 1426 | 5.6 | 28.7->224. |
| Logos | 20Ge44r | 2s19 | 20n48 | Tau | 40.3 | 303 | 2.9 | 39.8->50.5 |
| Venus | 20Sc47 | 4s50 | 22s36 | Lib | 0.7 | 1 | 3.4 | |
| QD112 | 20Ge48r | 14n23 | 37n28 | Aur | 28.7 | 83 | 14.5 | 7.9->30.0 |
| Huya | 20Ca50 | 13s18 | 8n41 | CMi | 43.8 | 248 | 15.5 | 28.5->50.5 |
| UX25 | 21Aq23r | 17n30 | 2n14 | Aqr | 48.3 | 278 | 19.5 | 36.5->48.7 |
| Orcus | 21Ge45r | 2n50 | 26n01 | Tau | 38.7 | 245 | 20.6 | 30.5->47.9 |
| Uranus | 21Ge48r | 0n04 | 23n16 | Tau | 19.2 | 84 | 0.8 | |
| WL7 | 22Li11 | 3s30 | 11s53 | Vir | 22.4 | 91 | 11.1 | 15.1->25.4 |
| Amycus | 22Ar12 r | 12n39 | 20n21 | Psc | 34.6 | 125 | 13.3 | 15.1->34.8 |
| Sedna | 22Ar20 r | 10s18 | 0s53 | Cet | 111.8 | 10810 | 11.9 | 75.9->901. |
| Pholus | 22Cp27r | 2n05 | 19s32 | Sgr | 31.7 | 91 | 24.7 | 8.7->31.7 |
| Elatus | 22Sa36 | 0n00 | 23s14 | Oph | 12.1 | 45 | 5.6 | 7.4->17.7 |
| Thereus | 22Ca49 | 19s53 | 1n53 | CMi | 12.7 | 35 | 20.4 | 8.5->12.7 |
| Deucalion | 23Le01 | 0n21 | 14n11 | Leo | 46.4 | 294 | 0.4 | 41.6->46.9 |
| Okyrhoe | 23Aq06r | 7n33 | 6s41 | Aqr | 11.1 | 24 | 15.6 | 5.7->11.1 |
| Chaos | 23Pi07 r | 10s13 | 12s06 | Aqr | 47.2 | 307 | 12.0 | 40.8->50.3 |
| AW197 | 23Ge08r | 14n32 | 37n47 | Aur | 52.4 | 324 | 24.4 | 40.9->53.3 |
| CO1 | 23Pi15 r | 20s19 | 21s15 | Cet | 28.9 | 94 | 19.7 | 10.9->30.5 |
| OX3 | 23Sc41 | 1s40 | 20s19 | Lib | 45.8 | 182 | 3.2 | 17.7->46.4 |
| QF6 | 23Le45 | 3s21 | 10n27 | Leo | 5.0 | 19 | 24.5 | 2.2->12.0 |
| SB60 | 23Sa52 | 6s05 | 29s23 | Oph | 38.2 | 274 | 23.9 | 37.5->46.9 |
| QB1 | 24Cp11r | 1s58 | 23s13 | Sgr | 42.5 | 291 | 2.2 | 41.0->46.9 |
| Chiron | 24Li13 | 0s16 | 9s39 | Vir | 8.6 | 51 | 6.9 | 8.5->19.0 |
| Crantor | 24Pi37 r | 11s25 | 12s36 | Cet | 23.3 | 85 | 12.8 | 14.0->24.7 |
| PB112 | 24Sa54 | 15s23 | 38s43 | Sco | 61.9 | 1119 | 15.4 | 35.5->180. |
| QB243 | 25Ca36 | 3n53 | 24n51 | Gem | 41.5 | 205 | 6.8 | 15.3->54.3 |
| Cyllarus | 25Li38 | 5n16 | 5s00 | Vir | 32.8 | 135 | 12.6 | 16.4->36.2 |
| TO66 | 25Cp45r | 23s46 | 44s15 | Sgr | 40.2 | 286 | 27.4 | 38.1->48.6 |
| DA62 | 25Pi46 r | 39s44 | 37s31 | Scl | 10.0 | 21 | 52.3 | 4.1->11.3 |
| XA255 | 25Ar55 r | 12s46 | 1s54 | Cet | 48.5 | 162 | 12.7 | 9.3->50.1 |
| Radamantus | 26Ge19r | 12n25 | 35n48 | Aur | 33.0 | 243 | 12.8 | 33.0->44.9 |
| Echeclus | 26Ar44 r | 2s36 | 7n53 | Psc | 6.5 | 35 | 4.3 | 5.8->15.6 |
| MS4 | 26Li45 | 2s32 | 12s41 | Vir | 45.6 | 272 | 17.7 | 36.1->47.9 |
| CC22 | 26Li51 | 4n24 | 6s15 | Vir | 4.7 | 20 | 6.4 | 4.4->10.3 |
| Varuna | 27Ar12 r | 16s34 | 5s00 | Cet | 40.8 | 280 | 17.2 | 40.6->44.9 |
| CR105 | 27Ta16 r | 21s58 | 1s53 | Eri | 46.8 | 3233 | 22.8 | 44.1->393. |
| RZ214 | 27Sa20 | 16n58 | 6s28 | Oph | 44.1 | 784 | 20.5 | 36.8->133. |
| CF119 | 27Ta28 r | 18n19 | 37n21 | Per | 59.1 | 833 | 19.7 | 38.5->138. |
| GV9 | 27Ca35 | 16s09 | 4n48 | CMi | 40.3 | 273 | 22.0 | 38.7->45.4 |
| CY118 | 28Ge41r | 24s52 | 1s26 | Ori | 56.8 | 862 | 25.6 | 34.5->146. |
| OO67 | 28Sc57 | 19n42 | 0s40 | Ser | 68.4 | 14137 | 20.1 | 20.9->1148 |
| XZ255 | 29Le35 | 2n21 | 13n49 | Leo | 16.4 | 64 | 2.6 | 15.5->16.5 |
| Hylonome | 29Ar47 r | 2s15 | 9n18 | Psc | 30.2 | 125 | 4.2 | 18.8->31.2 |

Focused Minor Planets
Eris = 6 Ar 07 r
Typhon = 5 Ar 45 r
Sun = 6 Li 58
Saturn = 6 Le 36 Trine
UX25 = 21 Aq 23 r Semisquare
_________________
FY9 = 18 Ca 44
Mercury = 18 Li 52 Square
AZ84 = 19 Ta 14 r Sextile
EL61 = 18 Le 57 Semisextile
_____________________
Orcus = 21 Ge 45 r
Uranus = 21 Ge 48 r
Logos = 20 Ge 44 r
AW197 = 23 Ge 08 r
Elatus = 22 Sa 36
Venus = 20 Sc 47 Quincunx
Pholus = 22 Cp 27 r
Saturn = 6 Le 36 Semisquare
XR190 = 7 Ta 27 r
Chaos = 23 Pi 07 r Square
UX25 = 21 Aq 23 r Trine
Sedna = 22 Ar 20 r Sextile
Amycus = 22 Ar 12 r
____________________
TY364 = 4 Aq 17 r
CZ118 = 3 Le 05
GQ21 = 3 Le 06
HB57 = 3 Le 09
Mars = 4 Sc 06 Square
___________________
SA278 = 2 Pi 48 r
Jupiter = 1 Sc 06 Trine
Quaoar = 2 Li 31 Quincunx
RN43 = 1 Sa 02 Square
RR43 = 2 Aq 38 r Semisextile
___________________
Orcus = 21 Ge 45 r
Uranus = 21 Ge 48 r
AW197 = 23 Ge 08 r
Chaos = 23 Pi 07 r Square
____________________
XR190 = 7 Ta 27 r
Nessus = 9 Ta 09 r
Neptune = 8 Li 18 Quincunx
Pelion = 8 Ca 30 Sextile
FP185 = 8 Ca 57
_____________________
Ixion = 11 Li 37
MW12 = 10 Li 30
Ceto = 13 Ar 33 r
Pluto = 12 Le 55 Sextile
FZ173 = 11 Ca 55 Square
_____________________
TL66 = 14 Aq 28r
Pluto = 12 Le 55
Node = 14 Ge 00r Trine
OP32 = 14 Sc 48 Square
YQ179 = 14 Ta 44 r
VQ94 = 13 Ar 44 r Sextile
Ceto = 13 Ar 33 r
_____________________
GV9 = 27 Ca 35
Pluto = 12 Le 55 Semisquare
OO67 = 28 Sc 57 Trine
Varuna = 27 Ar 12 r Square
CR105 = 27 Ta 16 r Sextile
CF119 = 27 Ta 28 r
RZ214 = 27 Sa 20 Quincunx
____________________________
____________________________
Astrological Setting (Sidereal - Fagan/Bradley)
RIYAL Mon September 30 1946 UT 18h00m00s Lat38n38 Lon90w12 SORT ALL
| | |
| --- | --- |
| Planet | Longitude |
| QB1 | 0Cp12 r |
| Chiron | 0Li14 |
| Crantor | 0Pi37 r |
| PB112 | 0Sa54 |
| QB243 | 1Ca37 |
| Cyllarus | 1Li38 |
| TO66 | 1Cp46 r |
| DA62 | 1Pi46 r |
| XA255 | 1Ar55 r |
| Radamantus | 2Ge19 r |
| Echeclus | 2Ar44 r |
| MS4 | 2Li45 |
| CC22 | 2Li52 |
| Varuna | 3Ar12 r |
| CR105 | 3Ta16 r |
| RZ214 | 3Sa21 |
| CF119 | 3Ta28 r |
| GV9 | 3Ca35 |
| CY118 | 4Ge41 r |
| OO67 | 4Sc58 |
| XZ255 | 5Le36 |
| Hylonome | 5Ar48 r |
| Bienor | 6Ar06 r |
| Asbolus | 6Ge08 r |
| UR163 | 6Cp15 r |
| CO104 | 6Aq51 r |
| GB32 | 6Ca58 |
| RN43 | 7Sc02 |
| Jupiter | 7Li06 |
| RP120 | 8Li08 |
| Quaoar | 8Vi32 |
| RR43 | 8Cp39 r |
| Vertex | 8Ca46 |
| SA278 | 8Aq49 r |
| CZ118 | 9Ca05 |
| GQ21 | 9Ca06 |
| HB57 | 9Ca10 |
| DH5 | 9Cp48 r |
| WN188 | 9Ar56 r |
| Mars | 10Li07 |
| KF77 | 10Ge07 |
| FZ53 | 10Aq17r |
| TY364 | 10Cp17r |
| RD215 | 11Sa19 |
| Typhon | 11Pi45 r |
| Eris | 12Pi07 r |
| Saturn | 12Ca37 |
| XR190 | 13Ar28 r |
| RM43 | 13Cp57r |
| RG33 | 14Ge07 |
| (Moon) | 14Sc09 |
| Neptune | 14Vi19 |
| VR130 | 14Li19 |
| Pelion | 14Ge31 |
| KX14 | 14Le31 |
| FP185 | 14Ge57 |
| Nessus | 15Ar10 r |
| OM67 | 15Sc21 |
| (Midheav) | 15Vi27 |
| PA44 | 15Le40 |
| TD10 | 15Li45 |
| BU48 | 15Cp57r |
| UJ438 | 16Li08 |
| MW12 | 16Vi30 |
| RZ215 | 16Li52 |
| Ixion | 17Vi37 |
| FZ173 | 17Ge56 |
| XX143 | 18Le13 |
| Chariklo | 18Li37 |
| Pluto | 18Ca55 |
| Pylenor | 19Ge00 |
| VU2 | 19Ta22 |
| Ceto | 19Pi34 r |
| 96PW | 19Le37 |
| BL41 | 19Vi39 |
| VQ94 | 19Pi45 r |
| Node | 20Ta00 r |
| TL66 | 20Cp28r |
| YQ179 | 20Ar44 r |
| OP32 | 20Li48 |
| RL43 | 20Vi51 |
| GZ32 | 20Ar58 r |
| LE31 | 21Ar03 r |
| Teharonhi | 21Sc26 |
| TX300 | 21Sa47 |
| SQ73 | 22Ge19 |
| TC302 | 22Aq32r |
| CE10 | 23Li09 |
| GM137 | 23Ar23 r |
| FY9 | 24Ge45 |
| Mercury | 24Vi53 |
| Apogee | 24Sc55r |
| EL61 | 24Ca58 |
| AZ84 | 25Ar15 r |
| (Ascend) | 25Sc43 |
| PN34 | 26Ca05 |
| VS2 | 26Cp25r |
| PJ30 | 26Le28 |
| Logos | 26Ta44 r |
| Venus | 26Li47 |
| QD112 | 26Ta49 r |
| Huya | 26Ge50 |
| UX25 | 27Cp23r |
| Orcus | 27Ta45 r |
| Uranus | 27Ta48 r |
| WL7 | 28Vi11 |
| Amycus | 28Pi12 r |
| Sedna | 28Pi20 r |
| Pholus | 28Sa27r |
| Elatus | 28Sc36 |
| Thereus | 28Ge49 |
| Deucalion | 29Ca02 |
| Okyrhoe | 29Cp06r |
| Chaos | 29Aq07r |
| AW197 | 29Ta09 r |
| CO1 | 29Aq15r |
| OX3 | 29Li42 |
| QF6 | 29Ca45 |
| SB60 | 29Sc52 |

Focused Minor Planets
Eris = 12 Pi 07 r
Typhon = 11 Pi 45 r
Sun = 12 Vi 58
Saturn = 12 Ca 37 Trine
UX25 = 27 Cp 23 r Semisquare
_________________
FY9 = 24 Ge 45
Mercury = 24 Vi 53 Square
AZ84 = 25 Ar 15 r Sextile
EL61 = 24 Ca 58 Semisextile
___________________
Orcus = 27 Ta 45 r
Uranus = 27 Ta 48 r
Logos = 26 Ta 44 r
AW197 = 29 Ta 09 r
Elatus = 28 Sc 36
Venus = 26 Li 47 Quincunx
Pholus = 28 Sa 27 r
Saturn = 12 Ca 37 Semisquare
XR190 = 13 Ar 28 r
Chaos = 29 Aq 07 r Square
UX25 = 27 Cp 23 r Trine
Sedna = 28 Pi 20 r Sextile
Amycus = 28 Pi 12 r
____________________
TY364 = 10 Cp 17 r
CZ118 = 9 Ca 05
GQ21 = 9 Ca 06
HB57 = 9 Ca 10
Mars = 10 Li 07 Square
______________________
RR43 = 8 Cp 39 r
Jupiter = 7 Li 06 Square
Quaoar = 8 Vi 32 Trine
RN43 = 7 Sc 02 Sextile
SA278 = 8 Aq 49 r Semisextile
_____________________
XR190 = 13 Ar 28 r
Nessus = 15 Ar 10 r
Neptune = 14 Vi 19 Quincunx
Chaos = 29 Aq 07 r Semisquare
Orcus = 27 Ta 45 r
Uranus = 27 Ta 48 r
AW197 = 29 Ta 09 r
Pelion = 14 Ge 31 Sextile
FP185 = 14 Ge 57
____________________
Ixion = 17 Vi 37
MW12 = 16 Vi 30
Ceto = 19 Pi 34 r
Pluto = 18 Ca 55 Sextile
FZ173 = 17 Ge 56 Square
____________________
TL66 = 20 Cp 28r
Pluto = 18 Ca 55
Node = 20 Ta 00 r Trine
OP32 = 20 Li 48 Square
YQ179 = 20 Ar 44 r
VQ94 = 19 Pi 45 r Sextile
Ceto = 19 Pi 34 r
_____________________
GV9 = 3 Ca 35
Pluto = 18 Ca 55 Semisquare
OO67 = 4 Sc 58 Trine
Varuna = 3 Ar 12 r Square
CR105 = 3 Ta 16 r Sextile
CF119 = 3 Ta 28 r
RZ214 = 3 Sa 21 Quincunx
_________________________________
Tentatively,
for Eris:
- Sense of Isolation
for Typhon:
- The Terror in Between
________________________________________
Posted to Centaurs (YahooGroups) on April 29, 2008
_________________________________________
_________________________________________