Rachel McLish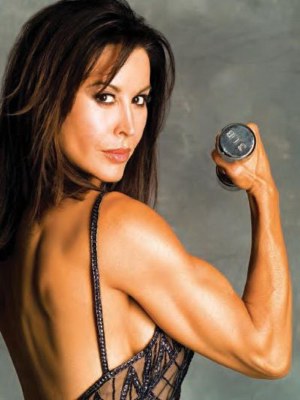 AW197 / Sun conjunction
>>Rachel McLish (born Raquel Livia Elizondo on June 21, 1955 in Harlingen, Texas) is an American female bodybuilder. She was winner of the inaugural Ms. Olympia competition in 1980, was sponsored by Dynamics Health Equipment Manufacturing Corporation and was also the Ms. Olympia winner in 1982.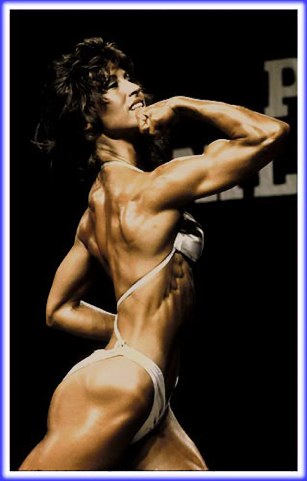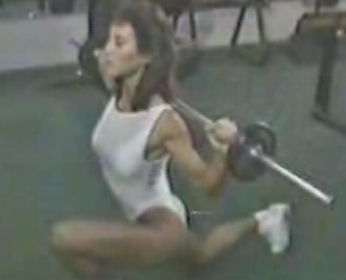 She was featured in the 1985 documentary Pumping Iron II: The Women, and acted in the movies Getting Physical (1984), Aces: Iron Eagle III (1992) and Raven Hawk (1996).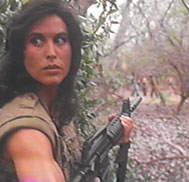 Aces: Iron Eagle III (1992)
Rachel attended Pan American University. There, she met John McLish; they were married in March 1979. Rachel currently lives in Rancho Mirage, California, and is now married to film producer Ron Samuels. In January 1999, Rachel was inducted into the IFBB Hall of Fame.
McLish has authored two books on weight training for women that made the New York Times bestseller list - Flex Appeal, by Rachel (1984, ISBN 0-446-38105-5), and Perfect Parts (1987, hardcover ISBN 0-446-77815-X, softcover ISBN 0-446-38534-4). She will also be releasing a book in 2007 (although it may now be pushed back to 2008 with less than one month left in 2007 no formal announcement of release has been made yet) titled Tighter and Leaner to the Core, which will cover the topics of physical and spiritual health.<<
Contest history

1980 US Bodybuilding Championship - 1st

1980 Frank Zane Invitational - 2nd

1980 IFBB Ms. Olympia - 1st

1981 IFBB Ms. Olympia - 2nd

1982 Pro World Championship - 1st

1982 IFBB Ms. Olympia - 1st

1983 Caesars World Cup - 3rd

1984 IFBB Ms. Olympia - 2nd
Also:
http://www.bodybuildbid.com/articles/msolympia/rachel-mclish.html
>>"Empowerment" was only a word until Rachel McLish put the soul into it. Beauty and sensuality count for a lot, but Rachel's life also touches the heart in unexpected and deep ways. An architect of the future, she is also very much part of a better day the like of which we'll not see again.
Tenacity, discipline, commitment, dignity and integrity have made Rachel McLish an icon for female athletes of all types, not just bodybuilders.<<

At:
http://biography.jrank.org/pages/3675/McLish-Rachel-1958-Bodybuilder.html
>>For several years McLish was an outspoken opponent of steroid use. In a 2001 interview she lamented, "Women's bodybuilding missed the whole point. Pardon the pun, but women's bodybuilding wasn't allowed to grow naturally." Instead McLish looked toward the late 1990s appearance of fitness competitions as the rightful successor to the type of bodybuilding she espoused. Reflecting on this new field she continued, "in a way, this makes me feel like I won, in the long run."<<
__________________________
Using RIYAL 3.1
Assuming noon, Harlingen (Texas), 18:00 UT
Astrological Setting (Tropical - Placidus)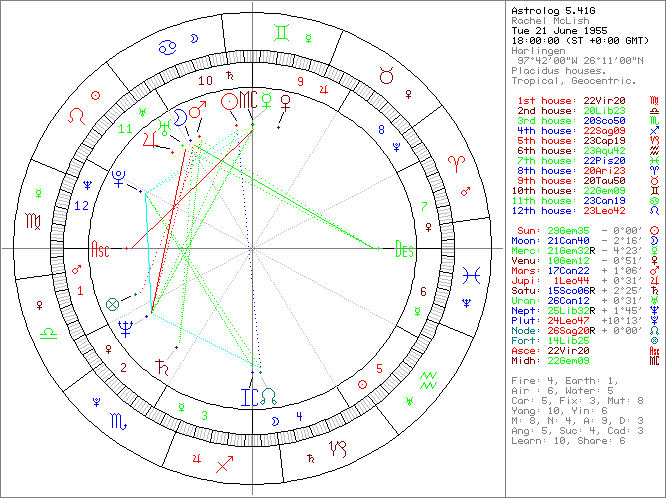 RIYAL Tue June 21 1955 UT 18h00m00s Lat26n11 Lon97w42 SORT ALL
| | | | | |
| --- | --- | --- | --- | --- |
| Planet | Longitude | Latitude | Declin. | Const. |
| RG33 | 0Le30 | 33n10 | 52n05 | UMa |
| Deucalion | 0Vi55 | 0n21 | 11n29 | Leo |
| RP120 | 0Sc56 r | 11s55 | 22s56 | Hya |
| XX143 | 1Li05 | 6n42 | 5n43 | Vir |
| Jupiter | 1Le44 | 0n31 | 20n17 | Cnc |
| Pelion | 1Le46 | 0s34 | 19n13 | Cnc |
| TX300 | 1Aq48 r | 10s58 | 30s26 | Mic |
| Orcus | 1Ca50 | 1s26 | 22n00 | Gem |
| LE31 | 1Vi53 | 20n37 | 29n54 | LMi |
| OX3 | 1Sa53 r | 1s20 | 21s51 | Sco |
| QD112 | 2Ca03 | 14n01 | 37n26 | Aur |
| XA255 | 2Ta23 | 12s07 | 0n55 | Cet |
| Logos | 2Ca26 | 1s48 | 21n37 | Gem |
| UX25 | 2Pi33 r | 15n49 | 4n13 | Peg |
| BU48 | 2Pi55 r | 4s46 | 14s52 | Aqr |
| PB112 | 3Cp07 r | 15s36 | 39s00 | CrA |
| Vertex | 3Aq26 | | | |
| QB243 | 3Le28 | 2n50 | 22n09 | Cnc |
| OO67 | 4Sa29 r | 19n52 | 1s29 | Oph |
| Chaos | 4Ar30 | 8s44 | 6s13 | Cet |
| Chiron | 4Aq35 r | 7n22 | 11s57 | Cap |
| GZ32 | 4Ge48 | 10s00 | 11n15 | Tau |
| Pylenor | 4Le50 | 1s01 | 18n04 | Cnc |
| CF119 | 5Ge01 | 16n40 | 37n29 | Per |
| MS4 | 5Sc20 r | 0n18 | 13s02 | Vir |
| VU2 | 5Sa27 r | 0s43 | 21s55 | Sco |
| GB32 | 5Le39 | 10s52 | 8n19 | Cnc |
| VS2 | 5Pi41 r | 8n06 | 1s54 | Aqr |
| PJ30 | 5Li50 | 5s23 | 7s15 | Vir |
| Amycus | 6Ta02 | 12n54 | 25n40 | Tri |
| CY118 | 6Ca09 | 23s14 | 0n06 | Mon |
| Pholus | 6Aq11 r | 2s56 | 21s35 | Cap |
| CZ118 | 6Le50 | 17n26 | 35n22 | Lyn |
| QB1 | 8Aq07 r | 1s44 | 19s55 | Cap |
| RL43 | 8Sc10 r | 10n44 | 4s03 | Vir |
| SB60 | 8Cp15 r | 0s40 | 23s51 | Sgr |
| GV9 | 8Le18 | 18s46 | 0n01 | Hya |
| SA278 | 8Pi33 r | 3n29 | 5s08 | Aqr |
| HB57 | 8Le52 | 14s13 | 4n18 | Hya |
| Eris | 9Ar03 | 23s36 | 18s04 | Cet |
| Cyllarus | 9Sc38 r | 2n20 | 12s29 | Lib |
| Venus | 10Ge12 | 0s51 | 21n08 | Tau |
| XZ255 | 10Li25 | 2n22 | 1s57 | Vir |
| Varuna | 10Ta35 | 14s21 | 1n21 | Cet |
| CR105 | 10Ge55 | 19s02 | 3n14 | Ori |
| CO1 | 10Ar55 | 18s25 | 12s37 | Cet |
| TO66 | 11Aq09r | 20s20 | 36s51 | Mic |
| WN188 | 11Aq18r | 2s49 | 20s05 | Cap |
| Quaoar | 11Li29 r | 0n38 | 3s58 | Vir |
| GQ21 | 12Le07 | 11s30 | 6n06 | Hya |
| Radamantus | 12Ca31 | 12n21 | 35n09 | Gem |
| Asbolus | 12Ca52 | 16n52 | 39n36 | Aur |
| RZ214 | 12Cp53r | 19n40 | 3s14 | Aql |
| UJ438 | 13Sa00r | 0s36 | 22s57 | Oph |
| XR190 | 13Ta30 | 26n53 | 41n14 | And |
| RN43 | 13Sa54r | 18n23 | 4s13 | Oph |
| 96PW | 13Vi55 | 11n24 | 16n49 | Leo |
| SQ73 | 13Le57 | 14n46 | 30n43 | Leo |
| TD10 | 14Sc03r | 3n55 | 12s19 | Lib |
| Chariklo | 14Cp22r | 7s27 | 30s04 | Sgr |
| Apogee | 14Sa46r | 1s04 | 23s39 | Oph |
| Typhon | 14Ar54 | 0n55 | 6n43 | Psc |
| Saturn | 15Sc06r | 2n25 | 14s03 | Lib |
| BL41 | 15Sa31r | 6s34 | 29s11 | Oph |
| CE10 | 15Li37 r | 29s16 | 32s49 | Hya |
| WL7 | 15Sc49r | 7s57 | 24s11 | Lib |
| FP185 | 15Ca51 | 29s09 | 6s28 | Mon |
| VQ94 | 16Ar19 | 42s46 | 32s44 | For |
| Elatus | 16Ta24 | 3s42 | 13n12 | Ari |
| MW12 | 16Li54 r | 5n40 | 1s24 | Vir |
| GM137 | 17Vi00 | 15n20 | 19n12 | Leo |
| KF77 | 17Ca00 | 4n13 | 26n33 | Gem |
| TY364 | 17Aq07r | 1n47 | 14s00 | Aqr |
| DA62 | 17Ta10 | 13n17 | 29n39 | Ari |
| Mars | 17Ca22 | 1n06 | 23n24 | Gem |
| FZ173 | 17Ca59 | 12n00 | 34n07 | Gem |
| Hylonome | 18Ta03 | 3s03 | 14n16 | Ari |
| UR163 | 18Aq07r | 0n13 | 15s12 | Cap |
| RM43 | 18Aq14r | 24s03 | 38s01 | Gru |
| KX14 | 18Vi31 | 0s22 | 4n13 | Leo |
| RD215 | 18Cp38r | 26n00 | 3n38 | Aql |
| Ixion | 18Li48 r | 15n29 | 6n58 | Vir |
| RR43 | 19Aq05r | 23s44 | 37s26 | Gru |
| FZ53 | 19Pi48r | 21n23 | 15n36 | Peg |
| PA44 | 19Ta49 | 0s44 | 16n59 | Ari |
| RZ215 | 20Sc00r | 24s29 | 41s07 | Cen |
| QF6 | 20Li27 r | 22n24 | 12n46 | Boo |
| Nessus | 20Ta28 | 4n59 | 22n40 | Ari |
| Crantor | 21Ar02 | 12s28 | 3s22 | Cet |
| VR130 | 21Sc20r | 2n49 | 15s23 | Lib |
| Mercury | 21Ge32r | 4s23 | 18n48 | Tau |
| YQ179 | 21Ta34 | 17s44 | 1n00 | Tau |
| (Moon) | 21Ca40 | 2s16 | 19n28 | Gem |
| OM67 | 21Sa44r | 21s45 | 44s53 | Sco |
| DH5 | 21Aq52r | 6n42 | 7s53 | Aqr |
| (Midheav) | 22Ge09 | 0n00 | 23n13 | Tau |
| (Ascend) | 22Vi20 | 0n00 | 3n03 | Leo |
| Ceto | 22Ar36 | 11s28 | 1s52 | Cet |
| Thereus | 23Vi02 | 9s20 | 5s49 | Leo |
| CC22 | 23Pi17 | 3s38 | 6s00 | Aqr |
| TC302 | 23Pi42 | 19s40 | 20s29 | Cet |
| Pluto | 24Le47 | 10n13 | 22n52 | Leo |
| EL61 | 24Le51 | 12n24 | 24n53 | Leo |
| CO104 | 25Pi32 | 0n02 | 1s45 | Psc |
| Neptune | 25Li32 r | 1n45 | 8s15 | Vir |
| PN34 | 25Le50 | 7s59 | 5n23 | Sex |
| Sedna | 25Ar56 | 10s29 | 0n14 | Cet |
| TL66 | 26Aq09r | 23n12 | 9n05 | Equ |
| Uranus | 26Ca12 | 0n31 | 21n25 | Gem |
| Node | 26Sa23r | 0n00 | 23s24 | Sgr |
| FY9 | 26Ca32 | 18n36 | 39n03 | Lyn |
| Okyrhoe | 26Ta54 | 12s13 | 7n34 | Tau |
| Bienor | 27Ge31 | 18n15 | 41n40 | Aur |
| Teharonhi | 27Sa36r | 1s34 | 24s59 | Sgr |
| AZ84 | 28Ta36 | 3n09 | 22n56 | Tau |
| OP32 | 29Sc07r | 23n56 | 3n27 | Ser |
| Huya | 29Ca25 | 11s30 | 9n01 | CMi |
| Sun | 29Ge35 | 0n00 | 23n27 | Gem |
| Echeclus | 29Ca41 | 3s10 | 17n07 | Cnc |
| AW197 | 29Ge43 | 11n28 | 34n54 | Aur |

Focused Minor Planets
AW197 = 29 Ge 43
Sun = 29 Ge 35
Echeclus = 29 Ca 41 Semisextile
Huya = 29 Ca 25
OP32 = 29 Sc 07 r Quincunx
___________________
YQ179 = 21 Ta 34
Mercury = 21 Ge 32 r Semisextile
Crantor = 21 Ar 02
___________________
Varuna = 10 Ta 35
Venus = 10 Ge 12 Semisextile
CR105 = 10 Ge 55
Quaoar = 11 Li 29 r Quincunx
___________________
Eris = 9 Ar 03
Venus = 10 Ge 12 Sextile
CR105 = 10 Ge 55
HB57 = 8 Le 52 Trine
GV9 = 8 Le 18
SA278 = 8 Pi 33 r Semisextile
___________________
Ixion = 18 Li 48 r
Mars = 17 Ca 22 T Square
FZ173 = 17 Ca 59
RD215 = 18 Cp 38 r
TY364 = 17 Aq 07 r Trine
OO67 = 4 Sa 29 r Semisquare
___________________
TX300 = 1 Aq 48 r
Jupiter = 1 Le 44
Orcus = 1 Ca 50 Quincunx
Logos = 2 Ca 26
UX25 = 2 Pi 33 r Semisextile
XA255 = 2 Ta 23 Square
___________________
VQ94 = 16 Ar 19
Typhon = 14 Ar 54
Saturn = 15 Sc 06 r Quincunx
FP185 = 15 Ca 51 Square
___________________
FY9 = 26 Ca 32
Uranus = 26 Ca 12
TL66 = 26 Aq 09 r Quincunx
Node = 26 Sa 23 r
Teharonhi= 27 Sa 36 r
Neptune = 25 Li 32 r T Square
Sedna = 25 Ar 56
Okyrhoe = 26 Ta 54 Sextile
Bienor = 27 Ge 31 Semisextile
___________________
EL61 = 24 Le 51
Pluto = 24 Le 47
Neptune = 25 Li 32 r Sextile
TC302 = 23 Pi 42 Quincunx
Quaoar = 11 Li 29 r Semisquare
____________________________
____________________________
Astrological Setting (Sidereal - Fagan/Bradley)
RIYAL Tue June 21 1955 UT 18h00m00s Lat26n11 Lon97w42 SORT ALL
| | |
| --- | --- |
| Planet | Longitude |
| Pluto | 0Le40 |
| EL61 | 0Le44 |
| CO104 | 1Pi24 |
| Neptune | 1Li25 r |
| PN34 | 1Le42 |
| Sedna | 1Ar48 |
| TL66 | 2Aq02 r |
| Uranus | 2Ca05 |
| Node | 2Sa16 r |
| FY9 | 2Ca25 |
| Okyrhoe | 2Ta46 |
| Bienor | 3Ge23 |
| Teharonhi | 3Sa29 r |
| AZ84 | 4Ta28 |
| OP32 | 4Sc59 r |
| Huya | 5Ca18 |
| Sun | 5Ge27 |
| Echeclus | 5Ca34 |
| AW197 | 5Ge35 |
| RG33 | 6Ca22 |
| Deucalion | 6Le48 |
| RP120 | 6Li49 r |
| XX143 | 6Vi58 |
| Jupiter | 7Ca37 |
| Pelion | 7Ca38 |
| TX300 | 7Cp40 r |
| Orcus | 7Ge42 |
| LE31 | 7Le45 |
| OX3 | 7Sc46 r |
| QD112 | 7Ge56 |
| XA255 | 8Ar16 |
| Logos | 8Ge19 |
| UX25 | 8Aq26 r |
| BU48 | 8Aq48 r |
| PB112 | 9Sa00 r |
| Vertex | 9Cp18 |
| QB243 | 9Ca20 |
| OO67 | 10Sc22r |
| Chaos | 10Pi22 |
| Chiron | 10Cp27r |
| GZ32 | 10Ta41 |
| Pylenor | 10Ca43 |
| CF119 | 10Ta54 |
| MS4 | 11Li13 r |
| VU2 | 11Sc20 r |
| GB32 | 11Ca32 |
| VS2 | 11Aq33r |
| PJ30 | 11Vi43 |
| Amycus | 11Ar55 |
| CY118 | 12Ge02 |
| Pholus | 12Cp04r |
| CZ118 | 12Ca42 |
| QB1 | 13Cp59r |
| RL43 | 14Li02 r |
| SB60 | 14Sa07r |
| GV9 | 14Ca10 |
| SA278 | 14Aq26r |
| HB57 | 14Ca45 |
| Eris | 14Pi55 |
| Cyllarus | 15Li31 r |
| Venus | 16Ta04 |
| XZ255 | 16Vi17 |
| Varuna | 16Ar27 |
| CR105 | 16Ta47 |
| CO1 | 16Pi47 |
| TO66 | 17Cp02r |
| WN188 | 17Cp11r |
| Quaoar | 17Vi21 r |
| GQ21 | 18Ca00 |
| Radamantus | 18Ge23 |
| Asbolus | 18Ge44 |
| RZ214 | 18Sa45r |
| UJ438 | 18Sc52r |
| XR190 | 19Ar23 |
| RN43 | 19Sc47r |
| 96PW | 19Le47 |
| SQ73 | 19Ca50 |
| TD10 | 19Li56 r |
| Chariklo | 20Sa15r |
| Apogee | 20Sc39r |
| Typhon | 20Pi47 |
| Saturn | 20Li59 r |
| BL41 | 21Sc23r |
| CE10 | 21Vi30 r |
| WL7 | 21Li42 r |
| FP185 | 21Ge44 |
| VQ94 | 22Pi11 |
| Elatus | 22Ar17 |
| MW12 | 22Vi46 r |
| GM137 | 22Le52 |
| KF77 | 22Ge53 |
| TY364 | 23Cp00r |
| DA62 | 23Ar03 |
| Mars | 23Ge15 |
| FZ173 | 23Ge51 |
| Hylonome | 23Ar56 |
| UR163 | 24Cp00r |
| RM43 | 24Cp07r |
| KX14 | 24Le23 |
| RD215 | 24Sa30 r |
| Ixion | 24Vi41 r |
| RR43 | 24Cp57r |
| FZ53 | 25Aq41r |
| PA44 | 25Ar42 |
| RZ215 | 25Li53 r |
| QF6 | 26Vi19 r |
| Nessus | 26Ar20 |
| Crantor | 26Pi54 |
| VR130 | 27Li12 r |
| Mercury | 27Ta25 r |
| YQ179 | 27Ar27 |
| (Moon) | 27Ge33 |
| OM67 | 27Sc36r |
| DH5 | 27Cp44r |
| (Midheav) | 28Ta02 |
| (Ascend) | 28Le12 |
| Ceto | 28Pi28 |
| Thereus | 28Le55 |
| CC22 | 29Aq09 |
| TC302 | 29Aq34 |

Focused Minor Planets
AW197 = 5 Ge 35
Sun = 5 Ge 27
Echeclus = 5 Ca 34 Semisextile
Huya = 5 Ca 18
OP32 = 4 Sc 59 r Quincunx
____________________
YQ179 = 27 Ar 27
Mercury = 27 Ta 25 r Semisextile
Crantor = 26 Pi 54
____________________
Varuna = 16 Ar 27
Venus = 16 Ta 04 Semisextile
CR105 = 16 Ta 47
Quaoar = 17 Vi 21 r Quincunx
____________________
Eris = 14 Pi 55
Venus = 16 Ta 04 Sextile
CR105 = 16 Ta 47
HB57 = 14 Ca 45 Trine
GV9 = 14 Ca 10
SA278 = 14 Aq 26 r Semisextile
____________________
Ixion = 24 Vi 41 r
Mars = 23 Ge 15 T Square
FZ173 = 23 Ge 51
RD215 = 24 Sa 30 r
TY364 = 23 Cp 00 r Trine
OO67 = 10 Sc 22 r Semisquare
____________________
TX300 = 7 Cp 40 r
Jupiter = 7 Ca 37
Orcus = 7 Ge 42 Quincunx
Logos = 8 Ge 19
UX25 = 8 Aq 26 r Semisextile
XA255 = 8 Ar 16 Square
____________________
VQ94 = 22 Pi 11
Typhon = 20 Pi 47
Saturn = 20 Li 59 r Quincunx
FP185 = 21 Ge 44 Square
____________________
FY9 = 2 Ca 25
Uranus = 2 Ca 05
TL66 = 2 Aq 02 r Quincunx
Node = 2 Sa 16 r
Teharonhi = 3 Sa 29 r
Neptune = 1 Li 25 r T Square
Sedna = 1 Ar 48
Okyrhoe = 2 Ta 46 Sextile
Bienor = 3 Ge 23 Semisextile
____________________
EL61 = 0 Le 44
Pluto = 0 Le 40
Neptune = 1 Li 25 r Sextile
TC302 = 29 Aq 34 Quincunx
Quaoar = 17 Vi 21 r Semisquare
_______________________________
Tentatively, for 2002 AW197:
Changing Physical/Structural/Architectural Patterns
Fitness
Tenacity
Discipline
Commitment
Dignity
Integrity
_________________________________________
Posted to Centaurs (YahooGroups) on March 30, 2008
_________________________________________
_________________________________________