Beno Gutenberg

EL61 / KX14 / QB243 / Sun conjunction
From Wikipedia, the free encyclopedia
>>Beno Gutenberg (June 4, 1889 – January 25, 1960) was a German-born seismologist who made several important contributions to the science. He was a colleague of Charles Francis Richter at the California Institute of Technology and Richter's collaborator in developing the Richter magnitude scale for measuring an earthquake's magnitude.
Gutenberg was born in Darmstadt, Germany and obtained his Doctorate in Physics from University of Göttingen in 1911. His advisor was Emil Wiechert. Gutenberg held positions at the University of Strasbourg which he lost when Strasbourg became French in 1918. After some years where he had to sustain himself with managing his father's soap factory, he obtained in 1926 a junior professorship at University of Frankfurt-am-Main, which was badly paid. Although he was already in the Twenties one of the leading seismologists worldwide, and definitely the leading seismologist in Germany, he was then still dependent on the position in his father's factory. In 1928 the attempt to become the successor of his academic teacher Emil Wiechert in Göttingen failed. There are hints that Gutenbergs Jewish background might have played a role, because already in the Twenties there were strong antisemitic tendencies in German universities (see the article by Leon Knopoff linked below). For similar reasons he was also not accepted for a professorship in Potsdam to become the successor of Gustav Angenheister.
Since Gutenberg did not have any chance to sustain himself solely from his scientific work in Germany, he accepted a position as Professor of Geophysics at the California Institute of Technology (CalTech) in Pasadena in 1930. Had he obtained a full professorship in Germany, he would have lost it in 1933 anyway, like so many other scientists of jewish ancestry, many of whom emigrated to the United States. Gutenberg, especially in his collaboration with Charles Francis Richter, made CalTech the leading seismological institute worldwide.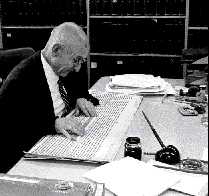 Collaborating with Richter, Gutenberg developed a relationship between seismic magnitude and energy, represented in the equation

.

This gives the energy E(s) given from earthquakes from seismic waves in ergs. Another famous result known as Gutenberg-Richter law provides probability distribution of earthquakes for given energy.
He also worked on determining the depth of the core-mantle boundary as well as other properties of the interior of the earth.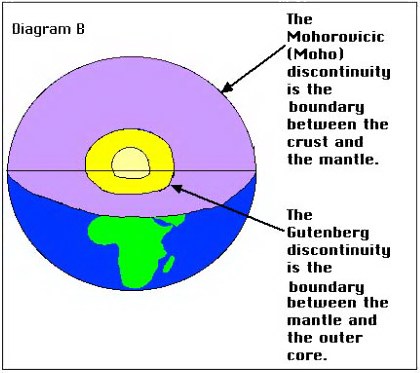 Also:
>>Gutenberg was small of stature, very personable, and lively. He was well organized and kept to a precise daily schedule. Although his scientific demands on himself were rigorous, Gutenberg was gentle and self-effacing in his relationship with others. He was helpful to anyone who asked a question of him and was tolerant of critics. Gutenberg was a man who could give his colleagues and students a liberal education in scientific method, made pleasantly easy by kindness, patience, amazing industry, and a delightful sense of humor. He was a cultured individual, well read, and with wide interests--reflections of his broad European education. <<
__________________________________
Using RIYAL 3.1
Assuming noon, converted to 11:25:20 UT by Astrodienst
Astrological Setting (Tropical - Placidus)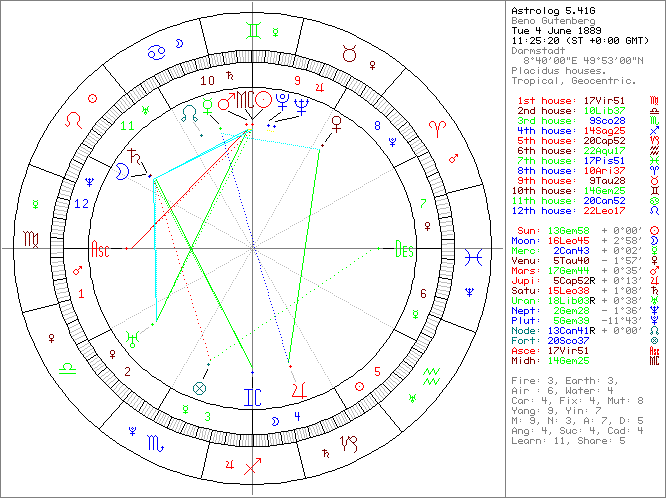 RIYAL Tue June 4 1889 UT 11h25m20s Lat49n53 Lon8e40 SORT ALL
| | | | | |
| --- | --- | --- | --- | --- |
| Planet | Longitude | Latitude | Declin. | Const. |
| BU48 | 0Sa37 r | 13n45 | 6s49 | Oph |
| UJ438 | 0Cp41 r | 0n27 | 23s00 | Sgr |
| Teharonhi | 0Li58 r | 2s14 | 2s26 | Vir |
| KF77 | 1Aq01 r | 4s20 | 24s10 | Cap |
| Vertex | 1Pi48 | | | |
| Neptune | 2Ge28 | 1s36 | 19n06 | Tau |
| Mercury | 2Ca43 | 0n02 | 23n28 | Gem |
| HB57 | 2Ca59 | 14s59 | 8n27 | Ori |
| FY9 | 3Ta14 | 21s15 | 7s25 | Cet |
| Bienor | 3Ca28 | 17n12 | 40n36 | Aur |
| GM137 | 3Sa57 r | 8n13 | 12s52 | Sco |
| RL43 | 4Ta05 | 9s20 | 4n05 | Cet |
| DA62 | 4Ta12 | 0s17 | 12n40 | Ari |
| Logos | 4Ar16 | 2s16 | 0s23 | Psc |
| Varuna | 4Aq17 r | 8s13 | 27s10 | Cap |
| RP120 | 4Sc45 r | 4s19 | 17s10 | Vir |
| VS2 | 5Sa27 r | 12s34 | 33s34 | Sco |
| GB32 | 5Ca34 | 13s52 | 9n29 | Mon |
| Pluto | 5Ge39 | 11s43 | 9n43 | Tau |
| Venus | 5Ta40 | 1s57 | 11n35 | Ari |
| Apogee | 5Ca42 | 0s37 | 22n43 | Gem |
| Sedna | 5Ar43 | 8s06 | 5s10 | Cet |
| Jupiter | 5Cp52 r | 0n13 | 23s07 | Sgr |
| FP185 | 6Ge34 | 28s47 | 6s59 | Eri |
| TL66 | 6Cp42 r | 21n21 | 1s57 | Ser |
| PN34 | 6Ca58 | 5n46 | 29n02 | Aur |
| VQ94 | 7Ar10 | 51s57 | 43s47 | Phe |
| 96PW | 7Vi10 | 8n08 | 16n25 | Leo |
| RG33 | 7Ca36 | 32n53 | 56n02 | Lyn |
| RM43 | 7Cp42 r | 7s48 | 31s01 | Sgr |
| RZ214 | 7Sc54 r | 2n03 | 12s12 | Lib |
| CZ118 | 8Ca15 | 25n17 | 48n25 | Aur |
| RZ215 | 8Li23 r | 13s02 | 15s17 | Crv |
| Crantor | 9Ge24 | 8s59 | 12n59 | Tau |
| Thereus | 9Sa25 r | 16n24 | 5s39 | Oph |
| Ixion | 9Le29 | 17n07 | 34n18 | Lyn |
| MS4 | 9Le29 | 17s21 | 1n07 | Hya |
| Pylenor | 9Le59 | 0s25 | 17n21 | Cnc |
| Chiron | 10Ca29 | 6s13 | 16n50 | Gem |
| FZ173 | 10Ge30 | 11n48 | 33n42 | Per |
| SQ73 | 10Vi39 | 9n22 | 16n13 | Leo |
| OO67 | 10Sc44r | 19n56 | 3n56 | Vir |
| TC302 | 11Aq08r | 33s57 | 49s33 | Gru |
| TY364 | 12Sc14r | 25n17 | 8n38 | Ser |
| Node | 12Ca20 | 0n00 | 22n53 | Gem |
| QB243 | 12Ge25 | 6n28 | 28n42 | Tau |
| SA278 | 12Aq48r | 9n55 | 7s27 | Aqr |
| FZ53 | 13Sc02r | 16n22 | 0s07 | Lib |
| PA44 | 13Le21 | 3s05 | 13n52 | Cnc |
| EL61 | 13Ge24 | 20s54 | 1n40 | Ori |
| Echeclus | 13Le54 | 2s31 | 14n16 | Cnc |
| Sun | 13Ge58 | 0n00 | 22n29 | Tau |
| YQ179 | 14Ar09 | 20s42 | 13s29 | Cet |
| (Midheav) | 14Ge25 | 0n00 | 22n33 | Tau |
| Okyrhoe | 14Sc26r | 14n55 | 1s54 | Lib |
| KX14 | 14Ge27 | 0n11 | 22n44 | Tau |
| QB1 | 14Sc29r | 1s38 | 17s45 | Lib |
| BL41 | 14Sc58r | 11s53 | 27s39 | Hya |
| Radamantus | 15Pi00 | 5s27 | 10s56 | Aqr |
| GV9 | 15Ta23 | 9n14 | 25n16 | Ari |
| Saturn | 15Le38 | 1n08 | 17n15 | Cnc |
| VU2 | 16Pi26 | 13n53 | 7n26 | Psc |
| (Moon) | 16Le45 | 2n58 | 18n39 | Leo |
| XX143 | 16Sc56r | 5n51 | 11s17 | Lib |
| VR130 | 17Ta14 | 2s22 | 14n43 | Ari |
| TX300 | 17Li24 r | 22s03 | 27s03 | Hya |
| XR190 | 17Pi40 | 46n28 | 37n21 | Cyg |
| Mars | 17Ge44 | 0n35 | 23n28 | Tau |
| (Ascend) | 17Vi51 | 0n00 | 4n48 | Leo |
| SB60 | 17Vi58 | 22s49 | 16s13 | Hya |
| GQ21 | 18Ge01 | 12s02 | 10n55 | Ori |
| RN43 | 18Vi02 | 5s32 | 0s22 | Leo |
| Uranus | 18Li03 r | 0n38 | 6s30 | Vir |
| Deucalion | 18Ge25 | 0n09 | 23n06 | Tau |
| MW12 | 18Le36 | 14s53 | 1n04 | Hya |
| DH5 | 18Ge39 | 20s35 | 2n27 | Ori |
| WN188 | 18Ar49 | 24s50 | 15s36 | Cet |
| TO66 | 19Li08 r | 13s20 | 19s47 | Crv |
| GZ32 | 19Vi12 | 13n52 | 17n00 | Leo |
| XA255 | 19Pi12 | 11s17 | 14s37 | Aqr |
| Eris | 19Pi21 | 34s40 | 35s37 | Scl |
| Ceto | 19Pi57 | 0n28 | 3s33 | Psc |
| WL7 | 20Cp05r | 11s09 | 32s58 | Sgr |
| Nessus | 21Aq27r | 15s03 | 28s32 | PsA |
| UX25 | 21Sa37r | 17n05 | 6s08 | Oph |
| CO104 | 21Vi56 | 0s09 | 3n04 | Leo |
| CY118 | 21Ta58 | 23s59 | 4s58 | Eri |
| CF119 | 22Ar32 | 19n17 | 26n33 | Psc |
| Chariklo | 22Sa38r | 15s37 | 38s51 | Sco |
| Elatus | 22Li46 r | 5n07 | 4s06 | Vir |
| Orcus | 22Aq49r | 17n05 | 2n16 | Equ |
| Quaoar | 23Ca04 | 7s33 | 14n02 | Gem |
| TD10 | 23Li22 r | 2n05 | 7s09 | Vir |
| Huya | 23Ta31 | 13s52 | 5n12 | Tau |
| OM67 | 23Li33 r | 20s24 | 27s57 | Hya |
| Chaos | 24Cp48r | 11s09 | 32s08 | Sgr |
| Pelion | 24Li53 r | 9n35 | 0s43 | Vir |
| LE31 | 24Ca56 | 4n53 | 25n57 | Gem |
| Amycus | 25Sa02r | 10s47 | 34s09 | Sco |
| Asbolus | 25Ca30 | 16n01 | 36n45 | Lyn |
| RD215 | 25Sc33r | 12n37 | 6s53 | Lib |
| Hylonome | 25Sa35r | 4n21 | 19s02 | Sgr |
| QD112 | 25Ca53 | 12n30 | 33n14 | Cnc |
| PB112 | 26Sc11 r | 13s43 | 32s36 | Lup |
| XZ255 | 26Vi13 | 2n35 | 3n53 | Vir |
| RR43 | 26Sc28r | 14n22 | 5s23 | Lib |
| UR163 | 26Li30 r | 0s45 | 10s56 | Vir |
| CR105 | 27Pi03 | 17s39 | 17s19 | Cet |
| AZ84 | 27Aq09r | 13n14 | 0n00 | Aqr |
| CC22 | 27Sc23r | 12n13 | 7s40 | Lib |
| QF6 | 27Ge33 | 14s50 | 8n36 | Ori |
| CE10 | 28Li05 r | 33s39 | 41s38 | Cen |
| CO1 | 28Ta12 | 6s35 | 13n21 | Tau |
| OX3 | 28Vi32 r | 3s16 | 2s24 | Vir |
| Pholus | 28Pi51 | 20s56 | 19s35 | Cet |
| PJ30 | 28Ca58 | 0s41 | 19n42 | Cnc |
| OP32 | 29Le29 | 14s35 | 2s02 | Sex |
| Cyllarus | 29Ca46 | 11n40 | 31n35 | Cnc |
| Typhon | 29Aq46r | 0s54 | 12s24 | Aqr |
| AW197 | 29Ar47 | 24n01 | 33n39 | And |

Focused Minor Planets
EL61 = 13 Ge 24
KX14 = 14 Ge 27
QB243 = 12 Ge 25
Sun = 13 Ge 58
AW197 = 29 Ar 47 Semisquare
SA278 = 12 Aq 48 r Trine
Echeclus = 13 Le 54 Sextile
TY364 = 12 Sc 14 r Quincunx
QB1 = 14 Sc 29 r
_____________________
AW197 = 29 Ar 47
Sun = 13 Ge 58 Semisquare
EL61 = 13 Ge 24
KX14 = 14 Ge 27
Typhon = 29 Aq 46 r Sextile
OP32 = 29 Le 29 Trine
Cyllarus = 29 Ca 46 Square
Pholus = 28 Pi 51 Semisextile
OX3 = 28 Vi 32 r Quincunx
_____________________
FY9 = 3 Ta 14
Mercury = 2 Ca 43 Sextile
HB57 = 2 Ca 59
Bienor = 3 Ca 28
Mars = 17 Ge 44 Semisquare
Deucalion = 18 Ge 25
GQ21 = 18 Ge 01
Eris = 19 Pi 21
Ceto = 19 Pi 57
XA255 = 19 Pi 12
Neptune = 2 Ge 28 Semisextile
Varuna = 4 Aq 17 r Square
_____________________
TL66 = 6 Cp 42 r
Jupiter = 5 Cp 52 r
RM43 = 7 Cp 42 r
GB32 = 5 Ca 34
CZ118 = 8 Ca 15
Venus = 5 Ta 40 Trine
Pluto = 5 Ge 39 Quincunx
FP185 = 6 Ge 34
Orcus = 22 Aq 49 r Semisquare
Sedna = 5 Ar 43 Square
VQ94 = 7 Ar 10
RZ214 = 7 Sc 54 r Sextile
_____________________
Deucalion = 18 Ge 25
GQ21 = 18 Ge 01
Mars = 17 Ge 44
RN43 = 18 Vi 02 T Square
Eris = 19 Pi 21
Ceto = 19 Pi 57
XA255 = 19 Pi 12
XR190 = 17 Pi 40
SB60 = 17 Vi 58
Uranus = 18 Li 03 r Trine
TX300 = 17 Li 24 r
TO66 = 19 Li 08 r
FY9 = 3 Ta 14 Semisquare
MW12 = 18 Le 36 Sextile
_____________________
GV9 = 15 Ta 23
Saturn = 15 Le 38 Square
Echeclus = 13 Le 54
Rhadamanthus = 15 Pi 00 Sextile
KX14 = 14 Ge 27 Semisextile
_____________________
TX300 = 17 Li 24 r
TO66 = 19 Li 08 r
Uranus = 18 Li 03 r
Mars = 17 Ge 44 Trine
Deucalion = 18 Ge 25
GQ21 = 18 Ge 01
RN43 = 18 Vi 02 Semisextile
SB60 = 17 Vi 58
XR190 = 17 Pi 40 Quincunx
MW12 = 18 Le 36 Sextile
___________________________
___________________________
Astrological Setting (Sidereal - Fagan/Bradley)
RIYAL Tue June 4 1889 UT 11h25m20s Lat49n53 Lon8e40 SORT ALL
| | |
| --- | --- |
| Planet | Longitude |
| TD10 | 0Li11 r |
| Huya | 0Ta19 |
| OM67 | 0Li21 r |
| Chaos | 1Cp36 r |
| Pelion | 1Li41 r |
| LE31 | 1Ca44 |
| Amycus | 1Sa50 r |
| Asbolus | 2Ca18 |
| RD215 | 2Sc22 r |
| Hylonome | 2Sa24 r |
| QD112 | 2Ca42 |
| PB112 | 3Sc00 r |
| XZ255 | 3Vi01 |
| RR43 | 3Sc16 r |
| UR163 | 3Li18 r |
| CR105 | 3Pi52 |
| AZ84 | 3Aq57 r |
| CC22 | 4Sc12 r |
| QF6 | 4Ge22 |
| CE10 | 4Li53 r |
| CO1 | 5Ta01 |
| OX3 | 5Vi20 r |
| Pholus | 5Pi39 |
| PJ30 | 5Ca46 |
| OP32 | 6Le18 |
| Cyllarus | 6Ca35 |
| Typhon | 6Aq35 r |
| AW197 | 6Ar35 |
| BU48 | 7Sc25 r |
| UJ438 | 7Sa29 r |
| Teharonhi | 7Vi46 r |
| KF77 | 7Cp50 r |
| Vertex | 8Aq37 |
| Neptune | 9Ta17 |
| Mercury | 9Ge31 |
| HB57 | 9Ge47 |
| FY9 | 10Ar03 |
| Bienor | 10Ge17 |
| GM137 | 10Sc45r |
| RL43 | 10Ar54 |
| DA62 | 11Ar01 |
| Logos | 11Pi05 |
| Varuna | 11Cp05r |
| RP120 | 11Li33 r |
| VS2 | 12Sc15r |
| GB32 | 12Ge22 |
| Pluto | 12Ta27 |
| Venus | 12Ar29 |
| Apogee | 12Ge30 |
| Sedna | 12Pi31 |
| Jupiter | 12Sa40r |
| FP185 | 13Ta23 |
| TL66 | 13Sa30r |
| PN34 | 13Ge46 |
| VQ94 | 13Pi58 |
| 96PW | 13Le59 |
| RG33 | 14Ge25 |
| RM43 | 14Sa30r |
| RZ214 | 14Li42 r |
| CZ118 | 15Ge04 |
| RZ215 | 15Vi12 r |
| Crantor | 16Ta13 |
| Thereus | 16Sc13r |
| Ixion | 16Ca18 |
| MS4 | 16Ca18 |
| Pylenor | 16Ca47 |
| Chiron | 17Ge17 |
| FZ173 | 17Ta18 |
| SQ73 | 17Le28 |
| OO67 | 17Li32 r |
| TC302 | 17Cp56r |
| TY364 | 19Li02 r |
| Node | 19Ge08 |
| QB243 | 19Ta14 |
| SA278 | 19Cp36r |
| FZ53 | 19Li50 r |
| PA44 | 20Ca09 |
| EL61 | 20Ta13 |
| Echeclus | 20Ca42 |
| Sun | 20Ta47 |
| YQ179 | 20Pi58 |
| (Midheav) | 21Ta14 |
| Okyrhoe | 21Li15 r |
| KX14 | 21Ta15 |
| QB1 | 21Li17 r |
| BL41 | 21Li47 r |
| Radamantus | 21Aq49 |
| GV9 | 22Ar12 |
| Saturn | 22Ca26 |
| VU2 | 23Aq14 |
| (Moon) | 23Ca34 |
| XX143 | 23Li45 r |
| VR130 | 24Ar02 |
| TX300 | 24Vi13 r |
| XR190 | 24Aq28 |
| Mars | 24Ta33 |
| (Ascend) | 24Le39 |
| SB60 | 24Le47 |
| GQ21 | 24Ta49 |
| RN43 | 24Le50 |
| Uranus | 24Vi52 r |
| Deucalion | 25Ta13 |
| MW12 | 25Ca25 |
| DH5 | 25Ta27 |
| WN188 | 25Pi37 |
| TO66 | 25Vi57 r |
| GZ32 | 26Le00 |
| XA255 | 26Aq01 |
| Eris | 26Aq10 |
| Ceto | 26Aq45 |
| WL7 | 26Sa54r |
| Nessus | 28Cp16r |
| UX25 | 28Sc25r |
| CO104 | 28Le45 |
| CY118 | 28Ar47 |
| CF119 | 29Pi20 |
| Chariklo | 29Sc27r |
| Elatus | 29Vi35 r |
| Orcus | 29Cp37r |
| Quaoar | 29Ge53 |

Focused Minor Planets
EL61 = 20 Ta 13
KX14 = 21 Ta 15
QB243 = 19 Ta 14
Sun = 20 Ta 47
AW197 = 6 Ar 35 Semisquare
SA278 = 19 Cp 36 r Trine
Echeclus = 20 Ca 42 Sextile
TY364 = 19 Li 02 r Quincunx
QB1 = 21 Li 17 r
_____________________
AW197 = 6 Ar 35
Sun = 20 Ta 47 Semisquare
EL61 = 20 Ta 13
KX14 = 21 Ta 15
Typhon = 6 Aq 35 r Sextile
OP32 = 6 Le 18 Trine
Cyllarus = 6 Ca 35 Square
Pholus = 5 Pi 39 Semisextile
OX3 = 5 Vi 20 r Quincunx
_____________________
FY9 = 10 Ar 03
Mercury = 9 Ge 31 Sextile
HB57 = 9 Ge 47
Bienor = 10 Ge 17
Mars = 24 Ta 33 Semisquare
Deucalion = 25 Ta 13
GQ21 = 24 Ta 49
Eris = 26 Aq 10
Ceto = 26 Aq 45
XA255 = 26 Aq 01
Neptune = 9 Ta 17 Semisextile
Varuna = 11 Cp 05 r Square
_____________________
TL66 = 13 Sa 30 r
Jupiter = 12 Sa 40 r
RM43 = 14 Sa 30 r
GB32 = 12 Ge 22
CZ118 = 15 Ge 04
Venus = 12 Ar 29 Trine
Pluto = 12 Ta 27 Quincunx
FP185 = 13 Ta 23
Orcus = 29 Cp 37 r Semisquare
Sedna = 12 Pi 31 Square
VQ94 = 13 Pi 58
RZ214 = 14 Li 42 r Sextile
_____________________
Deucalion = 25 Ta 13
GQ21 = 24 Ta 49
Mars = 24 Ta 33
RN43 = 24Le50 T Square
Eris = 26 Aq 10
Ceto = 26 Aq 45
XA255 = 26 Aq 01
XR190 = 24 Aq 28
SB60 = 24 Le 47
Uranus = 24 Vi 52 r Trine
TX300 = 24 Vi 13 r
TO66 = 25 Vi 57 r
FY9 = 10 Ar 03 Semisquare
MW12 = 25 Ca 25 Sextile
_____________________
GV9 = 22 Ar 12
Saturn = 22 Ca 26 Square
Echeclus = 20 Ca 42
Rhadamanthus = 21 Aq 49 Sextile
KX14 = 21 Ta 15 Semisextile
_____________________
TX300 = 24 Vi 13 r
TO66 = 25 Vi 57 r
Uranus = 24 Vi 52 r
Mars = 24 Ta 33 Trine
Deucalion = 25 Ta 13
GQ21 = 24 Ta 49
RN43 = 24 Le 50 Semisextile
SB60 = 24 Le 47
XR190 = 24 Aq 28 Quincunx
MW12 = 25 Ca 25 Sextile
______________________
______________________
Tentatively, for 2003 EL61:
Searching the Deepest Sources
Thoroughness
-------
Tentatively, for 2002 KX14:
Lively
Self-effacing
Amazing industry
Tolerance of critics
-----------
For 2000 QB243:
___________________________________________
Posted to Centaurs (YahooGroups) on April 03, 2008
________________________________
________________________________