ERTA ALE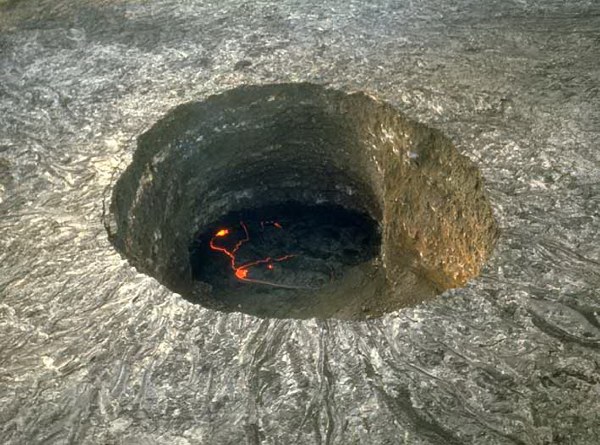 Country: Ethiopia
Subregion Name: Ethiopia
Volcano Number: 0201-08=
Volcano Type: Shield volcano
Volcano Status: Historical
Last Known Eruption: 2007 (continuing)
Summit Elevation: 613 m 2,011 feet
Latitude: 13.60°N 13°36'0"N
Longitude: 40.67°E 40°40'0"E
Erta Ale is an isolated basaltic shield volcano that is the most active volcano in Ethiopia. The broad, 50-km-wide volcano rises more than 600 m from below sea level in the barren Danakil depression. Erta Ale is the namesake and most prominent feature of the Erta Ale Range. The 613-m-high volcano contains a 0.7 x 1.6 km, elliptical summit crater housing steep-sided pit craters. Another larger 1.8 x 3.1 km wide depression elongated parallel to the trend of the Erta Ale range is located to the SE of the summit and is bounded by curvilinear fault scarps on the SE side. Fresh-looking basaltic lava flows from these fissures have poured into the caldera and locally overflowed its rim. The summit caldera is renowned for one, or sometimes two long-term lava lakes that have been active since at least 1967, or possibly since 1906. Recent fissure eruptions have occurred on the northern flank of Erta Ale.
(http://www.volcano.si.edu/world/volcano.cfm?vnum=0201-08=)
___________________________________
___________________________________
Addis Ababa (AFP) Aug 22, 2007
A volcanic eruption in northeastern Ethiopia killed five people and displaced more than 2,000 others, state media reported Wednesday.
The volcano in the Afar region started spewing lava on August 12 and the eruption lasted for three days. Although the activity has since subsided, locals are still advised to leave the area.
_____________________________
Using RIYAL 3.1
Assuming noon
Astrological Setting (Tropical - Placidus)
RIYAL Sun August 12 2007 UT 9h00m00s Lat13n36 Lon40e40 SORT ALL
| | | | | | | | | |
| --- | --- | --- | --- | --- | --- | --- | --- | --- |
| Planet | Longit. | Latitude | Declin. | Const. | H.D. | Period | Inclin. | O. Range |
| VR130 | 0Ge06 | 2s50 | 17n24 | Tau | 14.9 | 116 | 3.5 | 14.7->33.0 |
| Asbolus | 0Ta28 r | 6n13 | 17n27 | Psc | 11.1 | 77 | 17.6 | 6.8->29.2 |
| UX25 | 1Ta10 r | 1s49 | 10n11 | Psc | 42.0 | 278 | 19.5 | 36.6->48.5 |
| Teharonhi | 1Pi25 r | 1n10 | 9s53 | Aqr | 45.0 | 293 | 2.6 | 43.0->45.3 |
| XA255 | 1Vi27 | 8n23 | 18n46 | Leo | 10.5 | 164 | 12.7 | 9.3->50.5 |
| KX14 | 1Sa29 r | 0s17 | 20s44 | Sco | 39.5 | 244 | 0.4 | 37.4->40.7 |
| Bienor | 2Ar13 r | 8n27 | 8n38 | Peg | 18.1 | 67 | 20.7 | 13.2->19.8 |
| GV9 | 2Sc14 | 13s34 | 24s56 | Hya | 39.1 | 274 | 21.9 | 38.8->45.6 |
| Pholus | 3Sa03 r | 20n33 | 0s34 | Ser | 21.4 | 92 | 24.7 | 8.7->32.1 |
| Mars | 3Ge18 | 1s03 | 19n47 | Tau | 1.4 | 2 | 1.8 | |
| VS2 | 3Ge26 | 12n55 | 33n30 | Per | 36.4 | 246 | 14.8 | 36.4->42.1 |
| Deucalion | 3Sc27 | 0n06 | 12s34 | Vir | 43.4 | 295 | 0.4 | 41.4->47.2 |
| RP120 | 3Sa36 r | 42n40 | 21n05 | Her | 13.5 | 401 | 119.1 | 2.5->106.3 |
| TC302 | 4Ta20 r | 6n25 | 19n00 | Ari | 47.1 | 409 | 35.1 | 39.1->71.1 |
| Huya | 4Sc25 | 11n20 | 2s18 | Vir | 28.9 | 250 | 15.5 | 28.5->50.9 |
| BU48 | 4Vi40 | 5n20 | 14n46 | Leo | 30.5 | 192 | 14.3 | 20.5->45.9 |
| DH5 | 5Li27 | 11n32 | 8n25 | Vir | 16.6 | 104 | 22.5 | 14.0->30.2 |
| Crantor | 6Sa18 | 9n41 | 11s49 | Oph | 14.8 | 86 | 12.8 | 14.1->25.0 |
| MW12 | 6Sa29 r | 19n33 | 2s06 | Oph | 48.0 | 312 | 21.5 | 39.6->52.3 |
| CC22 | 7Cp02 r | 2n39 | 20s36 | Sgr | 7.6 | 20 | 6.4 | 4.2->10.4 |
| Node | 7Pi04 r | 0n00 | 8s55 | Aqr | | | | |
| OO67 | 7Ar24 r | 14s25 | 10s18 | Cet | 21.0 | 13389 | 20.1 | 20.8->1106 |
| Typhon | 7Vi36 | 0n32 | 9n13 | Leo | 17.6 | 233 | 2.4 | 17.5->58.3 |
| UJ438 | 7Ge39 | 1n21 | 22n55 | Tau | 9.4 | 73 | 3.8 | 8.3->26.8 |
| Nessus | 8Aq47 r | 16s16 | 33s41 | Mic | 21.2 | 123 | 15.6 | 11.8->37.5 |
| BL41 | 9Li00 | 11s48 | 14s24 | Crv | 11.5 | 30 | 12.5 | 6.9->12.6 |
| TD10 | 9Ge22 | 5s09 | 16n46 | Tau | 17.5 | 934 | 6.0 | 12.3->178. |
| Chaos | 9Ge40 | 3n48 | 25n39 | Tau | 41.9 | 307 | 12.1 | 41.0->50.1 |
| Jupiter | 9Sa58 | 0n30 | 21s28 | Oph | 5.3 | 12 | 1.3 | |
| TO66 | 10Ar21 r | 7n17 | 10n47 | Psc | 46.6 | 285 | 27.4 | 38.0->48.5 |
| QB243 | 11Pi13 r | 1n14 | 6s13 | Aqr | 22.9 | 208 | 6.8 | 15.3->55.0 |
| Ixion | 11Sa21r | 0s32 | 22s41 | Oph | 42.0 | 250 | 19.6 | 30.1->49.3 |
| GQ21 | 11Sc29 | 6n28 | 9s07 | Lib | 40.7 | 921 | 13.3 | 38.3->151. |
| RZ215 | 11Pi39 r | 0s23 | 7s33 | Aqr | 32.0 | 1041 | 25.5 | 30.9->174. |
| VQ94 | 11Li43 | 35n09 | 27n32 | Boo | 7.7 | 2770 | 70.5 | 6.8->387.6 |
| FP185 | 11Li44 | 7n51 | 2n35 | Vir | 34.4 | 3329 | 30.8 | 34.3->411. |
| Apogee | 11Sc49 | 4s45 | 19s54 | Lib | | | | |
| XX143 | 11Le51 | 3n02 | 20n09 | Cnc | 26.0 | 76 | 6.8 | 9.6->26.2 |
| FZ173 | 11Li56 | 2s23 | 6s55 | Vir | 32.5 | 804 | 12.7 | 32.4->140. |
| (Moon) | 12Le15 | 2n13 | 19n15 | Cnc | 1.0 | 0 | 5.3 | |
| Amycus | 12Sc37 | 13s16 | 28s13 | Hya | 15.9 | 127 | 13.3 | 15.2->35.3 |
| Chiron | 12Aq41r | 7n13 | 10s04 | Aqr | 14.9 | 51 | 6.9 | 8.5->18.9 |
| EL61 | 12Li49 | 26n42 | 19n28 | Com | 51.1 | 284 | 28.2 | 35.0->51.5 |
| Elatus | 12Le50 | 3n27 | 20n16 | Cnc | 12.7 | 40 | 5.3 | 7.3->16.3 |
| Radamantus | 13Li18 | 0s59 | 6s09 | Vir | 39.6 | 245 | 12.7 | 33.2->45.0 |
| RG33 | 13Ca25 | 32n35 | 55n05 | Lyn | 15.0 | 29 | 34.9 | 2.1->16.6 |
| LE31 | 13Ca30 | 5s46 | 17n01 | Gem | 11.4 | 23 | 151.9 | 4.3->11.9 |
| (Midheav) | 13Le38 | 0n00 | 16n44 | Cnc | | | | |
| XR190 | 13Ge54 | 0s33 | 21n55 | Tau | 58.2 | 430 | 46.8 | 52.4->61.7 |
| DA62 | 14Aq08r | 58s02 | 68s21 | Tuc | 7.5 | 21 | 52.2 | 4.1->11.3 |
| XZ255 | 14Le21 | 2n02 | 18n29 | Cnc | 16.3 | 64 | 2.6 | 15.4->16.5 |
| (Ascend) | 14Sc32 | 0n00 | 16s12 | Lib | | | | |
| GM137 | 15Aq24r | 13s12 | 28s47 | PsA | 8.0 | 22 | 15.8 | 6.9->8.9 |
| Mercury | 15Le33 | 1n39 | 17n45 | Cnc | 0.3 | 0 | 7.0 | |
| Quaoar | 15Sa42r | 7n29 | 15s14 | Oph | 43.3 | 288 | 8.0 | 42.0->45.3 |
| PJ30 | 16Aq01r | 2n16 | 13s53 | Aqr | 44.2 | 1407 | 5.7 | 28.6->222. |
| VU2 | 16Sc29 | 3s59 | 20s35 | Lib | 10.1 | 18 | 13.8 | 3.1->10.7 |
| Thereus | 16Ta38 | 5s52 | 11n10 | Ari | 11.0 | 35 | 20.4 | 8.5->12.7 |
| PN34 | 16Pi48 r | 12n50 | 6n37 | Peg | 15.2 | 173 | 16.6 | 13.3->48.9 |
| CF119 | 16Le57 | 4s36 | 11n22 | Cnc | 38.7 | 836 | 19.7 | 38.7->138. |
| GB32 | 17Li01 | 5n09 | 1s55 | Vir | 35.9 | 3167 | 14.2 | 35.3->396. |
| PA44 | 17Ta11 | 0s28 | 16n31 | Ari | 8.9 | 54 | 3.3 | 3.4->25.0 |
| Uranus | 17Pi47 r | 0s48 | 5s34 | Aqr | 20.1 | 84 | 0.8 | |
| OM67 | 18Pi05 r | 8n40 | 3n16 | Psc | 41.7 | 984 | 23.3 | 39.2->158. |
| TX300 | 18Ar26 r | 21n17 | 26n45 | And | 41.3 | 284 | 25.8 | 37.8->48.6 |
| AW197 | 18Le38 | 9s02 | 6n38 | Cnc | 46.7 | 324 | 24.4 | 41.0->53.4 |
| Varuna | 18Ca38 | 3n11 | 25n17 | Gem | 43.4 | 280 | 17.2 | 40.5->45.1 |
| SB60 | 18Pi49 r | 22n48 | 16n32 | Peg | 43.9 | 273 | 23.9 | 37.5->46.6 |
| Okyrhoe | 18Le56 | 7s40 | 7n51 | Cnc | 5.8 | 24 | 15.6 | 5.8->11.0 |
| Pylenor | 19Ge04 | 4s37 | 18n23 | Tau | 20.2 | 68 | 5.4 | 11.6->21.8 |
| Logos | 19Vi08 | 1n43 | 5n53 | Leo | 42.1 | 304 | 2.9 | 39.9->50.6 |
| Sun | 19Le18 | 0n00 | 15n02 | Leo | 1.0 | 1 | 0.0 | |
| CE10 | 19Sc50r | 34s46 | 50s37 | Cen | 10.3 | 31 | 145.5 | 2.0->17.5 |
| Neptune | 20Aq40r | 0s17 | 14s52 | Cap | 30.0 | 166 | 1.8 | |
| Sedna | 20Ta48 | 11s53 | 6n28 | Tau | 88.4 | 10662 | 11.9 | 76.2->892. |
| Eris | 21Ar30 r | 14s12 | 4s48 | Cet | 96.8 | 558 | 44.1 | 38.0->97.5 |
| GZ32 | 21Li36 | 14n35 | 5n08 | Vir | 19.7 | 112 | 15.0 | 18.0->28.3 |
| FZ53 | 22Sc02 | 20n33 | 1n37 | Ser | 21.2 | 117 | 34.8 | 12.4->35.3 |
| QB1 | 22Ar24 r | 0n49 | 9n29 | Psc | 41.0 | 290 | 2.2 | 40.9->46.8 |
| FY9 | 22Vi27 | 28n31 | 28n56 | Com | 52.0 | 308 | 29.0 | 38.4->52.8 |
| AZ84 | 22Ca36 | 8s37 | 13n02 | Gem | 45.6 | 247 | 13.6 | 32.2->46.5 |
| Echeclus | 22Li38 | 2n19 | 6s39 | Vir | 11.9 | 35 | 4.3 | 5.9->15.7 |
| PB112 | 22Pi39 r | 1s27 | 4s15 | Aqr | 35.5 | 1121 | 15.4 | 35.4->180. |
| CR105 | 22Le47 | 5n52 | 19n28 | Leo | 56.2 | 3246 | 22.8 | 44.2->394. |
| CO1 | 22Li57 | 14n58 | 5n00 | Vir | 11.0 | 96 | 19.7 | 10.9->30.9 |
| RZ214 | 23Ar08 r | 4n45 | 13n24 | Psc | 42.6 | 779 | 20.5 | 36.6->132. |
| WL7 | 23Ta19 | 7n53 | 26n13 | Ari | 15.2 | 90 | 11.2 | 14.9->25.2 |
| RR43 | 23Ta24 | 16s55 | 2n13 | Tau | 38.5 | 283 | 28.6 | 37.2->49.0 |
| HB57 | 24Li06 | 2n03 | 7s27 | Vir | 38.1 | 2105 | 15.5 | 38.1->290. |
| SQ73 | 24Ta11 | 10n01 | 28n31 | Ari | 17.0 | 73 | 17.4 | 14.3->20.5 |
| RM43 | 24Ta19 | 16s15 | 3n04 | Tau | 35.2 | 853 | 28.8 | 35.1->144. |
| Vertex | 24Aq27 | | | | | | | |
| CO104 | 24Vi44 | 0s09 | 1n57 | Vir | 21.4 | 119 | 3.1 | 20.6->27.7 |
| 96PW | 24Ca57 | 15s44 | 5n39 | CMi | 25.2 | 4064 | 29.9 | 2.5->506.8 |
| CZ118 | 25Vi00 | 5s23 | 2s57 | Leo | 42.5 | 1263 | 27.8 | 37.6->196. |
| KF77 | 25Sc07 | 3s00 | 21s57 | Lib | 20.9 | 134 | 4.4 | 19.8->32.5 |
| OX3 | 25Aq11r | 2n30 | 10s47 | Cap | 23.5 | 183 | 2.6 | 17.6->46.9 |
| Cyllarus | 25Ge17 | 6n27 | 29n48 | Aur | 22.5 | 133 | 12.7 | 16.2->36.0 |
| WN188 | 25Cp48r | 3n05 | 17s57 | Sgr | 9.6 | 55 | 26.9 | 2.2->26.8 |
| TY364 | 25Ar54 r | 22s48 | 11s15 | Cet | 39.7 | 241 | 24.8 | 36.3->41.3 |
| OP32 | 25Aq58r | 17n42 | 3n50 | Peg | 41.3 | 285 | 27.2 | 38.6->48.1 |
| TL66 | 26Ta02 | 7s11 | 12n17 | Tau | 35.4 | 754 | 24.0 | 35.0->130. |
| RL43 | 26Ar02 r | 8s17 | 2n20 | Cet | 23.8 | 121 | 12.3 | 23.4->25.5 |
| Pelion | 26Pi05 r | 7s11 | 8s09 | Cet | 18.9 | 90 | 9.4 | 17.3->22.8 |
| RD215 | 26Ar17 r | 2n40 | 12n38 | Psc | 40.7 | 1352 | 26.0 | 37.6->207. |
| Pluto | 26Sa29r | 6n51 | 16s33 | Sgr | 31.3 | 251 | 17.1 | 29.7->49.9 |
| QD112 | 26Ar36r | 5n47 | 15n39 | Psc | 15.5 | 83 | 14.5 | 7.9->30.1 |
| YQ179 | 26Ca37 | 2n17 | 23n04 | Gem | 38.5 | 829 | 20.9 | 37.2->139. |
| QF6 | 26Vi49 | 13n46 | 13n53 | Com | 10.5 | 19 | 24.2 | 2.3->12.2 |
| SA278 | 26Ar50 r | 9s37 | 1n22 | Cet | 41.4 | 876 | 16.3 | 33.1->150. |
| Saturn | 27Le19 | 1n16 | 13n36 | Leo | 9.2 | 29 | 2.5 | |
| UR163 | 27Ar36 r | 0n45 | 11n20 | Psc | 50.2 | 370 | 0.8 | 36.8->66.2 |
| Chariklo | 27Li43 | 22s49 | 31s45 | Cen | 13.3 | 63 | 23.4 | 13.1->18.6 |
| Hylonome | 28Sc03 | 3n43 | 16s07 | Lib | 20.7 | 126 | 4.1 | 18.9->31.5 |
| MS4 | 28Sa16r | 14n30 | 8s56 | Oph | 47.3 | 272 | 17.7 | 36.1->47.8 |
| Orcus | 28Le16 | 17s36 | 4s29 | Hya | 47.8 | 246 | 20.6 | 30.5->48.0 |
| Venus | 28Le18 r | 7s14 | 5n16 | Sex | 0.7 | 1 | 3.4 | |
| Ceto | 29Li08 | 14n18 | 2n14 | Vir | 28.9 | 1028 | 22.3 | 17.9->185. |
| RN43 | 29Aq26r | 12n26 | 0n00 | Aqr | 40.7 | 269 | 19.3 | 40.6->42.6 |
| CY118 | 29Vi37 | 8n00 | 7n29 | Vir | 34.6 | 870 | 25.6 | 34.6->147. |

Celsius 5 Cp 19 Kelvin 4 Ta 01 Richter 24 Sc 22
Cuvier 14 Li 00 Milankovitch 21 Ge 24 Tazieff 28 Pi 28
Darwin 12 Li 54 Mohorovicic 22 Ca 21 Vulcano 16 Ta 08
Flammario 7 Sa 55 Nephele 6 Ar 17 Wegener 9 Sc 38
Flammeus 10 Ge 12 Pele 10 Ca 01 Werner 9 Li 07
Humboldt 21 Pi 22 Plinius 0 Sc 57
______________________
Focused Minor Planets
1)
AW197 = 18 Le 38
Sun = 19 Le 18
CF119 = 16 Le 57
Neptune = 20 Aq 40 r
Uranus = 17 Pi 47 r Quincunx
SB60 = 18 Pi 49 r
OM67 = 18 Pi 05 r
Varuna = 18 Ca 38 Semisextile
Logos = 19 Vi 08
Pylenor = 19 Ge 04 Sextile
____________________
2)
Orcus = 28 Le 16
Venus = 28 Le 18 r
Saturn = 27 Le 19
RN43 = 29 Aq 26 r
Pluto = 26 Sa 29 r Trine
MS4 = 28 Sa 16 r
Hylonome = 28 Sc 03 Square
Tazieff = 28 Pi 28 Quincunx
____________________
3)
TL66 = 26 Ta 02
Richter = 24 Sc 22
Pluto = 26 Sa 29 r Quincunx
Saturn = 27 Le 19 Square
OP32 = 25 Aq 58 r
YQ179 = 26 Ca 37 Sextile
____________________
4)
Varuna = 18 Ca 38
Mars = 3 Ge 18 Semisquare
VS2 = 3 Ge 26
AW197 = 18 Le 38 Semisextile
Sun = 19 Le 18
CF119 = 16 Le 57
Pylenor = 19 Ge 04
Uranus = 17 Pi 47 r Trine
SB60 = 18 Pi 49 r
OM67 = 18 Pi 05 r
Logos = 19 Vi 08 Sextile
____________________
5)
Eris = 21 Ar 30 r
QB1 = 22 Ar 24 r
Neptune = 20 Aq 40 r Sextile
Milankovitch = 21 Ge 24
CR105 = 22 Le 47 Trine
Humboldt = 21 Pi 22 Semisextile
Mohorovicic = 22 Ca 21 Square
____________________
6)
Ixion = 11 Sa 21 r
Jupiter = 9 Sa 58
Flammeus = 10 Ge 12
Chaos = 9 Ge 40
TD10 = 9 Ge 22
Pele = 10 Ca 01 Quincunx
VQ94 = 11 Li 43 Sextile
FP185 = 11 Li 44
FZ173 = 11 Li 56
EL61 = 12 Li 49
Chiron = 12 Aq 41 r
____________________
7)
Quaoar = 15 Sa 42 r
XR190 = 13 Ge 54
Mercury = 15 Le 33 Trine
CF119 = 16 Le 57
Cuvier = 14 Li 00 Sextile
Vulcano = 16 Ta 08 Quincunx
____________________
8)
OO67 = 7 Ar 24 r
Nephele = 6 Ar 17
Neptune = 20 Aq 40 r Semisquare
Node = 7 Pi 04 r Semisextile
Borasisi = 7 Pi 43r
Flammario = 7 Sa 55 Trine
____________________
9)
UX25 = 1 Ta 10 r
Plinius = 0 Sc 57
GV9 = 2 Sc 14
Uranus = 17 Pi 47 r Semisquare
_______________________________
_______________________________
Astrological Setting (Sidereal - Fagan/Bradley)
RIYAL Sun August 12 2007 UT 9h00m00s Lat13n36 Lon40e40 SORT ALL
| | |
| --- | --- |
| Planet | Longit. |
| 96PW | 0Ca06 |
| CZ118 | 0Vi09 |
| KF77 | 0Sc16 |
| OX3 | 0Aq20 r |
| Cyllarus | 0Ge26 |
| WN188 | 0Cp57 r |
| TY364 | 1Ar04 r |
| OP32 | 1Aq07 r |
| TL66 | 1Ta11 |
| RL43 | 1Ar11 r |
| Pelion | 1Pi14 r |
| RD215 | 1Ar26 r |
| Pluto | 1Sa38 r |
| QD112 | 1Ar45 r |
| YQ179 | 1Ca46 |
| QF6 | 1Vi58 |
| SA278 | 1Ar59 r |
| Saturn | 2Le28 |
| UR163 | 2Ar45 r |
| Chariklo | 2Li53 |
| Hylonome | 3Sc12 |
| MS4 | 3Sa25 r |
| Orcus | 3Le25 |
| Venus | 3Le27 r |
| Ceto | 4Li17 |
| RN43 | 4Aq35 r |
| CY118 | 4Vi46 |
| VR130 | 5Ta15 |
| Asbolus | 5Ar37 r |
| UX25 | 6Ar19 r |
| Teharonhi | 6Aq34 r |
| XA255 | 6Le36 |
| KX14 | 6Sc38 r |
| Bienor | 7Pi22 r |
| GV9 | 7Li23 |
| Pholus | 8Sc12 r |
| Mars | 8Ta27 |
| VS2 | 8Ta35 |
| Deucalion | 8Li36 |
| RP120 | 8Sc45 r |
| TC302 | 9Ar30 r |
| Huya | 9Li34 |
| BU48 | 9Le49 |
| DH5 | 10Vi36 |
| Crantor | 11Sc27 |
| MW12 | 11Sc38 r |
| CC22 | 12Sa11r |
| Node | 12Aq13r |
| Borasisi | 12Aq52r |
| OO67 | 12Pi33 r |
| Typhon | 12Le45 |
| UJ438 | 12Ta48 |
| Nessus | 13Cp56r |
| BL41 | 14Vi09 |
| TD10 | 14Ta31 |
| Chaos | 14Ta49 |
| Jupiter | 15Sc07 |
| TO66 | 15Pi30 r |
| QB243 | 16Aq22r |
| Ixion | 16Sc30r |
| GQ21 | 16Li38 |
| RZ215 | 16Aq48r |
| VQ94 | 16Vi52 |
| FP185 | 16Vi53 |
| Apogee | 16Li59 |
| XX143 | 17Ca00 |
| FZ173 | 17Vi05 |
| (Moon) | 17Ca24 |
| Amycus | 17Li46 |
| Chiron | 17Cp50r |
| EL61 | 17Vi58 |
| Elatus | 17Ca59 |
| Radamantu= | 18Vi27 |
| RG33 | 18Ge34 |
| LE31 | 18Ge40 |
| (Midheav) | 18Ca47 |
| XR190 | 19Ta03 |
| DA62 | 19Cp17r |
| XZ255 | 19Ca30 |
| (Ascend) | 19Li41 |
| GM137 | 20Cp33r |
| Mercury | 20Ca42 |
| Quaoar | 20Sc51r |
| PJ30 | 21Cp10r |
| VU2 | 21Li38 |
| Thereus | 21Ar47 |
| PN34 | 21Aq58r |
| CF119 | 22Ca06 |
| GB32 | 22Vi10 |
| PA44 | 22Ar20 |
| Uranus | 22Aq56r |
| OM67 | 23Aq14 r |
| TX300 | 23Pi35 r |
| AW197 | 23Ca47 |
| Varuna | 23Ge47 |
| SB60 | 23Aq58r |
| Okyrhoe | 24Ca05 |
| Pylenor | 24Ta13 |
| Logos | 24Le17 |
| Sun | 24Ca27 |
| CE10 | 24Li59 r |
| Neptune | 25Cp49r |
| Sedna | 25Ar57 |
| Eris | 26Pi40 r |
| GZ32 | 26Vi45 |
| FZ53 | 27Li11 |
| QB1 | 27Pi33 r |
| FY9 | 27Le36 |
| AZ84 | 27Ge45 |
| Echeclus | 27Vi47 |
| PB112 | 27Aq48r |
| CR105 | 27Ca56 |
| CO1 | 28Vi06 |
| RZ214 | 28Pi17 r |
| WL7 | 28Ar28 |
| RR43 | 28Ar34 |
| HB57 | 29Vi15 |
| SQ73 | 29Ar20 |
| RM43 | 29Ar28 |
| Vertex | 29Cp36 |
| CO104 | 29Le53 |

Celsius 10 Sa 28 Kelvin 9 Ar 10 Richter 29 Li 31
Cuvier 19 Vi 09 Milankovitch 26 Ta 33 Tazieff 3 Pi 37
Darwin 18 Vi 03 Mohorovicic 27 Ge 30 Vulcano 21 Ar 17
Flammario 13 Sc 04 Nephele 11 Pi 26 Wegener 14 Li 47
Flammeus 15 Ta 21 Pele 15 Ge 10 Werner 14 Vi 16
Humboldt 26 Aq 31 Plinius 6 Li 06
________________________
Focused Minor Planets
1)
AW197 = 23 Ca 47
Sun = 24 Ca 27
CF119 = 22 Ca 06
Neptune = 25 Cp 49 r
Uranus = 22 Aq 56 r Quincunx
SB60 = 23 Aq 58 r
OM67 = 23 Aq 14 r
Varuna = 23 Ge 47 Semisextile
Logos = 24 Le 17
Pylenor = 24 Ta 13 Sextile
____________________
2)
Orcus = 3 Le 25
Venus = 3 Le 27 r
Saturn = 2 Le 28
RN43 = 4 Aq 35 r
Pluto = 1 Sa 38 r Trine
MS4 = 3 Sa 25 r
Hylonome = 3 Sc 12 Square
Tazieff = 3 Pi 37 Quincunx
____________________
3)
TL66 = 1 Ta 11
Richter = 29 Li 31
Pluto = 1 Sa 38 r Quincunx
Saturn = 2 Le 28 Square
OP32 = 1 Aq 07 r
YQ179 = 1 Ca 46 Sextile
____________________
4)
Varuna = 23 Ge 47
Mars = 8 Ta 27 Semisquare
VS2 = 8 Ta 35
AW197 = 23 Ca 47 Semisextile
Sun = 24 Ca 27
CF119 = 22 Ca 06
Pylenor = 24 Ta 13
Uranus = 22 Aq 56 r Trine
SB60 = 23 Aq 58 r
OM67 = 23 Aq 14 r
Logos = 24 Le 17 Sextile
____________________
5)
Eris = 26 Pi 40 r
QB1 = 27 Pi 33 r
Neptune = 25 Cp 49 r Sextile
Milankovitch = 26 Ta 33
CR105 = 27 Ca 56 Trine
Humboldt = 26 Aq 31 Semisextile
Mohorovicic = 27 Ge 30 Square
____________________
6)
Ixion = 16 Sc 30 r
Jupiter = 15 Sc 07
Flammeus = 15 Ta 21
Chaos = 14 Ta 49
TD10 = 14 Ta 31
Pele = 15 Ge 10 Quincunx
VQ94 = 16 Vi 52 Sextile
FP185 = 16 Vi 53
FZ173 = 17 Vi 05
EL61 = 17 Vi 58
Chiron = 17 Cp 50 r
____________________
7)
Quaoar = 20 Sc 51 r
XR190 = 19 Ta 03
Mercury = 20 Ca 42 Trine
CF119 = 22 Ca 06
Cuvier = 19 Vi 09 Sextile
Vulcano = 21 Ar 17 Quincunx
____________________
8)
OO67 = 12 Pi 33 r
Nephele = 11 Pi 26
Neptune = 25 Cp 49 r Semisquare
Node = 12 Aq 13 r Semisextile
Borasisi = 12 Aq 52r
Flammario = 13 Sc 04 Trine
____________________
9)
UX25 = 6 Ar 19 r
Plinius = 6 Li 06
GV9 = 7 Li 23
Uranus = 22 Aq 56 r Semisquare
_______________________________________
_______________________________________