Diana Ross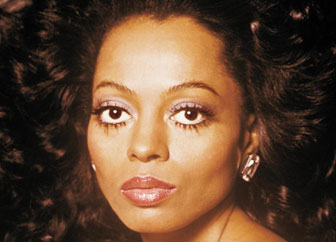 Eris/Sun conjunction
Diana Ross (born Diane Ernestine Earle Ross on March 26, 1944) is an American singer and actress, whose musical repertoire spans R&B, soul, disco, and pop. Ross first gained prominence as lead of the successful girl group The Supremes, before establishing a successful solo career in 1970. During the 1970s and 1980s, Ross became one of the most successful female artists of the rock era, also crossing over into film, television and Broadway. Over the course of her career, Ross has been awarded a Tony Award for the music special An Evening with Diana Ross (1977), seven American Music Awards, and a special Golden Globe for her leading role in the Billie Holliday biographical film Lady Sings the Blues. In addition, Ross has been nominated for twelve Grammy Awards and an Academy Award.
In 1976, Billboard magazine named her the female entertainer of the century. The Guinness Book of World Records declared Diana Ross as the most successful female music artist of the 20th century with a total of seventy charted hits in the UK in 1993 and was later bested by Madonna. As a solo artist, Ross became the first female artist to score six number-one hit singles. She is also one of the few artists to have two stars on the Hollywood Walk of Fame as a solo artist and as member of the Supremes.
Born and raised in Detroit, Michigan but briefly lived in Bessemer, Alabama due to her mother's illness, Ross' family moved to Detroit's Brewster-Douglass housing projects when Ross was fourteen. The following year, Ross began her music career with Mary Wilson, Florence Ballard and Betty McGlown as the doo-wop quartet the Primettes, a sister group to The Primes. After signing to Motown Records in 1961 and replacing McGlown with Barbara Martin, they changed the name of the group to The Supremes. Barbara Martin left the group shortly afterwards, and The Supremes carried on as a trio".
...............................................................
...............................................................
Early solo career
"Ross' first solo LP, Diana Ross, featured her first solo number-one hit, "Ain't No Mountain High Enough".
After a half-year of recording material with various producers, Ross settled with the production team of Nickolas Ashford and Valerie Simpson, the creative force behind Marvin Gaye & Tammi Terrell's hit duets. Ashford and Simpson helmed most of Ross' first album, Diana Ross, and would continue to write and produce for Ross for the next decade.
In May 1970, Diana Ross was released on Motown. The first single, the gospel-influenced "Reach Out and Touch (Somebody's Hand)", peaked at #20 on the Billboard Hot 100. The album's second single, a cover of Gaye and Terrell's 1967 hit "Ain't No Mountain High Enough", was an international hit, and gave Ross her first #1 pop single as a solo artist. "Ain't No Mountain High Enough" garnered Ross a Grammy nomination for Best Pop Vocal Performance, Female.
In 1971, Motown released Ross's second album Everything is Everything, which garnered Ross's first UK number one solo single, "I'm Still Waiting". Several months later, Ross released Surrender, which garnered the top 20 pop hit, "Remember Me". That year, Ross hosted her first solo TV special, Diana!. Featuring guest appearances by The Jackson 5, Bill Cosby and Danny Thomas, Ross' special continued her popularity with her middle of the road fan base.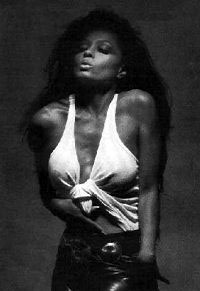 By this point, Motown Records had relocated to the West Coast, specifically Hollywood. Berry Gordy decided it was time the company ventured out once more in new territory, so he focused much of his attention on developing a motion pictures company and set his sights on making Ross a movie star.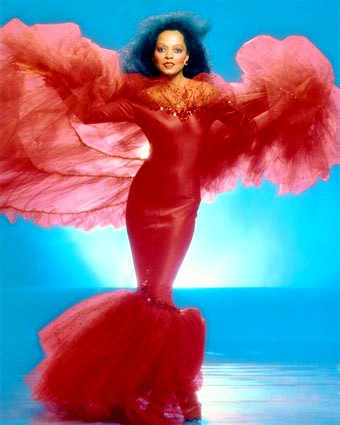 In late-1971, it was announced that Diana Ross was going to play jazz icon Billie Holiday in a Motown-produced biographical film loosely based on Holiday's autobiography, Lady Sings the Blues. From the moment the film was announced, critics ridiculed Ross throughout the media: Ross and Holiday were miles apart from each other in style and appearance. Ross soldiered on, immersing herself into Holiday's music and life story. Diana actually knew little about Holiday, and wasn't a big fan of jazz in general. She did not attempt to imitate Holiday's voice, instead, Ross focused on adapting Holiday's vocal phrasing. According to a television documentary, Ross studied Holiday's character so well that Motown executive Suzanne de Passe says Gordy told her to "put a little Diana back into it".
Opening in October 1972, Lady Sings the Blues was a phenomenal success, and Ross' performance drew universal rave reviews. The movie co-starred Brian's Song star Billy Dee Williams, who played Holiday's lover, Louis McKay. Also appearing was, in his film debut, comedian and actor Richard Pryor, who played the "Piano Man". In 1973, Ross was nominated for both the Golden Globe and the Academy Award for Best Actress. Winning a Golden Globe for Best Newcomer, Ross lost the Best Actress Oscar to her friend Liza Minnelli, for her role in Cabaret. The soundtrack album for Lady Sings the Blues went to number-one album on the Billboard 200 for two weeks, and reportedly sold 300,000 copies during its first eight days of release. The soundtrack also garnered accolades for Ross, as critics praised her for "suggesting Billie Holiday" with her delivery and expertly capturing Holiday's intricate phrasing.
In 1971, Ross and Motown labelmate Marvin Gaye had begun an album of duets. The two singers clashed over Gaye's refusal to stop smoking marijuana in the studio to appease Ross, then pregnant with her second child Tracee Ellis Ross. As a result, the duets album, Diana & Marvin, was completed in separate studios in 1972. Upon its 1973 release, Diana & Marvin proved to be a success, with their cover of The Stylistics' "You Are Everything" becoming a Top 10 hit in the United Kingdom.
..............................................
..............................................
In 1975, Ross again co-starred with Billy Dee Williams in the Motown film Mahogany. The story of an aspiring fashion designer who becomes a runway model and the toast of the industry, Mahogany was a troubled production from early on. The film's original director, Tony Richardson, was fired during production and Berry Gordy assumed the director's chair himself. In addition, Gordy and Ross clashed during filming, with Ross leaving the production before shooting had been completed. While a box office hit, the film was not a critical success: Time magazine's review of the film chastised Gordy for "squandering one of America's most natural resources: Diana Ross."
Ross hit number-one on the pop charts twice in 1976 with "Theme From Mahogany (Do You Know Where You're Going To)", and the disco single "Love Hangover". The successes of these singles made her 1976 album, Diana Ross, her fourth LP to reach the Top 10. In 1977, her Broadway one-woman show earned the singer a special Tony Award. That same show was televised as a special on NBC and later released as "An Evening with Diana Ross."
That same year, Motown acquired the film rights to the popular Broadway play The Wiz, an African-American reinterpretation of L. Frank Baum's The Wonderful Wizard of Oz. Although teenage Stephanie Mills, a veteran of the play, was originally cast as Dorothy, Diana Ross convinced Universal Pictures producer Rob Cohen to have Ross cast as Dorothy, As a result, the eleven-year old protagonist of the story was altered into a shy twenty-four year old schoolteacher from Harlem, New York. Among Ross' costars in the film were Nipsey Russell, Ted Ross, and her former label mate and protégé Michael Jackson from the Jackson 5. Upon its October 1978 release, the film adaptation of The Wiz was a costly commercial and critical failure, and it was Ross' final film for Motown. The album, however, went gold selling in excess of 850,000 copies.
Diana Ross' landmark 1980 album, diana, was her final LP for Motown Records before leaving for RCA the following year. "diana" was her most successful studio album to date, peaking at number-two on the Billboard 200 chart for three weeks and selling over six million copies.
Resuming her becalmed singing career in 1979, Ross re-teamed with Nickolas Ashford & Valerie Simpson for the album The Boss, which became Ross' first gold-certified album (Motown sales records before 1977 were not audited by the RIAA, and therefore none of Motown's pre-1977 releases were awarded certifications). In 1980, Ross released her first RIAA platinum-certified disc, the six-million plus selling "diana," produced by Chic's front men Nile Rodgers and Bernard Edwards. The album included two of Ross' most successful and familiar solo hits, her fifth number-one single, "Upside Down", and the Top 5 single "I'm Coming Out". Ross scored a Top 10 hit in late 1980 with the theme song to the 1980 film It's My Turn. The following year, she collaborated with former Commodores singer-songwriter Lionel Richie on the theme song for the film Endless Love. The Academy Award-nominated "Endless Love" single became Ross' final hit on Motown Records, and the Number One Record of the year. Feeling that Motown, and in particular Gordy, were keeping her from freely expressing herself, and not according her financial parity, Ross left Motown for $20 million contract to sign with RCA Records, ending her twenty-year tenure with the label. The Ross-RCA deal was the most money ever paid to an artist until Michael Jackson, Madonna, Prince and Janet Jackson all signed deals many years after Ross'. When "Endless Love" hit number-one in 1981, Ross became the first female artist in music history to place six singles at number one on the Billboard Hot 100, surpassing Barbra Streisand's five number-ones and Donna Summer's four number-ones. Endless Love by Diana Ross and Lionel Richie was and still remains the most successful duet in pop history.
Ross' career during the 1980s and 1990s
Why Do Fools Fall in Love was Ross' debut LP for Ross Records distributed by RCA Records.
Diana Ross' RCA Records debut, the platinum-selling Why Do Fools Fall in Love, was issued in the summer of 1981. The album yielded Top 10 hits such as the title track "Why Do Fools Fall in Love", a remake of the 1956 Frankie Lymon & the Teenagers classic of the same name, and the single "Mirror Mirror".
In 1983, Ross reunited with former Supremes Mary Wilson and Cindy Birdsong for the television special Motown 25: Yesterday, Today, Forever. The three singers performed their 1969 number-one hit "Someday We'll Be Together", although altercations on stage between Ross and Wilson became an issue during the taping of the special.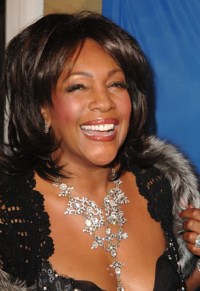 Mary Wilson
Wilson conspired with Birdsong to take a step forward every time Ross did. Wilson did not follow the script set by producer Suzanne DePasse which did not go over well with Ross. Ross was to introduce Berry Gordy, however Wilson took it upon herself to do so, at which point Ross pulled Wilson's hand down and said "It's been taken care of." Ross then proceeded to introduce Gordy herself. These incidents were excised from the final edit of the taped special, but still made their way into the news media; People magazine reported that "Ross [did] some elbowing to get Wilson out of the spotlight."
Later that year, Ross held a much-heralded concert in Central Park, the proceeds of which were to go towards building a playground in the singer's name. Fifteen minutes into the show, which was being filmed for Showtime cable television, it began to rain, and as she urged the crowd of 300,000 to safely exit the venue, Ross announced that she would continue the performance the next day.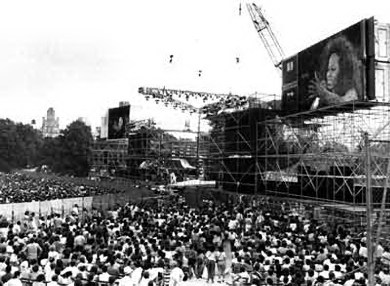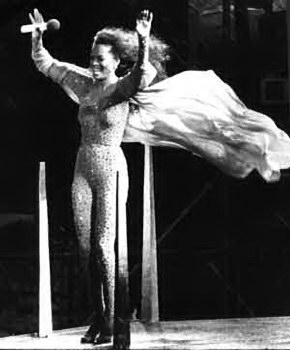 Ross' actions drew praise within the mainstream press. That next day, over 500,000 people came back for one of the largest free concerts in the park's history.
However, the second show generated controversy. New York mayor Ed Koch objected to the expenses of a second show. To settle the matter, Ross personally wrote a check for an estimated $250,000 to cover the remaining costs. Although Koch's objections slowed the progress, the Diana Ross Playground was finally built three years later.
Other hit singles recorded by Ross for RCA included "Muscles" (1982), "Swept Away" (1984), "Missing You" (1984), "Eaten Alive" (1985) and the UK number-one single, "Chain Reaction" (1986). Hit albums during this period included the gold-certified albums, Silk Electric and Swept Away, the latter being the last top forty charted album in Ross' career for two decades. While Ross continued to have success overseas as the 1980s continued, she began to struggle on the United States Billboard Hot 100 chart. In 1989, after leaving RCA, Diana Ross returned to Motown, where Ross was now both a part-owner and a recording artist.
In 1989, Diana Ross released her first Motown album in eight years, the Nile Rodgers-produced Workin' Overtime. Despite a top three R&B hit with the title track, the album failed to find a pop audience in America, much as Ross' later RCA releases has. Subsequent follow-ups such as 1991's The Force Behind the Power, 1995's Take Me Higher and 1999's Every Day is a New Day produced the same results in the US however, charted in the United Kingdom.
Ross still had success with her latter-day Motown albums in the United Kingdom and Europe, however, scoring Top 10 Hits with "When You Tell Me That You Love Me" (1991), "Take Me Higher" (1995) and "Not Over You Yet" (1999). Ross was a halftime performer at Super Bowl XXX in 1996. In 1999, Diana Ross was named the most successful female singer in the history of the United Kingdom charts, based upon a tally of her career hits. Fellow Michigan songbird Madonna would eventually beat Ross out as the most successful female artist in the UK. In 2002, Diana Ross and Motown parted ways.
Diana Ross returned to acting in the ABC telefilm, Out of Darkness (1994), in which she played a woman suffering from schizophrenia. Once again, Ross drew critical acclaim for her acting, and scored her third Golden Globe nomination for acting.
Ross co-starred with R&B singer Brandy in the ABC television movie Double Platinum in 1999.
In 1999, Ross co-starred with young R&B singer Brandy for the ABC television movie Double Platinum playing a singer who neglected her daughter while concentrating on her career.
Later years
Diana Ross was a presenter at the 1999 MTV Video Music Awards, held that September. She shocked TV viewers when she grabbed rapper Lil' Kim's exposed breast, reportedly amazed at the open brashness of the rapper showcasing her body? A month after the Lil Kim incident, authorities at London's Heathrow Airport detained Ross for assaulting a female security guard. Angered over a "body search" by the guard that she felt was invasive, Ross had fondled the woman back. The singer was arrested but was later released.
In 2000, Ross announced a Supremes reunion tour, again with former band mates Mary Wilson and Cindy Birdsong, called Return to Love. Wilson and Birdsong declined the tour because of a reported difference in pay offered to each member: Ross was offered $15 million while Wilson was offered $3 million and Birdsong less than $1 million. They were replaced by latter-day Supremes Lynda Laurence and Scherrie Payne. It should be of note that both Lynda Laurence and Scherrie Payne were members of the Supremes after Diana Ross had left The Supremes. Despite a respectable opening in Philadelphia, the"Return to Love" tour was canceled after nine dates, because of lackluster ticket sales.
Current work
In 2005, Diana Ross returned to the charts with a pair of duets. "I Got a Crush on You" was recorded with Rod Stewart for his album The Great American Songbook, and reached number nineteen on the Billboard Hot Adult Contemporary chart.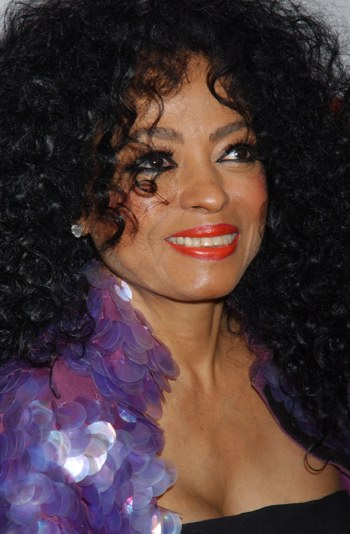 Another duet, recorded with Westlife, was a remake of Ross' 1991 number-two UK single, "When You Tell Me You Love Me", and reached number-two in the UK just as the original had.
In 2006, Motown released a shelved Ross album titled Blue, which was a collection of jazz standards recorded after Ross filmed Lady Sings the Blues. Released in June to stellar reviews, Blue peaked at number-two on the jazz albums chart. In August, it was announced that Ross would release a new studio album of classic rock and soul standards on the EMI label Angel Records. The album, titled I Love You, was released on October 2 around the world, and then saw release in North America on January 16, 2007, on the Manhattan Records/EMI label. The new album proved to be a comeback of sorts, peaking at number thirty-two on the pop albums chart, making it Ross' first top forty US pop album since 1984's Swept Away. Since its release in 2007, EMI Inside reports that I Love You has sold more than 100,000 copies in the USA and 38,000 in the United Kingdom.
In January 2007, Diana appeared on a number of TV shows across the U.S. to promote her new album and began touring in the spring. She also appeared on American Idol as a mentor to the contestants Diana's United States "I Love You" tour has garnered very positive reviews, and her European tour commenced on May 6, 2007.
Personal life
Ross was the second of six children born to a Baptist family by Fred Ross, Sr. and Ernestine Moten in Detroit, Michigan. Her sisters Barbara and Rita did not venture into show business. Instead, Barbara Ross became a doctor, while Rita Ross became a schoolteacher. Ross' younger brother Arthur "T-Boy" Ross was a successful songwriter for Motown, composing hits for Marvin Gaye, the Jackson 5, and others alongside Leon Ware. Ross' youngest brother, Wilbert "Chico" Ross, was a dancer on Ross' tours.
Ross married music business manager Robert Ellis Silberstein in August 1971.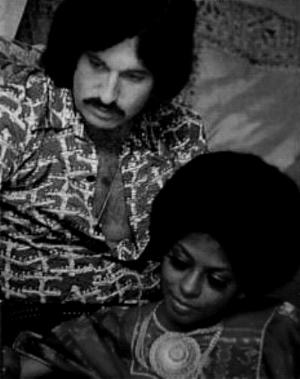 Robert Ellis Silberstein and Diana
After divorcing him in March 1977, Ross publicly dated actor Ryan O'Neal and rocker Gene Simmons of the group Kiss, before marrying Norwegian tycoon Arne Næss Jr. in October 1985. After a long-distance marriage, Næss made headlines in 1999 announcing his split from Ross, which was finalized in February 2000.
Ross is the mother of five children. She and Gordy are the parents of Rhonda Suzanne Silberstein (born 1971), now known as Rhonda Ross Kendrick. Ross and Robert Silberstein are the parents of Tracee Joy Silberstein (born 1972), now known as Tracee Ellis Ross, and Chudney Lane Silberstein (born 1975), now known as Chudney Ross. Ross Arne Næss (born 1987) and Evan Olaf Næss, now known as Evan Ross (born 1988), are the children of Ross and Arne Næss".
______________________________
______________________________
DoB: 26/3/1944 Time: 23:46 (-4:00 EST/W) GMT Time: 03:46 day after
Reference: The Gauquelin's data collection: Gauquelin Report on American Data', 1982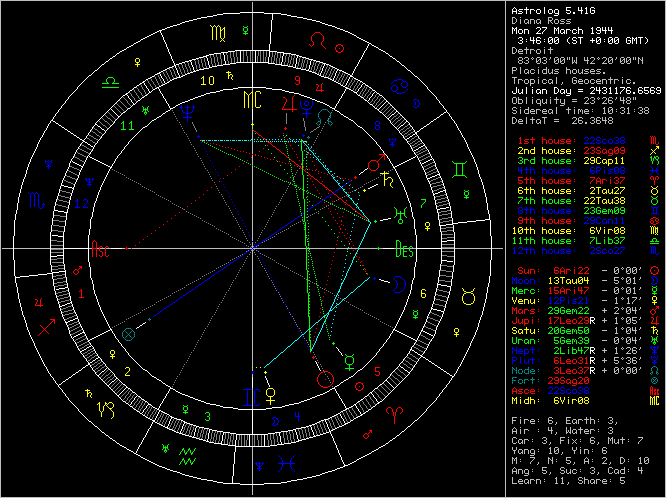 Using RIYAL 3.0
Astrological Setting (Tropical - Placidus)
RIYAL Mon March 27 1944 UT 3h46m00s Lat42n20 Lon83w03 SORT ALL
| | | | | | | | | |
| --- | --- | --- | --- | --- | --- | --- | --- | --- |
| Planet | Longit. | Latitude | Declin. | Const. | H.D. | Period | Inclin. | O. Range |
| CZ118 | 0Le14 r | 19n59 | 39n33 | Lyn | 74.3 | 1263 | 27.7 | 38.0->195. |
| SQ73 | 0Ca14 | 17n03 | 40n29 | Aur | 19.6 | 74 | 17.5 | 14.8->20.6 |
| Ceres | 1Ca01 | 6n05 | 29n31 | Aur | 2.6 | 5 | 10.6 | 2.5->3.0 |
| RR43 | 1Aq42 | 17s14 | 36s31 | Mic | 39.7 | 282 | 28.5 | 37.2->48.8 |
| SA278 | 2Pi28 | 4n59 | 5s57 | Aqr | 74.8 | 881 | 16.3 | 32.8->151. |
| Neptune | 2Li47 r | 1n26 | 0n13 | Vir | 30.3 | 166 | 1.8 | |
| FZ53 | 2Pi50 | 27n23 | 15n07 | Peg | 34.3 | 115 | 34.9 | 12.3->35.1 |
| DH5 | 3Aq00 | 13n10 | 6s40 | Aql | 30.0 | 103 | 22.5 | 13.9->30.0 |
| Apollo | 3Le03 r | 8n13 | 27n28 | Cnc | 2.3 | 2 | 6.3 | 0.6->2.3 |
| KX14 | 3Vi35 r | 0s19 | 9n55 | Leo | 40.3 | 244 | 0.4 | 37.5->40.6 |
| TY364 | 3Aq41 | 7n45 | 11s48 | Cap | 41.3 | 241 | 24.9 | 36.0->41.4 |
| Typhon | 3Ar46 | 0n31 | 1n58 | Psc | 48.6 | 232 | 2.4 | 17.4->58.1 |
| Damocles | 4Pi01 | 28n40 | 16n42 | Peg | 14.3 | 40 | 62.1 | 1.6->22.0 |
| Apogee | 4Vi08 | 2n38 | 12n27 | Leo | | | | |
| XX143 | 4Vi34 r | 5n35 | 15n02 | Leo | 25.4 | 77 | 6.8 | 9.7->26.4 |
| XR190 | 4Ta37 | 31n45 | 42n27 | And | 61.3 | 431 | 46.6 | 52.3->61.8 |
| Nessus | 4Ta38 | 1n18 | 14n18 | Ari | 36.1 | 122 | 15.7 | 11.8->37.4 |
| Node | 4Le41 r | 0n00 | 19n06 | Cnc | | | | |
| FP185 | 4Ca42 | 30s36 | 7s13 | Mon | 63.8 | 3369 | 30.8 | 34.4->415. |
| RD215 | 4Cp47 | 23n39 | 0n16 | Oph | 52.3 | 1322 | 25.9 | 37.5->203. |
| Eris | 5Ar27 | 25s20 | 21s00 | Cet | 96.5 | 556 | 44.0 | 37.7->97.5 |
| Uranus | 5Ge39 | 0s04 | 21n11 | Tau | 19.3 | 85 | 0.8 | |
| Vertex | 5Ca39 | | | | | | | |
| GZ32 | 6Ta06 | 13s39 | 0n39 | Cet | 26.0 | 111 | 15.0 | 18.0->28.1 |
| Midheav | 6Vi08 | 0n00 | 9n16 | Leo | | | | |
| Sappho | 6Sa08 | 1n32 | 19s49 | Sco | 2.5 | 3 | 8.6 | 1.8->2.8 |
| Phaethon | 6Ta17 | 10n07 | 23n08 | Ari | 2.4 | 1 | 21.8 | 0.1->2.4 |
| VR130 | 6Sc19 r | 2n03 | 11s42 | Lib | 33.0 | 117 | 3.5 | 14.8->33.1 |
| Sun | 6Ar22 | 0n00 | 2n32 | Psc | 1.0 | 1 | 0.0 | |
| Pluto | 6Le31 r | 5n36 | 24n04 | Cnc | 37.8 | 251 | 17.1 | 29.9->49.7 |
| RM43 | 7Aq38 | 20s18 | 37s52 | Mic | 57.6 | 850 | 28.8 | 34.9->144. |
| FZ173 | 8Ca02 | 12n37 | 35n48 | Aur | 60.3 | 805 | 12.7 | 32.6->140. |
| RL43 | 8Li17 r | 5n45 | 2n00 | Vir | 25.4 | 122 | 12.3 | 23.7->25.6 |
| BU48 | 8Aq17 | 1n19 | 16s56 | Cap | 32.1 | 191 | 14.3 | 20.4->45.8 |
| OM67 | 8Sa29 r | 23s10 | 44s31 | Nor | 51.4 | 965 | 23.4 | 39.2->156. |
| MW12 | 8Li30 r | 2n04 | 1s29 | Vir | 52.1 | 311 | 21.5 | 39.6->52.1 |
| Thalia | 8Cp48 | 2s10 | 25s19 | Sgr | 3.0 | 4 | 10.2 | 2.0->3.2 |
| Ixion | 9Li23 r | 17n40 | 12n30 | Vir | 49.1 | 249 | 19.6 | 30.1->49.1 |
| Iris | 9Ta27 | 1n33 | 16n07 | Ari | 1.8 | 4 | 5.5 | 1.8->2.9 |
| TD10 | 9Sc36 r | 3n27 | 11s25 | Lib | 63.8 | 921 | 6.0 | 12.3->177. |
| Heracles | 9Ar43 | 6n03 | 9n24 | Psc | 2.9 | 2 | 9.4 | 0.4->3.2 |
| RZ215 | 9Sc47 r | 22s24 | 35s48 | Cen | 55.7 | 1019 | 25.4 | 31.0->171. |
| Okyrhoe | 10Aq32 | 10n59 | 7s00 | Aqr | 10.6 | 24 | 15.6 | 5.7->11.1 |
| GM137 | 10Ar39 | 13s59 | 8s39 | Cet | 9.0 | 23 | 15.7 | 7.1->9.1 |
| Pallas | 10Ta40 | 24s31 | 8s19 | Eri | 2.4 | 5 | 34.8 | 2.1->3.4 |
| Chiron | 10Vi52 r | 5s29 | 2n25 | Sex | 8.7 | 51 | 6.9 | 8.5->19.0 |
| XZ255 | 11Le00 r | 2n16 | 19n39 | Cnc | 16.3 | 64 | 2.6 | 15.5->16.5 |
| Flora | 11Sa25 | 6n40 | 15s32 | Oph | 2.5 | 3 | 5.9 | 1.9->2.5 |
| Ceto | 11Ar28 | 7s58 | 2s48 | Cet | 52.7 | 1025 | 22.4 | 17.7->185. |
| YQ179 | 11Ta47 | 19s04 | 2s49 | Eri | 64.6 | 843 | 20.8 | 37.2->141. |
| Dioretsa | 12Ar12 | 18s48 | 12s28 | Cet | 45.2 | 116 | 160.3 | 2.4->45.2 |
| Venus | 12Pi21 | 1s17 | 8s07 | Aqr | 0.7 | 1 | 3.4 | |
| Amor | 12Ar32 | 3s33 | 1n41 | Cet | 2.8 | 3 | 11.9 | 1.1->2.8 |
| 96PW | 12Vi35 r | 10n39 | 16n40 | Leo | 73.6 | 3598 | 29.5 | 2.6->467.0 |
| Toro | 12Ca35 | 13s45 | 9n09 | Mon | 1.3 | 2 | 9.4 | 0.8->2.0 |
| QD112 | 12Ge45 | 13n49 | 36n01 | Aur | 28.0 | 83 | 14.5 | 8.0->30.1 |
| OP32 | 12Sc46r | 18n30 | 2n00 | Vir | 39.0 | 284 | 27.1 | 38.7->47.8 |
| VQ94 | 13Ar04 | 44s54 | 35s44 | For | 77.5 | 2647 | 70.6 | 6.7->376.0 |
| Moon | 13Ta04 | 5s01 | 10n58 | Ari | 1.0 | 0 | 5.1 | |
| FY9 | 13Ca19r | 13n40 | 36n22 | Aur | 44.7 | 310 | 29.0 | 38.5->53.1 |
| Elatus | 13Sa34r | 1n44 | 20s42 | Oph | 13.8 | 44 | 5.6 | 7.4->17.7 |
| TL66 | 13Aq46 | 23n37 | 5n59 | Del | 54.9 | 752 | 24.0 | 34.9->130. |
| Logos | 14Ge19 | 2s24 | 20n09 | Tau | 40.5 | 306 | 2.9 | 39.8->51.1 |
| Teharonhi | 14Sa42r | 2s00 | 24s33 | Oph | 43.6 | 291 | 2.6 | 42.7->45.2 |
| AZ84 | 14Ta42 | 5n52 | 21n52 | Ari | 44.1 | 248 | 13.5 | 32.5->46.4 |
| EL61 | 14Le52 r | 7n49 | 23n50 | Leo | 48.3 | 286 | 28.1 | 35.1->51.6 |
| TX300 | 14Cp52 | 17s24 | 39s53 | CrA | 38.3 | 283 | 25.9 | 37.9->48.2 |
| Bienor | 15Ar16 | 12n34 | 17n34 | Psc | 17.2 | 67 | 20.7 | 13.2->19.8 |
| WL7 | 15Li16 r | 2s14 | 8s04 | Vir | 21.6 | 91 | 11.1 | 15.0->25.4 |
| Huya | 15Ca19r | 13s47 | 8n52 | Mon | 44.4 | 250 | 15.5 | 28.8->50.5 |
| PJ30 | 15Vi20 r | 4s32 | 1n36 | Leo | 40.1 | 1404 | 5.6 | 28.7->222. |
| Orcus | 15Ge20 | 4n05 | 26n41 | Tau | 38.1 | 247 | 20.5 | 30.7->48.2 |
| TC302 | 15Pi35 | 22s57 | 26s40 | Scl | 62.3 | 409 | 35.1 | 38.7->71.5 |
| Mercury | 15Ar47 | 0s01 | 6n12 | Psc | 0.3 | 0 | 7.0 | |
| PN34 | 16Le03 r | 5s31 | 10n45 | Cnc | 44.7 | 173 | 16.6 | 13.5->48.6 |
| Vesta | 16Ge10 | 0s42 | 22n02 | Tau | 2.6 | 4 | 7.1 | 2.1->2.6 |
| Icarus | 17Aq23 | 8s36 | 23s48 | Cap | 2.0 | 1 | 23.0 | 0.2->2.0 |
| Jupiter | 17Le29 r | 1n05 | 16n37 | Leo | 5.4 | 12 | 1.3 | |
| Radamantus | 17Ge37 | 11n54 | 34n42 | Aur | 33.0 | 246 | 12.7 | 33.0->45.5 |
| Echeclus | 17Aq51 | 2n38 | 12s58 | Aqr | 6.0 | 35 | 4.3 | 5.8->15.6 |
| Amycus | 17Ar51 | 11n39 | 17n44 | Psc | 34.8 | 125 | 13.4 | 15.2->34.9 |
| Deucalion | 18Le26 r | 0n22 | 15n39 | Leo | 46.5 | 296 | 0.4 | 42.0->46.9 |
| Crantor | 18Pi34 | 9s36 | 13s21 | Aqr | 22.6 | 85 | 12.8 | 14.0->24.7 |
| AW197 | 18Ge45 | 15n08 | 38n02 | Aur | 52.6 | 326 | 24.3 | 41.4->53.4 |
| VS2 | 18Aq57 | 4n05 | 11s16 | Aqr | 39.5 | 246 | 14.8 | 36.2->42.2 |
| CO1 | 19Pi35 | 19s06 | 21s36 | Aqr | 28.1 | 94 | 19.7 | 10.9->30.5 |
| Asbolus | 19Ge43 | 16n59 | 39n58 | Aur | 23.3 | 77 | 17.6 | 6.9->29.3 |
| BL41 | 20Vi03 r | 13s43 | 8s40 | Crt | 10.6 | 31 | 13.4 | 7.2->12.7 |
| QB243 | 20Ca27r | 4n11 | 26n01 | Gem | 42.6 | 206 | 6.8 | 15.4->54.3 |
| UX25 | 20Aq32 | 17n23 | 1n53 | Aqr | 48.4 | 277 | 19.5 | 36.2->48.7 |
| Saturn | 20Ge50 | 1s04 | 22n03 | Tau | 9.0 | 30 | 2.5 | |
| Chaos | 20Pi57 | 10s06 | 12s52 | Aqr | 47.4 | 308 | 12.0 | 40.7->50.4 |
| Sedna | 21Ar10 | 10s02 | 1s04 | Cet | 112.9 | 11734 | 12.0 | 75.9->956. |
| GV9 | 21Ca10r | 15s26 | 6n32 | CMi | 40.5 | 275 | 22.0 | 38.9->45.7 |
| CR105 | 21Ta24 | 21s46 | 2s57 | Eri | 47.5 | 3432 | 22.7 | 44.1->411. |
| Varuna | 22Ar33 | 16s09 | 6s14 | Cet | 40.7 | 281 | 17.2 | 40.7->45.1 |
| Ascend | 22Sc38 | 0n00 | 18s26 | Lib | | | | |
| Cyllarus | 22Li48 r | 6n22 | 2s57 | Vir | 33.5 | 134 | 12.6 | 16.4->36.1 |
| Pholus | 22Cp52 | 3n25 | 18s08 | Sgr | 31.6 | 90 | 24.8 | 8.6->31.7 |
| Eros | 22Aq56 | 0s31 | 14s22 | Cap | 1.8 | 2 | 10.8 | 1.1->1.8 |
| SB60 | 23Sa03r | 7s44 | 30s59 | Sco | 38.1 | 272 | 24.0 | 37.5->46.4 |
| OX3 | 23Sc19r | 1s49 | 20s22 | Lib | 46.0 | 181 | 3.3 | 17.5->46.4 |
| QB1 | 23Cp26 | 1s59 | 23s22 | Sgr | 42.7 | 289 | 2.2 | 40.8->46.6 |
| XA255 | 23Ar34 | 12s20 | 2s19 | Cet | 48.9 | 162 | 12.7 | 9.3->50.1 |
| Hylonome | 23Ar43 | 1s49 | 7n31 | Psc | 30.5 | 125 | 4.2 | 18.8->31.2 |
| CF119 | 23Ta50 | 18n11 | 36n16 | Per | 60.3 | 849 | 19.7 | 38.7->140. |
| CY118 | 24Ge14 | 24s56 | 1s36 | Ori | 58.1 | 877 | 25.6 | 34.7->148. |
| Thereus | 24Ge14 | 18s15 | 5n06 | Ori | 12.5 | 35 | 20.4 | 8.6->12.7 |
| TO66 | 24Cp46 | 24s15 | 44s56 | Sgr | 40.0 | 283 | 27.4 | 38.0->48.1 |
| MS4 | 24Li52 r | 3s30 | 12s53 | Vir | 45.3 | 271 | 17.7 | 35.8->47.9 |
| PB112 | 24Sa53r | 15s28 | 38s48 | Sco | 63.3 | 1098 | 15.4 | 35.3->177. |
| Chariklo | 25Li18 r | 25s00 | 32s49 | Cen | 13.2 | 63 | 23.4 | 13.1->18.6 |
| Pelion | 25Ge34 | 5s50 | 17n33 | Tau | 22.5 | 90 | 9.4 | 17.5->22.6 |
| Diana | 25Sc47r | 11s11 | 30s03 | Lup | 2.6 | 4 | 8.7 | 2.1->3.2 |
| Juno | 25Pi50 | 0s06 | 1s45 | Psc | 2.3 | 4 | 13.0 | 2.0->3.4 |
| Astraea | 25Pi54 | 2s03 | 3s31 | Psc | 2.9 | 4 | 5.3 | 2.1->3.1 |
| KF77 | 26Ge08 | 4n10 | 27n33 | Tau | 31.9 | 133 | 4.4 | 20.0->32.2 |
| RZ214 | 26Sa26 | 16n22 | 7s03 | Oph | 45.1 | 768 | 20.5 | 36.7->131. |
| Aura | 26Ge58 | 9n46 | 33n11 | Aur | 2.7 | 5 | 10.5 | 2.7->3.4 |
| CO104 | 27Aq29 | 1s19 | 13s35 | Aqr | 27.4 | 118 | 3.1 | 20.4->27.6 |
| GB32 | 27Ca51r | 12s08 | 8n42 | CMi | 70.3 | 3143 | 14.2 | 35.6->393. |
| LE31 | 27Ta58 | 20s17 | 0s06 | Eri | 11.3 | 23 | 152.3 | 4.3->11.9 |
| GQ21 | 28Ca06r | 12s58 | 7n50 | CMi | 51.1 | 925 | 13.4 | 38.4->151. |
| UJ438 | 28Li30 r | 3s21 | 14s04 | Vir | 13.5 | 74 | 3.8 | 8.3->27.1 |
| UR163 | 28Cp33 | 0s03 | 20s30 | Sgr | 37.1 | 367 | 0.8 | 36.9->65.5 |
| OO67 | 29Sc03r | 20n06 | 0s18 | Ser | 70.6 | 12578 | 20.1 | 20.8->1060 |
| Quaoar | 29Vi18 r | 1s14 | 0s52 | Vir | 44.9 | 288 | 8.0 | 42.2->44.9 |
| Mars | 29Ge22 | 2n04 | 25n31 | Tau | 1.6 | 2 | 1.8 | |
| Hephaistos | 29Ar29 | 1n12 | 12n25 | Ari | 3.1 | 3 | 12.5 | 0.4->4.0 |
| Psyche | 29Cp33 | 2n10 | 18s08 | Cap | 2.9 | 5 | 3.1 | 2.5->3.3 |
| HB57 | 29Ca37r | 15s12 | 5n21 | CMi | 65.3 | 2103 | 15.5 | 38.3->290. |
| RN43 | 29Sc54r | 15n44 | 4s44 | Oph | 41.9 | 267 | 19.3 | 40.6->42.3 |
| Pylenor | 29Ge57 | 3s50 | 19n37 | Ori | 21.3 | 69 | 5.4 | 11.7->21.8 |

Focused Minor Planets
Eris = 5 Ar 27
Sun = 6 Ar 22
Uranus = 5 Ge 39 Sextile
Pluto = 6 Le 31 r Trine
Node = 4 Le 41 r
Vertex = 5 Ca 39 Square
RD215 = 4 Cp 47
UX25 = 20 Aq 32 Semisquare
____________________
TL66 = 13 Aq 46
Moon = 13 Ta 04 Square
FY9 = 13 Ca 19 r Quincunx
VQ94 = 13 Ar 04 Sextile
____________________
Orcus = 15 Ge 20
Mercury = 15 Ar 47 Sextile
Bienor = 15 Ar 16
Huya = 15 Ca 19 r Semisextile
___________________
AW197 = 18 Ge 45
Asbolus = 19 Ge 43
Jupiter = 17 Le 29 r Sextile
Node = 4 Le 41 r Semisquare
____________________
OO67 = 29 Sc 03 r
RN43 = 29 Sc 54 r
Mars = 29 Ge 22 Quincunx
Pylenor = 29 Ge 57
Quaoar = 29 Vi 18 r Sextile
Psyche = 29 Cp 33
HB57 = 29 Ca 37 r Trine
___________________
TY364 = 3 Aq 41
Neptune = 2 Li 47 r Trine
Typhon = 3 Ar 46 Sextile
___________________
UX25 = 20 Aq 32
Saturn = 20 Ge 50 Trine
CR105 = 21 Ta 24 Square
Chaos = 20 Pi 57 Semisextile
Eris = 5 Ar 27 Semisquare
___________________
YQ179 = 11 Ta 47
Venus = 12 Pi 21 Sextile
96PW = 12 Vi 35 r Trine
Chiron = 10 Vi 52 r
Amor = 12 Ar 32 Semisextile
Flora = 11 Sa 25 Quincunx
___________________
SA278 = 2 Pi 28
FZ53 = 2 Pi 50
KX14 = 3 Vi 35 r
Neptune = 2 Li 47 r Quincunx
____________________________
____________________________
Astrological Setting (Sidereal - Fagan/Bradley)
RIYAL Mon March 27 1944 UT 3h46m00s Lat42n20 Lon83w03 SORT ALL
| | |
| --- | --- |
| Planet | Longit. |
| CY118 | 0Ge16 |
| Thereus | 0Ge17 |
| TO66 | 0Cp49 |
| MS4 | 0Li54 r |
| PB112 | 0Sa56 r |
| Chariklo | 1Li20 r |
| Pelion | 1Ge36 |
| Diana | 1Sc50 r |
| Juno | 1Pi53 |
| Astraea | 1Pi56 |
| KF77 | 2Ge11 |
| RZ214 | 2Sa29 |
| CE10 | 3Sa18 r |
| CO104 | 3Aq32 |
| GB32 | 3Ca53 r |
| Bacchus | 3Aq55 |
| LE31 | 4Ta00 |
| GQ21 | 4Ca09 r |
| UJ438 | 4Li32 r |
| UR163 | 4Cp35 |
| OO67 | 5Sc05 r |
| Quaoar | 5Vi21 r |
| Mars | 5Ge25 |
| Hephaistos | 5Ar32 |
| Psyche | 5Cp36 |
| HB57 | 5Ca39 r |
| RN43 | 5Sc57 r |
| Pylenor | 6Ge00 |
| CZ118 | 6Ca16 r |
| SQ73 | 6Ge17 |
| DA62 | 6Aq56 |
| Ceres | 7Ge03 |
| RR43 | 7Cp44 |
| SA278 | 8Aq30 |
| Neptune | 8Vi50 r |
| FZ53 | 8Aq53 |
| DH5 | 9Cp02 |
| Apollo | 9Ca06 r |
| RP120 | 9Li06 r |
| KX14 | 9Le37 r |
| TY364 | 9Cp44 |
| Typhon | 9Pi48 |
| Damocles | 10Aq04 |
| Apogee | 10Le11 |
| CC22 | 10Ge28 |
| XX143 | 10Le36 r |
| XR190 | 10Ar39 |
| Nessus | 10Ar40 |
| Node | 10Ca44r |
| FP185 | 10Ge44 |
| RD215 | 10Sa50 |
| Eris | 11Pi30 |
| Uranus | 11Ta41 |
| Vertex | 11Ge41 |
| GZ32 | 12Ar09 |
| Midheav | 12Le10 |
| Sappho | 12Sc11 |
| Phaethon | 12Ar19 |
| VR130 | 12Li22 r |
| Sun | 12Pi24 |
| Pluto | 12Ca34r |
| RM43 | 13Cp41 |
| FZ173 | 14Ge04 |
| RL43 | 14Vi19 r |
| BU48 | 14Cp19 |
| QF6 | 14Cp30 |
| OM67 | 14Sc32r |
| MW12 | 14Vi32 r |
| Thalia | 14Sa51 |
| Ixion | 15Vi26 r |
| TD10 | 15Li39 r |
| Heracles | 15Pi46 |
| RZ215 | 15Li50 r |
| Okyrhoe | 16Cp34 |
| GM137 | 16Pi42 |
| Pallas | 16Ar43 |
| Chiron | 16Le54 r |
| XZ255 | 17Ca02r |
| Flora | 17Sc27 |
| Ceto | 17Pi30 |
| YQ179 | 17Ar49 |
| Venus | 18Aq24 |
| Amor | 18Pi34 |
| 96PW | 18Le37 r |
| QD112 | 18Ta47 |
| OP32 | 18Li49 r |
| Moon | 19Ar06 |
| VQ94 | 19Pi06 |
| FY9 | 19Ge22r |
| Elatus | 19Sc36r |
| TL66 | 19Cp49 |
| RG33 | 20Ta16 |
| Logos | 20Ta21 |
| Teharonhi | 20Sc44r |
| AZ84 | 20Ar45 |
| EL61 | 20Ca54r |
| TX300 | 20Sa55 |
| Bienor | 21Pi18 |
| WL7 | 21Vi18 r |
| Huya | 21Ge21r |
| PJ30 | 21Le22 r |
| Orcus | 21Ta23 |
| WN188 | 21Pi23 |
| TC302 | 21Aq37 |
| Mercury | 21Pi49 |
| PN34 | 22Ca06r |
| Vesta | 22Ta13 |
| Icarus | 23Cp25 |
| Jupiter | 23Ca31r |
| Radamantus | 23Ta40 |
| Echeclus | 23Cp54 |
| Amycus | 23Pi54 |
| Deucalion | 24Ca29 r |
| Crantor | 24Aq37 |
| AW197 | 24Ta48 |
| VS2 | 25Cp00 |
| CO1 | 25Aq38 |
| Asbolus | 25Ta46 |
| BL41 | 26Le05 r |
| QB243 | 26Ge30r |
| UX25 | 26Cp34 |
| Saturn | 26Ta53 |
| Chaos | 27Aq00 |
| Sedna | 27Pi12 |
| GV9 | 27Ge12r |
| CR105 | 27Ar27 |
| Varuna | 28Pi35 |
| Ascend | 28Li40 |
| Cyllarus | 28Vi50 r |
| Pholus | 28Sa54 |
| Eros | 28Cp58 |
| SB60 | 29Sc06r |
| OX3 | 29Li21 r |
| QB1 | 29Sa29 |
| XA255 | 29Pi37 |
| Hylonome | 29Pi45 |
| CF119 | 29Ar53 |

Focused Minor Planets
Eris = 11 Pi 30
Sun = 12 Pi 24
Uranus = 11 Ta 41 Sextile
Pluto = 12 Ca 34 r Trine
Node = 10 Ca 44 r
Vertex = 11 Ge 41 Square
RD215 = 10 Sa 50
UX25 = 26 Cp 34 Semisquare
____________________
TL66 = 19 Cp 49
Moon = 19 Ar 06 Square
FY9 = 19 Ge 22 r Quincunx
VQ94 = 19 Pi 06 Sextile
____________________
Orcus = 21 Ta 23
Mercury = 21 Pi 49 Sextile
Bienor = 21 Pi 18
Huya = 21 Ge 21 r Semisextile
___________________
AW197 = 24 Ta 48
Asbolus = 25 Ta 46
Jupiter = 23 Ca 31 r Sextile
Node = 10 Ca 44 r Semisquare
____________________
OO67 = 5 Sc 05 r
RN43 = 5 Sc 57 r
Mars = 5 Ge 25 Quincunx
Pylenor = 6 Ge 00
Quaoar = 5 Vi 21 r Sextile
Psyche = 5 Cp 36
HB57 = 5 Ca 39 r Trine
___________________
TY364 = 9 Cp 44
Neptune = 8 Vi 50 r Trine
Typhon = 9 Pi 48 Sextile
___________________
UX25 = 26 Cp 34
Saturn = 26 Ta 53 Trine
CR105 = 27 Ar 27 Square
Chaos = 27 Aq 00 Semisextile
Eris = 11 Pi 30 Semisquare
___________________
YQ179 = 17 Ar 49
Venus = 18 Aq 24 Sextile
96PW = 18 Le 37 r Trine
Chiron = 16 Le 54 r
Amor = 18 Pi 34 Semisextile
Flora = 17 Sc 27 Quincunx
___________________
SA278 = 8 Aq 30
KX14 = 9 Le 37 r
Neptune = 8 Vi 50 r Quincunx
_____________________
Perhaps, some provisional keywords for Eris:
Sharply and Harshly Discordant
Altercations
_____________________________________
Juan Revilla's remarks about Eris/Diana Ross, at:
_________________________________________________________
Posted to Centaurs (YahooGroups) on July 23, 2007
____________________________________________
____________________________________________