Klas Pontus Arnoldson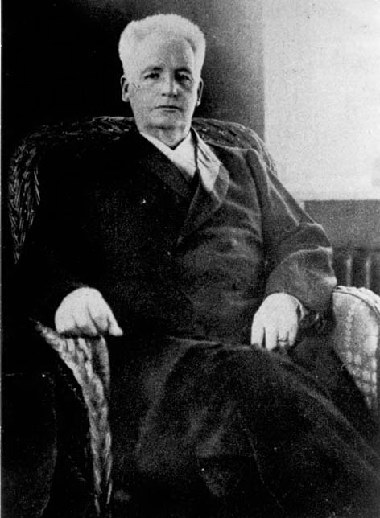 OO67/Sun conj.
Klas Pontus Arnoldson (October 27, 1844-February 20, 1916).
>The Swedish journalist, pacifist, and proponent of Scandinavian unity, was a man of humble origin. Born at Göteborg, the son of a caretaker, he was obliged to discontinue his formal education in the public schools of Göteborg at the age of sixteen because of family financial difficulties after the death of his father in 1860.
For the next twenty-one years he worked for a railroad, first as a clerk and then for ten years as a station inspector in Jonsered, Älgarås, and Tumba.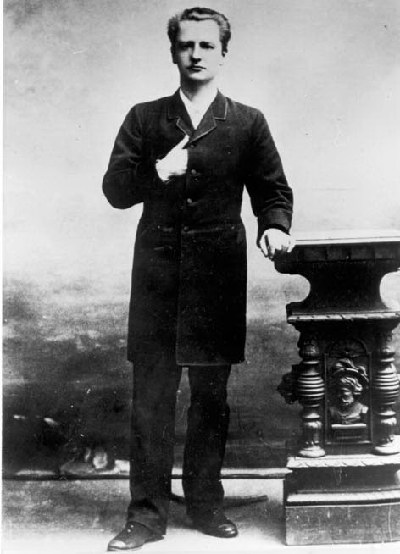 During these years, Arnoldson continued his studies, reading widely in history, religion, and philosophy; observed the political events of his day, especially the Danish-Austrian-Prussian War of 1864 and the Franco-Prussian War of 1870-1871; and evolved the ideas on religion, politics, and peace that he developed in detail in his voluminous writings.
Arnoldson was a liberal in theology. Familiar with the humanistic tenets of religious movements originating in the nineteenth century in Great Britain and in the New England section of the United States, he decried fanatic dogmatism and espoused essentially unitarian views on truth, tolerance, freedom of the individual conscience, freedom of thought, and human perfectability. These views he published in the Nordiska Dagbladet [Northern Daily] which he edited for a short time in the early 1870's, and in Sanningssökaren [The Truth Seeker], a monthly journal devoted to the exposition of «practical Christianity», as well as in books and pamphlets.
Arnoldson was also a liberal in political philosophy, committed to the practical application of the principle of democracy and individualism. From 1882 to 1887, as an elected member of the Parliament, he introduced legislation to extend the franchise and when it failed to pass, supported legislation which later succeeded; favored the extension of religious freedom; pursued an antimilitaristic policy; drafted a controversial resolution asking the government to investigate the possibility of guaranteed neutrality for Sweden.
Outside Parliament Arnoldson carried on work for peace even more vigorously. Originally attracted to pacifism because of his repugnance for the wars of 1864 and 1870-1871 and because of his religious beliefs, Arnoldson was one of those instrumental in founding the Swedish Peace and Arbitration Association in 1883, occupying the position of secretary of the society and becoming the editor of Tiden [The Times], a medium for peace information and free debate. Not at his best in a managerial capacity, Arnoldson resigned from Tiden in 1885 when it ran into financial difficulties, and from his office with the peace society in 1887 when he felt himself being overwhelmed by financial problems, the pressure of work, and emotional depression. Arnoldson edited Fredsvännen [The Friend of Peace] from 1885 to 1888 and the Nordsvenska Dagbladet [North Sweden Daily] from 1892 to 1894. For the most part, however, he kept himself free of administrative and political duties, devoting his energies to speaking and writing on behalf of arbitration. In 1888 he mounted a campaign for a popular petition addressed to the king favoring arbitration agreements with foreign nations. Extending his agitation to Norway in 1890, he spoke to receptive audiences throughout the country and provided some of the impetus for the Norwegian Parliament's passage of a resolution on arbitration addressed to the king.
In the political controversy of 1895 between Norway and Sweden and in the final constitutional crisis which resulted in dissolution of their Union, Arnoldson sympathized with Norway. This was not popular in Sweden.
When Arnoldson was named a Nobel peace laureate in 1908, some Swedish newpapers were incensed, saying that the award was an «outrage» against Sweden, a disgrace to «every Swedish man who takes pride in his national honor», and, to add injury to insult, was paid for with «Swedish money» given by a Swedish countryman. In reply, Løvland, chairman of the Norwegian Nobel Committee, pointed out that Arnoldson's candidacy had been proposed by the unanimous vote of the Swedish Group of the Interparliamentary Union.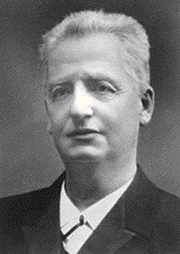 Throughout his life, Arnoldson complemented his day-to-day political activity by writing. In his early years he wrote mainly journalistic pieces; in the last three decades of his life, he produced some major works. An historical essay on international law, Är världsfred möjlig? [Is World Peace Possible? translated into English under the title of Pax mundi], appeared in 1890; Religionen i forskningens ljus [Religion in the Light of Research] in 1891; a history of the pacifist idea, Seklernas hopp [The Hope of the Centuries], in 1901. He also wrote polemical fiction, putting his pacifist message into novelistic and dramatistic form.
Arnoldson suffered from periods of illness throughout his life.<
_____________________
Assuming Göteborg (Lat57n43 Lon11e58), at noon (converted to 11:12:08 UT by Astrodienst).
Using RIYAL 2.60
Tropical - Placidus
RIYAL Sun October 27 1844 UT 11h12m08s Lat57n43 Lon11e58 SORT ALL
PN34 = 0Ta10 r 17n22 27n42 Psc 22.0 175 16.6 [13..49]
VR130 = 0Sa12 3n01 17s15 Sco 31.6 117 3.5 [15..33]
CR46 = 0Aq13 1s48 21s53 Cap 51.4 233 2.4 [18..58]
XR190 = 0Aq14 39n32 18n35 Sge 60.0 437 46.7 [53..62]
GQ21 = 0Ge24 r 10s08 10n20 Tau 94.9 898 13.3 [39..148]
SA278 = 0Aq51 12n02 8s13 Aql 114.6 898 16.2 [33..153]
Saturn = 1Aq06 0s37 20s32 Cap 10.0 30 2.5
TX300 = 1Vi14 3s43 7n34 Leo 47.8 283 25.9 [38..49]
TY364 = 1Vi15 5n12 15n54 Leo 36.4 240 24.9 [36..41]
Ixion = 1Ge34 r 2s59 17n34 Tau 32.2 250 19.6 [30..50]
KX14 = 1Ar50 r 0n24 1n06 Psc 37.0 245 0.4 [37..41]
VQ94 = 2Ar13 r 55s13 48s07 Phe 144.7 2608 70.1 [7..372]
GZ32 = 2Ge52 r 10s49 10n08 Tau 27.6 111 15.1 [18..28]
Uranus = 3Ar08 r 0s45 0n33 Psc 20.1 85 0.8
QD112 = 3Ta22 r 8n52 20n58 Ari 18.1 84 14.5 [8..30]
OO67 = 3Sc43 19n10 5n18 Vir 143.0 14271 20.1 [20..1156
Sun = 4Sc10 0n00 12s55 Vir 1.0 1 0.0
DH5 = 4Aq21 11n14 8s16 Aql 30.1 104 22.4 [14..30]
CO1 = 4Pi25 r 19s47 28s11 PsA 26.1 95 19.7 [11..30]
Vesta = 4Aq26 5s47 24s46 Cap 2.3 4 7.1 [2..3]
Icarus = 4Cp29 12s17 35s39 Sgr 1.9 1 23.2 [0..2]
Node = 5Sa00 r 0n00 21s09 Sco
Bienor = 5Sa18 19s47 40s36 Lup 17.5 67 20.7 [13..20]
CF119 = 5Ar32 r 18n04 18n43 Peg 100.1 845 19.7 [39..139]
Mars = 5Li38 1n04 1s15 Vir 1.7 2 1.9
CR105 = 6Pi01 r 12s02 20s28 Aqr 99.0 3413 22.7 [45..409]
CY118 = 6Ta20 r 21s43 6s54 Eri 102.0 860 25.5 [35..146]
OM67 = 6Li25 15s44 16s57 Crv 96.0 968 23.4 [39..157]
Varuna = 6Sa31 8n06 13s25 Oph 43.9 281 17.2 [40..45]
Pholus = 7Cp09 8n12 15s05 Sct 30.5 91 24.6 [9..32]
Nessus = 7Ge13 r 9n49 31n12 Per 27.6 122 15.6 [12..37]
VS2 = 7Li20 13s17 15s05 Crv 41.4 246 14.8 [36..42]
XZ255 = 7Cp50 1s04 24s18 Sgr 15.8 64 2.6 [15..17]
(Midheav) = 8Sc17 0n00 14s17 Lib
OP32 = 8Ca37 r 27s16 4s02 Mon 47.1 284 27.2 [39..48]
RL43 = 9Sa23 11n53 10s08 Oph 24.2 121 12.3 [23..26]
Chaos = 9Sa52 4s37 26s30 Sco 49.5 309 12.0 [41..50]
FX128 = 9Pi58 r 3n53 4s15 Aqr 112.6 1023 22.1 [18..185]
RR43 = 10Li21 27n05 20n44 Com 49.2 282 28.5 [37..49]
CO104 = 10Ar22 r 1n05 5n06 Psc 25.2 119 3.1 [21..28]
Huya = 10Ar58 r 6s38 1s46 Cet 45.7 250 15.4 [29..50]
Apogee = 10Ge58 0s33 21n34 Tau
WL7 = 11Vi01 4n28 11n34 Leo 18.4 90 11.2 [15..25]
RD215 = 11Sc07 6n13 9s15 Lib 103.4 1362 26.1 [37..208]
TC302 = 11Cp11 34s28 57s16 Pav 71.3 412 35.0 [39..71]
Pallas = 11Sa17 28n29 6n05 Oph 3.2 5 34.6 [2..3]
SQ73 = 11Aq29 15s19 32s00 Mic 14.6 75 17.5 [15..21]
QB243 = 11Ta49 r 6n39 21n42 Ari 46.0 205 6.8 [15..54]
Phaethon = 11Ar57 r 43n11 43n28 And 1.6 1 21.1 [0..2]
FY9 = 12Aq03 24s50 40s48 Gru 40.7 311 29.0 [38..54]
Damocles = 12Aq09 r 5n00 12s22 Aqr 21.2 40 61.7 [2..22]
Amor = 12Aq26 3n25 13s48 Aqr 2.4 3 12.0 [1..3]
AW197 = 12Pi27 r 18n52 10n33 Peg 49.1 328 24.3 [42..54]
UR163 = 12Vi54 0s30 6n15 Leo 55.5 367 0.7 [37..66]
Pylenor = 12Sa54 4n28 17s56 Oph 12.2 69 5.5 [12..22]
Chariklo = 13Pi21 r 18n16 10n20 Peg 18.4 63 23.4 [13..18]
PB112 = 13Sc21 11s37 26s54 Hya 110.5 1120 15.5 [35..181]
EL61 = 14Pi03 r 21s20 25s50 Scl 34.8 288 28.2 [35..52]
Chiron = 14Vi11 4s59 1n38 Leo 8.6 49 7.0 [8..18]
Vertex = 14Le16
Cyllarus = 14Cp33 10s31 33s07 Sgr 19.1 136 12.6 [16..36]
Logos = 14Aq44 r 0s16 16s41 Cap 49.7 307 2.9 [40..51]
PJ30 = 14Ca45 r 0n44 23n22 Gem 101.1 1341 5.6 [29..215]
Radamantu= 16Cp17 12s29 34s50 Sgr 44.5 245 12.7 [33..45]
BU48 = 16Li23 12n43 5n18 Vir 41.1 191 14.3 [20..46]
TD10 = 16Li58 1n25 5s21 Vir 120.4 931 6.0 [12..179]
( Moon) = 18Ta00 1n32 18n41 Ari 1.0 0 5.2
Ceres = 18Sa18 1s45 24s41 Oph 2.9 5 10.6 [3..3]
XX143 = 18Ca31 r 0n31 22n41 Gem 23.4 76 6.8 [10..26]
Juno = 19Le12 10s57 4n39 Hya 2.2 4 13.0 [2..3]
Venus = 19Vi33 0n52 4n57 Leo 0.7 1 3.4
TL66 = 19Sa37 17n12 5s54 Oph 96.7 768 24.1 [35..133]
RZ214 = 19Li38 4s42 12s02 Vir 88.4 775 20.6 [36..133]
OX3 = 20Ta19 r 1n58 19n44 Ari 17.6 184 3.3 [18..47]
SB60 = 20Ca20 r 4s57 17n02 Gem 43.7 271 23.9 [38..46]
Neptune = 20Aq57 r 0s24 14s54 Cap 30.0 167 1.8
GV9 = 21Pi04 r 21n46 16n26 Peg 45.1 275 22.0 [39..45]
HB57 = 21Ge09 r 14s13 8n59 Ori 119.0 1988 15.5 [38..278]
Echeclus = 21Ta17 r 4s06 14n08 Tau 7.6 34 4.3 [6..15]
Crantor = 21Cp39 0n11 21s32 Sgr 17.7 86 12.8 [14..25]
MS4 = 21Ta55 r 5s39 12n48 Tau 35.9 272 17.7 [36..48]
RN43 = 22Ca03 r 18s42 3n10 CMi 41.9 267 19.3 [40..43]
Mercury = 22Li03 1n45 6s59 Vir 0.4 0 7.0
Hylonome = 22Ge27 r 4s16 18n59 Tau 24.7 125 4.2 [19..31]
Asbolus = 22Li30 4s49 13s14 Vir 11.2 75 17.6 [7..29]
Astraea = 22Aq37 2s06 15s59 Cap 3.0 0 0.0 [0..0]
FZ53 = 22Pi40 r 17n36 13n14 Peg 29.5 116 34.8 [13..35]
Pluto = 22Ar44 r 17s26 7s22 Cet 48.4 250 17.1 [30..49]
GM137 = 22Sa49 1n21 21s54 Oph 7.7 23 15.7 [7..9]
TO66 = 23Le24 14n49 27n39 Leo 43.1 283 27.5 [38..48]
(Ascend) = 23Sa31 0n00 23s18 Oph
Hephaisto= 23Sa54 10s53 34s11 Sco 0.8 3 14.4 [0..4]
RM43 = 23Sa54 1s00 24s19 Oph 101.4 870 28.8 [35..147]
UJ438 = 24Aq14 r 3n29 10s09 Cap 21.8 74 3.8 [8..27]
AZ84 = 24Sc26 3s26 22s13 Lib 33.1 247 13.6 [32..46]
FP185 = 24Ta39 r 26s51 7s09 Eri 124.2 3140 30.7 [35..394]
Pelion = 24Ta45 r 9s18 9n56 Tau 21.7 90 9.4 [17..23]
Jupiter = 24Pi55 r 1s33 3s27 Psc 5.0 12 1.3
Lilith = 25Vi04 4s21 2s02 Vir 2.7 0 0.0 [0..0]
Okyrhoe = 25Sa06 14n43 8s40 Oph 8.8 23 15.8 [6..10]
XA255 = 25Le23 7n19 19n57 Leo 11.1 161 12.7 [9..50]
Thereus = 25Vi28 10s21 7s42 Crt 11.5 38 20.2 [9..14]
Heracles = 25Pi33 r 11n11 8n29 Peg 3.0 2 9.9 [0..3]
GB32 = 25Ge34 r 14s17 9n07 Ori 128.4 2921 14.2 [35..373]
Sedna = 25Pi41 r 6s43 7s53 Cet 157.2 12143 11.9 [77..979]
Deucalion= 25Ar51 r 0s10 9n51 Psc 44.1 296 0.4 [42..47]
BL41 = 26Ge09 r 5n38 29n02 Aur 7.3 31 13.3 [7..13]
QB1 = 26Vi28 0n04 1n28 Vir 46.9 289 2.2 [40..47]
CZ118 = 26Ge40 r 27n14 50n39 Aur 119.1 1225 27.8 [38..191]
FZ173 = 26Ta51 r 10n43 29n53 Tau 102.9 787 12.6 [33..138]
RZ215 = 26Vi57 7s56 6s03 Crt 106.5 1019 25.7 [31..172]
Elatus = 27Li12 4n36 6s11 Vir 17.7 45 5.5 [7..18]
Quaoar = 27Ta41 r 6s19 13n30 Tau 42.8 287 8.0 [42..45]
KF77 = 28Le12 3n06 15n01 Leo 29.2 132 4.3 [20..32]
Eris = 28Aq17 r 41s18 49s42 Phe 81.0 563 43.9 [39..98]
Urania = 28Ca23 1n29 21n57 Cnc 2.2 0 0.0 [0..0]
YQ179 = 28Pi23 r 19s59 18s55 Cet 103.9 843 20.9 [38..141]
MW12 = 28Ge25 r 21s45 1n42 Ori 43.9 310 21.5 [39..52]
Orcus = 28Sc36 9s30 29s07 Lib 39.1 246 20.6 [30..48]
Amycus = 28Ta36 r 13n20 32n50 Per 29.3 126 13.3 [15..35]
Psyche = 28Cp47 0n33 19s53 Cap 2.6 0 0.0 [0..0]
Aura = 29Li00 4s10 15s02 Vir 3.1 0 0.0 [0..0]
UX25 = 29Li46 2n29 9s05 Vir 41.8 277 19.5 [37..48]
________________
Focused Minor Planets
OO67 = 3 Sc 43 (The Deeply Instructed Alerter / Admonisher)
Sun = 4 Sc 10
Uranus = 3 Ar 08 r Quincunx
Venus = 19 Vi 33 Semisquare
TL66 = 19 Sa 37
Ceres = 18 Sa 18
Icarus = 4 Cp 29 Sextile
________________________________
Sidereal - Fagan/Bradley
RIYAL Sun October 27 1844 UT 11h12m08s Lat57n43 Lon11e58 SORT ALL
Astraea = 0Aq03 2s06 15s59 Cap 3.0 0 0.0 [0..0]
FZ53 = 0Pi05 r 17n36 13n13 Peg 29.5 116 34.8 [13..35]
Pluto = 0Ar09 r 17s26 7s22 Cet 48.4 250 17.1 [30..49]
GM137 = 0Sa15 1n21 21s54 Oph 7.7 23 15.7 [7..9]
TO66 = 0Le49 14n49 27n40 Leo 43.1 283 27.5 [38..48]
(Ascend) = 0Sa56 0n00 23s18 Oph
Hephaisto= 1Sa19 10s53 34s11 Sco 0.8 3 14.4 [0..4]
RM43 = 1Sa20 1s00 24s19 Oph 101.4 870 28.8 [35..147]
UJ438 = 1Aq40 r 3n29 10s10 Cap 21.8 74 3.8 [8..27]
AZ84 = 1Sc52 3s26 22s13 Lib 33.1 247 13.6 [32..46]
FP185 = 2Ta05 r 26s51 7s09 Eri 124.2 3140 30.7 [35..394]
Pelion = 2Ta10 r 9s18 9n56 Tau 21.7 90 9.4 [17..23]
Jupiter = 2Pi21 r 1s33 3s27 Psc 5.0 12 1.3
Lilith = 2Vi30 4s21 2s02 Vir 2.7 0 0.0 [0..0]
Okyrhoe = 2Sa32 14n43 8s40 Oph 8.8 23 15.8 [6..10]
XA255 = 2Le48 7n19 19n57 Leo 11.1 161 12.7 [9..50]
Thereus = 2Vi53 10s21 7s42 Crt 11.5 38 20.2 [9..14]
Heracles = 2Pi58 r 11n11 8n29 Peg 3.0 2 9.9 [0..3]
GB32 = 3Ge00 r 14s17 9n07 Ori 128.4 2921 14.2 [35..373]
Sedna = 3Pi06 r 6s43 7s53 Cet 157.2 12143 11.9 [77..979]
Deucalion= 3Ar16 r 0s10 9n51 Psc 44.1 296 0.4 [42..47]
BL41 = 3Ge35 r 5n38 29n02 Aur 7.3 31 13.3 [7..13]
QB1 = 3Vi53 0n04 1n28 Vir 46.9 289 2.2 [40..47]
CZ118 = 4Ge05 r 27n14 50n39 Aur 119.1 1225 27.8 [38..191]
FZ173 = 4Ta16 r 10n43 29n53 Tau 102.9 787 12.6 [33..138]
RZ215 = 4Vi22 7s56 6s03 Crt 106.5 1019 25.7 [31..172]
Elatus = 4Li37 4n36 6s11 Vir 17.7 45 5.5 [7..18]
Quaoar = 5Ta06 r 6s19 13n30 Tau 42.8 287 8.0 [42..45]
KF77 = 5Le37 3n06 15n01 Leo 29.2 132 4.3 [20..32]
Eris = 5Aq42 r 41s18 49s42 Phe 81.0 563 43.9 [39..98]
Urania = 5Ca48 1n29 21n57 Cnc 2.2 0 0.0 [0..0]
YQ179 = 5Pi49 r 19s59 18s55 Cet 103.9 843 20.9 [38..141]
MW12 = 5Ge50 r 21s45 1n42 Ori 43.9 310 21.5 [39..52]
Orcus = 6Sc01 9s30 29s07 Lib 39.1 246 20.6 [30..48]
Amycus = 6Ta01 r 13n20 32n50 Per 29.3 126 13.3 [15..35]
Psyche = 6Cp12 0n33 19s53 Cap 2.6 0 0.0 [0..0]
Aura = 6Li26 4s10 15s02 Vir 3.1 0 0.0 [0..0]
UX25 = 7Li12 2n29 9s04 Vir 41.8 277 19.5 [37..48]
PN34 = 7Ar36 r 17n22 27n41 Psc 22.0 175 16.6 [13..49]
VR130 = 7Sc37 3n01 17s15 Sco 31.6 117 3.5 [15..33]
CR46 = 7Cp39 1s48 21s53 Cap 51.4 233 2.4 [18..58]
XR190 = 7Cp40 39n32 18n35 Sge 60.0 437 46.7 [53..62]
GQ21 = 7Ta50 r 10s08 10n20 Tau 94.9 898 13.3 [39..148]
SA278 = 8Cp16 12n02 8s13 Aql 114.6 898 16.2 [33..153]
Saturn = 8Cp31 0s37 20s32 Cap 10.0 30 2.5
TX300 = 8Le39 3s43 7n34 Leo 47.8 283 25.9 [38..49]
TY364 = 8Le40 5n12 15n54 Leo 36.4 240 24.9 [36..41]
Ixion = 8Ta59 r 2s59 17n34 Tau 32.2 250 19.6 [30..50]
KX14 = 9Pi15 r 0n24 1n06 Psc 37.0 245 0.4 [37..41]
VQ94 = 9Pi38 r 55s13 48s08 Phe 144.7 2608 70.1 [7..372]
GZ32 = 10Ta18 r 10s49 10n08 Tau 27.6 111 15.1 [18..28]
Uranus = 10Pi33 r 0s45 0n33 Psc 20.1 85 0.8
Flora = 10Ca35 2s01 17n31 Cnc 2.0 0 0.0 [0..0]
QD112 = 10Ar48 r 8n52 20n58 Ari 18.1 84 14.5 [8..30]
OO67 = 11Li08 19n10 5n18 Vir 143.0 14271 20.1 [20..1156
Sun = 11Li35 0n00 12s55 Vir 1.0 1 0.0
DH5 = 11Cp46 11n14 8s16 Aql 30.1 104 22.4 [14..30]
CO1 = 11Aq50 r 19s47 28s11 PsA 26.1 95 19.7 [11..30]
Vesta = 11Cp52 5s47 24s46 Cap 2.3 4 7.1 [2..3]
Icarus = 11Sa55 12s17 35s39 Sgr 1.9 1 23.2 [0..2]
Node = 12Sc25 r 0n00 21s09 Sco
Bienor = 12Sc44 19s47 40s36 Lup 17.5 67 20.7 [13..20]
CF119 = 12Pi57 r 18n04 18n43 Peg 100.1 845 19.7 [39..139]
Mars = 13Vi03 1n04 1s15 Vir 1.7 2 1.9
CR105 = 13Aq26 r 12s02 20s28 Aqr 99.0 3413 22.7 [45..409]
CY118 = 13Ar46 r 21s43 6s54 Eri 102.0 860 25.5 [35..146]
OM67 = 13Vi50 15s44 16s57 Crv 96.0 968 23.4 [39..157]
Varuna = 13Sc56 8n06 13s25 Oph 43.9 281 17.2 [40..45]
Pholus = 14Sa35 8n12 15s05 Sct 30.5 91 24.6 [9..32]
Nessus = 14Ta39 r 9n49 31n12 Per 27.6 122 15.6 [12..37]
VS2 = 14Vi45 13s17 15s05 Crv 41.4 246 14.8 [36..42]
XZ255 = 15Sa15 1s04 24s18 Sgr 15.8 64 2.6 [15..17]
(Midheav) = 15Li43 0n00 14s17 Lib
OP32 = 16Ge02 r 27s16 4s02 Mon 47.1 284 27.2 [39..48]
RL43 = 16Sc48 11n53 10s08 Oph 24.2 121 12.3 [23..26]
Chaos = 17Sc18 4s37 26s30 Sco 49.5 309 12.0 [41..50]
FX128 = 17Aq23 r 3n53 4s15 Aqr 112.6 1023 22.1 [18..185]
RR43 = 17Vi46 27n05 20n44 Com 49.2 282 28.5 [37..49]
CO104 = 17Pi47 r 1n05 5n06 Psc 25.2 119 3.1 [21..28]
Huya = 18Pi23 r 6s38 1s46 Cet 45.7 250 15.4 [29..50]
Apogee = 18Ta24 0s33 21n34 Tau
WL7 = 18Le27 4n28 11n34 Leo 18.4 90 11.2 [15..25]
RD215 = 18Li32 6n13 9s15 Lib 103.4 1362 26.1 [37..208]
TC302 = 18Sa36 34s28 57s16 Pav 71.3 412 35.0 [39..71]
Pallas = 18Sc43 28n29 6n05 Oph 3.2 5 34.6 [2..3]
SQ73 = 18Cp55 15s19 32s00 Mic 14.6 75 17.5 [15..21]
QB243 = 19Ar14 r 6n39 21n42 Ari 46.0 205 6.8 [15..54]
Phaethon = 19Pi23 r 43n11 43n28 And 1.6 1 21.1 [0..2]
FY9 = 19Cp29 24s50 40s48 Gru 40.7 311 29.0 [38..54]
Damocles = 19Cp34 r 5n00 12s22 Aqr 21.2 40 61.7 [2..22]
Amor = 19Cp51 3n25 13s48 Aqr 2.4 3 12.0 [1..3]
AW197 = 19Aq53 r 18n52 10n33 Peg 49.1 328 24.3 [42..54]
UR163 = 20Le19 0s30 6n16 Leo 55.5 367 0.7 [37..66]
Pylenor = 20Sc20 4n28 17s56 Oph 12.2 69 5.5 [12..22]
Chariklo = 20Aq46 r 18n16 10n19 Peg 18.4 63 23.4 [13..18]
PB112 = 20Li46 11s37 26s54 Hya 110.5 1120 15.5 [35..181]
EL61 = 21Aq28 r 21s20 25s50 Scl 34.8 288 28.2 [35..52]
Iris = 21Ge33 0n43 23n25 Gem 1.9 0 0.0 [0..0]
Chiron = 21Le37 4s59 1n38 Leo 8.6 49 7.0 [8..18]
Vertex = 21Ca42
Cyllarus = 21Sa58 10s31 33s07 Sgr 19.1 136 12.6 [16..36]
Logos = 22Cp10 r 0s16 16s41 Cap 49.7 307 2.9 [40..51]
PJ30 = 22Ge10 r 0n44 23n22 Gem 101.1 1341 5.6 [29..215]
Radamantu= 23Sa42 12s29 34s50 Sgr 44.5 245 12.7 [33..45]
BU48 = 23Vi49 12n43 5n18 Vir 41.1 191 14.3 [20..46]
TD10 = 24Vi23 1n25 5s21 Vir 120.4 931 6.0 [12..179]
(Moon) = 25Ar25 1n32 18n40 Ari 1.0 0 5.2
Ceres = 25Sc43 1s45 24s41 Oph 2.9 5 10.6 [3..3]
XX143 = 25Ge56 r 0n31 22n41 Gem 23.4 76 6.8 [10..26]
Lachesis = 26Vi11 2s41 9s50 Vir 2.9 0 0.0 [0..0]
Juno = 26Ca37 10s57 4n39 Hya 2.2 4 13.0 [2..3]
Venus = 26Le58 0n52 4n57 Leo 0.7 1 3.4
TL66 = 27Sc03 17n12 5s54 Oph 96.7 768 24.1 [35..133]
RZ214 = 27Vi03 4s42 12s02 Vir 88.4 775 20.6 [36..133]
OX3 = 27Ar44 r 1n58 19n44 Ari 17.6 184 3.3 [18..47]
SB60 = 27Ge45 r 4s57 17n02 Gem 43.7 271 23.9 [38..46]
Neptune = 28Cp22 r 0s24 14s54 Cap 30.0 167 1.8
GV9 = 28Aq29 r 21n46 16n25 Peg 45.1 275 22.0 [39..45]
HB57 = 28Ta35 r 14s13 8n59 Ori 119.0 1988 15.5 [38..278]
Echeclus = 28Ar42 r 4s06 14n08 Tau 7.6 34 4.3 [6..15]
Crantor = 29Sa04 0n11 21s32 Sgr 17.7 86 12.8 [14..25]
MS4 = 29Ar21 r 5s39 12n48 Tau 35.9 272 17.7 [36..48]
RN43 = 29Ge28 r 18s42 3n10 CMi 41.9 267 19.3 [40..43]
Mercury = 29Vi29 1n45 6s59 Vir 0.4 0 7.0
Hylonome = 29Ta53 r 4s16 18n59 Tau 24.7 125 4.2 [19..31]
Asbolus = 29Vi55 4s49 13s13 Vir 11.2 75 17.6 [7..29]
____________________
Focused Minor Planets
OO67 = 11 Li 08 (The Deeply Instructed Alerter / Admonisher)
Sun = 11 Li 35
Uranus = 10 Pi 33 r Quincunx
Venus = 26 Le 58 Semisquare
TL66 = 27 Sc 03
Ceres = 25 Sc 43
Icarus = 11 Sa 55 Sextile
_______________________
Possible additional - provisional keywords for 2000 OO67:
- The Hope of the Centuries
- The Truth Seeker
- Freedom of the Individual Conscience
- Freedom of Thought
- Human Perfectability
_____________________________________________
Posted to Centaurs (YahooGroups) on October 15, 2006
_______________________________________________
_______________________________________________