Louis Antoine de Saint-Just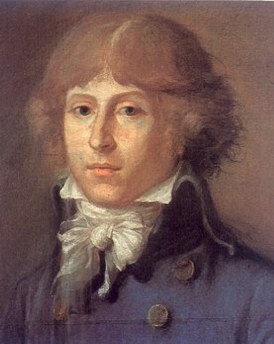 Orcus /Sun conjunction
"Louis Antoine Léon de Saint-Just (1767-1794), a radical political leader during the French Revolution, was a member of the ruling Jacobin group in Paris during the Reign of Terror.
When the Revolution broke out in 1789, the youthful Saint-Just gave it his enthusiastic support, and he published in 1791 The Spirit of the Revolution and of the Constitution of France".
Quoting from a site devoted to Saint-Just:
"Despite his varying reputations, it has never been disputed that Saint-Just was physically attractive, earning him the nicknames of "the Angel of Death" and "the Archangel of the Revolution." However, exact physical descriptions of him vary. He is said to have been 5'6" to 5'8" tall (I would guess on the shorter side), weighing 150 to 160 pounds. There has been some argument as to his appearance; he is normally portrayed with either brown or blond hair, worn long and unpowdered in either case, and blue or brown eyes. Artist Tony Scherman describes him as "the perfect Aryan". I tend to prefer the theory that Saint-Just did indeed have very light blond hair and piercing blue eyes. In any event, he always dressed with care and is supposed to have worn gold earrings, usually depicted as hoops. Antoine was well-versed in many areas, particularly those of "proper" society. He was probably charming and charismatic and would have been well-liked had he not be considered so cruel. In fact, he was described as having "a brain of fire, a heart of ice."
There has been some debate and confusion on Saint-Just's true given names. I have heard his full name given as Louis Antoine Léon Florelle de Saint-Just, as well as every possible combination and shortening possible. However Oleg Schultz has provided me with an article by Maurice Dommanget titled "Du nom et des pre'noms de Saint-Just et de leurs modifications" which seems to definitively answer the question. According to Dommanget, Saint-Just was given the name Louis Antoine de Saint-Just at birth. He sometimes used the name Léon, or Léonard, because it is the name of the patron saint of prisoners (presumably chosen because of his imprisonment in a correctional home, detailed below). He also used Florelle at times as a poetic, literary pseudonym. Saint-Just used these assorted names in various combinations throughout his life; however, it seems his true name was Louis Antoine.
Louis Antoine Saint-Just was born on August 25, 1767, at Decize.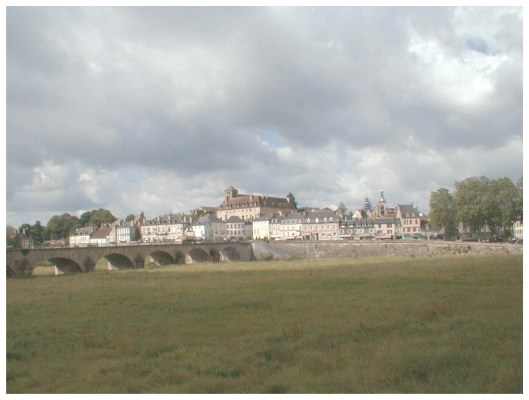 Decize
He was the son of Jean de Saint Just de Richebourg, a retired French army officer, and Jeanne Marie Robinot, a notary's daughter. Until the age of four, he was raised by a nurse and his great-uncle; after that, he was brought up by his parents. His father died when Antoine was ten, after which the boy and his two sisters, Louise and Marie, were raised by his mother, who had much difficulty with him and wanted him to become a priest. On September 14, 1786, after his best friend and rumored lover Thérèse Gellé was married to Emmanuel Thorin, Saint-Just took some of his mother's silver and left home. His mother had him arrested, and he was held for six months in a correctional home for boys so imprisoned by their parents.
When he heard that his mother and one of his sisters had fallen ill, he finally agreed to attend law school in accordance with his mother's wishes, and he was released. In May of 1789, at the age of twenty, Saint-Just anonymously published an epic, and at times pornographic, poem titled 'Organt' written during his time in the correctional home, which satirized almost every aspect of French society, from the church to the courts. This poem, though considered to be somewhat poorly written, was the beginning of Saint-Just's part in the Revolution.
Saint-Just was eager to take part in the turmoil that was beginning to rise within France, but he was considered by most to be too young. He impatiently tried to become involved, including by attempting to get elected to the new Legislative Assembly, with no success. In 1791, he wrote 'Esprit de la Révolution et de la Constitution de France,' which sold out almost immediately; however, he was still far from the action in Paris. Finally, in 1792, Saint-Just was elected deputy from Soissons for the National Convention, and he was at last able to come to Paris.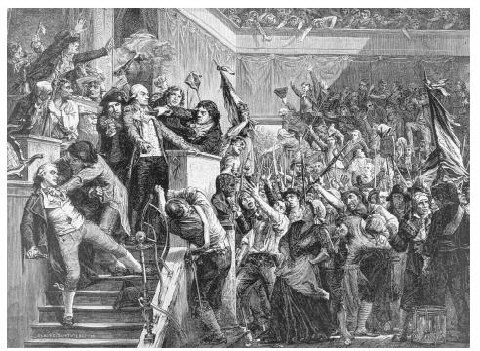 French National Convention
There he made speeches calling for the death of the king and thus made a name for himself.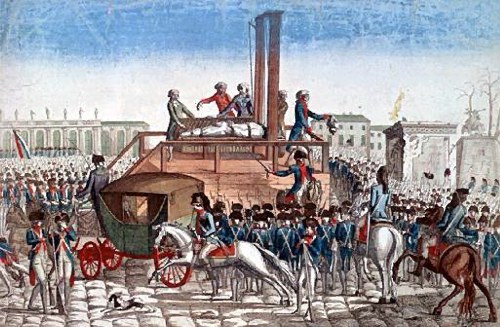 Execution of Luis 16th
In January of 1793, he became president of the Jacobins Club. Involved in the Committee of Public Safety and the Convention, he made several speeches and reports exercizing his views. He also put forth a detailed plan for a Constitution. On July 10, he was elected to become one of the members of the Committee of Public Safety.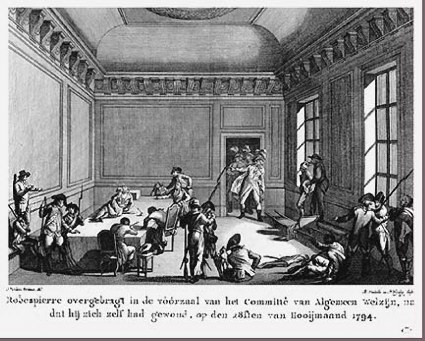 Committee of Public Safety in action
Saint-Just had finally achieved his dream of becoming important to the Revolution. His career was further aided by his close relationship with Maximilien Robespierre, whom he admired deeply.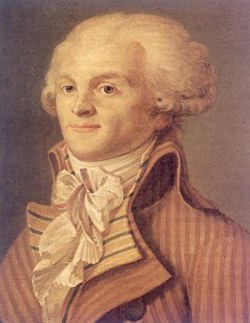 Maximilien Robespierre
In 1793, as commissioners of the Rhine army, Saint-Just and his friend Philippe Le Bas were sent to the front, where they succeeded in liberating Alsace from Austrian and Prussian invaders, along with the new generals Hoche and Pichegru. Notably, Saint-Just was able to manage Alsace, which was notorious for revoluntionary opposition, without any executions. Afterwards, Saint-Just moved from the front to Paris, then back again, before returning to Paris once more, where he was elected president of the Convention for the month of Ventôse. As president, he made several famous reports, including the well-known Ventôse Decrees of February 26 and March 3, in which property was taken from alledged "enemies of the people" and redistributed among the poor. However, the most famous of his reports was perhaps the one in which he demanded the arrest of Georges Danton, along with his supporters Camille Desmoulins, Fabre, Delacroix, and Philippeaux. Saint-Just's signature was among those on the warrant for the group's arrest, and after an unfair and nearly uncivilized trial, Danton met his death at the guillotine.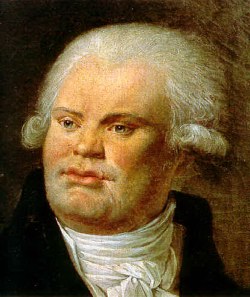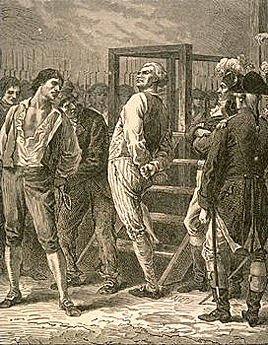 Georges Danton Danton's execution
Saint-Just was also instrumental in the execution of followers of Jacques René Hébert, a journalist who had written against the Committee of Public Safety; on March 13, 1794, Saint-Just told the Convention that the Hébertistes were plotting against the Revolution.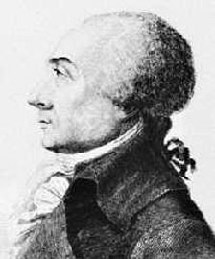 Jacques René Hébert
During this time, Saint-Just was engaged to and supposedly in love with Henriette Le Bas, the young sister of Philippe. Philippe had encouraged the relationship, most likely wanting to form a tight-knit group of himself, his friend Saint-Just, Henriette, and Philippe's own wife, Elisabeth. However, for unknown reasons, the engagement between Saint-Just and Henriette was broken off. Many causes for this have been theorized, some placing blame on Henriette, Saint-Just, or both; but only the effects of the event are truly known. The failed engagement formed a rift between Saint-Just and Le Bas which never healed. Later, just one day before Saint-Just would be executed, Le Bas committed suicide at his feet without being truly reconciled with his former friend.
After Danton's death and the termination of his engagement, Saint-Just returned to the front for the last time, a trip broken by his brief return to Paris, upon Robespierre's request. Saint-Just returned to Paris for good suddenly, where he found Maxime ill and caught up in a conspiracy led by opposers who wanted Robespierre dead. Saint-Just tried to prevent the downfall of his friend, but when he tried to speak upon Robespierre's behalf in the Convention on 9 Thermidor, he was prevented. Finally he just stood by and let events take their course.
When the chaos that had ensued died down, Robespierre had been arrested, along with his brother Augustin, Le Bas, Couthon-- and Saint-Just, who would have been spared had he only renounced Maxime. The prisoners were temporarily set free, but before they could make any real motion to save themselves, they were once more captured. Le Bas killed himself; Augustin jumped from a window; the crippled Couthon was pushed down a flight of stairs. Robespierre received a bullet to his jaw-- some say he attempted suicide, others that he was shot by another. Saint-Just was uninjured.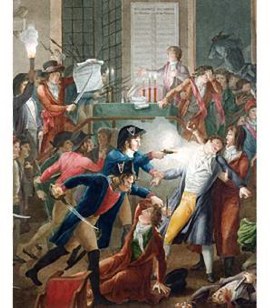 The wounded Robespierre was taken to the Tuileries. Saint-Just accompanied him, walking beside his makeshift stretcher and sitting with him through the night. What Saint-Just's thoughts or feelings were is unknown, but it has been said that his eyes were wet with tears as he watched over his friend. The next day, he was brought to the guillotine with Robespierre.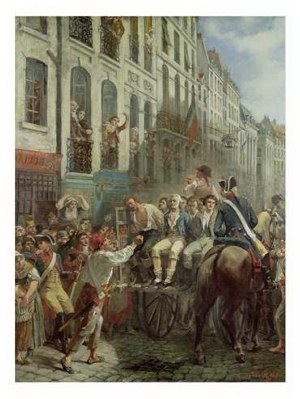 On his way to the scaffold he paused only to kiss Couthon and whisper goodbye to Maxime. Saint-Just then walked to the guillotine to die for the Republic and the man who embodied it, the man who was possibly his only friend left in the world. When Saint-Just met his fate, death also came to his life-long dream of a perfect France which in reality had never even been born".
A collection of articles about Saint-Just, at:
Quoting from:
"Finally, in 1792, he became a deputy to the Convention. He was now able to make his speeches in Paris, and he quickly made a name for himself as he called for the death of the king. On July 10, 1793 he became one of nine members of the Committee of Public Safety and, along with Robespierre, very influential in the Reign of Terror. He was elected president of the Convention for the month of Ventôse. During this time he called for the arrest of Danton and Camille Desmoulins (a supporter of Danton). They were soon executed.
Robespierre was now opposed by many, but Saint-Just stood by his friend and attempted to speak on his behalf. "I defend the man in question because his conduct has appeared to me to be irreproachable, and I would accuse him if he committed a crime. Great God! What kind of leniency is this that plots the ruin of innocent men?" he said in his last speech. Because of this action, Louis was arrested along with Robespierre, Philippe Le Bas, Couthon and Robespierre's brother Augustin. On July 27, 1794, Saint-Just was sent to the guillotine with Robespierre and died for his Republic. The "Angel of Death" was only 26".
And some St.Just phrases:
>
"Liberty is a bitch who must be bedded on a mattress of corpses." - Louis-Antoine St. Just, Year II.
"What constitutes a republic is the total destruction of everything that stands in opposition to it." - Saint-Just
"The conspirators who have died, think you they were the children of liberty, because for one brief moment they resembled them?" - Saint-Just
"Those who would make revolutions in the world, those who want to do good in this world must sleep only in the tomb." - Saint-Just
<
About some Saint-Just's social ideas (site not completely working):
Story, Fiction, Movies:
With a disputed neutrality:
____________________________
Assuming August 25, 1767, at Decize (France, 3 E 27 - 46 N 50), using noon, 11:46:12 UT according to Astrodienst.
Using RIYAL 2.30
(Tropical - Placidus)
RIYAL Tue August 25 1767 UT 11h46m12s Lat46n50 Lon3e27 SORT ALL
FX128 = 0Pi10 r 7n31 4s24 Aqr 142.1 1005 22.5 [17..183]
Node = 0Aq36 r 0n00 20s03 Cap
TL66 = 0Sa58 11n25 9s11 Sco 117.2 761 23.9 [35..131]
Orcus = 1Vi13 18s31 6s18 Sex 48.0 248 20.6 [31..48]
WU24 = 1Le27 3n30 23n16 Cnc 1.9 60 42.5 [1..29]
(Midheav) = 1Vi28 0n00 10n58 Leo
Saturn = 1Ca40 1s02 22n26 Gem 9.0 30 2.5
Sun = 1Vi57 0n00 10n48 Leo 1.0 1 0.0
FY128 = 2Aq06 r 7s04 26s35 Cap 59.0 346 11.8 [37..62]
Hylonome = 2Cp08 r 4n13 19s15 Sgr 23.8 125 4.2 [19..31]
96PW = 2Vi10 6n00 16n19 Leo 188.4 3657 29.1 [3..472]
Hephaisto= 3Ca05 9n00 32n26 Aur 2.8 3 15.1 [0..4]
Uranus = 3Ta13 r 0s32 12n06 Ari 19.8 84 0.8
QJ1 = 3Li34 18s10 18s02 Crt 6.9 39 23.7 [2..21]
Varuna = 3Vi38 14n36 23n43 Leo 45.0 284 17.2 [41..45]
Mercury = 3Vi41 r 4s16 6n12 Sex 0.4 0 7.0
Talos = 3Aq53 r 20n15 0n25 Aql 1.4 1 23.4 [0..2]
Asbolus = 4Li36 0s59 2s44 Vir 13.2 76 17.6 [7..29]
Neptune = 4Vi49 0n45 10n27 Leo 30.2 166 1.8
Icarus = 4Cp54 r 24s21 47s43 Tel 1.8 1 23.4 [0..2]
Pelion = 5Ca07 4s51 18n31 Gem 22.7 90 9.4 [17..23]
GB10 = 5Cp07 r 7s55 31s17 Sgr 20.5 126 13.3 [15..35]
AB229 = 5Aq47 r 12s10 30s36 Mic 90.7 352 69.5 [2..97]
Bienor = 6Li05 11s09 12s38 Crv 14.5 68 20.7 [13..20]
Mars = 6Vi11 1n05 10n15 Leo 1.7 2 1.9
DG8 = 6Sa12 r 27n54 6n09 Her 18.9 36 129.4 [2..19]
Chariklo = 6Cp12 r 7s59 31s18 Sgr 15.7 63 23.4 [13..18]
Thereus = 6Vi19 13s51 3s41 Sex 12.1 38 20.1 [9..14]
Phaethon = 6Ge24 16n40 37n47 Per 2.3 1 20.7 [0..2]
CO104 = 6Vi29 0n41 9n47 Leo 20.9 119 3.0 [21..28]
Pylenor = 6Li35 4n11 1n13 Vir 16.1 69 5.5 [12..22]
VU2 = 6Sc54 7s33 20s57 Vir 9.5 19 14.1 [3..11]
RP120 = 7Sc13 3n25 10s43 Lib 107.6 415 118.4 [2..109]
GM137 = 7Ca15 0s28 22n48 Gem 8.1 23 15.7 [7..9]
HE46 = 7Ar41 r 19s07 14s29 Cet 14.5 120 158.6 [2..46]
CO1 = 7Ar52 r 19s00 14s18 Cet 30.3 94 19.7 [11..30]
TD10 = 8Li09 0n40 2s37 Vir 147.4 934 5.9 [13..178]
BU48 = 9Pi08 r 7s22 14s58 Aqr 25.4 191 14.3 [20..46]
Pluto = 9Cp29 r 1n59 21s10 Sgr 32.9 248 17.2 [30..49]
CC22 = 9Ca51 10s09 12n59 Gem 6.8 20 11.1 [5..9]
FZ173 = 10Ta13 r 8n22 22n49 Ari 123.2 787 12.8 [32..138]
KF77 = 10Pi33 r 2s22 9s49 Aqr 22.1 132 4.3 [20..32]
Deucalion= 10Cp45 r 0s16 23s18 Sgr 41.4 292 0.4 [41..47]
GQ21 = 10Ta46 r 6s41 8n43 Cet 119.5 900 13.4 [38..149]
AW197 = 11Sa04 16s50 38s46 Sco 41.4 326 24.4 [41..54]
CZ118 = 11Ge20 27n41 49n30 Per 144.8 1242 27.7 [38..193]
PN34 = 11Le32 4s22 13n09 Cnc 45.8 173 16.6 [13..49]
YH32 = 11Sc39 7s34 22s32 Lib 11.8 23 79.3 [4..12]
Dioretsa = 11Aq52 r 8s04 24s59 Cap 9.2 115 160.3 [2..45]
FP185 = 12Ta25 r 23s15 6s37 Eri 162.5 3211 31.0 [34..401]
GV9 = 12Sa30 r 2n40 19s41 Oph 40.9 272 22.0 [39..45]
Quaoar = 12Aq33 r 6n32 10s47 Aqr 41.9 284 8.0 [42..45]
VS2 = 12Ge39 11n06 33n20 Aur 36.6 248 14.8 [36..42]
RZ215 = 12Vi43 2s04 4n53 Leo 133.6 1035 25.3 [31..173]
Chaos = 12Vi48 10n34 16n30 Leo 42.9 313 12.0 [41..51]
OP32 = 13Ar13 r 6s30 0s46 Cet 45.5 282 27.3 [38..48]
FZ53 = 13Li28 2s09 7s18 Vir 15.2 117 34.8 [12..36]
Heracles = 13Ar33 r 10n06 14n38 Psc 3.1 2 10.3 [0..3]
(Moon) = 13Vi33 3s33 3n12 Leo 1.0 0 5.2
GB32 = 13Ge42 13s59 8n36 Ori 165.3 3044 14.2 [35..385]
XX143 = 13Ca45 0n04 22n50 Gem 22.7 76 6.8 [10..26]
Sedna = 14Pi03 r 4s42 10s37 Aqr 191.0 11000 12.0 [75..914]
XA255 = 14Ar06 r 12s53 6s19 Cet 50.3 163 12.7 [9..50]
DA62 = 14Ca10 45n08 67n18 Cam 6.1 21 52.3 [4..11]
NN8 = 14Ge20 14n34 37n00 Aur 155.5 872 165.4 [2..180]
TX300 = 14Ge24 24n06 46n27 Aur 46.2 285 25.8 [38..49]
HL3 = 14Ar38 r 27n59 31n17 And 19.3 35 36.3 [2..20]
Radamantu= 14Li40 1s57 7s35 Vir 40.1 246 12.7 [33..45]
RN109 = 14Li46 36n34 27n43 Boo 207.6 36743 56.8 [3..2208]
Chiron = 14Pi48 r 5n07 1s17 Psc 17.7 49 7.0 [8..18]
GZ32 = 15Le15 7n26 23n22 Leo 24.9 111 15.0 [18..28]
Damocles = 15Aq29 r 9n56 6s42 Aqr 21.9 40 62.1 [2..22]
WN188 = 16Pi38 r 20s26 23s59 Cet 25.0 53 27.0 [2..26]
Nessus = 16Aq46 r 15s25 30s28 PsA 23.8 122 15.6 [12..37]
CF119 = 16Pi48 r 14n40 8n18 Peg 120.7 831 19.8 [38..139]
PA44 = 16Ca54 3s03 19n23 Gem 25.7 56 3.2 [3..26]
OM67 = 16Vi54 9s34 3s38 Leo 121.9 984 23.2 [40..158]
(Ascend) = 17Sc01 0n00 16s56 Lib
Ixion = 17Sa35 r 3s57 26s49 Oph 40.2 248 19.6 [30..49]
Venus = 17Li40 2s31 9s16 Vir 0.7 1 3.4
LE31 = 18Aq01 r 20s17 34s36 PsA 5.5 23 152.5 [4..12]
CR105 = 18Aq23 r 5s35 20s39 Cap 138.5 3199 22.9 [44..390]
SQ73 = 18Cp37 r 18s15 40s13 Sgr 14.8 74 17.5 [15..21]
CY118 = 19Ar13 r 16s52 8s05 Cet 124.4 855 25.7 [34..146]
Hidalgo = 19Aq26 r 46s15 57s19 Gru 5.4 14 43.2 [2..10]
VR130 = 19Aq28 r 2n21 12s46 Cap 17.9 112 3.6 [15..32]
FY9 = 19Sc43 13n20 4s50 Lib 51.0 308 29.0 [39..53]
Elatus = 20Sa14 r 0n32 22s35 Oph 12.6 44 5.9 [7..17]
Apogee = 20Vi21 3s59 0n10 Leo
CE10 = 20Li25 30s05 35s27 Cen 16.4 31 145.0 [2..18]
Huya = 20Sc39 14n12 4s13 Lib 28.5 249 15.5 [29..51]
Cyllarus = 21Le02 12n15 26n04 Leo 33.5 135 12.6 [16..36]
XZ255 = 21Li05 1n59 6s24 Vir 16.4 64 2.6 [15..16]
UR163 = 21Ca12 0n05 21n53 Gem 65.9 372 0.7 [37..66]
CR46 = 21Ca30 1n59 23n43 Gem 19.0 236 2.4 [18..59]
QD112 = 21Ta47 r 11n32 29n21 Ari 22.2 82 14.5 [8..30]
MD10 = 21Le55 47s56 31s05 Pyx 43.7 132 59.1 [2..50]
BL41 = 21Sc57 9s26 27s22 Lib 12.4 31 13.4 [7..12]
TO66 = 21Ta59 r 23n58 41n15 Per 48.4 285 27.4 [38..48]
OX3 = 22Sc16 1s36 19s54 Lib 45.6 181 3.3 [18..46]
WL7 = 23Vi10 1n27 4n03 Vir 19.5 88 11.2 [15..24]
EC98 = 23Sc27 3n57 14s50 Lib 8.6 37 4.3 [6..16]
RG33 = 23Ge27 29n25 52n40 Aur 11.3 30 35.4 [2..17]
Okyrhoe = 23Ge29 15s03 8n16 Ori 7.0 23 15.8 [6..10]
TC302 = 23Sc39 21s21 39s15 Lup 63.0 412 34.9 [39..72]
Pholus = 23Cp55 r 0n37 20s44 Sgr 31.8 91 24.7 [9..32]
XS35 = 23Sc55 5s49 24s24 Lib 5.4 79 19.1 [1..36]
UX25 = 24Ge53 17s09 6n14 Ori 37.4 280 19.5 [37..49]
EL61 = 24Sc59 25n23 5n39 Ser 46.7 284 28.2 [35..52]
DH5 = 25Pi25 r 8s34 9s41 Cet 24.2 103 22.6 [14..30]
TY364 = 25Ar27 r 23s26 11s59 Cet 39.5 241 24.9 [36..41]
OO67 = 25Li30 18n29 7n22 Vir 188.6 13587 20.0 [21..1118
RD215 = 25Li31 0s34 10s24 Vir 134.5 1359 25.8 [38..207]
QF6 = 25Li43 20n04 8n46 Boo 12.4 20 23.0 [2..13]
SB60 = 25Ar57 r 23n10 31n24 Psc 46.0 271 23.9 [37..46]
Jupiter = 26Vi27 1n07 2n26 Vir 5.5 12 1.3
GO9 = 27Aq26 r 7s24 19s19 Aqr 21.0 85 12.8 [14..25]
QB1 = 27Ge33 2n08 25n35 Gem 43.6 292 2.2 [41..47]
VQ94 = 27Pi36 r 58s12 52s02 Eri 183.5 2594 70.9 [7..371]
Vertex = 27Ge43
MS4 = 28Cp00 r 18n01 2s55 Aql 45.0 269 17.7 [36..48]
RZ214 = 28Vi05 11s24 9s41 Crt 111.9 785 20.5 [37..133]
AZ84 = 28Ca15 10s07 10n37 Cnc 44.8 250 13.6 [33..47]
UB313 = 28Sa18 r 39s11 62s38 Pav 56.3 559 43.9 [38..98]
PJ30 = 29Ge22 2n02 25n31 Gem 135.7 1380 5.5 [29..219]
QB243 = 29Le37 0s18 11n20 Leo 26.8 206 6.8 [15..55]
KX14 = 29Sc55 0s15 20s24 Sco 39.5 242 0.4 [37..41]
------------------------------
Sun = 1,57 Vir
Orcus = 1,13 Vir
___________________
(Sidereal - Fagan/Bradley)
RIYAL Tue August 25 1767 UT 11h46m12s Lat46n50 Lon3e27 SORT ALL
CR46 = 0Ca00 1n59 23n43 Gem 19.0 236 2.4 [18..59]
QD112 = 0Ta17 r 11n32 29n21 Ari 22.2 82 14.5 [8..30]
MD10 = 0Le25 47s56 31s05 Pyx 43.7 132 59.1 [2..50]
BL41 = 0Sc27 9s26 27s22 Lib 12.4 31 13.4 [7..12]
TO66 = 0Ta29 r 23n58 41n15 Per 48.4 285 27.4 [38..48]
OX3 = 0Sc46 1s36 19s54 Lib 45.6 181 3.3 [18..46]
WL7 = 1Vi40 1n27 4n03 Vir 19.5 88 11.2 [15..24]
EC98 = 1Sc57 3n57 14s50 Lib 8.6 37 4.3 [6..16]
RG33 = 1Ge57 29n25 52n40 Aur 11.3 30 35.4 [2..17]
Okyrhoe = 1Ge59 15s03 8n16 Ori 7.0 23 15.8 [6..10]
TC302 = 2Sc09 21s21 39s15 Lup 63.0 412 34.9 [39..72]
Pholus = 2Cp25 r 0n37 20s44 Sgr 31.8 91 24.7 [9..32]
XS35 = 2Sc25 5s49 24s24 Lib 5.4 79 19.1 [1..36]
UX25 = 3Ge23 17s09 6n14 Ori 37.4 280 19.5 [37..49]
EL61 = 3Sc29 25n23 5n39 Ser 46.7 284 28.2 [35..52]
DH5 = 3Pi54 r 8s34 9s41 Cet 24.2 103 22.6 [14..30]
TY364 = 3Ar57 r 23s26 11s59 Cet 39.5 241 24.9 [36..41]
OO67 = 4Li00 18n29 7n22 Vir 188.6 13587 20.0 [21..1118
RD215 = 4Li01 0s34 10s24 Vir 134.5 1359 25.8 [38..207]
QF6 = 4Li13 20n04 8n46 Boo 12.4 20 23.0 [2..13]
SB60 = 4Ar27 r 23n10 31n24 Psc 46.0 271 23.9 [37..46]
Jupiter = 4Vi57 1n07 2n26 Vir 5.5 12 1.3
GO9 = 5Aq56 r 7s24 19s19 Aqr 21.0 85 12.8 [14..25]
QB1 = 6Ge03 2n08 25n35 Gem 43.6 292 2.2 [41..47]
VQ94 = 6Pi06 r 58s12 52s02 Eri 183.5 2594 70.9 [7..371]
Vertex = 6Ge12
MS4 = 6Cp30 r 18n01 2s55 Aql 45.0 269 17.7 [36..48]
RZ214 = 6Vi35 11s24 9s41 Crt 111.9 785 20.5 [37..133]
AZ84 = 6Ca45 10s07 10n37 Cnc 44.8 250 13.6 [33..47]
UB313 = 6Sa47 r 39s11 62s38 Pav 56.3 559 43.9 [38..98]
PJ30 = 7Ge52 2n02 25n31 Gem 135.7 1380 5.5 [29..219]
QB243 = 8Le07 0s18 11n21 Leo 26.8 206 6.8 [15..55]
KX14 = 8Sc25 0s15 20s24 Sco 39.5 242 0.4 [37..41]
FX128 = 8Aq40 r 7n31 4s24 Aqr 142.1 1005 22.5 [17..183]
Node = 9Cp06 r 0n00 20s03 Cap
TL66 = 9Sc28 11n25 9s11 Sco 117.2 761 23.9 [35..131]
Orcus = 9Le43 18s31 6s18 Sex 48.0 248 20.6 [31..48]
WU24 = 9Ca57 3n30 23n16 Cnc 1.9 60 42.5 [1..29]
(Midheav) = 9Le58 0n00 10n58 Leo
Saturn = 10Ge10 1s02 22n26 Gem 9.0 30 2.5
Sun = 10Le27 0n00 10n48 Leo 1.0 1 0.0
FY128 = 10Cp35 r 7s04 26s35 Cap 59.0 346 11.8 [37..62]
Hylonome = 10Sa38 r 4n13 19s15 Sgr 23.8 125 4.2 [19..31]
96PW = 10Le40 6n00 16n19 Leo 188.4 3657 29.1 [3..472]
Hephaisto= 11Ge35 9n00 32n26 Aur 2.8 3 15.1 [0..4]
Uranus = 11Ar43 r 0s32 12n06 Ari 19.8 84 0.8
QJ1 = 12Vi04 18s10 18s02 Crt 6.9 39 23.7 [2..21]
Varuna = 12Le08 14n36 23n43 Leo 45.0 284 17.2 [41..45]
Mercury = 12Le11 r 4s16 6n12 Sex 0.4 0 7.0
Talos = 12Cp23 r 20n15 0n25 Aql 1.4 1 23.4 [0..2]
Asbolus = 13Vi06 0s59 2s44 Vir 13.2 76 17.6 [7..29]
Neptune = 13Le19 0n45 10n27 Leo 30.2 166 1.8
Icarus = 13Sa24 r 24s21 47s42 Tel 1.8 1 23.4 [0..2]
Pelion = 13Ge37 4s51 18n31 Gem 22.7 90 9.4 [17..23]
GB10 = 13Sa37 r 7s55 31s16 Sgr 20.5 126 13.3 [15..35]
AB229 = 14Cp17 r 12s10 30s36 Mic 90.7 352 69.5 [2..97]
Bienor = 14Vi35 11s09 12s38 Crv 14.5 68 20.7 [13..20]
Mars = 14Le41 1n05 10n15 Leo 1.7 2 1.9
DG8 = 14Sc42 r 27n54 6n10 Her 18.9 36 129.4 [2..19]
Chariklo = 14Sa42 r 7s59 31s18 Sgr 15.7 63 23.4 [13..18]
Thereus = 14Le49 13s51 3s41 Sex 12.1 38 20.1 [9..14]
Phaethon = 14Ta54 16n40 37n47 Per 2.3 1 20.7 [0..2]
CO104 = 14Le59 0n41 9n47 Leo 20.9 119 3.0 [21..28]
Pylenor = 15Vi04 4n11 1n13 Vir 16.1 69 5.5 [12..22]
VU2 = 15Li24 7s33 20s57 Vir 9.5 19 14.1 [3..11]
RP120 = 15Li43 3n25 10s43 Lib 107.6 415 118.4 [2..109]
GM137 = 15Ge45 0s28 22n48 Gem 8.1 23 15.7 [7..9]
HE46 = 16Pi11 r 19s07 14s29 Cet 14.5 120 158.6 [2..46]
CO1 = 16Pi22 r 19s00 14s18 Cet 30.3 94 19.7 [11..30]
TD10 = 16Vi39 0n40 2s37 Vir 147.4 934 5.9 [13..178]
BU48 = 17Aq38 r 7s22 14s58 Aqr 25.4 191 14.3 [20..46]
Pluto = 17Sa58 r 1n59 21s09 Sgr 32.9 248 17.2 [30..49]
CC22 = 18Ge21 10s09 12n59 Gem 6.8 20 11.1 [5..9]
FZ173 = 18Ar43 r 8n22 22n49 Ari 123.2 787 12.8 [32..138]
KF77 = 19Aq03 r 2s22 9s49 Aqr 22.1 132 4.3 [20..32]
Deucalion= 19Sa15 r 0s16 23s18 Sgr 41.4 292 0.4 [41..47]
GQ21 = 19Ar16 r 6s41 8n43 Cet 119.5 900 13.4 [38..149]
AW197 = 19Sc34 16s50 38s46 Sco 41.4 326 24.4 [41..54]
CZ118 = 19Ta50 27n41 49n30 Per 144.8 1242 27.7 [38..193]
PN34 = 20Ca02 4s22 13n09 Cnc 45.8 173 16.6 [13..49]
YH32 = 20Li09 7s34 22s32 Lib 11.8 23 79.3 [4..12]
Dioretsa = 20Cp22 r 8s04 24s59 Cap 9.2 115 160.3 [2..45]
FP185 = 20Ar55 r 23s15 6s37 Eri 162.5 3211 31.0 [34..401]
GV9 = 21Sc00 r 2n40 19s41 Oph 40.9 272 22.0 [39..45]
Quaoar = 21Cp03 r 6n32 10s47 Aqr 41.9 284 8.0 [42..45]
VS2 = 21Ta09 11n06 33n20 Aur 36.6 248 14.8 [36..42]
RZ215 = 21Le13 2s04 4n53 Leo 133.6 1035 25.3 [31..173]
Chaos = 21Le18 10n34 16n30 Leo 42.9 313 12.0 [41..51]
OP32 = 21Pi43 r 6s30 0s46 Cet 45.5 282 27.3 [38..48]
FZ53 = 21Vi58 2s09 7s18 Vir 15.2 117 34.8 [12..36]
Heracles = 22Pi03 r 10n06 14n38 Psc 3.1 2 10.3 [0..3]
(Moon) = 22Le03 3s33 3n12 Leo 1.0 0 5.2
GB32 = 22Ta12 13s59 8n36 Ori 165.3 3044 14.2 [35..385]
XX143 = 22Ge15 0n04 22n50 Gem 22.7 76 6.8 [10..26]
Sedna = 22Aq33 r 4s42 10s37 Aqr 191.0 11000 12.0 [75..914]
XA255 = 22Pi36 r 12s53 6s19 Cet 50.3 163 12.7 [9..50]
DA62 = 22Ge40 45n08 67n18 Cam 6.1 21 52.3 [4..11]
NN8 = 22Ta50 14n34 37n00 Aur 155.5 872 165.4 [2..180]
TX300 = 22Ta54 24n06 46n27 Aur 46.2 285 25.8 [38..49]
HL3 = 23Pi08 r 27n59 31n17 And 19.3 35 36.3 [2..20]
Radamantu= 23Vi10 1s57 7s35 Vir 40.1 246 12.7 [33..45]
RN109 = 23Vi16 36n34 27n43 Boo 207.6 36743 56.8 [3..2208]
Chiron = 23Aq18 r 5n07 1s17 Psc 17.7 49 7.0 [8..18]
GZ32 = 23Ca45 7n26 23n22 Leo 24.9 111 15.0 [18..28]
Damocles = 23Cp59 r 9n56 6s42 Aqr 21.9 40 62.1 [2..22]
WN188 = 25Aq08 r 20s26 23s59 Cet 25.0 53 27.0 [2..26]
Nessus = 25Cp16 r 15s25 30s28 PsA 23.8 122 15.6 [12..37]
CF119 = 25Aq18 r 14n40 8n18 Peg 120.7 831 19.8 [38..139]
PA44 = 25Ge24 3s03 19n23 Gem 25.7 56 3.2 [3..26]
OM67 = 25Le24 9s34 3s38 Leo 121.9 984 23.2 [40..158]
(Ascend) = 25Li31 0n00 16s56 Lib
Ixion = 26Sc05 r 3s57 26s49 Oph 40.2 248 19.6 [30..49]
Venus = 26Vi10 2s31 9s16 Vir 0.7 1 3.4
LE31 = 26Cp31 r 20s17 34s36 PsA 5.5 23 152.5 [4..12]
CR105 = 26Cp53 r 5s35 20s39 Cap 138.5 3199 22.9 [44..390]
SQ73 = 27Sa07 r 18s15 40s13 Sgr 14.8 74 17.5 [15..21]
CY118 = 27Pi43 r 16s52 8s05 Cet 124.4 855 25.7 [34..146]
Hidalgo = 27Cp56 r 46s15 57s19 Gru 5.4 14 43.2 [2..10]
VR130 = 27Cp58 r 2n21 12s46 Cap 17.9 112 3.6 [15..32]
FY9 = 28Li13 13n20 4s50 Lib 51.0 308 29.0 [39..53]
Elatus = 28Sc44 r 0n32 22s35 Oph 12.6 44 5.9 [7..17]
Apogee = 28Le51 3s59 0n10 Leo
CE10 = 28Vi55 30s05 35s27 Cen 16.4 31 145.0 [2..18]
Huya = 29Li09 14n12 4s13 Lib 28.5 249 15.5 [29..51]
Cyllarus = 29Ca32 12n15 26n04 Leo 33.5 135 12.6 [16..36]
XZ255 = 29Vi35 1n59 6s24 Vir 16.4 64 2.6 [15..16]
UR163 = 29Ge42 0n05 21n53 Gem 65.9 372 0.7 [37..66]
---------------------------
Sun = 10,27 Leo
Orcus = 9,43 Leo
------------------------------------
Perhaps, Saint-Just is in tune with many keywords that are suggested for Orcus:
Perhaps, some additional keywords that may be suggested:
- Brutal Intellectualism
- Political Overexcitement
_______________________________________________
Posted to Centaurs (YahooGroups) on February 12, 2006
_____________________________________________